Each week in this space, we're going to take a quick fantasy football trip through that week's DFS slate, offering up initial thoughts and reactions to the pricing and situations of that week. We'll look at some big salary changers of the week, some obvious plays, some guys to avoid, and some of the week's prime situations.
This isn't meant to be a comprehensive, one-stop-shop for all things DFS in Week 12. Rather, it's just an early look at the notable takeaways. Check back later in the week as our team offers up full breakdowns of every approach to the slate. But you can start your DFS week here.
Salary changes
FD price: $8,600 -> $8,200
DK price: $7,600-> $7,400
It has been a tough draw in matchups defensively for Mayfield this year, but his job will get a whole lot easier this week against the Dolphins. This season he has played five of the top seven fantasy defenses in the Steelers, Bills, 49ers, Patriots and Broncos. Mayfield found his best success last year against two bottom-five fantasy passing defenses in the Bengals and Falcons. In those three games against them, he threw for 10 touchdowns and 0 INTs. The Browns also have one of their highest team totals in recent memory with 27 points implied (third-highest). A concern would be a negative gamescript, but suspensions to Myles Garrett and Larry Ogunjobi should help the Dolphins offense keep it more competitive.
FD price: $6,000 -> $7,000
DK price: $6,200 -> $6,400
There was some concern whether Nick Foles would have the same connection with Chark that Gardner Minshew had, but those questions were quickly answered in Week 11. Per Scott Barrett's fantasy football stats to know from Week 11, Foles has targeted Chark on a would-be league-high 31% of his attempts. This week, Chark will have a favorable matchup against Titans cornerback LeShaun Sims, who stepped in for Malcolm Butler after he was placed on IR. Sims has allowed 10 catches for 115 yards and a TD on just 13 targets. To go along with the plus matchup, Chark has been one of the most utilized WRs in football this year, ranking ninth in air yards. Foles should continue to look Chark's way early and often this week.
FD price: $6,500 -> $6,500
DK price: $5,700 -> $6,200
Crowder has been an extremely (surprisingly) reliable fantasy option with Sam Darnold at QB, and that should not change this week against the Raiders. Adding intrigue to him this week is the fact the Raiders are a bottom 10 defense against slot WRs. Crowder is primarily playing there as 74% of his routes have come from the slot. When Darnold has played this year, Crowder is averaging 16 PPR points per game, which would tie for 18th among WRs per game over the full season.
FD price: $5,900 -> $6,900
DK price: $6,500 -> $7,200
The Steelers are extremely banged up heading into their Week 12 matchup against the Bengals. James Conner, JuJu Smith-Schuster, and Diontae Johnson, who all have been major contributors for the Steelers, are questionable. Most importantly for Samuels is the fact that Conner sounds to be more doubtful than questionable and the Steelers might decide to play it safe and rest him as they are playing the 0-10 Bengals. The first time the Steelers faced the Bengals, they were able to do whatever they wanted with Conner and Samuels in the receiving game. Samuels only ran 13 routes as he was splitting the work, but he was able to convert it into 8 catches for 57 yards. If Conner is in fact out, Samuels should see close to double-digit targets. In the two games when Conner was out, Samuels saw 21 and 17 touches.
Chalk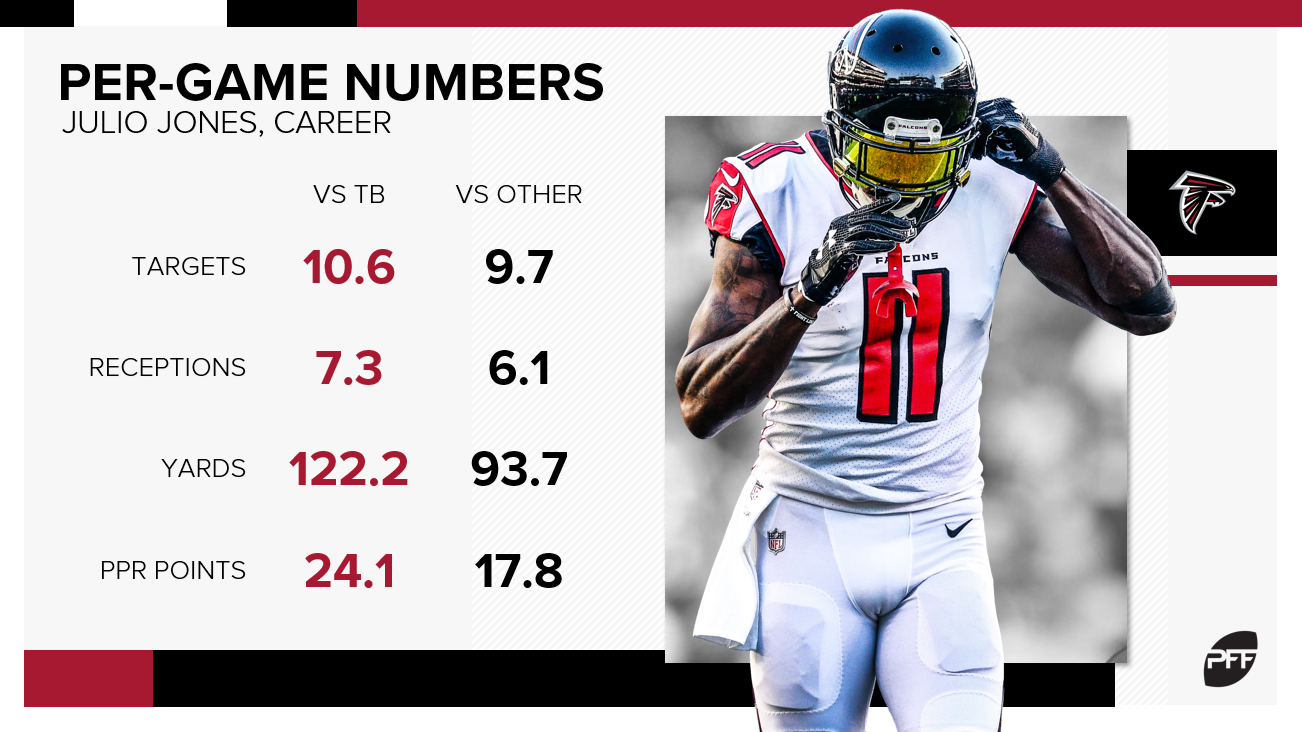 Is the Julio (re-)breakout week finally here? He has been not able to find the end zone since Week 3, but a matchup against the most WR fantasy-friendly Buccaneers could present a blowup spot. The potential upside should make him have a good amount of ownership. There is no Deandre Hopkins on the main slate, Tyreek Hill is on bye, and Tyler Lockett is questionable, thinning out potential pivots from Jones as well.
Henry is coming off a monster week against Kansas City where he ran for 188 rushing yards and 2 TDs. Now he faces off against a Jaguars defense that allowed over 200 rushing yards this past week. This should be fresh in everyone's memory and Henry will be one of the most popular RBs this week.
Coming off the injury it was a question whether Latavius Murray would start eating into Kamara's workload. Murray did have 10 carries, but Kamara was still able to hit his normal range of touches in 23. He was able to get 10 catches, which is enticing for fantasy purposes and especially PPR. With him looking back to his normal self and drawing a good matchup against the Panthers (who allow the fifth-most fantasy points to RBs), Kamara should a player that will be looked to in the second tier of RBs.
Ertz is coming off back-to-back promising performances with 18.4 and 28.3 fantasy points. This past game he was able to work through a lot of coverage thrown his way from the Patriots and go 9 for 94 through the air on 11 targets. Now against the Seahawks, it sets up to be a higher-scoring game with currently the second-highest over/under of 49 points and is a trustworthy option at TE with not many other safe options to turn to.
Jamison Crowder, WR, New York Jets
As mentioned above in Salary Changes, Crowder has been quietly very good with Darnold at QB in fantasy this year. With him now having three straight games with over 70 yards and a TD, DFS lineups should start to take notice. The recent numbers from him and the Raiders struggling against slot WRs will make him an attractive option this week.
Fades
Cooper draws the toughest matchup for fantasy WRs this year in the Patriots. He will likely see mostly Stephon Gilmore in coverage, who has been arguably the best CB in football, allowing the fourth-lowest passer rating in coverage at 43.5. In the Patriots' 10 games, Gilmore has allowed more than 60 yards in coverage just once.
Carson has been able to see a lot touches this year and been the Seahawks workhorse, but this week against the Eagles there could be some struggles for him. The Eagles are allowing the second-fewest rushing yards to RBs and on the ground is where most of Carson's production has come. The season-ending injury to center Justin Britt made the Seahawks offensive line weaker and that should be highlighted this week against a stingy Eagles front.
Brown is coming off a big week where he went 9/137/2, but he sets up for a letdown spot against the Broncos this week. The coverage he sees will be a lot more challenging as he will see a lot of Chris Harris and it will likely be a negative gamescript. The game currently has the week's lowest over/under at 37.5, highlighting Brown's much lower ceiling this week.
Barkley has really been struggling to get it going on the ground in recent weeks. In plus matchups against the Lions, Cowboys, and Jets, he is averaging just 2.0 yards per carry. He has appeared to be playing at less than 100%, and the Bears will likely stack the box against him in similar fashion to what they did against the Rams running formations this past week. Despite the struggles, Barkley is a player who will always draw some ownership but is a fade this week.
Matchups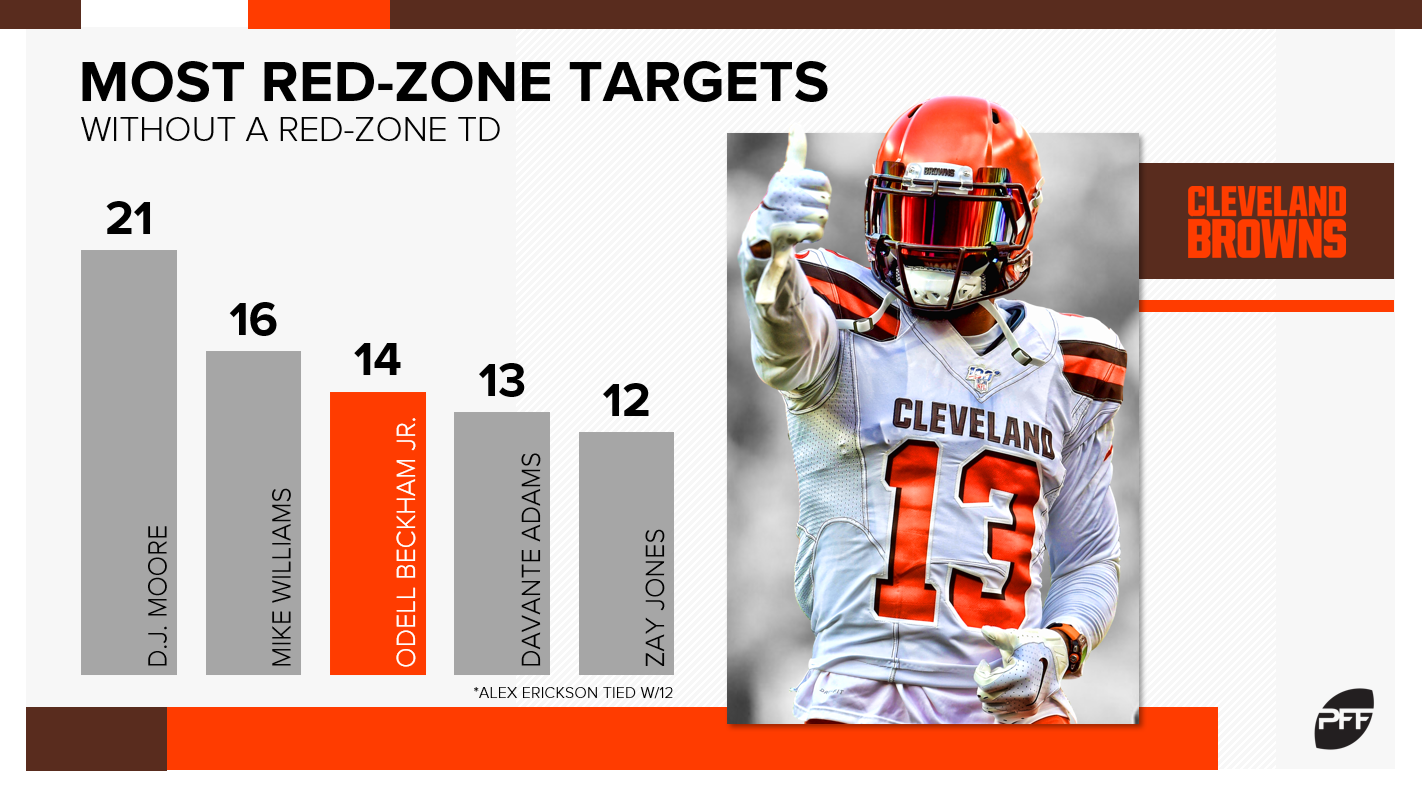 Beckham has been one of the biggest fantasy disappointments this year. This is the first matchup in a while where he could return to the fantasy superstar that he was on the Giants. Mayfield and the Browns have put an emphasis on getting him the ball more recently. His target share in the past two weeks is 31%. The matchups had limited some of that potential upside and also fell victim to being tackled at the 1-yard line. The red zone is an area of the field that the Browns offense has been desperately trying to fix. Beckham has seen 14 red-zone targets but has 0 TDs to show for them. He should get his first TD since Week 2 this week and is a good stack option with Mayfield against the Dolphins.
Derrick Henry, RB, Tennessee Titans (vs. JAX)
The Jaguars run defense has been an absolute disaster the past two weeks. In Week 10, Carlos Hyde was able to run for 160 yards on 19 carries. This past week in Week 11, Marlon Mack ran for 109 yards on 14 carries being leaving the game with an injury in the beginning of the third quarter. Jonathan Williams was able to step in and run for 116 yards on 13 carries after never running for more than 26 yards in a game prior. Now they get Henry, who has extreme upside when he can get big workloads against weak run defenses. He has been seeing a better snap share this season and in the past four games has snap shares of 75%, 67%, 53%, 71%. If Henry can get over 20 carries in this game, he has the upside for 100-plus rushing yards and multiple TDs.