Each week in this space, we'll be taking a look back at Sunday's games to find five of the most interesting or most important stats for fantasy football owners. With 13 of 14 games from NFL Week 11 in the books, here are the five stats you need to know:
1. Through 11 weeks, five quarterbacks total 50 or more rushing attempts – Lamar Jackson (115), Josh Allen (74), Kyler Murray (67), Deshaun Watson (55), and Russell Wilson (50). All five quarterbacks rank top-10 in fantasy points per game.
Undoubtedly, this is the year of the Konami Code quarterback.
Jackson is on pace for 441.6 fantasy points, or what would be the most by any quarterback in any season all-time.
Wilson and Watson continue to do Wilson- and Watson-like things, ranking second- (24.3) and fourth-best (22.5), respectively, in fantasy points per game.
The two surprises would be Murray and Allen. Murray is on pace for 319.8 fantasy points, which would be the second-most by any rookie quarterback in NFL history. Meanwhile, Allen totals 343.4 fantasy points over his last 16 games, which would have ranked top-three in any of the last seven seasons.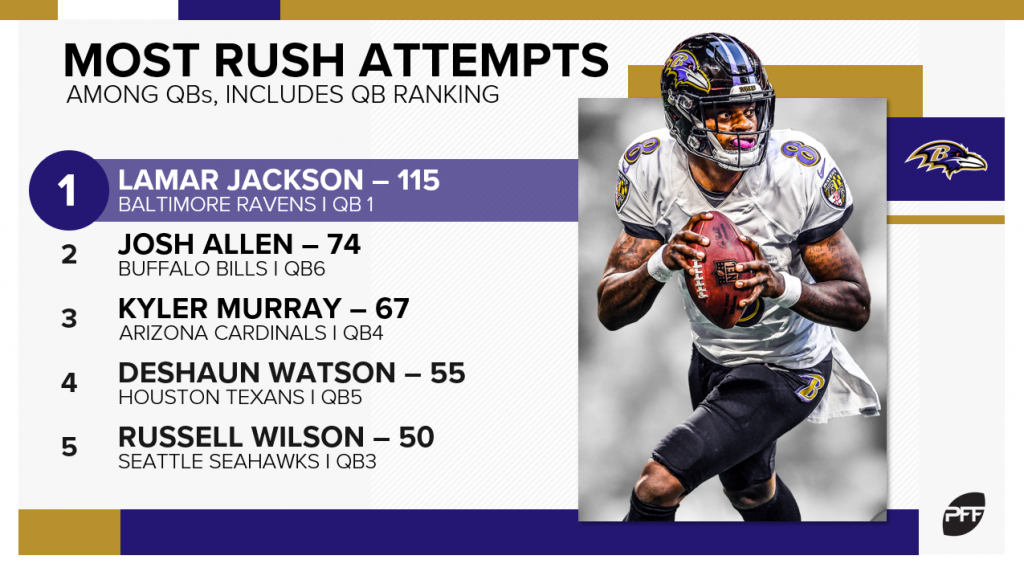 2. George Kittle is averaging 2.96 yards per route run, which would rank best by any tight end this past decade. Mark Andrews' 2.71 and Darren Waller's 2.37 would also rank top-10.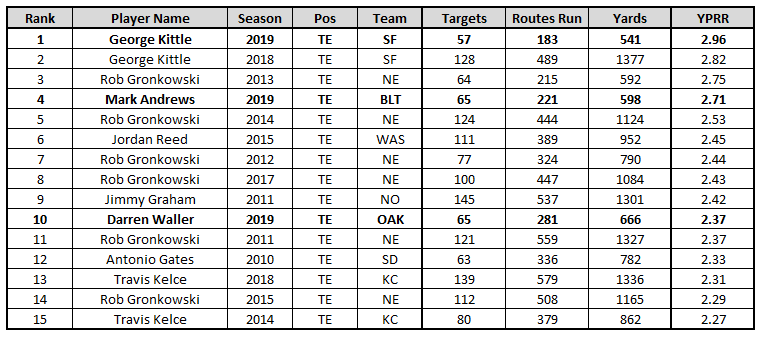 Kittle owners have to be disappointed he sat out in Week 12, in what would have been a dream matchup against an Arizona defense that came into the week yielding a league-high 21.4 fantasy points per game to opposing tight ends. However, hopefully the above chart will cheer up Kittle owners (especially dynasty owners). Not only did Kittle come into the week ranking as our highest-graded player (at any position) but he also owns our two best seasons by yards per route run, and joins Rob Gronkowski as the only other tight end with more than one season in the top-12. As sacrilegious as I know this statement seems, Kittle really might be the second coming of Gronkowski.
In 2018, Andrews averaged 2.01 yards per route run, which was the most by any rookie tight end in PFF history (2007-2019). In 2017 (his final year of college), Andrews averaged 2.63 yards per route run, which ranks second-best in PFF college history (2014-2019). So, maybe it shouldn't be much of a surprise he ranks so highly on this list. As the No. 1 receiver on the league's most-potent offense, Andrews needs to be viewed as an every-week top-five tight end moving forward.
Similarly, Waller leads all tight ends in receptions (56) and ranks second in yards (666). Finally seeing a full-time role four years removed from his rookie season, the former wide receiver turned tight end seems likely to be an annual TE1 moving forward, and at least a mid-range TE1 for the remainder of the season.
3. After averaging just 2.9 fantasy points per game in his rookie season, D.J. Chark ranks sixth among wide receivers in fantasy points per game (18.1).
Earlier in the season we questioned whether Chark could keep up his WR1 pace. Not only was his hot start to the season entirely unexpected, but he was also a little too overly efficient, producing like a WR1 on WR3 volume. Then, he started to see better and more consistent volume. Heading into Week 11, Chark was questioned again – would he continue to be as productive with Nick Foles as he was with Gardner Minshew?
After a big Week 11 (30.4 fantasy points), I think it's finally time to stop questioning Chark. At the very least, it's clear Foles' return won't be getting in the way. Minshew targeted Chark on 21% of his throws. So far, Foles has targeted Chark on a would-be league-high 31% of his attempts, with Chark comprising 39% of his yards and 100% of his touchdowns.
4. In seven games with Sam Darnold under center, Jamison Crowder averages a team-high 8.4 targets per game and 16.0 fantasy points per game. For perspective, 16.0 fantasy points – a number he's exceeded in each of his last three games – would rank tied for 15th among wide receivers.
Darnold has targeted Crowder on 24% of his throws, which ranks ninth-most among all QB-to-receiver combinations. Most impressively, Darnold has force-fed Crowder as his WR1 despite a brutal cornerback schedule. Crowder runs 74% of his routes from the slot and has faced a top-15 slot WR defense (by fantasy points per game allowed) in six of these seven games.
In spite of larger concerns regarding New York's offense, Crowder should be started as a weekly WR3 or better in PPR leagues. And, surprisingly, Crowder is still unowned in over 25% of all ESPN and Yahoo leagues, so make sure he's not still a free agent in one of your leagues.
5. Jared Goff averages a 78.4 passer rating over his last 18 games (postseason included). For perspective, Brock Osweiler retired with a 78.0 passer rating.
Yeah… If you invested heavily in the Rams' offense, or really any Rams player outside of Cooper Kupp, things aren't looking too pretty for you. For whatever reason, after leading the league in points scored per game from 2017-2018 (31.4), the Rams' offense has fallen back down to earth, and hard (22.1). And Goff, more or less, has turned back into an Osweiler-sized pumpkin.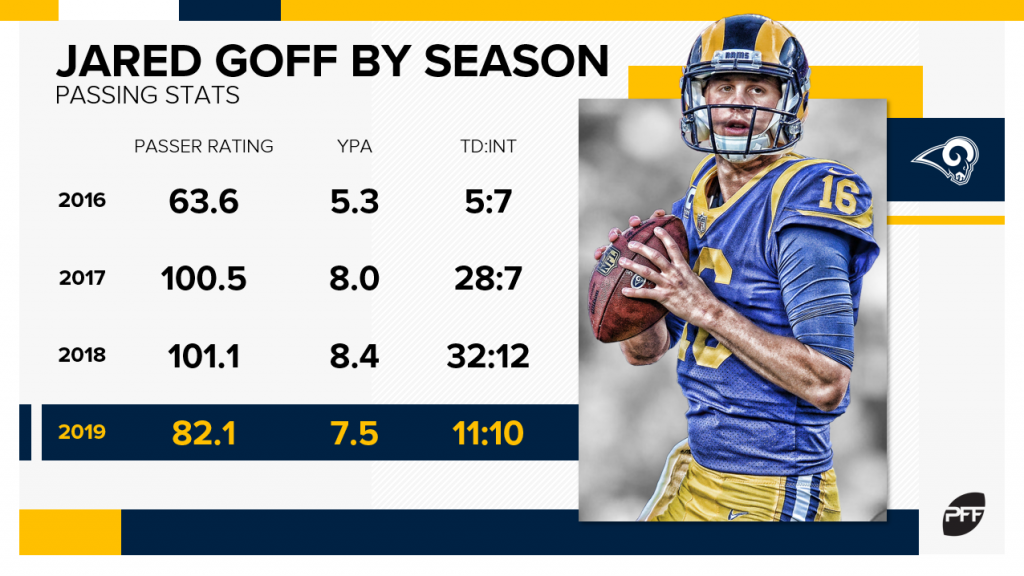 Los Angeles' issues are multiple but one of the key problems is a deteriorated offensive line that ranks third-worst in pass-block grade after ranking seventh-best in 2018. This has been especially problematic for Goff, who, since entering the league, ranks seventh-worst of 27 qualifying quarterbacks in under-pressure passer rating (62.6). Goff's issues, obviously, have had a detrimental effect on the rest of the team.
Todd Gurley averages 14.0 fantasy points per game, which ranks 16th among running backs, and is nearly half his average over the prior two seasons (26.0). Among all wide receivers, Robert Woods ranks 36th (12.7) and Brandin Cooks 55th (9.8) in fantasy points per game. Gerald Everett ranks 14th in fantasy points per game (8.6). Again, the only player to get excited about is  Kupp (17.6), but even he struggles with consistency, falling below 12.0 fantasy points in five of 10 games.