When building DFS lineups for fantasy football, knowing who to play is crucial. But perhaps just as crucial is knowing who not to play, which players you should cross off your list for that slate. Paring down the player pool makes the rest of the lineup decisions that much easier.
Each week in this space, using the information and data available to PFF subscribers, I'll highlight the players in that week's main slate that I think should be crossed off for that week, or at least used very sparingly. These are the Week 11 fades.
Quarterback
Ryan's superficial stats (including 300-plus yards in each of his first six games this year) have masked that he's not been playing at his normal level this year. Ryan's PFF passing grade (71.1) is his lowest since 2009. His yards per attempt is at its lowest point since 2013. This week he faces a Carolina defense that has held Jared Goff, Jameis Winston, Deshaun Watson, Jimmy Garoppolo, and Aaron Rodgers all to 14 fantasy points or under, and Ryan will be without two of his top weapons in Devonta Freeman and Austin Hooper.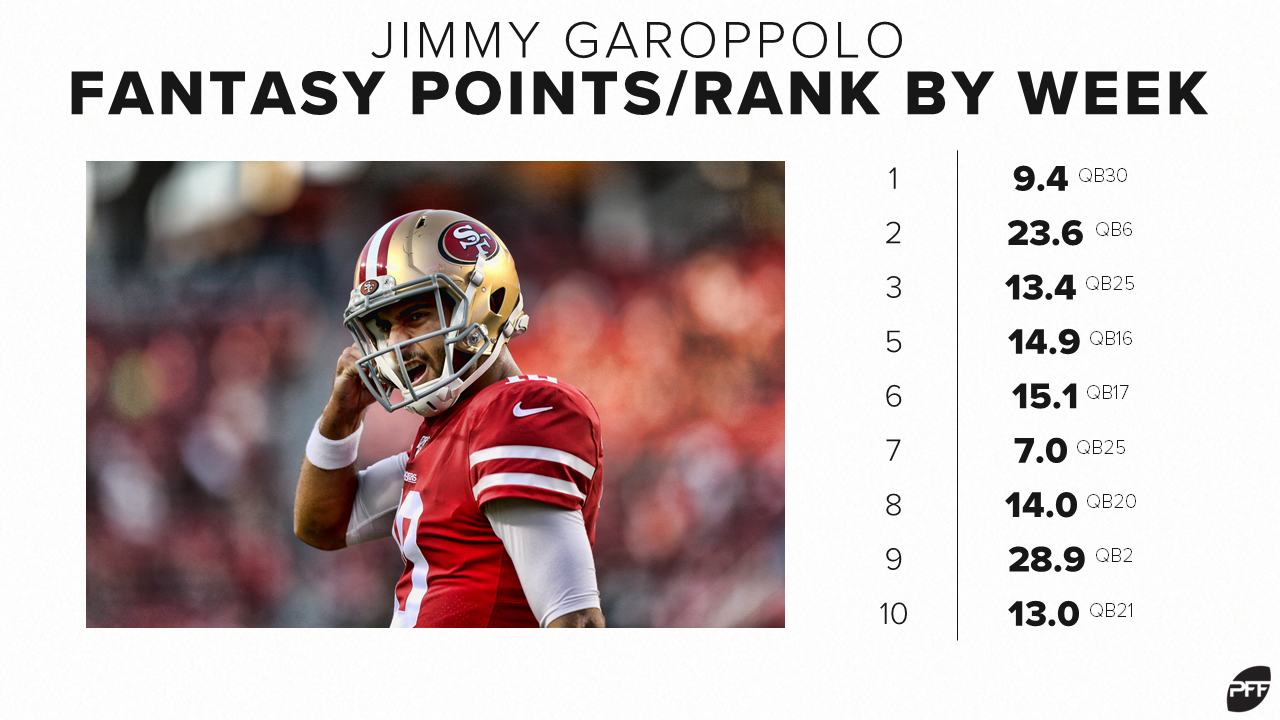 It will be easy to look at this matchup and remember these two lighting one another up only two weeks ago. But those games look like aberrations for entirely opposite reasons. Murray's big game broke a streak of the 49ers holding opposing quarterbacks under 4.0 (really) fantasy points in four straight games, while Garoppolo's big game was one of only two times this year he's had even 15.2 fantasy points in a game or finished better than QB16. Don't count on a repeat of that Cardinals game.
Running back
As I noted in my piece on Week 11 DFS locks, I will have huge investment in this week's Saints/Buccaneers game. But those shares will almost always be among the passing game, and I'll be avoiding the teams' respective running backs like the plague. We know how good the Tampa Bay run defense has been this year; per our points allowed matchup chart, the Buccaneers have allowed the second-fewest PPR points per game to opposing running backs this year. At the same time, Latavius Murray was seeing more work (and consequently Kamara less) even before Kamara's injury, and the starter's percentage of the backfield touches his a season-low 57.1% last week.
The Texans are using castoffs from the woeful Oakland (Gareon Conley) and Tampa Bay (Vernon Hargreaves) secondaries as key members of their own. That alone should be enough to show that this is a pass-funnel defense that might discourage as much running. Add in that Ingram has seen his workload fall off as the season has gone on (40.8 offensive snaps per game in Weeks 1-5, 27.8 in Weeks 6-10), and he's an easy fade this week.
You probably already know Johnson needs to be totally hands-off until we see him show something again after his awful last month of injuries and poor performance. But one of the obvious pivots at that point might be Drake, who had that big game in his Cardinals debut and well outperformed Johnson last week. But Johnson isn't going to go away, and this is still a matchup against a San Francisco defense that has allowed the third-fewest PPR points per game to opposing running backs so far. Don't make that pivot; just avoid this backfield altogether.
Wide receiver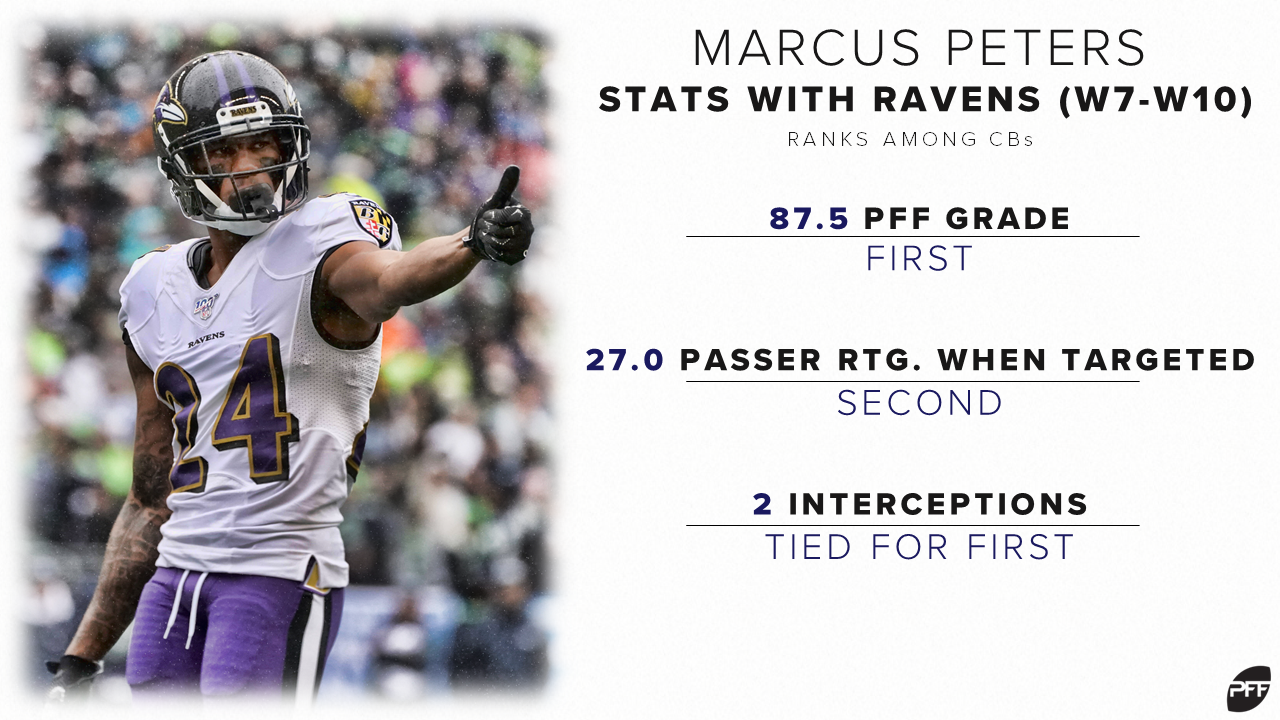 It would be difficult to argue that Marcus Peters hasn't been the league's cornerback since joining the Ravens, with the best qualifying grade (90.4) and a 27.0 passer rating allowed in coverage. The team's defense has been lights out overall as well, dropping their points allowed per game down by 7.0 points with Peters (from 23.3 to 16.3). That alone is enough to make me nervous about Hopkins' upside this week, and add in the potential for Will Fuller to return (Hopkins averaged 15.4 PPR points per game with Fuller this year, 22.3 without), and he's an easy fade.
Our WR/CB matchup chart forecasts a shadow situation or Diggs this week against Chris Harris Jr., the No. 5 graded cornerback on the year (85.5). Harris has shadowed four times this year (Allen Robinson, Davante Adams, T.Y. Hilton, and Odell Beckham Jr.) and held those four to a combined 10 receptions for 184 yards and no touchdowns.
Tight end
The truth here is that the tight end position is such a mess — particularly this week, given the names who are hurt, on bye, and/or off the main slate — that any tight end with a pulse is worthy of consideration. But on both sites, Ertz is more expensive than a much more appealing matchup like Jared Cook (who has one of the best possible matchups and just set season-highs in almost every offensive snap a week ago). Why spend on Ertz, who cedes work to Dallas Goedert and faces a formidable Patriots pass defense, when you can save money and go with Cook?