When building DFS lineups for fantasy football, knowing who to play is crucial. But perhaps just as crucial is knowing who not to play, which players you should cross off your list for that slate. Paring down the player pool makes the rest of the lineup decisions that much easier.
Each week in this space, using the information and data available to PFF subscribers, I'll highlight the players in that week's main slate that I think should be crossed off for that week, or at least used very sparingly. These are the Week 10 fades.
Quarterback
There's no real analytic point to avoiding Mahomes this week; it's just fear. I'm always nervous about a player coming back from injury, and (on DraftKings) I'd much prefer to just spend up a little for Lamar Jackson or spent down a little for Jameis Winston (both among my Week 10 DFS locks) than to take the risk on Mahomes' admittedly huge upside.
Over the course of his career, Goff has been among the most pressure-sensitive quarterbacks in the league; since the start of last year, his passer rating is more than 50 points lower when pressured as opposed to when kept clean (111.7 vs. 60.8) — every quarterback struggles when pressured, but Goff's are particularly noteworthy. As our Jarad Evans noted in his Week 10 DFS facts to know, the Steelers pressure the quarterback 40% of the time, the second-highest rate in the league. Combine that with Goff's existing road struggles, and he's an avoid this week.
Running back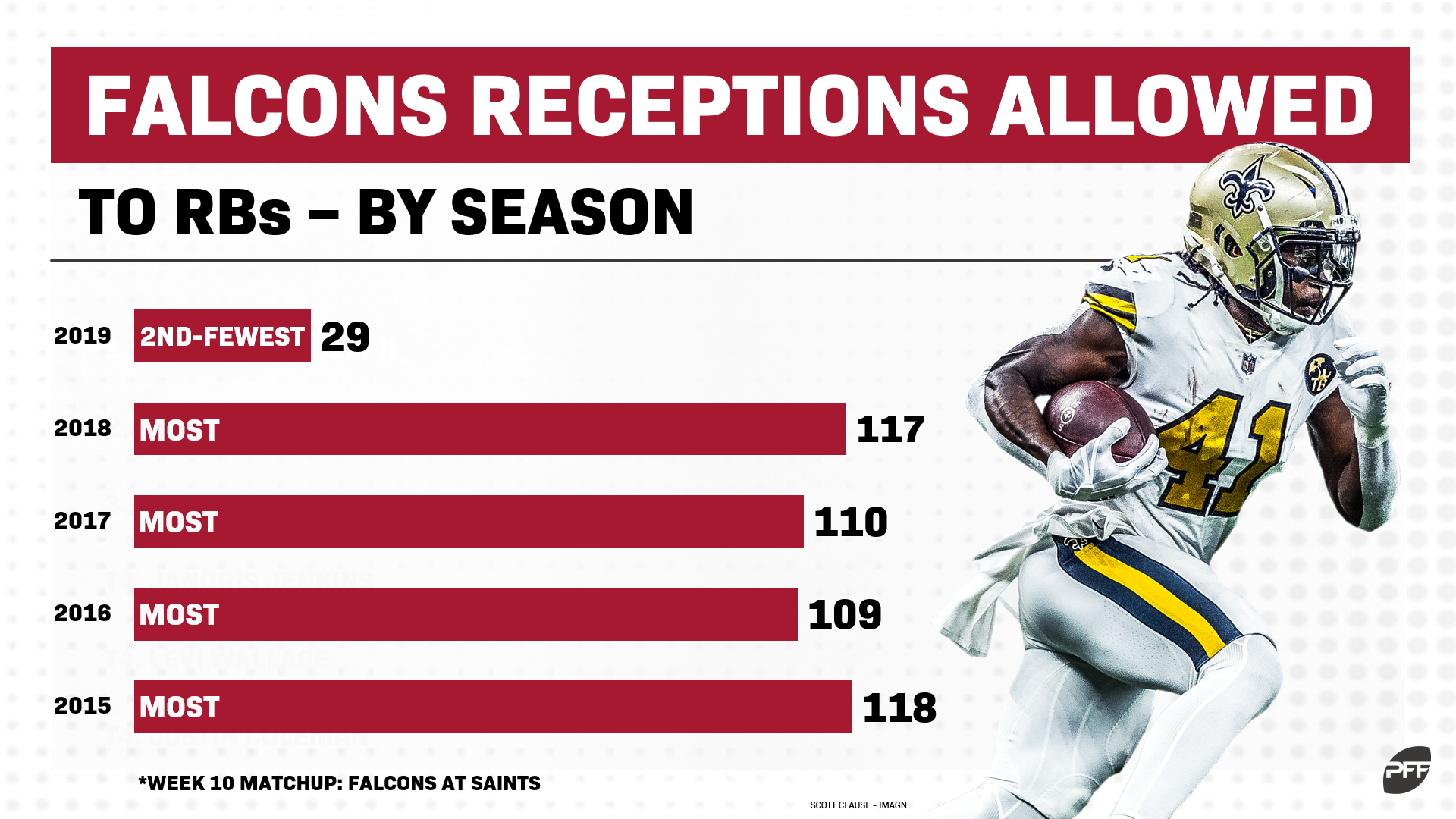 Kamara is apparently all systems go after missing two games and a bye week, but there is always the lingering worry that he'll work at less than 100% in this game or cede some work to Latavius Murray, who more than proved himself in Kamara's absence. On top of that, the ridiculously easy-to-pass-to-RBs-on Falcons defense of years past (allowing the most receptions to opposing running backs in every year 2015-2018) has gone away this year, with the team allowing the second-fewest­ receptions to backs this year. That is not, of course, because the Atlanta defense has gotten better; rather, it's been so easy for teams to throw to receivers on them that backs haven't been relied on as much. But for fantasy, the reality is the same.
This is the week of DFS injury fears, apparently. Bell is a question mark for Sunday after knee and ankle issues limited him all week. The Jets promoted Josh Adams to the active roster midweek, though that was credited more to a desire to keep him from going to another team than as Bell insurance. Regardless, for a team going nowhere, it doesn't make sense to run the offseason's big free agent acquisition into the ground when he's at less than 100%, especially against a Giants defense that is just inviting teams to pass.
I'm a man on an island in this regard, at least as far as our PFF Fantasy staff rankings are concerned. The other staff rankers still have Chubb as a mid-to-low RB1 this week, but I have him down at 18th at the position. But for me, the specter of Kareem Hunt is enough for me to avoid Chubb in DFS this week. No, I don't believe Hunt takes the No. 1 role away from Chubb, who sits as the No. 6 PPR back so far this season. But there's no way he doesn't get more work than Dontrell Hilliard and D'Ernest Johnson have gotten as Chubb's backups so far this season. Even a modest increase in backup RB touches hurts Chubb's ceiling, and against a Buffalo team that is average against running backs but should keep the overall offense in check, I don't have faith in Chubb's ceiling.
Wide receiver
As I noted in this week's piece on fantasy sleepers and busts, the Bears haven't allowed a single touchdown to an opposing wide receiver since Week 3, allowing the fewest PPR points per game to the position in that time. And considering their slate of opponents has included the Vikings, Saints, and Chargers (among others) in that time, it's an actual feat. Golladay and Marvin Jones have taken turns having the big games of late, and while I'd rather avoid the situation altogether against the Bears, if I'm going to pounce on a Lions receiver, I'm going to do it for the one that offers some savings instead of spending up. And that's Jones.
Our Scott Barrett covered this week's Robinson situation in his Week 10 start/sit advice piece, listing Robinson as a sit. His rationale? Robinson has played the Lions twice since joining the Bears, putting up 31.3 PPR points in one game and 5.7 in the other. And the difference between those games was the presence of Darius Slay, who played in the second game and shadowed Robinson, very clearly keeping him in check. Our WR/CB matchup chart predicts a shadow situation for Robinson against Slay again this week.
The Ravens are 10-point favorites at the Bengals this week, which should lead to plenty of rushes and not as many pass attempts (which is why two of Brown's teammates made my Week 10 DFS locks). And if the Ravens do pass, our points allowed matchup chart shows that teams facing the Bengals have much more success throwing to the slot than they do outside. If you want a Ravens receiver this week, it's Willie Snead, not Brown.
Tight end
Mark Andrews, Baltimore Ravens (@ CIN)
For the season, Andrews is fantasy's TE7. That's good, if perhaps a little underwhelming based on his name value. More troubling? Since Week 2, he's only 13th in TE scoring, behind Jimmy Graham and Jason Witten and barely ahead of Noah Fant. More frustrating for fantasy purposes is Andrews' playing time — he's only 28th in offensive snaps among tight ends this year, tied with Jeremy Sprinkle. The top tight ends have played more than 400, 450 snaps; Andrews has played 264. He's still got electric upside, but his usage just isn't appealing for DFS.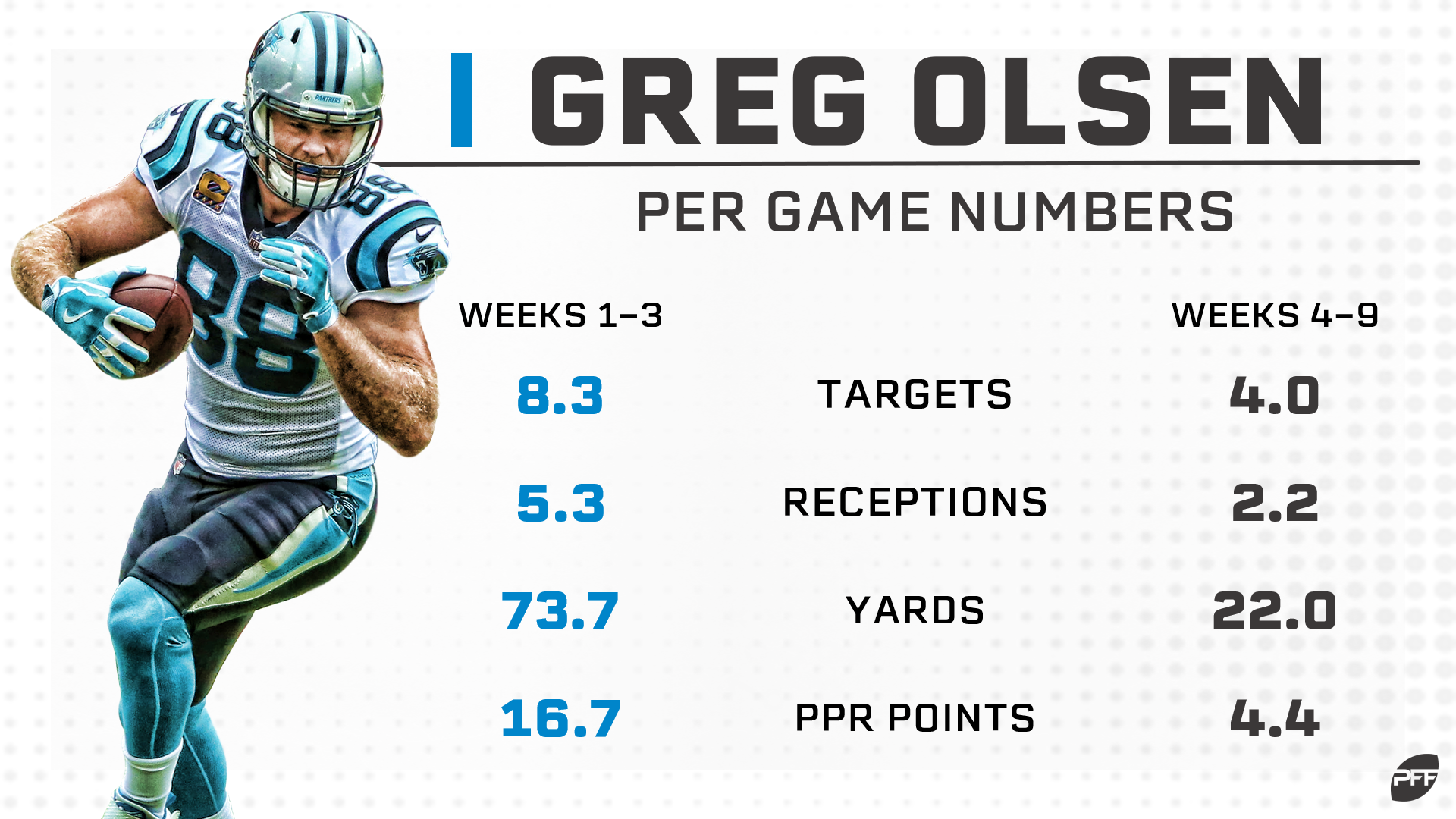 Through Week 3, there were plenty of signs of optimism for Olsen in his age-34 season after back-to-back injury-plagued years. He was the TE5 at that point, averaging 5.3 receptions, 73.7 yards, and 0.7 touchdowns per game. Since then, though, he's averaged 2.2 receptions and 22.0 yards per game with nary a touchdown. Olsen is more reputation than production right now.