Opponents matter in fantasy football. Exactly how much they matter is fair to debate, but you know you'd rather an offensive player facing, say, Tampa Bay than Chicago. You'd rather a defense facing Miami than Kansas City. We know this.
Each week in this space, I'll be taking a look at some of the key matchups to exploit in a given week, good or bad, at each position. And we'll start things off with my mismatch of the week.
Mismatch of the week
Matthew Stafford, QB, Detroit Lions (@ Arizona): At a glance, you'd expect to at least be intimidated by the Cardinals' top cornerback in Patrick Peterson … except that he's not eligible to play until Week 7 because of a suspension. Robert Alford might be intimidating, too … except he's on injured reserve. The Cardinals are likely to be starting last year's 109th-graded cornerback Tramaine Brock and rookie Byron Murphy. The Lions should be a run-heavy offense in 2019, but Week 1 could be the chance for Stafford to feast to his three-headed monster at receiver of Kenny Golladay, Marvin Jones, and Danny Amendola.
Good situations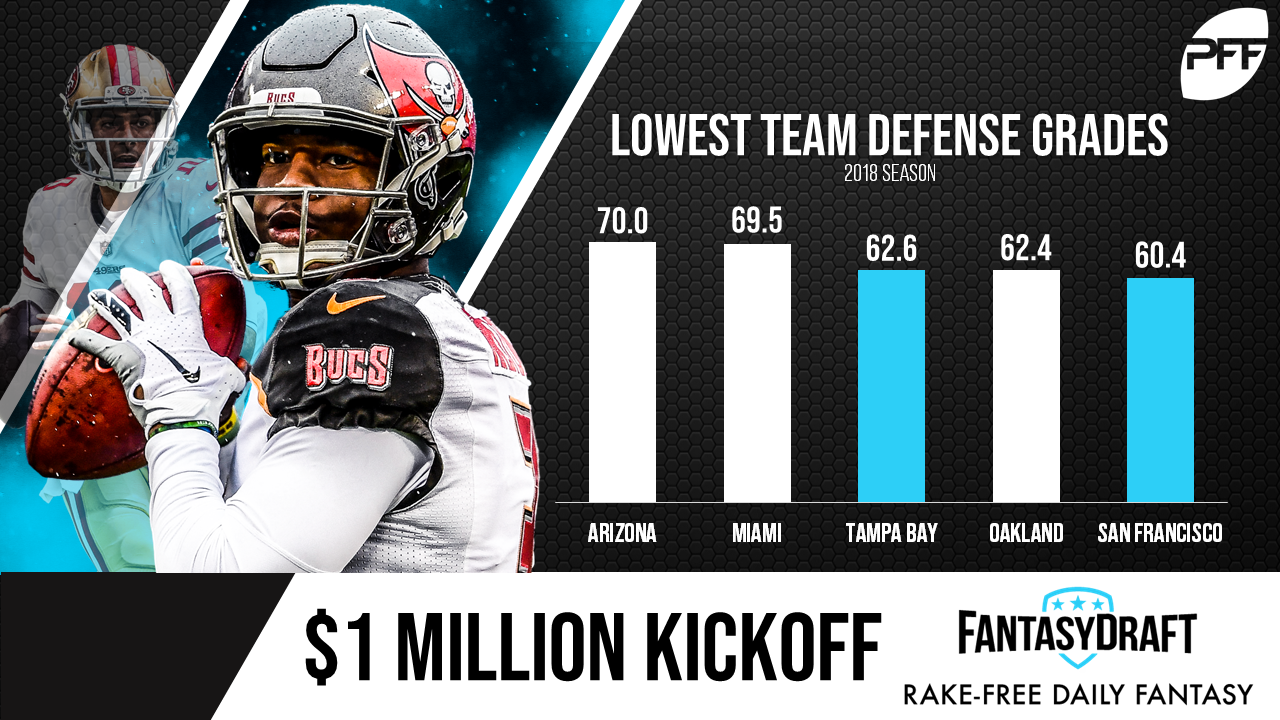 Jimmy Garoppolo, QB, San Francisco 49ers (@ Tampa Bay): Our early DFS ownership projections have Jameis Winston as the sixth-most heavily owned quarterback in Week 1. And for good reason, as he heads up a pass-heavy offense against what was just a legendarily bad coverage defense in 2018 and might not be that much better this year. But Garoppolo is on the other side of the ball in that game, is projected for about a third of Winston's ownership, and it's not like Tampa Bay's defense has really covered itself in glory. I won't blame you if you're just a little cautious of Garoppolo in his first regular-season game back from injury, but his Week 1 upside is extreme.
Mark Ingram, RB, Baltimore Ravens (@ Miami): You'd expect running backs to feast against Miami all year long, given how awful the team overall is, how often it should be trailing, and how its one relative strength is its pass defense. You'd also expect Ingram to have a big year as the RB1 in one of the league's most run-heavy offenses. Put those together? Ingram could have a monster Ravens debut.
Albert Wilson, WR, Miami Dolphins (vs. Baltimore): On the other side from Ingram, Wilson could have a big Week 1 return from last year's hip injury. The Dolphins have very little going for them on offense, even less now that Laremy Tunsil is gone from what was already the league's worst offensive line. That means bad things for the running backs, bad things for the quarterbacks (poor Josh Rosen), but maybe good things for Wilson, given his role in the slot (guaranteed now that Kenny Stills is gone) and the likely need for Ryan Fitzpatrick to get the ball out quickly. Add to that that slot corner Brandon Carr is the relative weakness in the Baltimore pass defense (compared to Jimmy Smith and Marlon Humphrey), and it's set up well for Wilson
Will Dissly, TE, Seattle Seahawks (vs. Cincinnati): The Seahawks looked paper-thin at receiver behind Tyler Lockett a few days ago, with D.K. Metcalf and David Moore hurt and Jaron Brown released. Metcalf's recovery has gone well and Brown has been re-signed, so things are looking up a little, but still, this isn't exactly the vintage Packers receiving corps. Dissly opened his rookie 2018 as a huge surprise, with six receptions for 147 yards and two touchdowns in his first two weeks. He hit IR not long after, but if he gets usage anything like that this year, especially against a Cincinnati defense that allowed more than 15 PPR points a game to opposing tight ends last year, he could surprise in his second Week 1.
Bad situations
Kyler Murray, QB, Arizona Cardinals (vs. Detroit): The Cardinals have a subpar offensive line, which might or might not be a big problem for Murray over the course of his rookie year, given his propensity for running the ball and escaping pressure anyway. In Week 1, though, that line has to go against a Detroit defensive line that could be one of the league's best, featuring Damon Harrison, Trey Flowers, Da'Shawn Hand, and Mike Daniels. Much as we all like Murray for the season, Week 1 might be a rough start.
Derrick Henry, RB, Tennessee Titans (@ Cleveland): I'm on the record as being skeptical of the Titans being as run-heavy as rumors have them being in 2018. The team has done too many things that lead me to believe otherwise. But even if the team does want to run the ball a lot all year, Week 1 isn't a good time for it. The formidable Cleveland defensive line announced its presence with authority in that preseason game against Tampa Bay when Jameis Winston couldn't stay upright, and now gets to go against a Tennessee line that will be without LT Taylor Lewan for the first month.
Robby Anderson, WR, New York Jets (vs. Buffalo): Poor Anderson. Six games against the Patriots (who excel at shadow coverage), Dolphins (who will likely sic Xavien Howard on him) and Buffalo (who have a good pass defense top-to-bottom), plus games against Dallas, Jacksonville, and other strong pass defenses. Anderson is going to sit low on our WR/CB matchup chart all year long. He's got plenty of talent, but he could be facing the toughest slate of corners all year long that we've ever seen, and it starts in Week 1.
Eric Ebron, TE, Indianapolis Colts (@ LA Chargers): Maybe Ebron has pushed past Jack Doyle after his strong 2018 and Doyle's lingering injuries. That is possible, even if the Colts' usage when both were healthy last year didn't indicate that. But betting on it in Week 1 against a Chargers team that only allowed three tight ends to top 60 yards last year (and that included an 82-yard play for George Kittle and a 68-yarder for Mark Andrews, big plays that aren't exactly Ebron's forte) is too big a bet.