One of the beauties of dynasty fantasy football is that not every team is pursuing the same strategy. There are win-now teams, building-for-the-future teams, rebuilding rosters and aging teams aiming for one last shot, all in ways that redraft leagues don't offer.
Teams that are in win-now mode, either because they are particularly stacked or because they have an aging core and need to go for it before the door slams shut, aren't that complicated. Get the best players you can as soon as you can. Next year, two years from now might stink in some cases, but flags fly forever.
The others, though, the ones building for the future, they have different questions. The easy strategy is to just get the best young players you can, and of course that's what you should do. But it's not exactly going to set you apart. Everybody wants the good young players.
Another strategy is to stockpile assets in a different way. When it comes to running backs, everybody wants Josh Jacobs and Miles Sanders and David Montgomery. But there are other, less obvious players you might want to target. Maybe they have a chance at turning into something that can help. Or maybe they just have a shot at an expanded role and could become something you could flip in trade. Either way, these running backs are long shots, but might end up helping a dynasty roster that is looking to the future.
I'll start with the most obvious names and work down. (That's a subjective order, obviously.)
(Click here for dynasty stashes at quarterback.)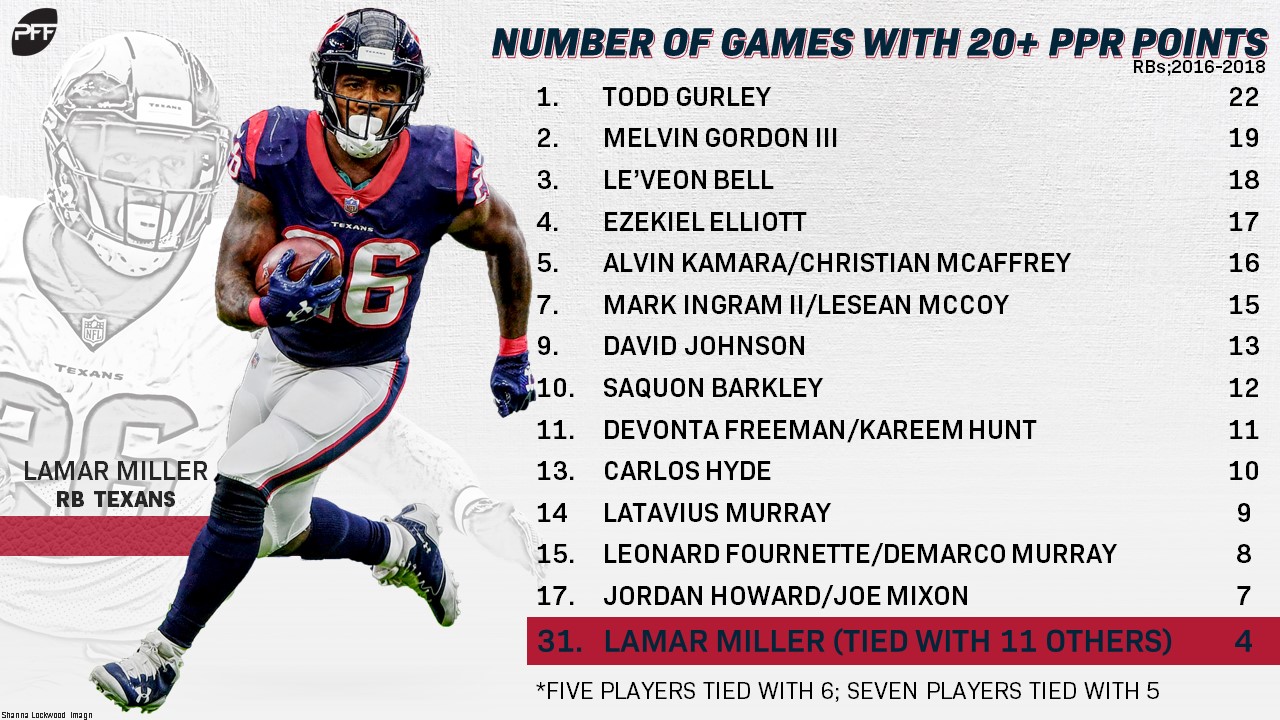 I've been touting Lamar Miller as, among other things, one of the veteran winners of the draft, the result of the Texans expending no draft capital on running back and also bolstering its offensive line. Even with that, though, it's true that Miller has been a marginal disappointment since joining Houston. He's only topped 20 PPR points in a game four times — as many times as LeGarrette Blount and Chris Thompson, fewer than C.J. Anderson, Bilal Powell, and retired-a-year-ago DeMarco Murray. Miller should be the starter in Week 1, but his leash is getting shorter all the time.
If Foreman can show he's fully recovered from the Achilles tear that cost him almost all of 2018, he'll get first crack at the job. Higdon, signed as an undrafted free agent after the draft, is another possibility to get the gig. The most important thing for a running backs' productivity is opportunity, and either could find himself with a helping of it this season.
The Dolphins have a razor-thin depth chart at running back, which could be a problem considering they didn't want to give starter Kenyan Drake even as many carries as Frank Gore a year ago. Other than Drake and Ballage, the backfield is Mark Walton (cast off from Cincinnati this offseason), Kenneth Farrow (last seen in the AAF), Myles Gaskin (2019 seventh-rounder), and Patrick Laird (undrafted). If anything happens to Drake, and/or if the Dolphins continue to be reluctant to give the starter a bell-cow workload, Ballage (who had 180 rushing yards over Weeks 15-17 and just for fun had an eight-touchdown game in college in 2016) would be the most likely beneficiary.
Jones was about as disappointing as it is practical to be as a rookie in 2018, rushing for all off 44 yards, scoring one touchdown, and putting up a PFF grade of 48.8 that was 95th out of 96 backs with at least 20 carries. And it wasn't out of nowhere, as Jones was a huge disappointment in the preseason as well, with 22 rushing yards on 28 carries. Still, he was the highest-graded running back in college in 2017 (92.4) and is in a Buccaneers backfield that has little other than Jones and the underwhelming Peyton Barber. On the off chance his 2018 was a blip on the road for what was a reasonable prospect, he should be owned.
The Ravens signed Mark Ingram this offseason, and he'll get the most and best chance at the starting job. At 29, though, Ingram's career is nearer its end than its beginning, and if anything happens, Dixon is the next-best candidate to be a bell cow in the backfield (Gus Edwards might get carries, but even LeGarrette Blount looks down on Edwards' receiving). Dixon is a tackle-breaking machine, forcing 58 on 193 career touches (best in the league since he entered), and on a Ravens team that is clearly going to be run-heavy, that role would be very valuable. Even if Dixon doesn't get monster work in 2019, he's worth a long-term stash.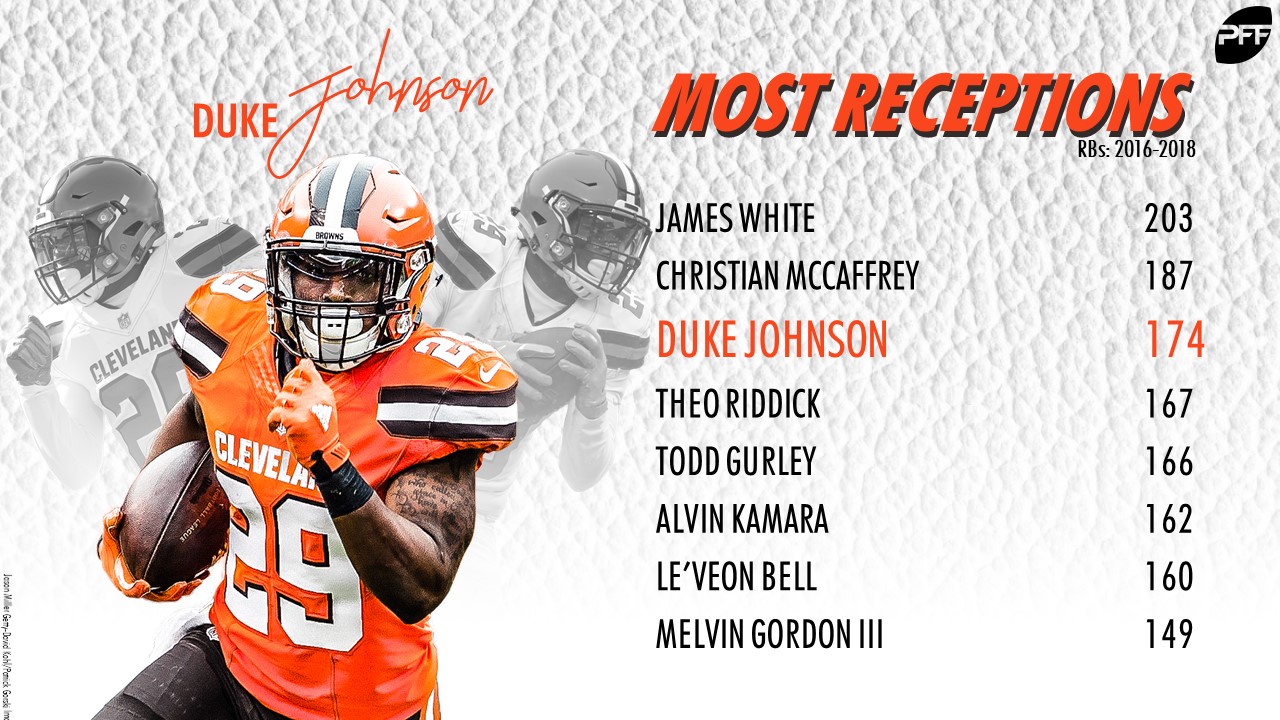 Johnson is only a year removed from having the No. 4 receiving grade among qualified running backs in 2017, topping 1,000 yards from scrimmage and finishing as the No. 11 PPR back. The arrivals of Carlos Hyde and Nick Chubb cost Johnson much of his workload, and he might not even be with the Browns at the start of the year, but if he ends up somewhere where he can be a third-down receiving back, his receiving chops will keep him valuable, and his stock now is extremely low.
The Colts are fairly set at running back if Marlon Mack (and to a lesser extent) Nyheim Hines can repeat their 2018 campaigns. Hines was seventh in the league in RB targets with 78 and put up a 77.4 receiving grade as a rookie, while Mack finished as the No. 21 PPR back despite only 12 games played and 17 receptions. At the same time, the most well-rounded back on the team might be Ware, who was a force for the Chiefs in 2016 before injury and Kareem Hunt's emergence relegated him to a bench role. The Colts were rumored to be connected to Le'Veon Bell and Jay Ajayi this offseason, but settled for Ware and keeping the starters in place. Still, our own Scott Spratt has detailed why he thinks Ware could be a three-down back if given the opportunity. He's worth a stash.
Devonta Freeman should be fine to return for the season, but he's also 27 and barely played in 2018. Should he be unable to return to his peak, either in 2019 or after, the Falcons now have no Tevin Coleman to come to. Instead, Freeman's backups are Ito Smith and Pitt rookie Ollison, who have complementary skillsets — Ollison's a strong runner, while Smith has more of a background as a receiver (although he didn't prove much as a 2018 rookie). Ollison is a longshot to end up with much fantasy value in his career, but he's virtually free in drafts (he went at the end of the fifth round of our recent dynasty rookie mock) and doesn't have much in front of him.