Now that we know where all the rookies will start their NFL careers, the fantasy football intrigue can focus on their value. The most crucial bit of information about a football player's fantasy stock is of course his opportunity, so the most important time for evaluating fantasy value is the draft.
The savvy fantasy analyst will have rankings in place, at least rough ones, before the draft, but afterward we can really put our expectations into action by combining our player evaluations with landing spots.
To that end, after the draft the PFF Fantasy team got together with some non-PFF folk to conduct a 12-team, six-round rookie dynasty mock. PPR league, single-QB, non-snake. The participants:
[Editor's Note: All of Pro Football Focus' EDGE & ELITE subscribers have access to our DraftMaster tool, which allows subscribers to run mock drafts and practice roster building BEFORE their season-long and Best Ball drafts. New subscribers can subscribe to EDGE for as low as $9.99 today!]
With that group, here's how the rookie mock played out:
Round 1
Round 2
Round 3
Towers
Josh Jacobs
OAK
RB
Devin Singletary
BUF
RB
Jalen Hurd
SF
WR
Ciely
N'Keal Harry
NE
WR
Noah Fant
DEN
TE
Dwayne Haskins
WAS
QB
McDowell
Miles Sanders
PHI
RB
T.J. Hockenson
DET
TE
Darwin Thompson
KC
RB
Schneier
Kyler Murray
ARZ
QB
Andy Isabella
ARZ
WR
Benny Snell
PIT
RB
Thorman
David Montgomery
CHI
RB
Hakeem Butler
ARZ
WR
Jace Sternberger
GB
TE
Kelly
A.J. Brown
TEN
WR
Darrell Henderson
LAR
RB
Ryquell Armstead
JAX
RB
Dunlap
DK Metcalf
SEA
WR
Justice Hill
BAL
RB
Miles Boykin
BAL
WR
Ratcliffe
Marquise Brown
BAL
WR
Damien Harris
NE
RB
Alexander Mattison
MIN
RB
Barrett
Mecole Hardman
KC
WR
Diontae Johnson
PIT
WR
Josh Oliver
JAX
TE
Kelley
Deebo Samuel
SF
WR
Irv Smith
ATL
TE
Gary Jennings
SEA
WR
Spratt
Parris Campbell
IND
WR
Bryce Love
WAS
RB
Riley Ridley
CHI
WR
Patrick
JJ Arcega-Whiteside
PHI
WR
Terry McLaurin
WAS
WR
Kahale Warring
HST
TE
Round 4
Round 5
Round 6
Towers
Tony Pollard
DAL
RB
Alex Barnes
TEN
RB
Bruce Anderson
TB
RB
Ciely
Trayveon Williams
CIN
RB
Travis Fulgham
DET
WR
Preston Williams
MIA
WR
McDowell
Dexter Williams
GB
RB
Hunter Renfrow
OAK
WR
Dillon Mitchell
MIN
WR
Schneier
James Williams
KC
RB
Alizé Mack
NO
TE
Elijah Holyfield
CAR
RB
Thorman
Devine Ozigbo
NO
RB
Mike Weber
DAL
RB
Stanley Morgan
CIN
WR
Kelly
Kelvin Harmon
WAS
WR
KeeSean Johnson
ARZ
WR
Caleb Wilson
ARZ
TE
Dunlap
Jordan Scarlett
CAR
RB
Drew Sample
CIN
TE
Lil'Jordan Humphrey
NO
WR
Ratcliffe
Rodney Anderson
CIN
RB
Darius Slayton
NYG
WR
Myles Gaskin
MIA
RB
Barrett
Dawson Knox
BUF
TE
John Ursua
SEA
WR
Will Grier
CAR
QB
Kelley
Emanuel Hall
CHI
WR
Qadree Ollison
ATL
RB
Terry Godwin
CAR
WR
Spratt
Drew Lock
DEN
QB
Scott Miller
TB
WR
Jakobi Meyers
NE
WR
Patrick
Daniel Jones
NYG
QB
David Sills
BUF
WR
Karan Higdon
HOU
RB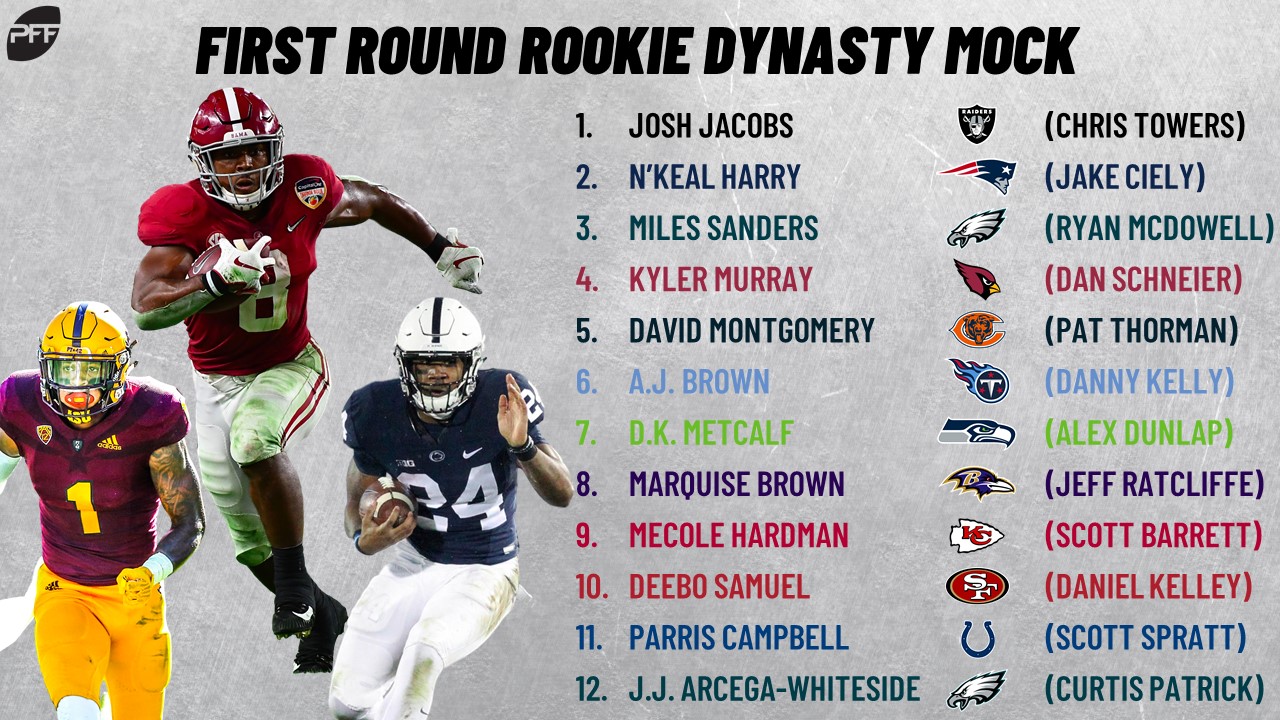 Let's look at notable individual picks:
(1.01 to Chris Towers)
Jacobs was already the likely No. 1 pick in most rookie drafts coming out of the NFL draft based on his high fantasy potential and clearest line to a starting job, but this week's injury to Isaiah Crowell cemented that, just about locking him into a big-time role from Week 1. He was Jeff Ratcliffe's No. 1 rookie back in dynasty before the draft.
(1.04 to Dan Schneier)
Where Murray goes in drafts this year is probably going to be the primary storyline of all rookie drafts. He carries as much fantasy potential at quarterback as just about any recent entry into the league, but it is at quarterback, the deepest position in the game right now for a single-QB league. Murray could genuinely be a QB1 in his debut season. The question is just whether that is worth it in a league where starting-caliber quarterbacks can run as much as 20 deep. He's 16th in our staff dynasty rookie rankings, ranging from ninth overall to 20th.
(1.07 to Alex Dunlap)
Metcalf's value has been the hardest to pin down for months now. He was the star of the combine, for both good and bad reasons, and that had him as high as first overall in rookie wide receiver rankings, but also had him slip to the very end of the second round in the real NFL draft, the ninth wide receiver off the board. Still, landing in Seattle with the potential that Doug Baldwin's career is over is about the best landing spot a rookie could ask for outside of N'Keal Harry's destination in New England. Metcalf was the third receiver off the board in this draft.
(1.09 to Scott Barrett)
Hardman was probably the biggest dynasty riser in the draft. He was only 25th on Jeff Ratcliffe's pre-draft rookie receiver rankings, a raw prospect with only 60 catches in three years. But an early draft pick and landing spot with the Chiefs and the possibility that Tyreek Hill's tenure is over give Hardman extreme appeal as a potential top target for the league's top fantasy quarterback. Hardman shot up the post-draft rankings and was the fifth receiver off the board in this draft.
(Fant 2.02 to Jake Ciely; Hockenson 2.03 to Ryan McDowell)
In Fant and Hockenson, we have two college teammates at the same position both going in the first round of the NFL draft and likely becoming their teams' starters early if not immediately. You'll forgive me for lumping them together into one group in this space. Jeff Ratcliffe had Hockenson ranked first, just ahead of Fant, before the draft, but ultimately it's reasonable that these two are going to be narratively connected for as long as their careers last. Hockenson comes in first among tight ends in our staff rankings, but not unanimously.
(2.06 to Danny Kelly)
Henderson was one of the biggest fallers in the draft after landing with the Rams as a backup/handcuff/pass-catching alternative (depending on who you ask) to Todd Gurley. After being ranked fourth in Jeff Ratcliffe's pre-draft rankings, Henderson was the fifth running back off the board, but only one running back went between David Montgomery at fifth overall and Henderson at 18th. If any concerns about Gurley's health are founded, Henderson has among the highest ceilings in this rookie class, but if Gurley's 100%, there's a definite cap on Henderson's potential as long as they are teammates.
(2.11 to Scott Spratt)
Love is among the biggest wild cards in the draft. He had top-of-the-draft potential after his 2017 season, but returned to college for 2018 and saw his yards per carry drop from 8.1 to 4.5, and now he's recovering from a torn ACL. Love's rookie season might end up being a redshirt year, meaning drafting him is little more than a long-term investment with minimal potential for immediate dividends. There's nothing wrong with that in a rookie dynasty draft, but it's worth knowing that when the pick is made.
(3.02 to Jake Ciely)
The first quarterback went off the board with the fourth pick in the first round. Haskins, the second, stuck around until the second pick of the third. That is a perfectly fine illustration of the gap between Murray and the field in this year's rookie crop. Haskins has the potential to be a perfectly fine quarterback in the NFL, but he has a short track record and doesn't run enough to have anything like the fantasy potential Murray carries.
James Williams, RB, Kansas City Chiefs
Emanuel Hall, WR, Chicago Bears
(Williams 4.04 to Dan Schneier; Hall 4.10 to Daniel Kelley)
Our first two UDFAs came off the board in the fourth round. Williams landed with the Chiefs after the draft, a good landing spot in a potent offense with only Damien Williams (who had minimal track record before exploding over the last month of 2018) and Carlos Hyde (who has been on three teams in the last year and hasn't been impressive in longer than that) definitely ahead of him on the depth chart. James Williams is no guarantee to even make the roster, but if he can carve out a role, there's plenty of ceiling with the Chiefs.
Hall, meanwhile, had nearly half of his targets and half of his yardage come on deep targets in 2018, averaging 20.5 yards per catch and putting up the third-best yards per route run of a Power 5 receiver in the PFF era. He might not have an immediate heavy role with the Bears, but he will have good potential (especially in best ball leagues) if he can make something for himself.
(Lock 4.11 to Scott Spratt; Jones 4.12 to Curtis Patrick)
After Haskins at the top of the third, it took until late in the fourth round for any more quarterbacks to go (Will Grier, with the fourth-to-last pick, was the only other quarterback to go at all). Jones obviously went sixth overall in the real draft, but that was higher than most projections had him ranked, and there is already talk of him sitting behind Eli Manning for potentially multiple years before taking over the starting job with the Giants. Lock, meanwhile, has only Joe Flacco to contend with in Denver, meaning he could be the team's starter as early as this season. Neither is a sure thing, but getting a starting quarterback at the end of the fourth round of a rookie draft carries value.
(5.03 to Ryan McDowell)
The joke is that Renfrow has been in college since the Taft administration, but the real point behind the joke is that he had 186 catches in his four years at Clemson and carries as much high-level experience as just about any receiver. He's undersized (5-10, 184 pounds) and should be a slot option in the NFL, but joining a Raiders team that has plenty of outside receiver options but no obvious slot weapon before Renfrow, he has PPR potential right off the bat.
(6.12 to Curtis Patrick)
Higdon was the last pick in our mock and didn't get drafted at all in the NFL draft … but he could be a weapon immediately in the NFL, thanks to landing on a shallow depth chart in Houston behind a disappointing Lamar Miller and a still-recovering-from-injury D'Onta Foreman. He was the No. 24 back in Jeff Ratcliffe's pre-draft rankings and doesn't do a lot as a receiver (he had 16 receptions in a four-year college career), but if Higdon can carve out a real role in the Houston offense in Year 1, he's a steal this late in the draft.
Position breakdown
Round
Position
First
Second
Third
Fourth
Fifth
Sixth
Total
QB
1
0
1
2
0
1
5
RB
3
5
4
7
3
4
26
WR
8
4
4
2
7
6
31
TE
0
3
3
1
2
1
10