One of the beauties of dynasty fantasy football is that not every team is pursuing the same strategy. There are win-now teams, building-for-the-future teams, rebuilding rosters and aging teams aiming for one last shot, all in ways that redraft leagues don't offer.
Teams that are in win-now mode, either because they are particularly stacked or because they have an aging core and need to go for it before the door slams shut, aren't that complicated. Get the best players you can as soon as you can. Next year, two years from now might stink in some cases, but flags fly forever.
The others, though, the ones building for the future, they have different questions. The easy strategy is to just get the best young players you can, and of course that's what you should do. But it's not exactly going to set you apart. Everybody wants the good young players.
Another strategy is to stockpile assets in a different way. When it comes to quarterbacks, everybody wants Kyler Murray and Dwayne Haskins and Drew Lock. But there are other, less obvious players you might want to target. Maybe they have a chance at turning into something that can help. Or maybe they just have a shot at an expanded role and could become something you could flip in trade. Either way, these quarterbacks are long shots, but might end up helping a dynasty roster that is looking to the future.
I'll start with the most obvious names and work down. (That's a subjective order, obviously.)
You would hope people who stashed Rosen in dynasty leagues didn't cut bait on the quarterback who was a top-10 NFL draft pick only a year ago. But in relatively shallow and/or one-QB dynasty leagues, who knows. Rosen could scarcely have entered a worse situation as a rookie, leading the league's worst roster with few legitimate weapons and a poor fit as a coach. Yes, he looked awful in 2018, but most quarterbacks would have.
Now with the Dolphins, Rosen's situation is … just about as bad as it was in Arizona. His stock for 2019 alone is low. But he's still a quarterback who many argued was the best in the draft only a year ago. It's too early to call Rosen an out-and-out bust, even if hopes are obviously less high than they were. Still, if he's available, that's a mistake.
Somehow, 2019 will be the fourth season since he was last a regular quarterback in 2015. And he's not set up to be one this year either, as he remained with the Saints in free agency and will obviously be behind Drew Brees on the depth chart yet again. But Bridgewater will still be only 27 when the 2020 season kicks off, and if Brees calls it quits, the job is likely to be his.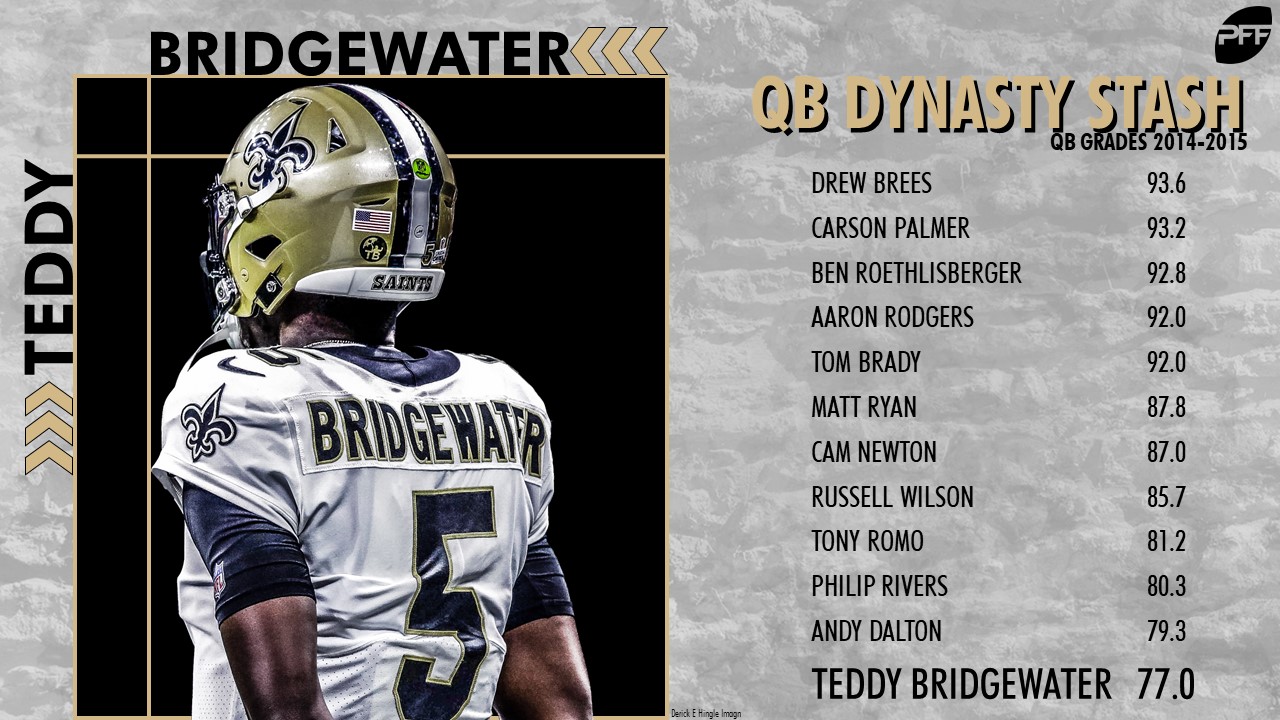 Bridgewater had the 12th-highest overall QB grade (77.0) across 2014-2015, his first and second seasons, as a 21-/22-year-old, helming a Vikings team without a load of weapons. The time away from serious action is always going to be a concern, but with that coaching staff and that load of weapons in New Orleans, he could be a heck of a rebound candidate if he gets the job.
The Ravens' quarterback room right now is Lamar Jackson, Robert Griffin III, and McSorley, so at the very least we can say they have a type. This is a team that is committed, for the time being, to having a strong ground game out of the quarterback position. And while there is still worlds of room for growth as a passer out of Jackson, he had enough warts doing the job in 2018 that you can't possible consider him a sure thing. Griffin, six years removed from his last time playing double-digit games and seven removed from his last year with a grade over 66.0, is an insurance policy, not a future.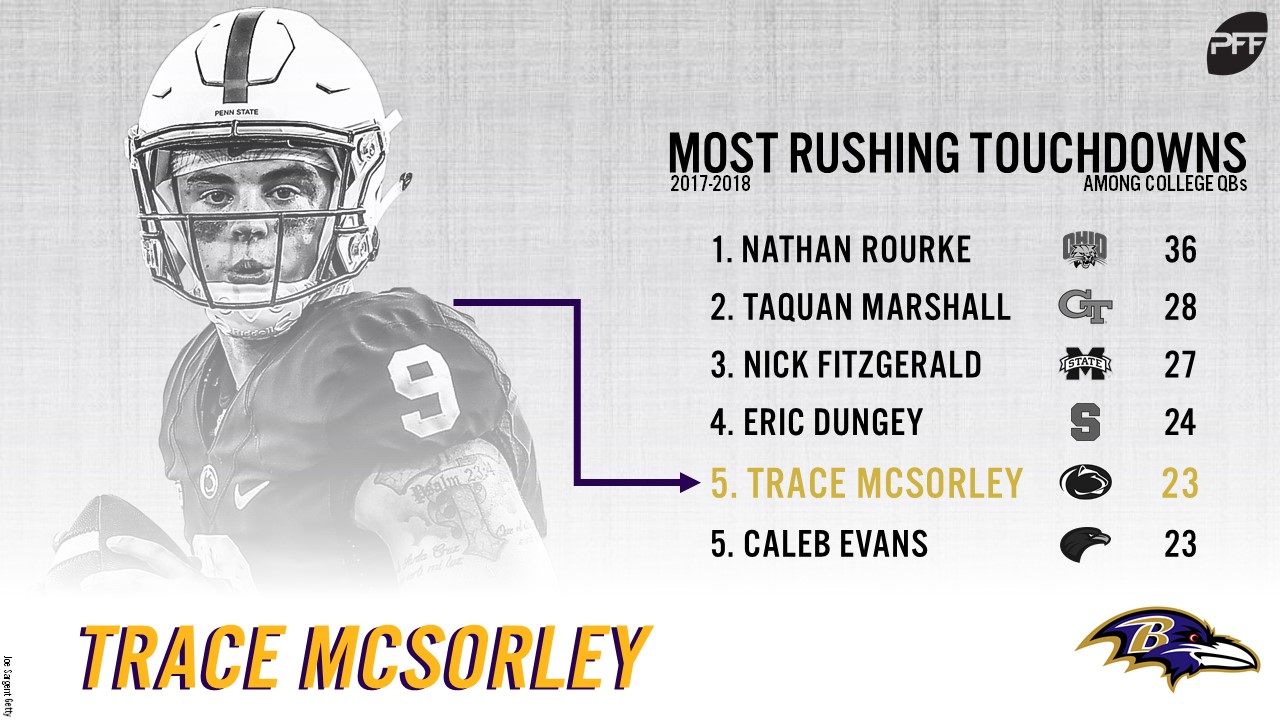 Enter McSorley, the Ravens' sixth-round pick in this year's draft. You don't often look to invest much in a sixth-round draft pick, but McSorley found a perfect fit in Baltimore. He tied for fifth among all college quarterbacks in rushing touchdowns the last two years, putting up 11 in 2017 and 12 in 2018, and averaged 6.1 yards per attempt in 2018. If Jackson struggles to improve his passing, McSorley could slide into the role and do much the same work, and as we've seen, a quarterback who can run immediately has good fantasy value.
For a quarterback who joined the Colts eight days before Week 1 and made his Indianapolis starting debut a week later, Brissett wasn't bad in 2017. He wasn't very good by any means, but he was better than expectations. As long as Andrew Luck remains healthy (never a sure thing in his career, though the offensive line's improvements mean he has a better chance), Brissett isn't likely to see playing time like that again with the Colts. But Brissett is heading into free agency after this season, and there has been apparent interest in him — the Seahawks were rumored to have offered a second-rounder for him before last season, and he's always been connected to the Patriots since he started his career there. If Brissett signs back with New England and becomes Tom Brady's heir apparent? His value skyrockets.
Jackson went undrafted this year but was quickly snapped up by the Bills, where he will contend with Matt Barkley for the backup role to Josh Allen. Allen was a pleasant surprise as a fantasy asset in 2018, leading the league in QB fantasy scoring in Weeks 12-17, but the job he did as a passer was much less impressive, as he graded out at 58.0 (34th of 44 quarterbacks with at least 100 quarterbacks) and threw only 10 touchdown passes against 12 interceptions. Allen will be the starter in 2019 and will have a long leash, but he still has a lot to prove as a passer, and if Jackson ends up showing enough to take over the role at some point, his rushing will give him an edge. He's a long shot, but he's in the right place.
The next time Marcus Mariota plays a 16-game season will be his first; he's played at 12 every year but has played several of those at less than full strength. There's an argument that his injuries in 2018 cost the Titans a playoff spot — or at least a better shot at one, as the team went into a win-or-go-home Week 17 game with Blaine Gabbert at quarterback. That explains the acquisition of Tannehill this offseason, who even coming off his clear worst year (he had a 45.3 overall PFF grade) was still worlds better than Gabbert (33.6) and has more room for improvement. The chances of Tannehill ever being a long-term dynasty solution are about as high as the chances of me doing it, but if you figure Tannehill could stumble into a few starts in 2019, he might find himself with trade value on a Titans team that suddenly has a fair number of receiving weapons in Corey Davis, A.J. Brown, Adam Humphries, Dion Lewis, Delanie Walker, and Jonnu Smith. Stash Tannehill, flip him to a desperate team if and when he gets a few starts, and profit.