"Conventional wisdom" is very well-named. It's wisdom, because it's smart, but it's boring, because it's conventional. In fantasy football, conventional wisdom means following the trends and getting the players the wisdom of the crowd says. And there's nothing wrong with that — it can lead to a very successful fantasy season.
But there's something to be said for going out on a limb, bucking conventional wisdom, and blazing your own trail in fantasy. It's the common approach in DFS tournaments — getting the players everybody agrees will be good is a great way to win the minimum, but being successful by going contrarian is the way to make the big bucks — but there's a place for it in season-long leagues as well.
Today, we're looking at some of the contrarian picks for the 2019 fantasy season. These are players who aren't getting much buzz as big-time producers but could still make your season a success.

Both star running backs have been plummeting in average draft position recently, and for good reason, as we don't know if or when we'll see them on the field this season. On the other hand, these guys were consensus top-six picks in fantasy a month ago. In my home league draft Sunday, the same guy drafted both players — Elliott at 2.01, Gordon at 4.01. If they show up for the season? He's got insane potential.
Obviously, both players carry immense risk, but with the ability to get them at a steep discount, the potential payoff is immense as well. Drafting both might be too much risk for my blood, but getting one or the other is a way to potentially extract huge value.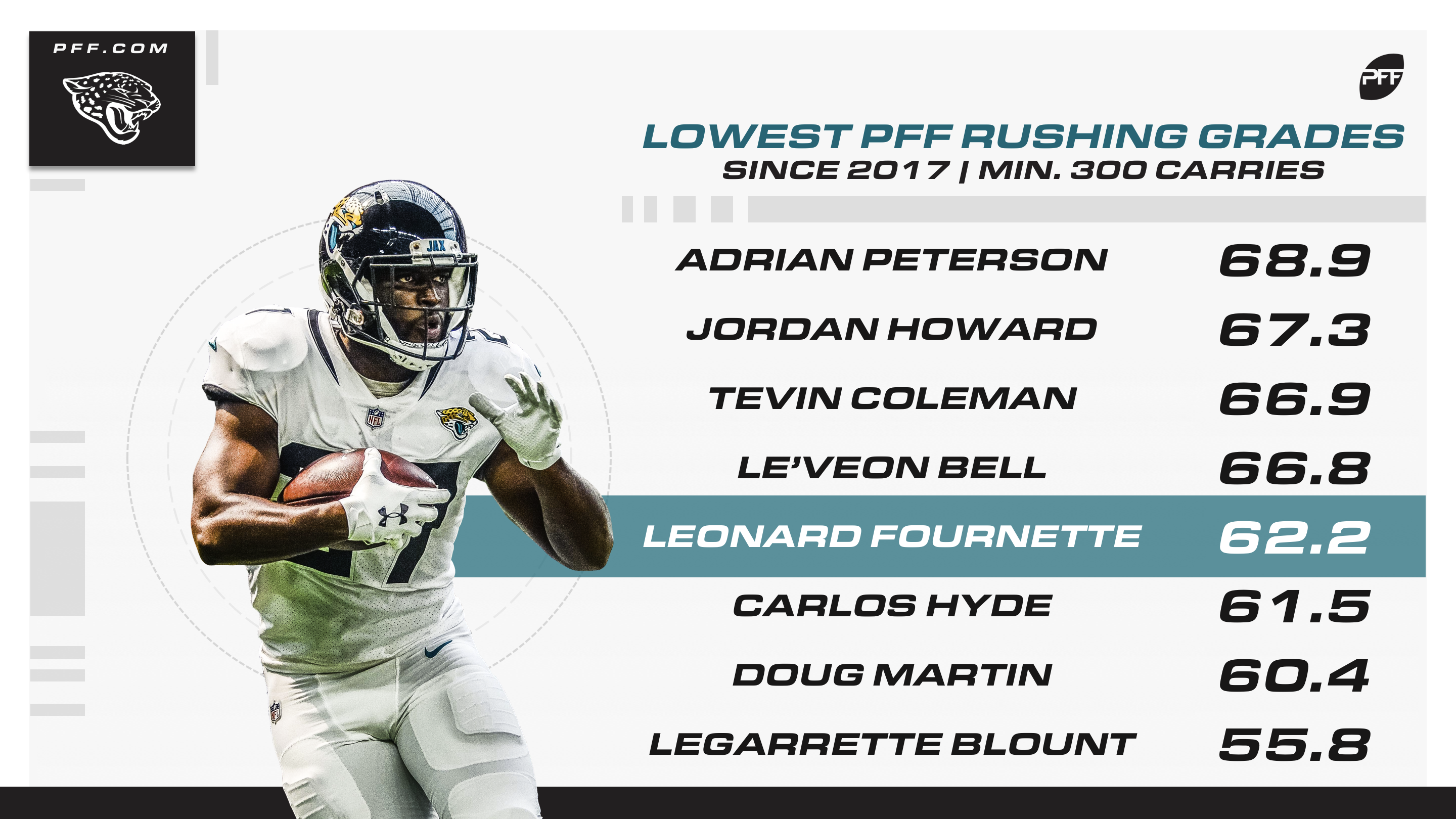 Is Fournette actually good? The best you can say two years into his career is that the jury is out. He has a 62.2 PFF rushing grade across his two seasons, 60th among 78 backs with at least 100 carries. Raise the threshold to 300 carries, and Fournette is 23rd of 26, with only the murderer's row of Carlos Hyde, Doug Martin, and LeGarrette Blount behind him. His career yards per attempt sits at 3.7, and he's never had a single game grade higher than 80.0. It's been rough.
But! That doesn't matter that much when you're likely to get as much work as Fournette is likely to get in 2019. The best non-Fournette back in Jacksonville is probably rookie fifth-rounder Ryquell Armstead … unless it's Texans castoff Alfred Blue … unless it's left-for-dead Thomas Rawls. There's just nobody there who will take that much work away from Fournette, and considering the offense isn't likely to be very pass-heavy, he'll get as much work as his body lets him. He could be a legitimately mid-pack RB1 without even being better than he's been.
Andrew Luck retired Saturday. By Monday, Hilton's average draft position on Fantasy Football Calculator had dropped from the middle of the third round to the very end of the fourth, and it wouldn't be surprising to see it fall further over the last couple weeks before the season. Is that right? Certainly, Hilton's ceiling takes a hit by virtue of Luck's departure. On the other hand, he was WR27 two years ago with Jacoby Brissett at quarterback when the backup had only joined the team just before the season started and the team had a very poor supporting cast. Now Brissett has had two years of seasoning, the Colts have a much better collection of weaponry (and a much better line), and Hilton is available in the mid-20s at receiver. He's still T.Y. Hilton.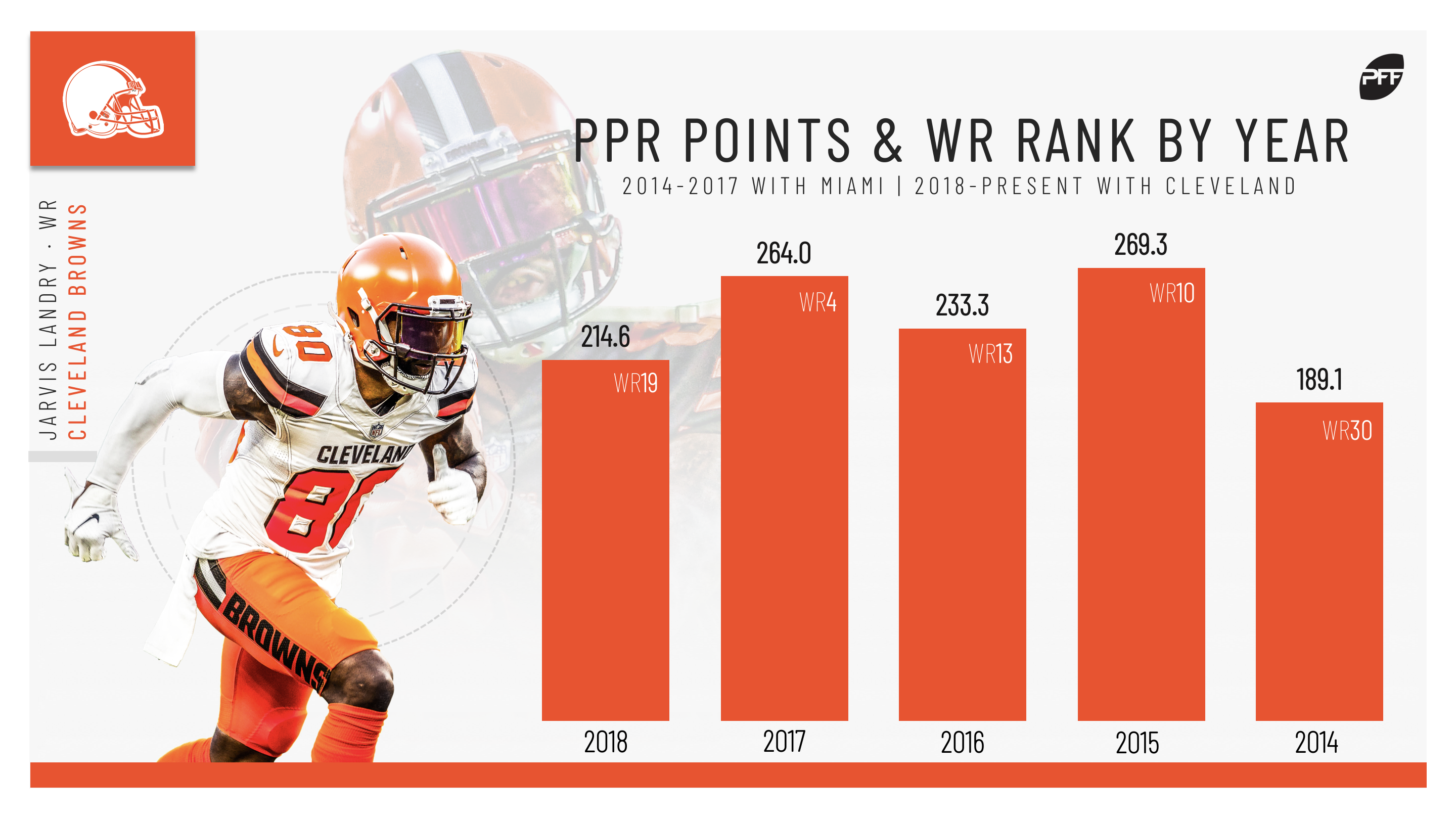 Be honest, have you read anything about Landry this offseason? He feels like the forgotten man in the exciting Browns offense. It's not without good reason; he went from the No. 20 PPR receiver in Weeks 1-8 last year to WR27 after that, with Freddie Kitchens calling plays. He averaged 10.6 targets in Weeks 1-8, 6.5 after that. And now Odell Beckham Jr. is the new No. 1 receiver. On the other hand, Landry hasn't finished outside the top 20 PPR receivers since his rookie year in 2014, he's never missed a game in his career, and the new star ahead of him only has one 16-game season on his resume, back in 2016. You can get Landry as the No. 25 receiver right now, and if anything happens to Beckham, he'll be a borderline WR1 in PPR leagues.
All of the buzz coming out of Denver is that the Broncos backfield will be a split between Lindsay and Royce Freeman, and odds are that that's correct. On the other hand, Freeman was supposed to be the unquestioned No. 1 last year before Lindsay barged in and flat stole the job. Are we sure Freeman will do enough to be that big a part of the offense this year? Freeman had a wholly respectable 4.4 yards per attempt prior to his Week 8 injury last year … but Lindsay's was 5.8. I expect a split, but if Lindsay pushes Freeman aside again, he's going to offer big value.
It's not that Moore isn't getting preseason buzz. It's that Curtis Samuel is just getting so much more. (And, full disclosure, I've been captaining that ship all offseason.) Samuel is being talked about as a huge breakout candidate, and he is. On the other hand, Moore already broke out, leading the league's receiver in forced missed tackles per reception at 0.31 (min. 30 receptions) and finishing second in yards after the catch per reception at 7.91. Samuel could have a big breakout and still be behind Moore in the pecking order.
All the buzz is surrounding David Montgomery, and for good reason, as he's shaping up to be the Bears' No. 1 back and has the top rushing grade among RBs this preseason. On the other hand, Cohen lagged behind Jordan Howard in carries last year 250-99, still finished as the No. 11 PPR back, and saw Howard finish as RB20 even with that. There is room for two productive backs in Chicago, and if Mike Davis has a big role in the backfield, it will likely come more at the expense of Montgomery's carries than Cohen's targets.
Brees is going off the board seventh among quarterbacks. That's despite leading the league in PFF grade at the position last year (94.7) and sitting third in QB fantasy scoring through Week 12 at 259.8. Of course, the reasons for this are clear. Brees is 40 now. After Week 12, he was only 27th in fantasy scoring, behind such luminaries as Ryan Tannehill, Jeff Driskel, and Josh Johnson. And the Saints have become more of a run-first offense. But would it surprise literally anybody if Brees is once again the quarterback he was for three-quarters of last season? The Saints took their foot off the gas pedal down the stretch with the division fairly locked up. If another NFC South member poses more of a threat, they'll have to push hard all the way through. And now with Jared Cook in the fold, Brees has another weapon.
The bloom is off the Drake rose, with a second coaching staff appearing reluctant to commit to him as a bell cow back and rumors of Kalen Ballage supplanting (or splitting time with) him this season. On the other hand, Ballage has 18 carries this preseason and 2.2 yards per attempt, and that's after he averaged 3.3 yards per attempt last year if you ignore one 75-yard run (his longest run outside of that was 16 yards). And per Fantasy Football Calculator, Drake and Ballage are now going only eight spots apart in overall ADP, three spots apart among RBs. Ballage no longer offers any real draft value. It's possible the new Dolphins coaching staff doesn't want to use Drake as a workhorse back but still won't have a choice, with Ballage underwhelming and not much else in that backfield.