Every year in fantasy football, there are a few especially buzzed-about players who catapult up draft boards. This week, we're looking at some of those players and evaluating whether the rises are justified.
Monday, we took a look at the quarterbacks who jumped the most in ADP since February (either by BestBall10 ADP or FantasyFootballCalculator ADP), and tried to determine whether or not their ADP jump went too far or not far enough.
This time, we're zeroing-in on the running back position — in order, looking at the running backs who have seen the largest relative ADP jump:
ADP jump: RB59 (in February) vs. RB34 (in July)
Murray saw a massive ADP jump as he moved from Minnesota to New Orleans. Or rather, as he moved from being Dalvin Cook's backup to (ideally) assuming the Mark Ingram role in the Saints offense. Murray averaged just 4.8 fantasy points per game last year once Cook returned from injury in Week 9. Ingram's role, however, offers quite a bit more upside. Ingram ranks 11th in fantasy points per game (15.0) over the past two seasons, though only 28th last year (11.9). Still, Murray is not quite the talent Ingram is and also isn't guaranteed the same role. Even if it is a similar role, he still lacks upside (barring an injury to Alvin Kamara) and week-to-week consistency. He's appropriately priced in 2019, but not someone I'm targeting on draft day.
My ranking: RB38
ADP jump: RB10 vs. RB5
For all of the reasons I've already outlined this offseason, Johnson's ADP jump is absolutely warranted. In fact, he could go first overall in any draft I'm in, and I wouldn't necessarily condemn the decision, though I wouldn't take him that high myself.
My ranking: RB5
ADP jump: RB86 vs. RB64
After Arizona made little effort to improve their running back room and anointed Edmonds the clear No. 2, it's easy to see why he made such a lofty ADP jump. Even with that, he's exceptionally cheap, and should be prioritized in drafts as the league's top pure handcuff. If Johnson were to come down with an injury, Edmonds has legitimate league-winning upside.
My ranking: RB56
ADP jump: RB21 vs. RB12
Like Johnson, I've already done the heavy lifting researching Williams and his 2019 fantasy upside elsewhere. In that article, I concluded, so long as Andy Reid is being honest when he calls Williams the team's "full-time starter for the year" and so long as Williams stays healthy, he has legitimate top-five upside. His floor feels just about where he's being drafted now.
My ranking: RB10
ADP jump: RB24 vs. RB16
Mack isn't necessarily a draft-day target for me, but he is a fine pick at ADP, after escaping free agency and the NFL draft without any added competition. My concern with Mack is that he lacks bell cow upside (with Nyheim Hines siphoning off target-volume) and week-to-week consistency. Still, his role is valuable enough to make him a decent pick at current ADP.
My ranking: RB20
ADP jump: RB23 vs. RB18
With Henry, I have the same concerns as with Mack. Again, like with Mack, it's not enough to warrant fading him at ADP. Especially not after offensive coordinator Arthur Smith said he intends to "ride" Henry in his contract year. Henry is a workhorse but not a bell cow – he remains a liability in the passing game – but should see the best workload of any early-down workhorse in the league.
My ranking: RB19
ADP jump: RB22 vs. RB17
It's hard to explain Freeman's ADP jump other than the likelihood that early drafters just forgot about him following his injury-plagued 2018 season. Freeman currently ranks 17th at the position in ADP, despite finishing 14th, sixth, and first in total fantasy points across his three seasons before 2018. Now, with Tevin Coleman out of the picture, he feels like an especially safe bet to beat ADP.
My ranking: RB16
ADP jump: RB28 vs. RB21
By fantasy points per game, Ingram has finished as a fantasy RB1 in four of his last five seasons. Over this span, he ranks first in yards per carry (4.71), fourth in yards after contact per attempt (2.90), and third in drop rate (3%). Once Lamar Jackson took over as the team's starter, Baltimore's running backs ranked second in carries, first in rushing yards, and first in yards per carry (a whopping 5.34). Though I can also talk up Baltimore's projected gamescript (8.5 projected wins) or pace of play (they led the league in plays per game last year), or Greg Roman's preference for a bell cow RB1, I think this does enough to get the point across.
My ranking: RB18
ADP jump: RB63 vs. RB40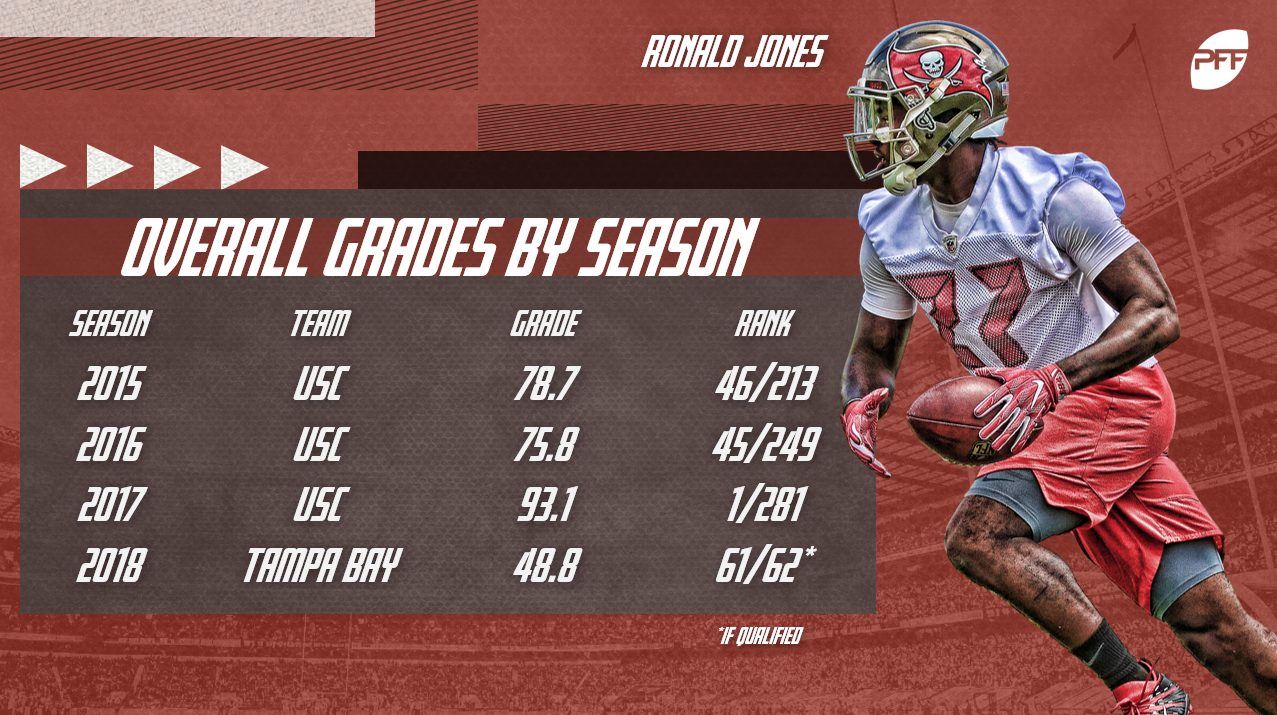 Jones made a massive ADP jump after Tampa Bay slipped through free agency and the draft without any major acquisitions at the position. Still, Jones has a long way to go before becoming a fantasy asset. Mainly, he'd need to unseat Peyton Barber for starting duties. That seems like a longshot after his disastrous rookie year. Last season, Jones saw just 30 touches and ranked as our second-worst-graded running back of 91 qualifiers. Even as a best-case scenario, he's likely still stuck in a committee alongside Barber.
My ranking: RB44
ADP jump: RB56 vs. RB43
Earlier this month, Texans RBs coach Danny Barrett said Foreman is "light-years ahead of where he was last year." I'd hope so. Remember, last year he was rehabbing an Achilles injury and actually ended the season with a negative yards-per-carry average. Still, this is good news, and if Foreman really is back to full health, he has a legitimate chance of unseating Lamar Miller (who has, at best, only ever been perfectly pedestrian during his Houston tenure), or at least forcing his way into a timeshare.
My ranking: RB39