When you draft a player in fantasy football, there is a reasonable expectation, that his draft slot is a fair range for him — a guy drafted 10th is likely to finish anywhere between, say, seventh and 15th (just to pick some numbers).
As such, players fit into tiers. There are the surefire starters, the above-average starters, the probable starters, and the rest of the guys. If every player you draft ends up in his designated tier, you'll have at least an average fantasy season. When they rise, that's how you win.
And when they fall short, that's how a season gets ruined.
Those are the pitfalls, the players who can just about singlehandedly knock you out of contention. Obviously, we can't know who those players are in advance — otherwise, they wouldn't be drafted where they are. But we can identify the ones who carry that risk. I've (subjectively) defined the tiers below. It's a framework.
| | | | | |
| --- | --- | --- | --- | --- |
| | QB | RB | WR | TE |
| Tier 1 | 1-5 | 1-10 | 1-10 | 1-3 |
| Tier 2 | 6-10 | 11-30 | 11-30 | 4-6 |
| Tier 3 | 11-20 | 31-50 | 31-50 | 7-20 |
| Tier 4 | 21+ | 51+ | 51+ | 21+ |
Tier 4 players obviously can't fall to a lower tier. So we're looking for players above Tier 4 who could fall to a lower tier. Today, we're looking at wide receivers. Check out the quarterbacks piece from Monday or the running backs piece from Tuesday.
(All ADP data comes from Fantasy Football Calculator.)
Tier 1 to Tier 2
(Current ADP: WR8)
Brown is a 31-year-old joining a new team and a worse quarterback who just set career (or since-he-became-great) lows in overall PFF grade, receiving grade, passer rating when targeted, and yards per target, while setting a new career-high in interceptions when targeted. His fantasy value was buoyed by a career-best touchdown percentage of 9.1%, with 15 scores on 164 targets. Should he still be excellent in Oakland? Yeah. He's Antonio Brown. But should you be surprised if he suddenly looks old and finishes as a WR2? No, you shouldn't.
(Current ADP: WR10)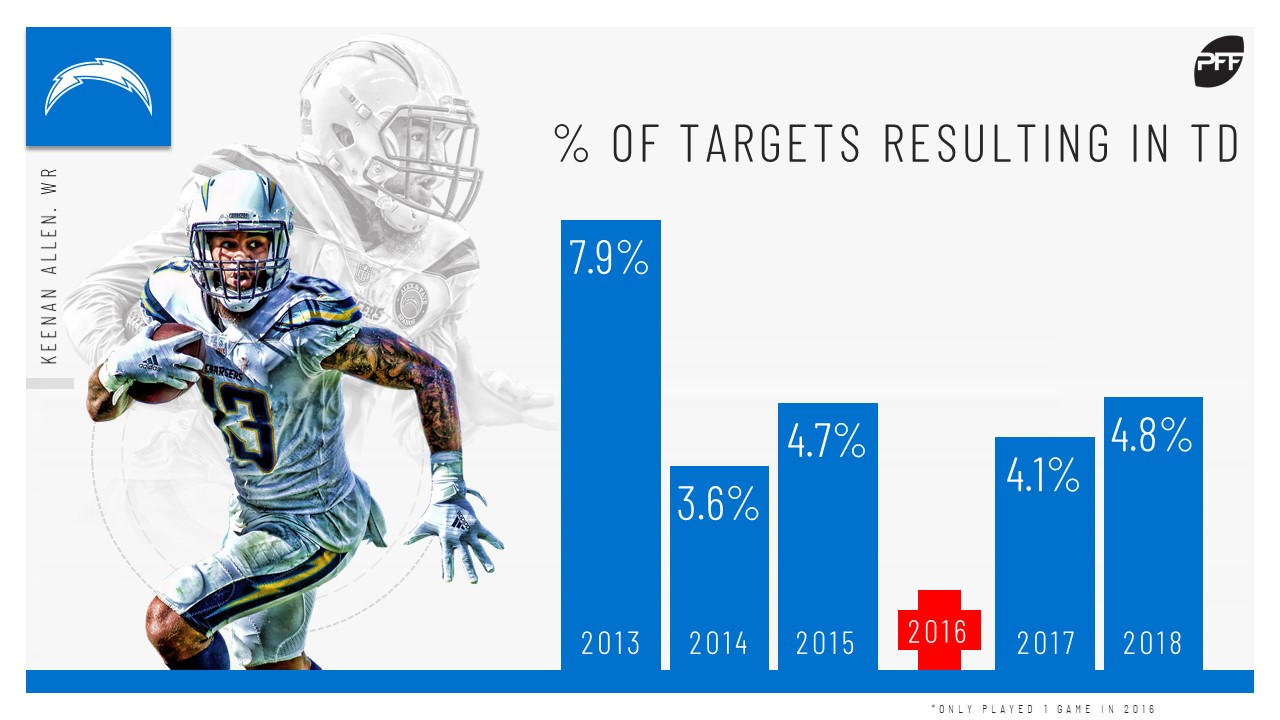 Real talk: The top of the heap at wide receiver is both really good and really trustworthy. There really aren't any great candidates to drop a tier. If we're nitpicking, Allen has a lower ceiling than the other receivers at the top, has a 37-year-old quarterback, and if Mike Williams and Hunter Henry both realize their ceilings in 2019, there might not be enough for Allen to reach his too. On top of that, Allen is kind of the allergic-to-the-end-zone receiver people like to pretend Julio Jones is; he hasn't even reached a 5.0% touchdown percentage since his rookie season.
Tier 2 to Tier 3
(Current ADP: WR22)
I've been hitting the "drafters are too high on Kupp" point hard this offseason, considering his return from a midseason injury. By all accounts, though, his recovery is going as well as or better than could reasonably be expected. But even if he is healthy, we have to consider the idea that the Rams might still take it easy on him early in the year just to be sure, leaning more heavily on Brandin Cooks and Robert Woods. And any regression to the team's ridiculous offense could hurt him further. I will concede that I could be too pessimistic about Kupp, but he still scares me.
(Current ADP: WR24)
Odell Beckham Jr. is going to get his. Nick Chubb is going to get his. Landry, the other receivers, Duke Johnson (if around), and David Njoku will get what's left for them after the bigger names get their work. That's why Landry is being drafted as a back-end WR2 and why he's even slightly lower than that in our PFF Fantasy staff rankings. Even a little dip from there knocks him down a tier.
(Current ADP: WR29)
Pettis had some real bright spots as a rookie in 2018. Then again, Marquise Goodwin had some real bright spots paired with Jimmy Garoppolo down the stretch in 2017. And the 49ers appear high on Deebo Samuel as well. Not to mention George Kittle is still going to be a target monster. Pettis' track record is all of 27 targets. Are we so sure that he will be the No. 1 receiver? This could easily be an overbid.
Tier 3 to Tier 4
(Current ADP: WR32)
If Kirk is the No. 1 receiver in the Arizona offense, this is a good draft slot, perhaps even an underbid. But if Larry Fitzgerald holds onto the top role (and why wouldn't he?), Kirk could slip. And if Andy Isabella and or Hakeem Butler pass him? His floor could be very low. Kirk was good as a rookie, but not so good that we should be confident in him overtaking the Hall of Famer and holding off two talented rookies.
(Current ADP: WR43)
For the sake of argument, let's say Julian Edelman is healthy for the start of the season, Josh Gordon isn't suspended anymore, and Demaryius Thomas make an Emmanuel Sanders-like recovery from his Achilles tear. James White is still in New England. The team has a whole cast of mid-name receivers and tight ends. Harry could be the best of the group (or second to Edelman), but after reports that he has struggled this offseason, we have to concede that he has the risk of not being a contributor right away.
(Current ADP: WR46)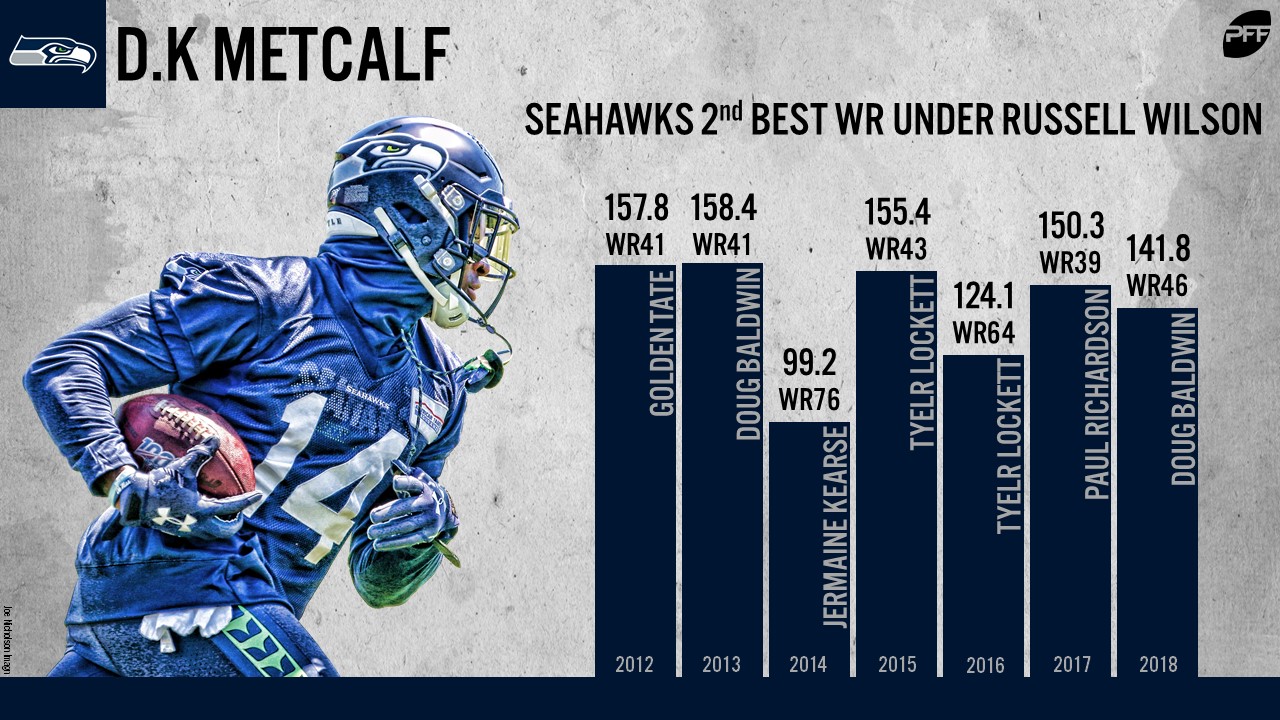 We more or less know that the Seahawks are going to be a run-first offense in 2019. Tyler Lockett is going to be the team's WR1. If Metcalf is the WR2, he's being drafted just fine. But David Moore has drawn worlds of praise this offseason after leading all receivers (min. 40 targets) in PPR points per touch last year, with 5 touchdowns on 36 targets. Metcalf's draft profile wasn't all positive, which explains why he fell to the end of the second round, and if he is behind Lockett and Moore, he might not offer much at all to the people who draft him. Russell Wilson hasn't exactly generated many productive second receivers in his career, either; the best fantasy finish by a No. 2 receiver over Wilson's career was WR39 by Paul Richardson in 2017.