The 2021 version of NFL free agency has not disappointed. Ryan Fitzpatrick and Curtis Samuel have helped the Washington Football Team push the New England Patriots for the top spot on PFF's WAR Index, and I am all for it. 
So much player movement has created massive implications across the fantasy football landscape. PFF's Ian Hartitz has kept up with all the news and its fantasy impact in PFF's Fantasy Football Free Agent Tracker.
We've had plenty of big fantasy football winners in free agency, but that also means we've had some losers as well. Former Tennessee Titans wide receiver Corey Davis was one player I recently called out as a "loser" in my fantasy breakdown after he signed with the New York Jets, but he's not the only player I'm lower on since the start of the week.
The following players have seen their fantasy values decrease since the start of 2021 NFL free agency. 
The New England Patriots have easily been the busiest team among all 32 franchises in free agency, signing several players right out of the gate. After adding former Tennessee Titans tight end Jonnu Smith, it looked like we had another top tight end option at our disposal in fantasy football.
But those hopes and dreams were crushed less than 24 hours later when the team signed former Los Angeles Chargers tight end Hunter Henry. (Related: RIP Jonnu Smith TE1 szn.)
Smith's biggest issue as a fantasy commodity in Tennessee wasn't lack of talent. Over the past two seasons, he ranks sixth in PFF receiving grade (81.3), third in yards after the catch per reception (6.5) and eighth in yards per route run (1.60) among all TEs. 
Only his underwhelming usage kept Smith from being a fantasy monster. He finished 22nd in targets and 31st in routes run while ranking first in run-blocking snaps since 2019.
Meanwhile, over those same two seasons, Henry ranks eighth in targets and fifth in routes run. He also ranks outside the top-15 in run-blocking snaps.
Before he missed the final two games of the 2020 season, Henry ranked third among all tight ends in routes run, which is a key component for projecting future tight end fantasy production.
Smith also failed to capture the true TE1 role with the Titans. He was often taken out on obvious third-down passing plays, replaced by backup tight end Anthony Firsker. Henry is very likely to be the more involved and consistent pass-catcher among New England's two new tight ends.
But as I pointed out in my reaction piece to the Henry signing earlier this week, the history of two tight ends succeeding in fantasy does not bode particularly well for either TE. Only two teams have been able to successfully support two TE1s on the same offense (2011 Patriots, 2019 Eagles), and those offenses averaged more than 600 passing attempts.
The 2020 Patriots attempted less than 450 passes — 200 fewer than in 2019, by far the biggest drop-off in the league.
The Patriots project to run the ball too much for any of their pass-catchers to have consistent fantasy value. And one of the tight ends is going to inherit heavy blocking duties. Based on their career resumes, Smith is the most likely candidate to shoulder the blocking burden, making Henry the tight end to target for more consistent production in fantasy.
Henry is my No. 8 tight end heading into the 2021 season with Smith sliding in at No. 15. But ultimately their fantasy value is going to come down to whichever one finds the end zone more, and that's extremely difficult to project this early in the process.
Not to mention, Cam is always a threat to take it in himself. 
In current best ball drafts, I don't think it's a horrible shot to take a stab at one of these TEs as a second option, but I wouldn't be aggressively targeting Henry over Smith with their projected range of outcomes seemingly very close. 
If we start to see a large ADP gap between the two players, then taking the one going later would be my recommendation. 
With QBs like Cam Newton and Ryan Fitzpatrick getting bumps in the rankings due to free agency, naturally we will see other QBs fall in the rankings. Since the start of the new league year, Ryan Tannehill has lost his offensive coordinator and two of his top pass-catchers in Corey Davis and Jonnu Smith. 
Behind alpha WR1 A.J. Brown, Tannehill's remaining pass-catchers include intriguing late-round tight end Anthony Firkser and a bunch of guys nobody has heard of. 
With plenty of free-agent receivers available and the 2021 NFL Draft still to come, the Titans' offense certainly is not in its final form. But we should have some concerns about Tannehill's fantasy prospects with a different supporting cast in 2021.
Tannehill doesn't have the luxury of passing volume to fall back on in a Derrick Henry-centric offense, so he has to maintain his uber-efficient play to be a usable fantasy QB.
Considering all the changes and the fact that no quarterback has scored more fantasy points over expectation than Tannehill the past two seasons, negative regression could be quickly approaching 
It doesn't matter whether the plodding Carlos Hyde is a good running back or not. What matters is that his addition to the Jaguars' backfield is going to put a dent into James Robinson's 96% team RB rush share and 84% opportunity share from last season — marks that were by far the highest in the league last season.
In 2020, the Jacksonville Jaguars fed Robinson more than any other running back in the NFL. And it's hard to blame them based on Ryquell Armstead, Chris Thompson, Dare Ogunbowale and Devine Ozigbo rounding out the team's depth chart. Robinson had zero competition for the starting role after the team released Leonard Fournette.
Hyde adds a level of competition to Robinson's projected workload that was non-existent last year. I still fully expect Robinson to be the "starter" and command a 70% snap share, but that's still a steep drop-off from where he was in 2020.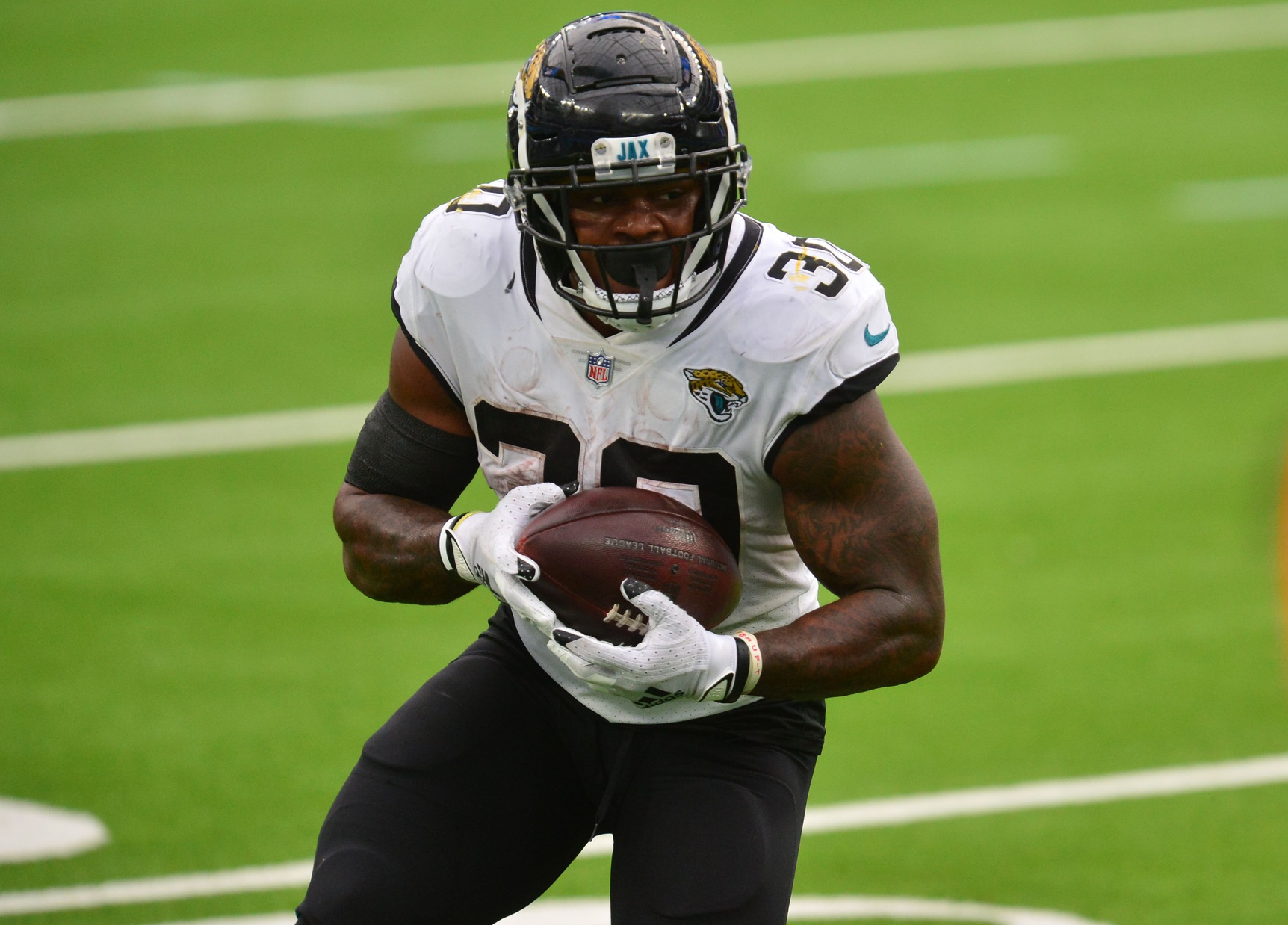 Also, keep in mind that Hyde has been pretty effective running the ball since the 2019 season. Over the past two seasons, Hyde has amassed 359 carries (18th) and 1,523 rushing yards (20th). That has earned a PFF rushing grade of 79.2, which ranks 16th out of 42 qualifying running backs with at least 200 carries. Robinson earned a 78.5 PFF rushing grade last season. 
Wherever Hyde has ended up playing the past few seasons — Seattle, Houston, Cleveland, Jacksonville — he has found a way to garner touches and opportunities. And let's not forget that Jacksonville offensive coordinator Darrell Bevell was the play-caller for the Detroit Lions last season — the same offense that operated a committee involving Adrian Peterson, Kerryon Johnson and D'Andre Swift despite the rookie outplaying the others. 
Urban Meyer also coached Hyde at Ohio State from 2012-13. 
This move didn't actually affect my fantasy ranking of Robinson as my RB20. The team adding a running back through free agency seemed inevitable based on its barren depth chart. 
But ultimately he still gets the "loser" label with the transaction made official and Robinson's path to a top-tier opportunity now officially in doubt. It will be interesting to see whether the Jags also look to bolster their RB room in the draft, further limiting Robinson's fantasy ceiling. 
The Jacksonville Jaguars added veteran wide receiver Marvin Jones Jr. to a receiving corps that includes established vertical threat D.J. Chark Jr. and versatile second-year receiver Laviska Shenault. The Jones addition is interesting because his strengths as a deep-threat receiver appear to overlap Chark's. The team also added Phillip Dorsett, who has been almost exclusively a deep threat during his career. 
It's not a bad signing — adding playmakers for Trevor Lawrence will always earn a plus-grade — but Jones' presence hinders Chark's upside. Jones could easily take away enough downfield and red-zone looks to hurt Chark's fantasy production. 
The Jags were likely to add a receiver, which is why I identified Chark as one of my top sells in dynasty formats. 
When you look at almost any efficiency metric and counting stat dating back to 2019, Chark and Jones have almost identical production.
Marvin Jones Jr. and D.J. Chark Jr. | 2019-2020
| | | | | | | | | |
| --- | --- | --- | --- | --- | --- | --- | --- | --- |
| | PFF grade | Targets | Rec. | Yards | TDs | aDOT | Yards per route run | Yards per reception |
| Marvin Jones Jr. | 77.7 | 204 | 138 | 1757 | 18 | 13.4 | 1.56 | 12.7 |
| D.J. Chark Jr. | 76.2 | 206 | 126 | 1714 | 13 | 13.3 | 1.60 | 13.6 |
On 20-plus yard throws, Chark narrowly edges Jones in PFF receiving grade (95.6 versus 91.8). The only major difference I could find between the two was that Jones graded higher at the intermediate level (10-19 yards). His PFF receiving grade on intermediate targets (92.8) ranks 16th, while Chark's grade (85.4) ranks 38th among 45 qualifying WRs.
There's a non-zero chance we see Jones inserted into the Jags' starting lineup and used less as the team's primary deep threat.
We saw a similar situation play out last season when Robby Anderson signed with the Carolina Panthers. After being used almost exclusively as a deep threat with the New York Jets, Anderson saw a career-low 9.8 aDOT in 2020.  
After Bevell took over the Lions' offense in 2019, Jones' usage in the slot spiked. Jones had never played more than 17% of his snaps from the slot before then. But his slot usage peaked at 34% in 2019 under Bevell, so we should expect to see more of him there in 2021.
The team's top slot receiver from last season — Keelan Cole, 70% slot snap share in 2020 — signed a one-year deal with the New York Jets. 
It wasn't a huge surprise that the New Orleans Saints re-signed Jameis Winston for 2021. Now that it's official, we have a full-blown QB competition on our hands between Winston and  "$140 million-dollar man" Taysom Hill. 
I'm convinced that Winston will end up being the "starter" come Week 1 based on information provided by Saints reporter Nick Underhill on the PFF Fantasy Football Podcast. 
But I do want to address the $140 million on Hill's contract — that's about as real as Monopoly money. We should not consider that whatsoever in terms of predicting which QB New Orleans views as its starter. That contract maneuver was made to save money against the cap in 2021. 
A huge chunk of Hill's salary was converted into a signing bonus, cutting his salary cap hit for this season in half. So with money a non-factor in deciding who will be under center for the Saints, I'm going to side with Winston as the presumed starter. 
Still, there's some reason for pessimism about Winston's fantasy prospects in 2021 because of Sean Payton's affinity for his gadget 30-year-old quarterback. Even if Winston is the "starter," we don't know what the potential evolution of Hill's role in the offense could become.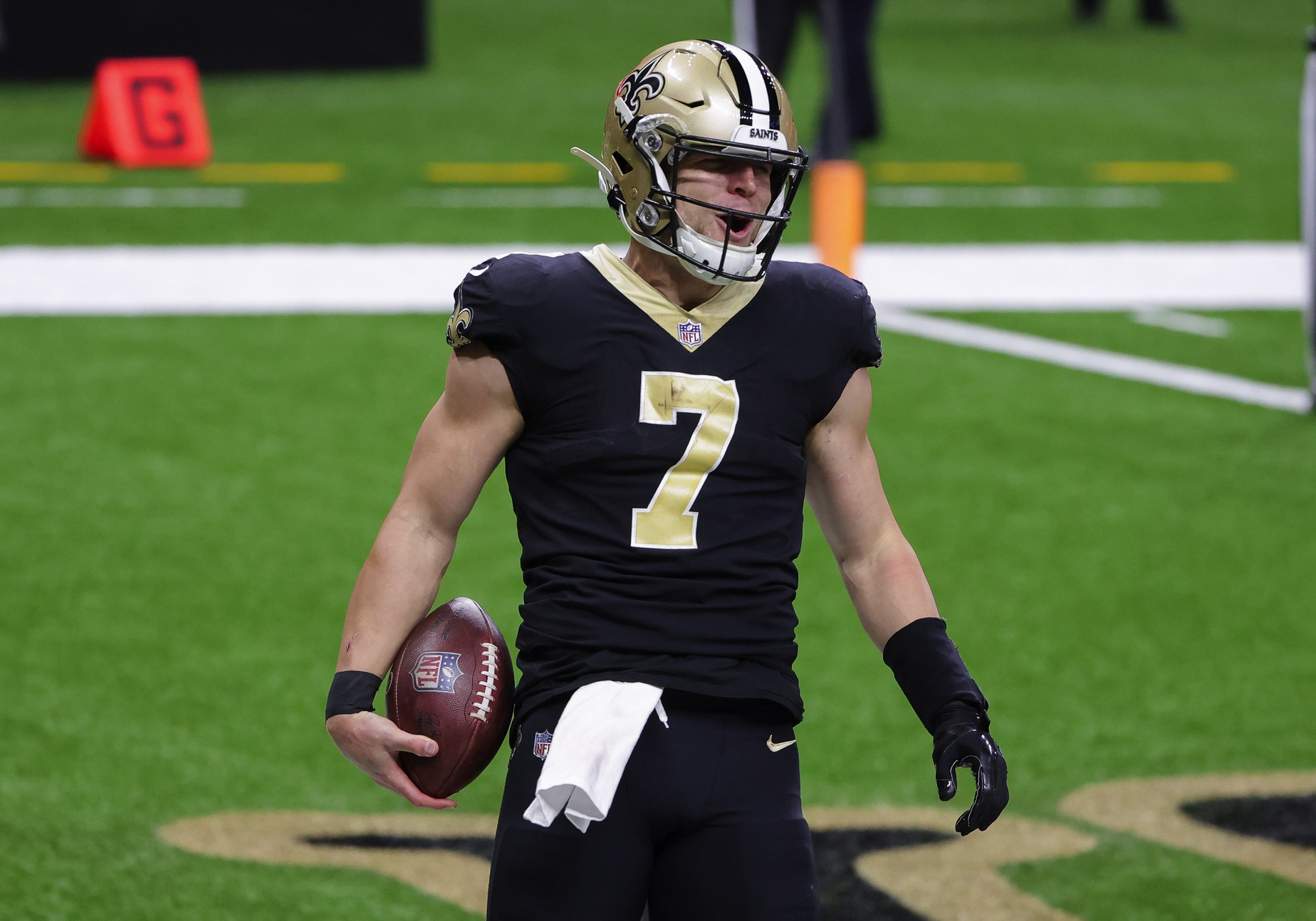 Hill could be used as both a passer/rusher near the goal-line and take away potential touchdowns from Winston. That's certainly not outside the realistic range of outcomes after Payton got a taste of using Hill full-time during a four-game stretch in 2020.
Fantasy managers also saw what Hill could deliver for fantasy, and it was fantastic. The Saints' tight-end-turned-quarterback averaged 22.6 fantasy points per game — sixth-best over that time span. The sample size is small but captures the fantasy upside Hill can offer if he starts any games in 2021. 
Hill has a higher fantasy ceiling than Winston — his rushing upside gives him the edge. The last time we saw Winston start (2019), he led the league in passing attempts (626) and finished eighth in fantasy points per game (19.2).
If Hill starts games in 2021, then it's wheels up. But if Winston starts, I don't necessarily envision him matching where he was in his final season with the Buccaneers as a top-eight quarterback.
Try as they may, the Chicago Bears were unable to successfully trade for Russell Wilson. The organization reportedly offered three first-round picks, a third and two additional starters for Wilson but was turned away. 
Instead, the Bears had to settle for Andy Dalton, signing him to a one-year $10 million-dollar contract. 
Sigh.
Inserting the Red Rifle into the Bears' offense as a potential "upgrade " is about exciting as watching paint dry. Before the free agency period started, I highlighted Allen Robinson as a potential loser. So far that looks like the case unless he gets traded. 
The sad thing is, Dalton might actually be a slight upgrade over every other QB that Robinson has played with during his NFL career. But it's still a stretch to imagine much better results for the stud receiver. Dalton posted a 69.9 PFF grade (24th) in 2020, which is higher than any QB has managed while playing with Robinson.  
2020 – Andy Dalton 69.6 (24th)

WE HAVE REACHED NEW HEIGHTS https://t.co/TTVXwzdsIx

— Andrew Erickson™ (@AndrewErickson_) March 16, 2021
But, again, that's not going to be much help. Just look at how the Dallas offense functioned with Dalton under center. In the eight games Dalton started and completed last season, Amari Cooper averaged 14.8 fantasy points per game, which ranked 22nd at the position. CeeDee Lamb (12.5) and Michael Gallup (12.0) fared even worse, with their fantasy-point averages ranking outside the top 40 WRs.
Dalton's one saving grace — and probably the reason he finished with a higher grade than Nick Foles and Mitchell Trubisky last season — was his PFF passing grade throwing at the intermediate level. 
From 10-19 yards, Dalton posted an 86.6 PFF passing grade, which ranked 14th at the position. His grade was slightly higher than Dak Prescott's (86.1) on the same type of throws. 
That's a somewhat good sign that Dalton can keep Robinson locked into the low-end WR1 territory. Last season, Robinson was PFF's fourth-highest-graded receiver on targets 10-19 yards downfield. 
As for other members of the offense, like Darnell Mooney, David Montgomery and Cole Kmet, we shouldn't be viewing them any differently than if we were expecting Foles behind center.
Ezekiel Elliott was barely posting RB2 numbers with Dalton at the helm (13.5 fantasy points per game, RB23 overall). Dalton's uninspiring deep-ball rate (10.2%, 28th) and deep-ball passing grade (70.2, 29th) also puts a damper on an impending second-year breakout for Mooney.
The Las Vegas Raiders have been busy in free agency, but not in the way that most Raiders fans would have hoped. They've moved on from three of their starting offensive linemen from last season — Gabe Jackson, Rodney Hudson, Trent Brown — to save space against the salary cap. 
Hudson is probably the biggest loss — he has allowed just three sacks and six quarterback hits since 2015.
The transactions likely saved the Raiders up to $30 million versus the cap in 2021, but shuffling one of the better OL units in the league isn't reassuring for fantasy gamers looking to draft Josh Jacobs next season. Then the team added RB Kenyan Drake on a two-year deal.
Continuity across the offensive line is extremely important when projecting OL efficiency into the following season. The Raiders did end up bringing back guard Richie Incognito after initially releasing him, and they also re-signed Denzelle Good.
But Good graded as the team's worst starter on the OL last season (56.7). He's a surefire downgrade from Jackson.
The shuffling of the offensive line is likely to cause some issues for Derek Carr and the Raiders' passing game. Carr faced pressure at the 11th-lowest rate last season (30%).
The Las Vegas quarterback also lost his best wide receiver from last season in Nelson Agholor, who finished second on the team in targets. The team signed 31-year-old wide receiver John Brown to replace him, but that's a lateral move at best from a production standpoint.
Brown figures to offer the same field-stretching upside he has in past seasons, and that's a cause for concern for those still hoping/praying for Henry Ruggs to bust out in Year 2. 
With Agholor out the door, it looked like Ruggs had the deep-threat role locked down, but that no longer is certain. The fantasy community as a whole completely overlooked Agholor as competition for Ruggs before the start of last season, so we can't make the same mistake again with Smokey Brown.
The Raiders also re-signed Zay Jones, which is not ideal for those waiting for Bryan Edwards to ascend to the team's WR1 chair. Edwards was playing behind Jones at the end of last season.