The idea of waiting to select a quarterback until the later rounds of a fantasy football draft is hardly a new strategy. But with leagues now creatively expanding their scoring systems, the need for a second quarterback is increasing, placing more value on finding quality quarterback assets with the cheapest possible investments.
Pairing a quarterback with a wide receiver is a sound strategy, particularly in best ball leagues, as a strong performance is likely to land both parties in your starting lineup with the risk being otherwise minimized. Let's examine the best low-tiered quarterback and wide receiver stacks to target in best ball leagues in 2020.
All average draft position information is sourced from Bestball10's drafts dating back to the start of July.
Subscribe to PFF's EDGE or ELITE subscriptions to get access to the following tools, charts, etc.
– All Premium Article Content
– Fantasy Football Rankings & Projections
– Fantasy Football Draft Guide, Cheat Sheets & Advanced Stats
– Fantasy Football Mock Draft Tool (DraftMaster)
– Fantasy Football Strength of Schedule Matrix
– NFL Player Grades
– NFL Premium Stats
You may be surprised to see a duo from the Minnesota Vikings, given how little the team passed the ball in 2019, but you shouldn't be. The Vikings ranked 31st in pass-play percentage (52%) in the NFL last year, yet Kirk Cousins still managed to finish the season ranked as the QB13 in total fantasy points from Weeks 1-16 (he didn't play Week 17).
Cousins' efficiency numbers were even more impressive, as he managed to rank ninth among quarterbacks in points per dropback, at 0.53. And while the volume might not have been there — he ranked 24th among QBs in pass attempts in 2019 — Cousins managed to separate himself by taking advantage of his reps, averaging 8.1 yards per pass attempt (seventh) and posting an adjusted completion percentage of 80.3% (fourth). He even chipped in a measly 63 rushing yards and one rushing touchdown. The chart below helps display the weekly variance Cousins suffered in 2019.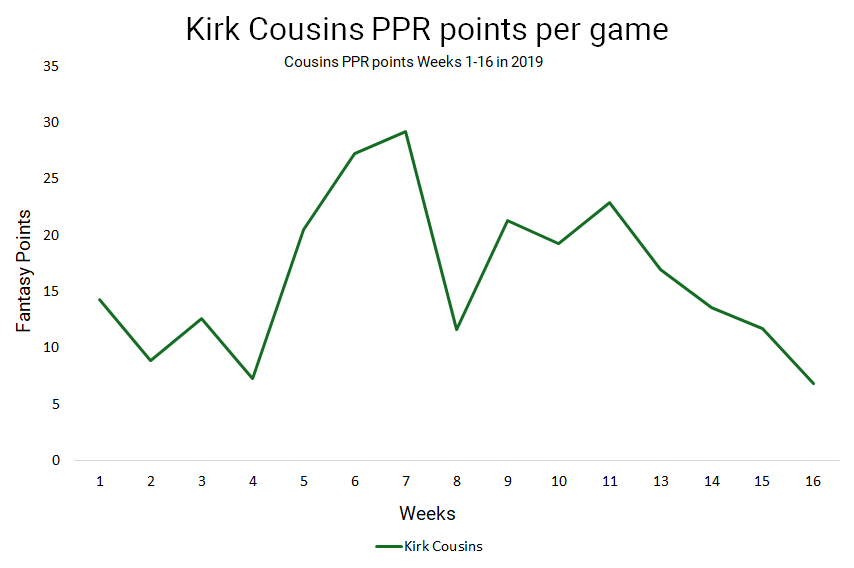 Jefferson — an incoming first-round rookie draft pick — will have to learn on the fly due to the impact COVID-19 will have on the offseason. However, the talented rookie capped off his college career with a terrific 2019 season.
Justin Jefferson: statistics and ranks among wide receivers with 50-plus targets | 2019
| | |
| --- | --- |
| Category | Number (Rank) |
| Receiving yards after the catch | 516 (21st) |
| Receiving yards after contact | 230 (20th) |
| First downs | 55 (10th) |
| Missed tackles forced on receptions | 19 (8th) |
| Explosive pass plays (15-plus yards) | 28 (18th) |
 The Vikings drafted Jefferson after trading away star receiver Stefon Diggs in the offseason. Diggs' 91 targets and 731 offensive snaps open up a clear path to major playing time and usage for Jefferson, even though the two present different styles as receivers.
Jefferson is a proven threat in the slot and registered a 97.1 PFF receiving grade when targeted in such alignments. Not only was he lethal from the slot, but the majority of his production came from there, too: The LSU wideout reeled in a total of 81 receptions, 1,092 receiving yards and 13 touchdowns when he was targeted on routes from the slot. Jefferson's presence is likely to push teammate Adam Thielen into more boundary snaps due to his dominance and dependency on aligning in the slot.
Luckily for Jefferson, Cousins was also productive when targeting the slot. The eighth-year signal-caller ranked 17th in PFF passing grade, 13th in yards per pass attempt (YPA) and 14th in average depth of target (aDOT) — in addition to registering six passing touchdowns with no turnovers — among quarterbacks with at least 50 pass attempts to players aligned in the slot in 2019.
PFF's strength of schedule metric (SoS) pegs the Vikings' quarterback schedule as the 27th-easiest and the receivers' schedule as the ninth-easiest in 2020. Conversely, PFF's fantasy projections expect a QB12 finish for Cousins and a WR66 finish for Jefferson.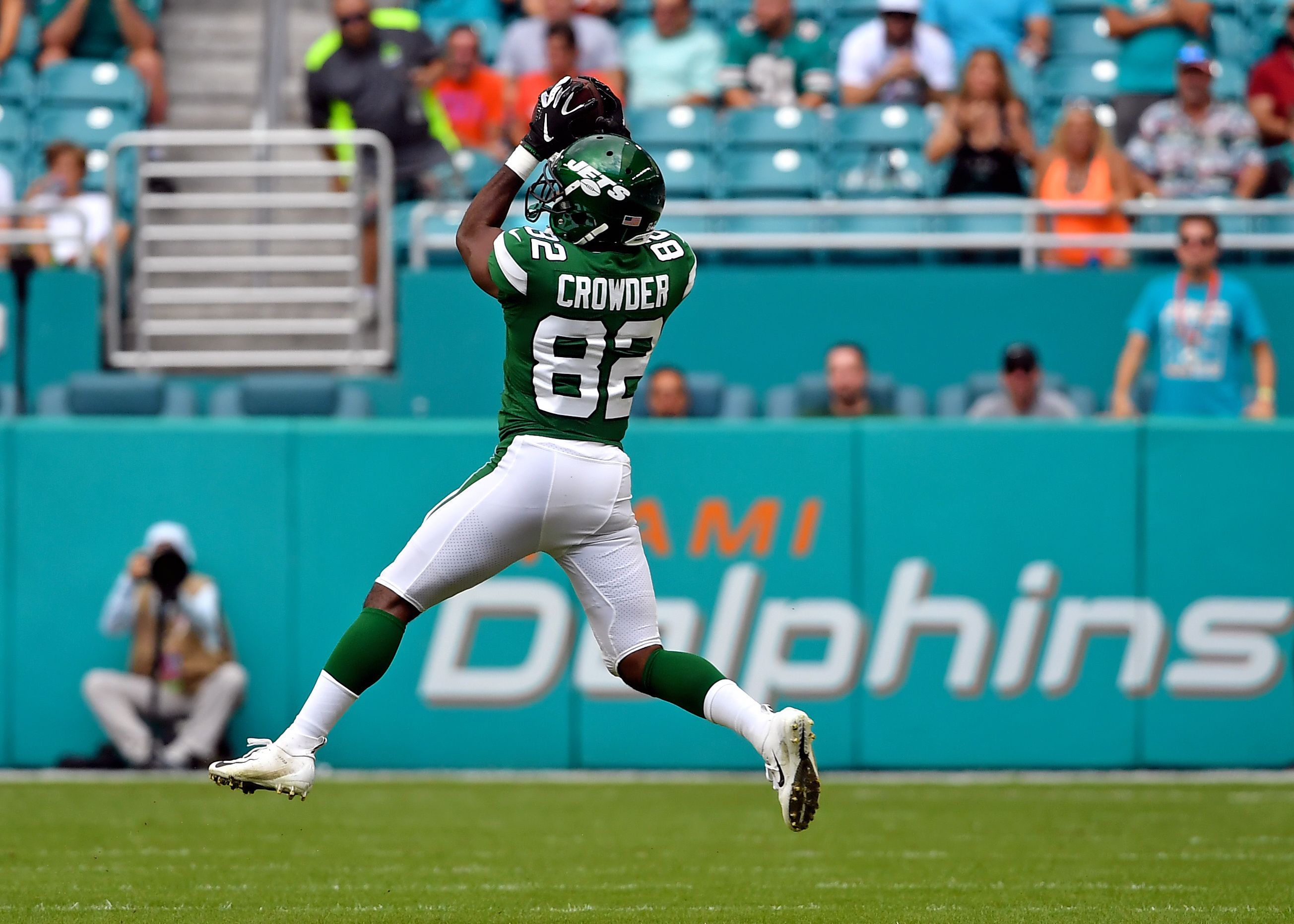 If we include only the weeks in which Darnold played (Weeks 1, 4, 6-17), the Jets quarterback ranked 21st among quarterbacks in total fantasy points, with 202.2, in addition to his 23rd-ranked 0.42 points per dropback.
Neither Darnold's nor the New York Jets' season went as planned; the quarterback ranked 25th in YPA (6.9) and 20th in aDOT (8.8), and those figures make perfect sense when you factor in the performance of the Jets' offensive line, which forced Darnold and head coach Adam Gase to design and operate a quicker and shorter passing attack.
The offensive line allowed 54 sacks (26th), 59 QB hits (22nd) and 332 total pressures (28th) last season. And maybe worst of all, it also allowed a pressure percentage of 40.1% — a figure that ranked 30th in the league. The positive news for Darnold and the Jets offense is that the team invested heavily into the offensive line, adding Mekhi Becton, Connor McGovern and George Fant to the group this offseason.
Crowder, on the other hand, continues to prove his worth as an underrated slot weapon in full-point PPR fantasy leagues. Last season, Crowder ranked 26th in scoring, with 197.8 points, and he ranked 24th in points per snap (0.25) among all receivers. If we include only the weeks in which Darnold played, Crowder's ranks jump to 18th in total points and 12th in points per snap.
Some fantasy players may be wary of a repeat performance from Crowder due to the additions of Breshad Perriman and Denzel Mims, but neither player operates out of the slot, and the influx of speed both players possess may actually help open up even more underneath space for Crowder to work with. Crowder's 78 targets from the slot far surpassed those of the next closest receiver on the Jets (Demaryius Thomas' 16 slot targets) in 2019.
PFF's SoS metric ranks the Jets' quarterback schedule as the 13th-easiest and the receivers' schedule as the 25th-easiest in 2020. PFF's fantasy projections are not very high on Darnold, ranking him as the QB25, though Crowder's WR29 ranking seems in line with his career production.
Expect some iffy weeks from Darnold, as he has yet to prove his worth as a true franchise quarterback worth building around. But, with the potential improvements along the offensive line, Darnold could prove to be one of the better late-round investments at quarterback. As for Crowder, theoretically speaking, he's as safe an option as you can find in fantasy football leagues, mostly due to his high floor in full-point PPR formats.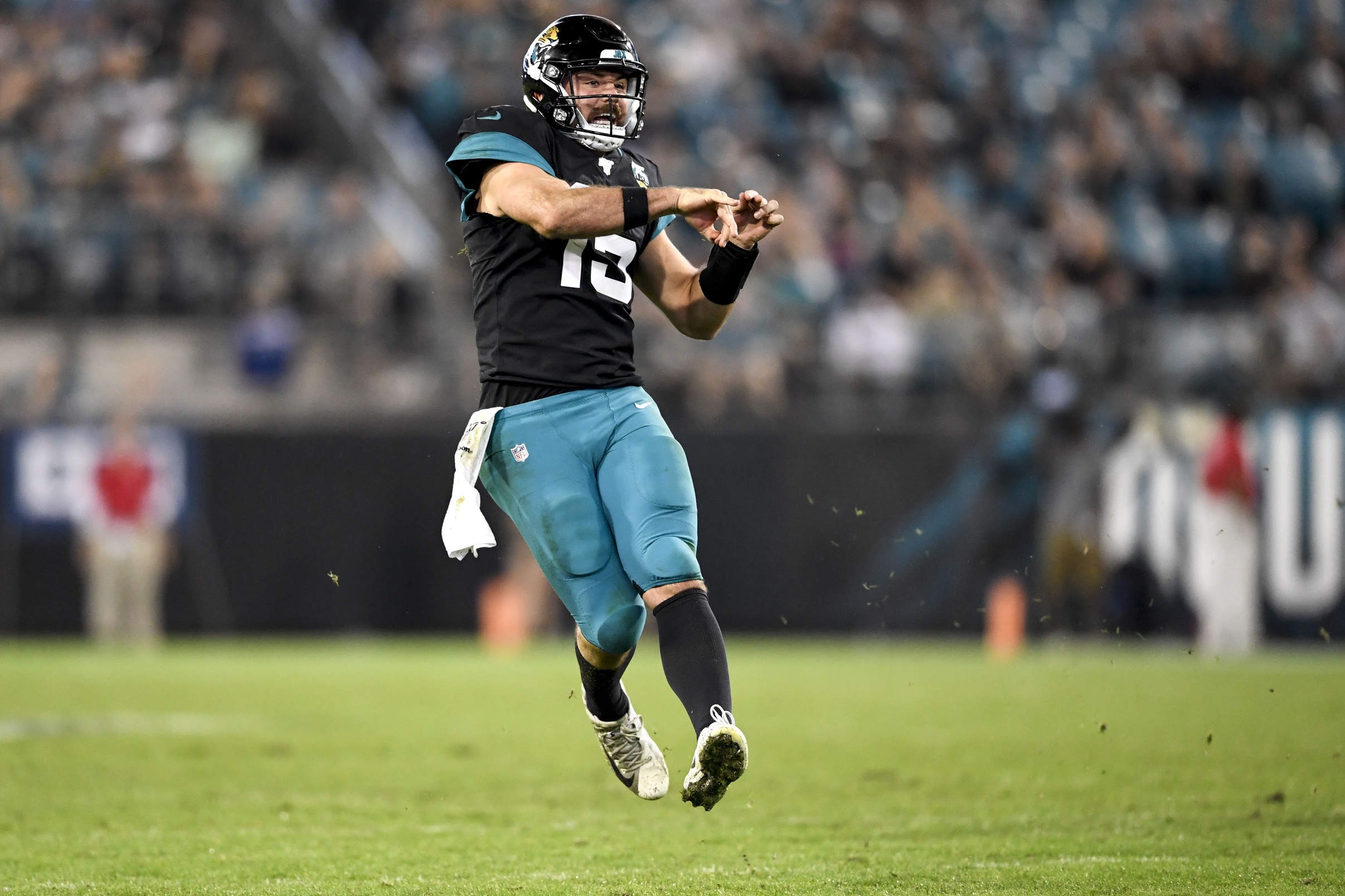 The Jacksonville Jaguars offense is typically not one that you want to target, but Minshew's rookie season was a bit of a revelation, both for the franchise and for late-round quarterback streamers.
In the weeks in which he played (Weeks 1-10, 13-17), Minshew proved more than capable of being a legitimate quarterback option in fantasy leagues — his QB15 ranking in total fantasy points (243.2) and his 21st-ranked 0.44 points per dropback were both highly impressive figures for a late-round rookie thrown into the mix early in Week 1.
Like Darnold, a handful of factors led Minshew into his 19th-ranked YPA (7.0) and his 23rd-ranked aDOT (7.9) among quarterbacks with 250-plus pass attempts. Looking at passes with a targeted depth of -5 to 5 yards downfield, Minshew's 210 attempts ranked 10th among quarterbacks. In fact, nearly half of Minshew's pass attempts landed in that range (45%). Typically, this wouldn't be significant, though it will help us identify which late-round receiver is best paired with Minshew.
Looking at the Jaguars' options, Shenault is the player who stands out. Even though Shenault is a risky selection due to his injury history and the shortened offseason program, his ability to line up all over the formation, produce in varying roles and create after the catch should land him a role in Jacksonville's offense early in the season.
Laviska Shenault: statistics and ranks | 2018-2019
| | |
| --- | --- |
| Category | Number (Rank) |
| Receiving yards after the catch | 1,060 (3rd) |
| Receiving yards after contact | 380 (17th) |
| Missed tackles forced on receptions | 44 (1st) |
| Explosive pass plays (15-plus yards) | 43 (17th) |
| Yards per route run | 3.23 (9th) |
 Shenault was one of the most productive college receivers over the past two seasons, and he's been especially good with the ball in his hands.
In addition to his work as a receiver, Shenault's 258 rushing yards (16th), rushing yards after contact (13th), missed tackles forced on runs (seventh) and yards after contact per attempt (eighth) ranked highly among receivers with 25-plus rushing attempts. His varied usage and his ability to line up in different areas on the field allow for a wide spectrum of uses in the NFL, which should certainly be of value for a Jaguars team that lacks offensive firepower.
Lastly, running back Leonard Fournette accumulated the fourth-most targets among running backs in the league last season, with 95. If the Jaguars elect to get creative and line Shenault up in the backfield from time to time, Fournette may ultimately cede some of those cheap passing-game targets to the rookie.
PFF's SoS metric expects a tough schedule for the Jaguars' quarterbacks, ranking it as the 25th-best. And the receivers won't have a much easier schedule, either, with their schedule ranking 24th. PFF's fantasy projections are mild on both players, expecting a QB28 finish for Minshew and a WR82 finish for Shenault.
Although the Jaguars did not score many touchdowns, their 723 snaps while trailing ranked second in the league last year. A team that trails typically abandons the run game in favor of the passing game, so with the Jaguars likely to repeat their subpar performance once again, many cheap points are likely to be available in blowout losses.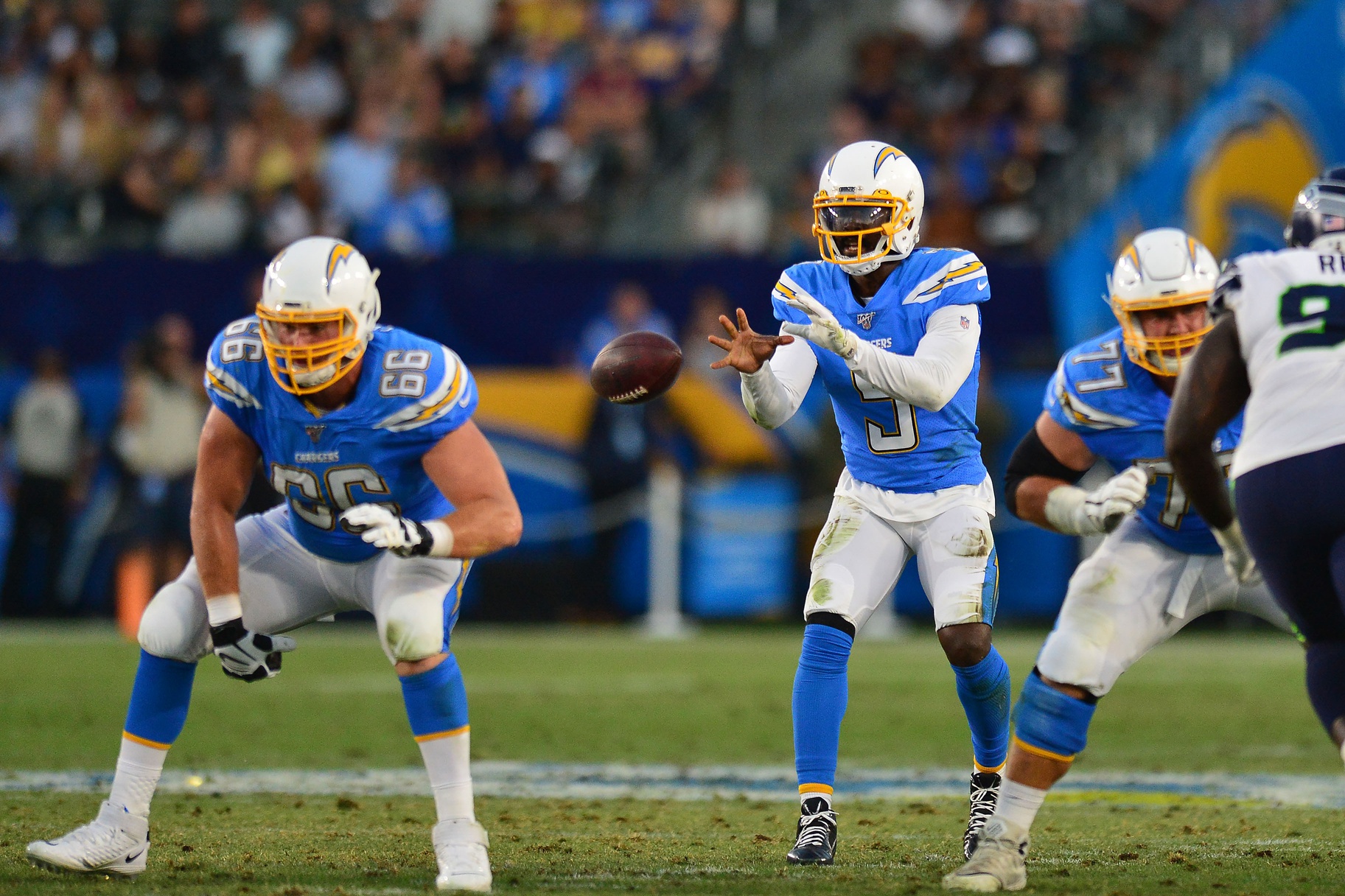 Tyrod Taylor hasn't played a significant number of snaps since the 2018 season, so we'll be looking at his tenure as the starting quarterback for the Buffalo Bills from 2015-2017.
Throughout those three seasons, Taylor ranked as the QB15 in 2015 (including a third-ranked 0.59 points per dropback), QB12 in 2016 (sixth-ranked 0.52 points per dropback) and QB17 in 2017 (19th-ranked 0.45 points per dropback).
Tyrod Taylor: rankings and statistics as a passer and a rusher among quarterbacks with 500-plus pass attempts and 25-plus rush attempts | 2015-2017
| | |
| --- | --- |
| Category | Number (Rank) |
| Passing yards | 8,862 (20th) |
| Passing touchdowns | 51 (20th) |
| Yards per pass attempt | 7.2 (17th) |
| Average depth of target | 9.8 (5th) |
| Rushing yards | 1,564 (2nd) |
| Rushing touchdowns | 14 (2nd) |
| Missed tackles forced per attempt | 0.21 (1st) |
Even though Taylor proved to be relatively average as a passer, his deep aDOT and his innate rushing ability separate him from many of his peers. Looking only at passes that were thrown 20-plus yards downfield, Taylor ranked 12th in both pass attempts and passing yards, eighth in touchdowns and 13th in PFF passing grade among quarterbacks with 100-plus deep pass attempts from 2015-17.
Taylor's past performances proved that his floor was relatively high when factoring in his rushing ability, and when you pair his ability to throw the ball deep with effectiveness, you get a solid quarterback who is capable of producing consistent results on a year-to-year basis.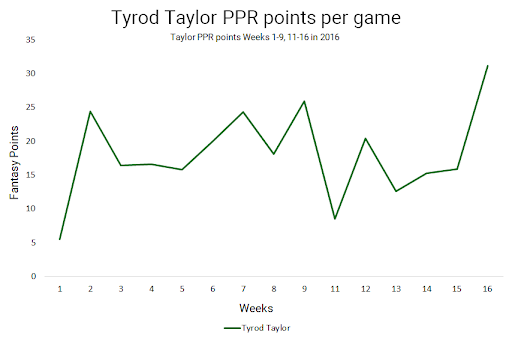 Pairing Mike Williams with Taylor would be a wise move, mostly because of Williams' cheap price tag as well as his ability to win deep down the field.
In 2019, Williams ranked fifth in receiving yards (471) from deep passes. In addition, his 18.3 aDOT ranked second, his 27 explosive pass plays (15-plus yards downfield) ranked 15th, his 20.4 receiving yards per reception ranked second and his 11.78 yards per target ranked fourth among all receivers with 25-plus targets in 2019.
Williams is the ultimate deep threat, though his size and jump-ball ability suggest he could be more. His two touchdowns from a season ago also present an opportunity for positive regression, as he ranked 24th in red-zone targets with 24 yet only pulled in two of those targets for scores. And not only was Williams held to just two touchdowns, but he also managed to score zero touchdowns outside of the red zone, even with his penchant for creating massive plays. Expect this touchdown number to increase.
PFF's SoS metric ranks the Chargers' quarterback schedule as the 10th-easiest in 2020, while their receivers' schedule comes in as the sixth-easiest. PFF's fantasy projections actually expect rookie Justin Herbert (QB31) to outscore Taylor (QB34), in addition to a WR35 finish for Williams. The reliance on the big play between this pair is likely to produce some drastic peaks and valleys, though the best ball format helps minimize the risk involved with higher variance players, particularly with someone like Williams.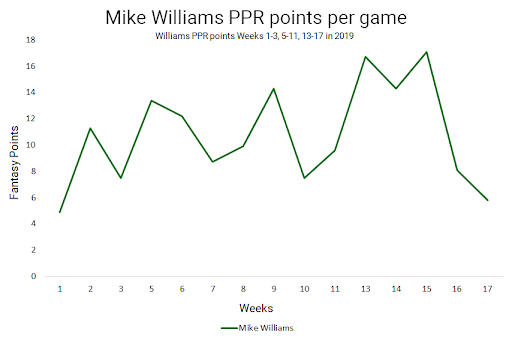 The fear of adding higher variance players is amplified in differing fantasy league formats, though it should be embraced in best ball leagues.
Pairing a late-round quarterback with a teammate at wide receiver is a sound strategy if the pair can produce to any extent, as it represents the easiest way to double down on potential points. Leagues are won and lost in the early rounds, though the possibility of finding potential bi-weekly starters in the late rounds is precisely what can help set your best ball team apart from your opponents.