The 2019 NFL schedule was officially released on Wednesday night, which means it's time to start dissecting things for fantasy football purposes.
One of the unique things that we have at our disposal here at PFF is our grades. Unlike fantasy points surrendered, which can be subject to significant variance, grades can give us a much more nuanced view of the actual strength of a team's opponents. So let's take a look at how things stack up in terms of fantasy strength of schedule.
Best overall schedules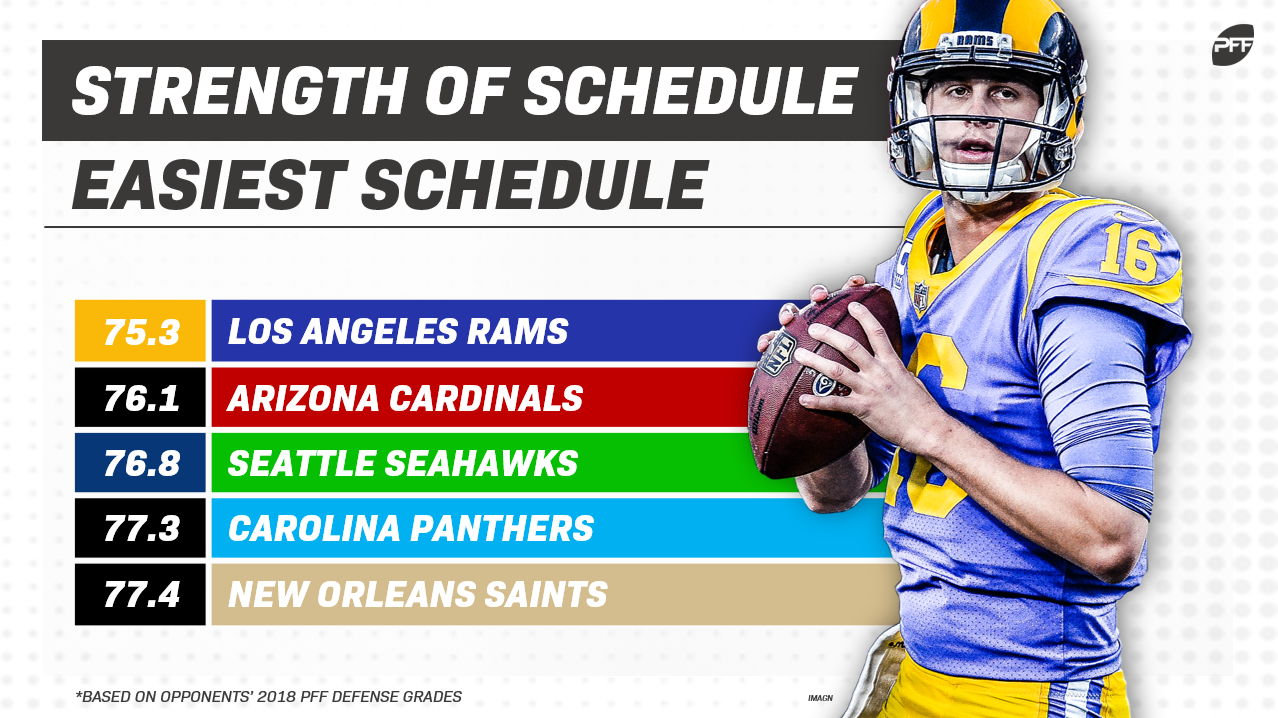 The Rams were one of last year's most explosive offenses and they're a good bet to put plenty more points on the board this season. LA will face an average defensive grade of 75.3 this season, which is far and away the lowest in the league. This is a good thing for Sean McVay and company, though the biggest question remains to be Todd Gurley's health. If Gurley is back to his old self, he should feast against this schedule.
Along with the Rams, the rest of the NFC West drafts favorable schedules. David Johnson has drawn some fantasy buzz in recent weeks, and the stars seem to be aligning for a bounceback season. Arizona comes with the second-lowest overall opposing defense average grade at 76.1. Seattle ranks third (76.8) and San Francisco is sixth (77.8).
The NFC South also gets a favorable draw this year thanks to having to face the AFC South and NFC West along with some teams getting plus matchups in the division. Carolina comes in with the fourth-lowest average opposing grade (77.3). Cam Newton seems to annually be undervalued in fantasy circles. He's poised for another strong year. New Orleans comes in right behind Carolina at five (77.4). Look for Drew Brees and company to continue to fill up the stats sheet.
Worst overall schedules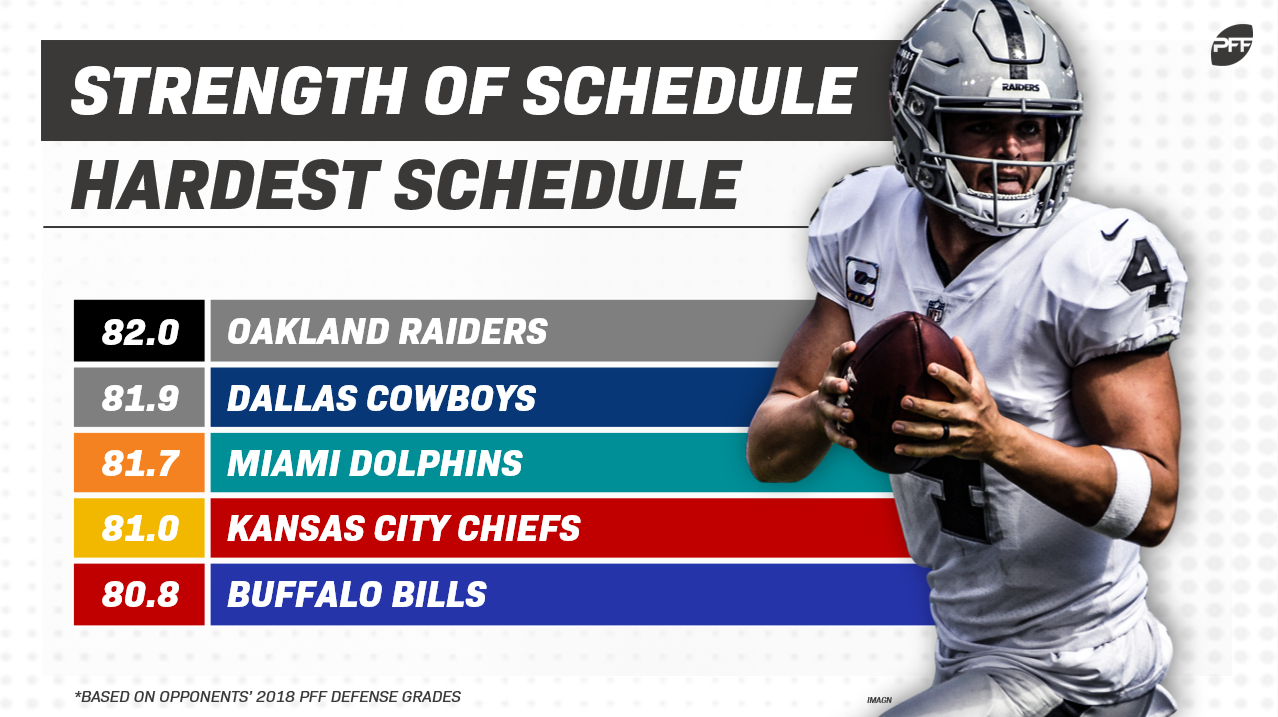 On the other side of the coin, the AFC West gets a rough slate this season. Oakland ranks last with the highest overall average opposing grade (82.0). There's certainly some excitement surrounding the Raiders with Antonio Brown now in house, but it's wise to not overvalue him for fantasy purposes. Likewise, the Chiefs come in at 29th (81.0). Patrick Mahomes is coming off a historic season, but he's poised for regression. That said, he's still the clear favorite to lead all quarterbacks in fantasy scoring.
Along with the AFC West, the AFC East gets a somewhat tough draw this year. We aren't going to find much fantasy value in Miami or Buffalo, though it might be wise to cool off a bit on the Josh Allen sleeper talk. The bigger takeaway here is that the Patriots come in at a lowly 25th in opposing defensive average grade (79.8). Tom Brady is already handcuffed due to his lack of overall receiving talent, and his schedule isn't going to do him any favors.
We also see some tough roads potentially ahead for the NFC East. Dallas comes in just behind Oakland with the second-worst overall schedule (81.9). While Ezekiel Elliott is still going to get his, the deck is stacked against this offense in 2019. Likewise, the Giants come in at 27 (80.5). With Odell Beckham Jr. out of the mix, the Giants really lack fire power in the passing game. That means they'll likely lean heavily on Saquon Barkley. We know that, and so do opposing defenses. That's not to say that Barkley is a bad fantasy option, but his efficiency could suffer against this schedule.
Best rushing schedules
Here's where we see the biggest advantage for the NFC West. The Rams (first), 49ers (second), and Seahawks (seventh) all get top-10 draws with the Cardinals coming in just outside at 11. Like I mentioned above, Todd Gurley's health is a huge factor in his ultimate fantasy value. But he could be right back to where he was early last year if he enters the season at 100%. The 49ers backfield is a bit of a mess for fantasy purposes. Tevin Coleman is likely to handle a bulk of the early-down work, but Jerick McKinnon and Matt Breida will also be in the mix. Likewise, Seattle could deploy a committee of Chris Carson and Rashaad Penny, which could complicate things for fantasy purposes.
Phillip Lindsay was arguably the biggest fantasy surprise last season, and he's poised for another productive year. The Broncos draw the third-best rushing schedule. That's also reason to take a stab on Royce Freeman this year. Detroit comes in right behind Denver at four. While Kerryon Johnson is exciting, C.J. Anderson's presence somewhat limit's Johnson upside. Rounding out the top five, we have New Orleans. So yeah, Alvin Kamara is going to eat.
Worst rushing schedules
The schedule certainly didn't break the right way for the Chiefs' run game this year, as Kansas City draws the worst schedule based on last year's run defense grades. Damien Williams flashed major upside down the stretch last season, but his limited resume and tough schedule make him a risky fantasy option.
Dallas comes in as the second-worst schedule against the run, but this isn't a reason to downgrade Ezekiel Elliott. He's one of the highest-volume runners in the league. His healthy workload will help overcome tough matchups. Likewise, Nick Chubb figures to see heavy volume over the Browns' first eight games with Kareem Hunt suspended. But the Browns draw the third-worst schedule for the run game, so keep that in mind for Chubb.
Rounding out the top five, we have the Bills and Chargers. It's tough to get excited about the senior citizen backfield in Buffalo, but Melvin Gordon has been one of the better fantasy running backs over the past few seasons. Unlike Elliott, Gordon isn't the only show in town for the Chargers. LA has a solid complementary option in Austin Ekeler. With Ekeler taking some work and the tough schedule, Gordon has the be viewed as more of a second-tier fantasy running back this year.
Best passing schedules
To establish the best and worst schedules for the passing game, we can use coverage grades. It should be noted that San Francisco graded out extremely poorly in coverage last year, ranking 17.5 points below the second-worst team. In other words, upgrade their NFC West opponents. The Cardinals come in with the No. 1 schedule, which could be very interesting if Arizona selects Kyler Murray next week. The Rams rank second, and Seattle is third. Unfortunately for Russell Wilson, the Seahawks were the league's least pass-heavy offense last season. Don't expect that to change this year.
Outside of the NFC West, we see plus drafts for Tampa Bay (fourth) and the Chargers (fifth). This isn't the first time we've heard Jameis Winston breakout talk in the fantasy football world, but this year might be his best bet for success thanks to his favorable schedule, fleet of pass catchers, and plus situation under Bruce Arians. Philip Rivers will continue to be a safe fantasy option, and the Chargers' schedule bodes well for Mike Williams to break out this season.
Worst passing schedules
The early favorite to lead the league in interceptions might be Ryan Fitzpatrick. Not only is he mistake-prone, but the Dolphins also draw the toughest opposing schedule in terms of coverage grades. It could be a long season for the Miami passing game.
We noted above that Oakland drew a tough overall schedule. That's especially true when it comes to coverage, as the Raiders rank 31st in that area. Derek Carr has some major upgrades in terms of his weapons, but the schedule isn't going to do Oakland any favors. Likewise, Kansas City gets a rough slate and comes in at No. 30. Patrick Mahomes is fantastic, but he's all but guaranteed to be overdrafted by fervent fantasy drafters who are chasing last year's points.
Rounding out the five worst schedules we have the Giants at 29 and the Texans at 28. It's unlikely anyone in fantasy circles are expecting much out of the New York passing game, but Deshaun Watson could end up being one of the top three signal-callers taken in fantasy drafts. While Watson adds value with his legs, his schedule puts a damper on his overall fantasy outlook. That being said, the sharp move is to always wait at quarterback and only draft one of the top options if fantastic value is being offered.