Hello, and welcome to the Week 9 Actual Opportunity Report. Actual Opportunity is our approximation of how many fantasy points a player should score based on workload. If you're unfamiliar with Actual Opportunity and how it applies to fantasy football, you can read the in-depth explanation here.
Essentially, we're using a 10-season sample of play-by-play data to calculate expected fantasy points from a player's seasonal or weekly usage. We look at each target (by distance from the end zone and depth of target) and each carry (by distance from the end zone and down and distance) and add this up to determine how valuable a player's role is for fantasy purposes. We can contrast this with fantasy production to measure efficiency.
In layman's terms, Actual Opportunity is "how many points a player should have scored" given his workload, based on what the average player would have scored. "Expected fantasy points" will be used interchangeably with "Actual Opportunity" throughout this article.
Through eight weeks, here are the top-30 players in expected fantasy points per game. After that, we'll look at some notable standouts: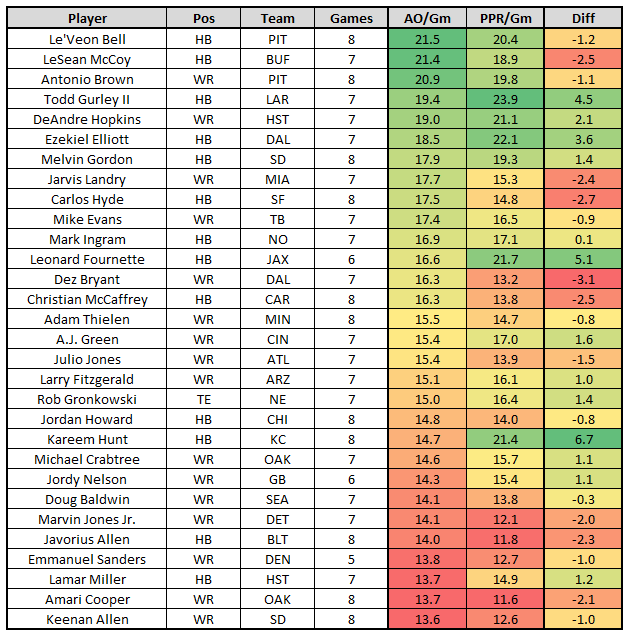 (AO: 11.7, PPR: 11.4)
As in most cases when a wide receiver changes teams, especially midseason, I'm wary about whether we'll see Benjamin as productive as he was in Carolina. Also compounding this issue is the fact that Buffalo is passing the ball only 48.5 percent of the time this year, the second-lowest rate in the league. His matchup for Week 9 looks attractive, however, up against a Jets defense likely without their star cornerback Morris Claiborne. Buffalo's tight end, Charles Clay, who led the league in end-zone target market share prior to his injury, is likely out as well. Still, I'm pessimistic. If Benjamin does manage to produce in Buffalo like the fantasy WR2 we drafted him to be, I believe it will come down to two key metrics: end-zone targets and deep targets. In his rookie season, Benjamin led the league in end-zone targets, and saw 31 percent of his total yards and 56 percent of his total touchdowns come on deep passes, but has been less prolific in these areas ever since. Over the past three seasons, 28 percent of Tyrod Taylor's passing yards have come on deep targets, the highest rate in the league. I will monitor Benjamin's volume in these areas moving forward and report back if I find anything encouraging.
Subscribe to PFF Edge to continue reading
Already have a subscription? Sign In