It never hurts to have at least some strategy before going into a fantasy football draft. At the same time, we don't want to box ourselves in with such a set strategy that it doesn't give us room to adapt to the ever-changing winding road that is draft day. With the niche style that is IDP and its aficionados, all these things are even more important.
Consider this guide your top-end tires and steering for the vehicle that is your team, so that we can stay on the road of our draft, no matter how crazy that road can be. Whether you are new to IDP or an old vet looking to refresh your knowledge during draft season, here are a few tips to get you started and prepped for your upcoming IDP draft.
1. Familiarize yourself with your league scoring/settings
The very first thing you want to do before entering any draft is understand the structure of your league and how scoring is set up.
One major setting that I see tend to vary from league to league is the grouping of certain defensive positions — by putting DEs and DTs together as one position and calling them DL, or by grouping safeties and corners together and calling them DBs. This is definitely something to be aware of so that we don't end up drafting a bunch of interior D-linemen or cornerbacks when it isn't necessary.
Leagues like this, where positions are grouped together, tend to create less of a value for DTs and CBs because they are not typically as high-scoring as their counterparts. In this case, you will want to lean heavily on the DEs over DTs and even more so with safeties over corners. There will still be players at those positions who shine — guys like DeForest Buckner and Fletcher Cox will still put up points similar to some of the top DEs but you'll see guys like A'Shawn Robinson and Kawann Short have less of an impact in the league even when competing with some of the more pass-rushing DEs. The same goes for corners, which can be a bit of a roll of the dice each year. Overall you can expect the safeties to outscore the majority of corners as they are more likely to receive more tackle points.
This brings us to the other important aspect of IDP leagues, which is the actual scoring system. One of the biggest indicators of IDP value is in the designated points per tackle for LBs and DLs. If your league is looking to make IDPs score as much as the offensive players, then you will likely see LB points per tackle around 1.5 to 2, and DL ranging anywhere from 2 to 3.5, depending on if the league puts a premium on DTs. If the scoring system assigns less than that, you'll want to hold off on drafting your IDPs until even later in your draft, leading us into the next point …
2. When is the best time to draft IDPs?
As is the case in the real NFL, and in fantasy, offense is still the money-maker for most IDP leagues — you don't want to stray too far from this thinking in drafts. The first few rounds will undoubtedly see the big names on offense going as they usually would in any draft; when defensive players start to go will vary. You don't want to spend too much early draft capital on your IDPs, especially if you don't have a couple good RBs and WRs as cornerstones for your offense.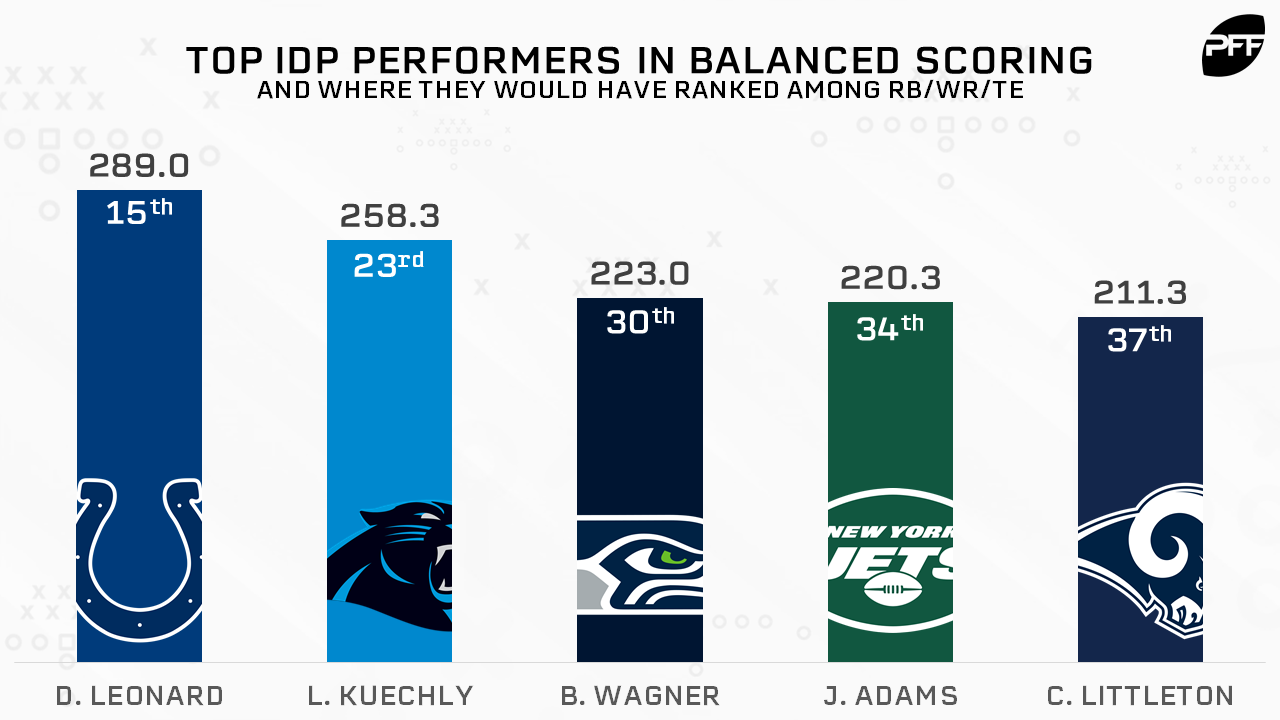 That said, "defense wins championships" can still be true when it comes to fantasy. Once you've built the foundation of your offense, you can start deciding on defensive players here and there throughout the next few rounds. Maybe all the top-end TEs are gone at this point so it would be a good time to grab an LB1. It is probable that some of the biggest names will be scooped up early, but don't panic if you see this happen. There will likely be a few teams who try and follow suit and start a run on LBs or Des, but there will still be plenty of big fish left in the sea when it comes to your time to fill those holes. You may even have time to grab a good TE or QB while some LBs and DEs are coming off the board.
You can get LB1 production from a number of guys who don't necessarily have the "name value" of some of these stars — a good example of this is someone like Cory Littleton who finished in the top-five of LB scoring last year and went undrafted in a number of leagues last season. Just know who the starters are for each team and don't be afraid to take shots on guys late who you think will get the snaps. The same can be said about DEs, as you'll start to see guys like Myles Garrett, Aaron Donald (listed as DE on most sites), and Joey Bosa come off the board around the Round 5/6, just being patient and knowing that you can still grab a couple productive DEs later on. Even guys like Carlos Dunlap or Everson Griffen, who are a bit older but have seemingly been productive forever, will likely be available to you well after the first run of DEs is over.
Like any draft, the key is patience and to try not to panic if things don't go as planned.
3. Linebackers are key
The linebacker position on defense is very much like the WR position on offense for fantasy — you want to get at the very least one top-end player and a good number of backups you can plug and play come bye week and/or in place of injured players.
Maintaining the aforementioned patience, you should still have plenty of opportunities to land a top-tier LB or two for your roster. There are plenty of solid LBs out there that can produce LB1 numbers on any given week, so long as you understand who they are and why.
Looking at potential LB1s, one of the first thing you want to consider is if the LB in question is playing every down of a drive or coming off the field on passing downs. An example of this from last season would be in Washington where Zach Brown was likely the team's first LB drafted, but Mason Foster actually played the most snaps and put up the most points. Knowing (or at least anticipating) how teams plan to utilize their LBs can usually be a good indicator for how well they will score in fantasy. Foster is a prime example of not having to be great at the position in order to be fantasy relevant, just needing snaps to create production.
Another thing to consider when choosing between LBs who do play every down, is understanding that the middle/inside LBs are likely to outproduce the outside LBs on teams. So as much as we love Khalil Mack as an NFL player, when it comes to fantasy, his designation as an OLB can actually hurt his production, despite him playing a hefty number of snaps. that Mack's production will be mostly dependent on sacks (he had 13 last year) and QB hits (9). Teammate Roquan Smith's production is based off being in the box stopping the run and eating up tackles, while also getting the opportunity to blitz from time to time and pick up sacks. So there is just more opportunity for an inside LB like Smith to put up points than there is someone like Mack or even Von Miller, who are out there to strictly rush the passer.
Some sites out there that have created an "edge" designation to help equate NFL value to fantasy value for players like Mack and Miller, but this is still something the IDP community has yet to fully come together about on how to fix. For now, draft LB-designated edge rushers with caution.
4. Know your D-linemen
Very similar to how me must know which LBs we want to target and why, the same can be said for the behemoths who play along the defensive line. Whether your league has separate DTs and DEs or has them lumped together as DL, we want to know who we should be targeting that gives us the best chance for production.
It's pretty rare that D-linemen's tackle numbers by themselves will be enough to win you your week, unless that player is Damon Harrison, who eats tackles for breakfast. It's why the points per tackle are usually higher for defensive line players than they are for LBs — because there are just not as many of them. So what we're looking for in our DL players are the almighty sacks. Sacks are king when it comes to IDP and if scored correctly can be worth as much or more than your typical TD on offense, as you will likely be getting points for the tackle, the tackle for a loss, the QB hit and the sack itself. Again, we can try and grab a top-end DE or we can be patient and wait on guys who we know will fall in the draft due to not having the name value as someone like J.J. Watt or Myles Garrett. We can easily wait and grab a name like Jerry Hughes, Brandon Graham, or Michael Bennett who create a ton of pressure that will lead to loads of fantasy production opportunities in return.
In leagues with DT and DE separated, we can start looking at who will be our starting DTs coming out of this draft. DTs are a little harder to gauge; the pass-rushing DT is rarer, so there are many of them that score about the same. With this in mind, we can separate those DTs into tiers and put the ones who are out there to rush the passer as well as staying on the field for early downs at the top. Last year, saw the emergence of Kenny Clark, Daron Payne, and Jarran Reed as top options at the position because they were in prime starting spots and had plenty of opportunities to stay on the field and rush the passer as well. Guys like this can be hard to find, but doing your research of team depth charts and past utilization can be great indicators.
5. Defensive backs and their worth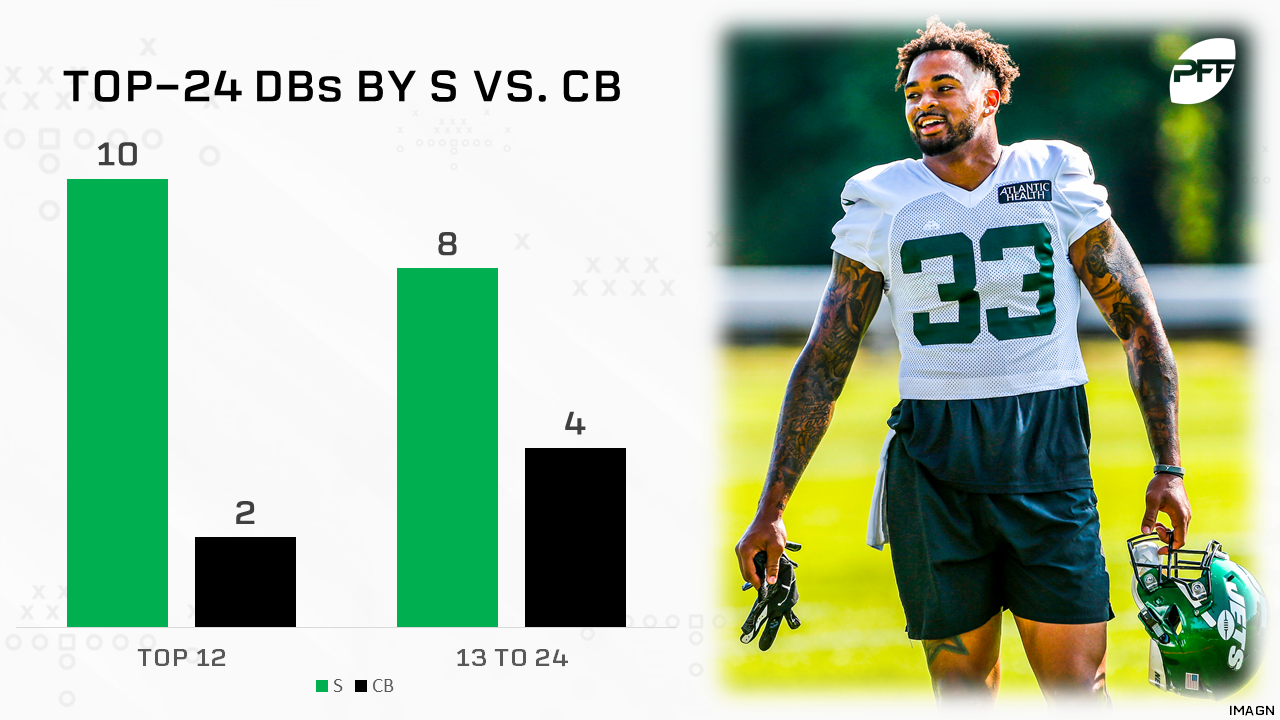 Now I don't want to disrespect any of the DBs out there, but when it comes to fantasy, these guys are just about interchangeable. Corners are moreso than safeties, but really these two positions should be the least important point of emphasis for your draft. I would suggest waiting until you have all your starting LB and DE spots filled, with maybe even a bench spot or two, before moving on to DBs, as they are definitely the most streamable IDP positions.
If we're drafting safeties and corners separately, we will definitely be looking at safeties first. When it comes to safeties, the type of safety we want is important, just as it is with LB and DL — we are looking mostly at the strong safeties. The strong safeties typically play more inside the tackle box than the deeper-in-the-secondary free safety, so the strong safety will get more tackle opportunities. There are outliers from year to year where we see the odd FS jump up near the top of safety scoring — like Justin Reid last year or Kevin Byard from a few years ago — but this is rare and usually has to do with interceptions, so we can't expect those numbers to be consistent from year to year.
Our strong safeties is where you want to spend money — guys like Jamal Adams, Landon Collins, and Derwin James can be expected to be consistently near or at the top of the safety rankings each season because of the amount of tackle opportunities they have. Look for players similar to this should you miss out on those big names — and there are plenty to choose from for each team. Most teams will have two safeties on the field at all times and usually one of those is designated to come up and play in the box on any given play, so knowing who the strong and free safeties are on each team will help you significantly when drafting.
Finally, when it comes to corners, the best advice I can give here is to not get caught up in the big names like Patrick Peterson, Richard Sherman, or Jalen Ramsey, because corner is the one position where we almost want to stay away from the most talented players at the position. This is because they are so good that they are often targeted less and so not be putting up very big tackle numbers. Instead, look at the corners who play opposite of these stars as they will often see the bulk of targets, which leads to greater tackle numbers and can help create better interception opportunities as well. So for corners, look for guys who will be starting — there are 32 teams in the NFL and each one has at least 2-3 starting corners who play the majority of snaps every week. Also look for the guys who get targeted more often — usually playing opposite a star corner or a guy who isn't great but still gets starting snaps, QBs will attack players like this regularly.