We're just under a week away from the 201 NFL draft. To finish out our prep work, you'll find the fantasy football scouting reports and dynasty rookie rankings for the tight ends below. This year's class has some very intriguing talent, especially at the top. It's likely there are future fantasy standouts in this group.
Remember, ranking players is a process that continuously changes as we get new pieces of information. The biggest piece won't come until late-April when the player is either drafted, signed as an undrafted free agent, or passed over by the 32 NFL teams. For now, all the incoming players exist in a vacuum without a team and can be compared on even ground.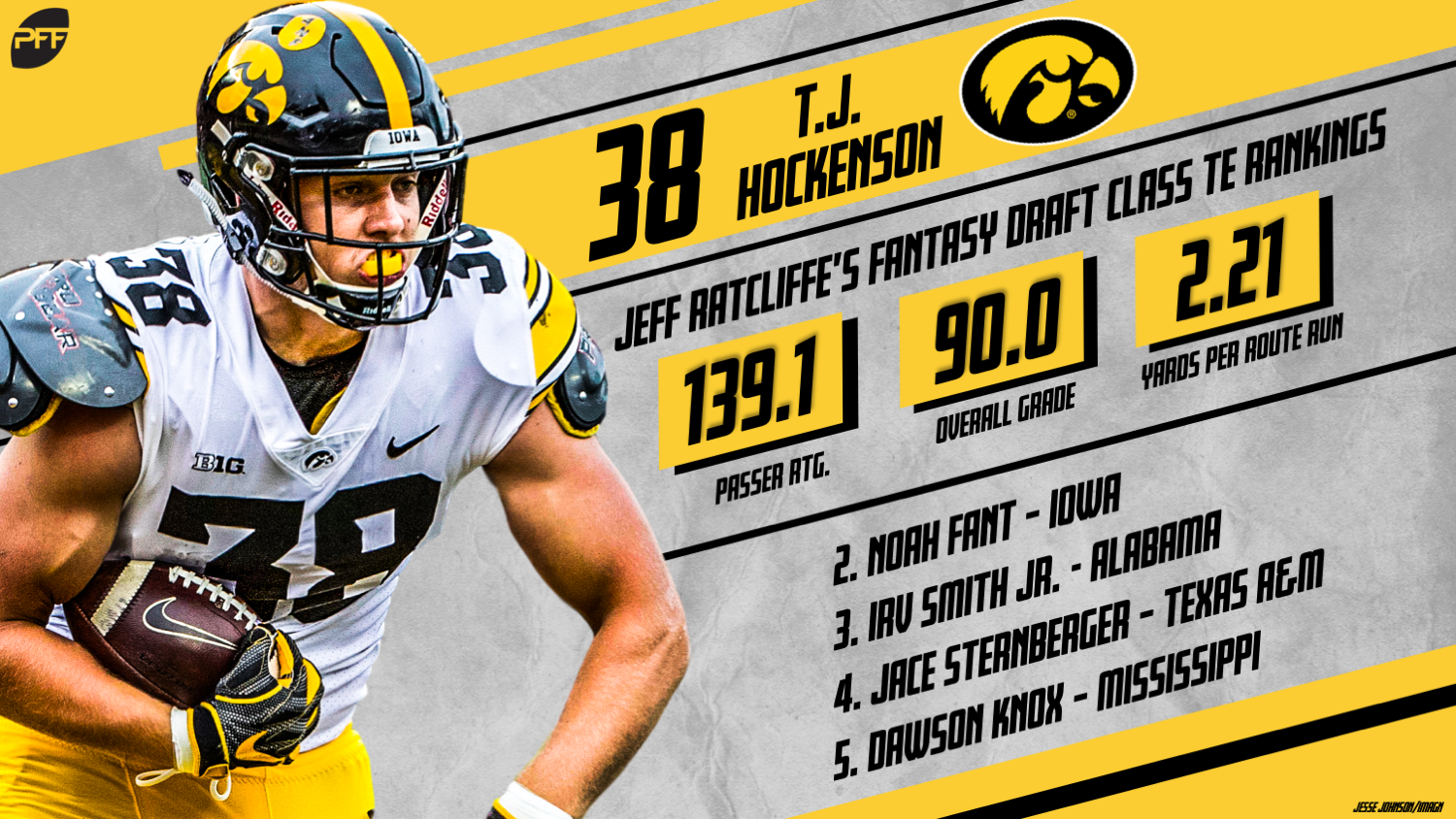 (Check our RB draft class rankings, WR draft class rankings, and QB draft class rankings as well.)
1. T.J. Hockenson, Iowa — While Noah Fant has garnered a lot of fantasy attention from the devy community, his teammate Hockenson is the better long-term fantasy prospect. Hockenson is uber-athletic with an all-around game. He graded out as the No. 2 tight end in the nation last season. Don't read too much into his college stats — splitting the workload with Fant capped his numbers. That said, he still managed an impressive 760 yards on 49 catches last season. The Travis Kelces of the fantasy world don't come around often, but Hockenson is a good bet to emerge as a future elite fantasy tight end in the long-term.
2. Noah Fant, Iowa — Athletic as all get out with size (6-4, 249) and speed — he ran a 4.50 40-yard dash at the combine. Fant tallied 18 touchdowns over the last two seasons despite splitting the workload with T.J. Hockenson. Given his overall profile, Fant has the makings of a future fantasy standout. Though it should be noted that while expectations may be high for Fant early in his career, the learning curve is steep in the NFL. Like Eric Ebron, it could take Fant a few years before he hits.
3. Irv Smith Jr., Alabama — The son of a former NFL tight end, Smith is coming off an impressive 2018 statistical campaign where he posted 44 catches for 710 yards and seven scores for the Crimson Tide. Smith isn't quite as polished as Hockenson or as athletic as Fant, but he isn't that far off. That said, he's a bit undersized for the pro level at 6-2, 242 pounds. Still, Smith's athleticism and pedigree bode well for success at the next level. He's a good bet to be a long-term fantasy option.
4. Jace Sternberger, Texas A&M — A move tight end who showed the ability to put up big numbers as a receiver at the college level. After two years at Kansas and a year at the junior college level, Sternberger exploded for 832 yards and 10 touchdowns on 48 catches at Texas A&M last season. Sternberger doesn't have the raw athleticism that we see at the top of this year's tight end crop, but his abilities as a pass-catcher place him squarely on the dynasty radar.
5. Dawson Knox, Mississippi — Knox didn't really put up stats at the college level with just 39 catches for 605 yards and no scores over the last two seasons. Of course, he did share the field with wide receiver prospects A.J. Brown and D.K. Metcalf, so we may not want to read too much into those numbers. Knox tested well at the combine and possesses NFL size (6-4, 254). If he can develop a bit, he's a sneaky bet to emerge as a fantasy option in the long-term.
6. Josh Oliver, San Jose State — A four-year player for San Jose State, Oliver emerged in his senior season with 56 catches for 709 yards and four scores. He tested well at the combine with a 4.63 in the 40-yard dash to go along with 34 inches in the vert and 117 in the broad jump. Oliver's athletic profile and ball skills give him a shot at surfacing as a deeper fantasy option in dynasty leagues.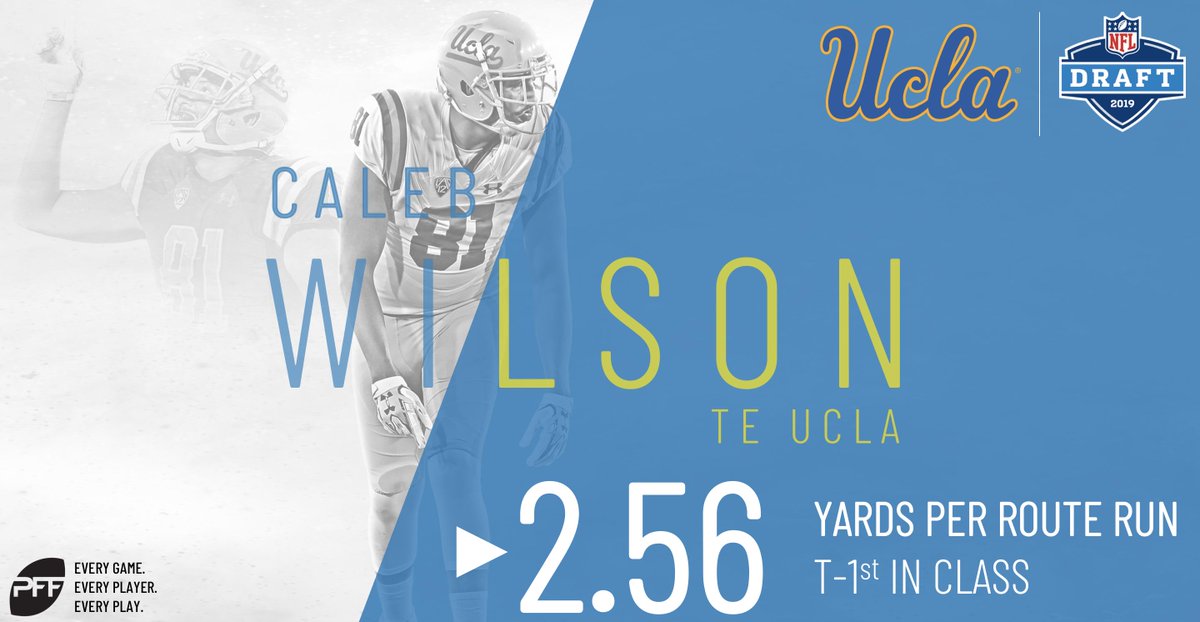 7. Caleb Wilson, UCLA — A former quarterback whose father is a former NFL draft pick and current NFL coach, Wilson notched 965 receiving yards on 60 catches at UCLA last season. He also graded out as the No. 12 tight end in the nation. While he's still much closer to his floor than to his ceiling from a developmental standpoint, Wilson's athleticism and upside make him an appealing deep dynasty dart.
8. Kahale Warring, San Diego State — Athletic but inexperienced, Warring only played one year of high school football before the college level. He also only caught 51 balls in three seasons of play. That said, his overall profile and NFL size (6-5, 252) makes Warring a deep name with fantasy potential.
9. Dax Raymond, Utah State — Athletic, but somewhat raw, Raymond was productive over the last two seasons with a combine 68 catches for 801 yards. For dynasty purposes, he enters the league a bit old at 24. Still, he's one of the deeper tight end names to keep an eye on this year.
10. Alizé Mack, Notre Dame — Mack is a solid pass-catching tight end who is coming off career highs in catches (36), yards (360) and touchdowns (3). He missed the 2016 season due to academic ineligibility, but worked his way back on the field over the last two seasons. Has some uber-deep appeal due to his receiving ability but Mack likely has a long road to fantasy value at the NFL level.
11. Donald Parham, Stetson — Parham was one of the most productive receiving tight ends in the nation last season with 85 catches for 1,319 yards and 13 scores. Designated as a tight end, but Parham's build (6-8, 243) is more that of a big slot. He flashed intriguing testing numbers at his pro day with a 4.67 40-yard dash to go along with a 38.5-inch vert. He'll be stepping up in competition, but Parham has deep dynasty appeal.
12. Kaden Smith, Stanford — Another in a long line of Stanford tight ends making the leap to the NFL, Smith posted 47 catches for 635 yards in 2018. While the numbers are somewhat intriguing, Smith profiles as more of a possession fantasy option and lacks overall dynamic upside.
13. Isaac Nauta, Georgia — Nauta was moderately productive at Georgia with 29 catches in 2016 and 30 last season. He finished his career with eight scores and an average of 13.3 yards per catch. Not bad, but also not that good. Nauta isn't a good dynasty bet.
14. Foster Moreau, LSU — A blocking tight end who didn't do much in the passing game with just 52 catches in his four years at LSU. Moreau will likely come off the board on Day 3, but he isn't someone we'll want to look at in dynasty rookie drafts.
15. Drew Sample, Washington — More of a catch-and-fall-down option, Sample averaged 10.6 yards per catch and scored five times in four seasons at Washington. He has the size and profile of a blocking option at the pro level and is unlikely to emerge as a fantasy option over the long haul.
16. Trevon Wesco, West Virginia — A one-year wonder who put up 26 catches for 366 yards last year after having entered the season with just two career catches. He more of a developmental prospect, but Wesco has the size (6-3, 267) and athletic profile to potential surface as a deep move option down the line.
17. Keenen Brown, Texas State — A grad transfer at Texas State last season, Brown played four years at Oklahoma State. He entered the college level as a wideout, but moved to H-Back in his Junior year. Brown did a whole lot of nothing at Oklahoma State, with just six receptions, but he racked up 51 catches for 577 yards and five scores last year. Brown's limited resume makes him unlikely to surface on the fantasy radar.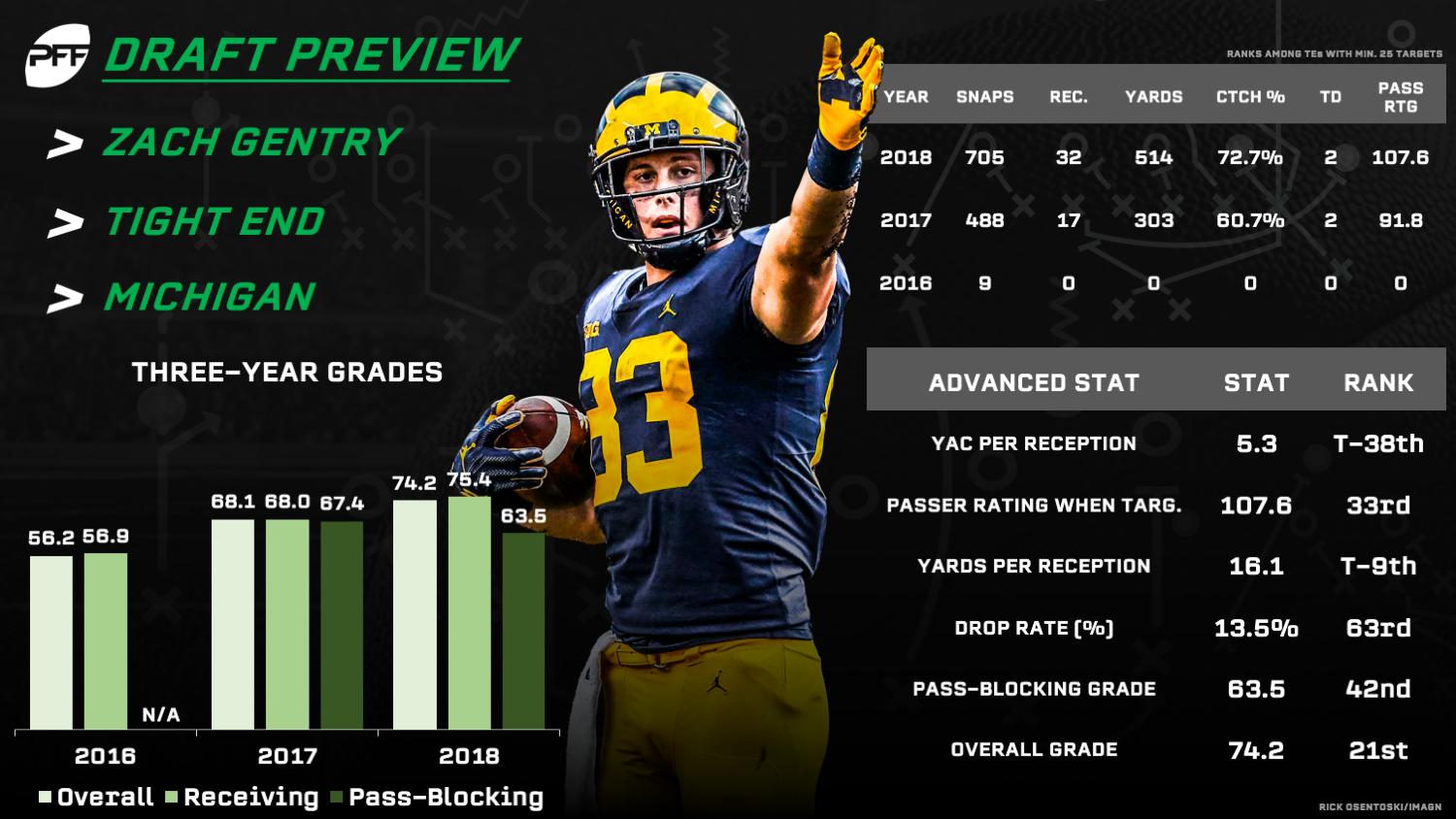 18. Zach Gentry, Michigan — A former quarterback at the high school level, Gentry is enormous at 6-8, 265 pounds. He's coming off solid production last year with 32 catches for 514 yards and two scores. Gentry's size is impressive, but he doesn't have the overall athletic profile to become a fantasy option.
19. Andrew Beck, Texas — A blocking option who is coming off career highs in catches (28) and yards (281). That limited production means we shouldn't expect Beck to be a fantasy factor in the NFL.
20. Tommy Sweeney, Boston College — Productive at the college level, Sweeney topped 30 catches in each of the last two seasons. While the numbers are solid, Sweeney doesn't quite have the size (6-4, 251) or athleticism to be a productive fantasy tight end.
21. Daniel Helm, Duke — Helm is an athletic tight end whose numbers on the field failed to matchup his top-10 national recruit status entering the college level. He started his college career out at Tennessee, but transferred to Duke after his freshman year. Helm won't be a fantasy option.
22. Kendall Blanton, Missouri — A developmental prospect, Blanton has size you can't teach at 6-6, 262 pounds. But he also enters the NFL with a limited college resume that includes just 44 catches for 476 yards over the last three seasons.
23. C.J. Conrad, Kentucky — Conrad is a blocking tight end who contributed in the passing game with 80 catches over his four years at Kentucky. Solid numbers, but Conrad doesn't stand out as a future fantasy prospect.