With the 2019 NFL draft rapidly approaching, it's time to finish off this year's fantasy scouting reports and pre-draft dynasty rookie rankings. Below you'll find the pre-draft fantasy evaluations of the signal-callers in this year's class. This is a very interesting class with a few potential future fantasy standouts. The fantasy shelf-life of quarterbacks is by far the longest of the skill positions, so it's important we have a good grasp of each player in this year's class.
Remember, ranking players is a process that continuously changes as we get new pieces of information. The biggest piece won't come until late-April when the player is either drafted, signed as an undrafted free agent, or passed over by the 32 NFL teams. For now, all the incoming players exist in a vacuum without a team and can be compared on even ground.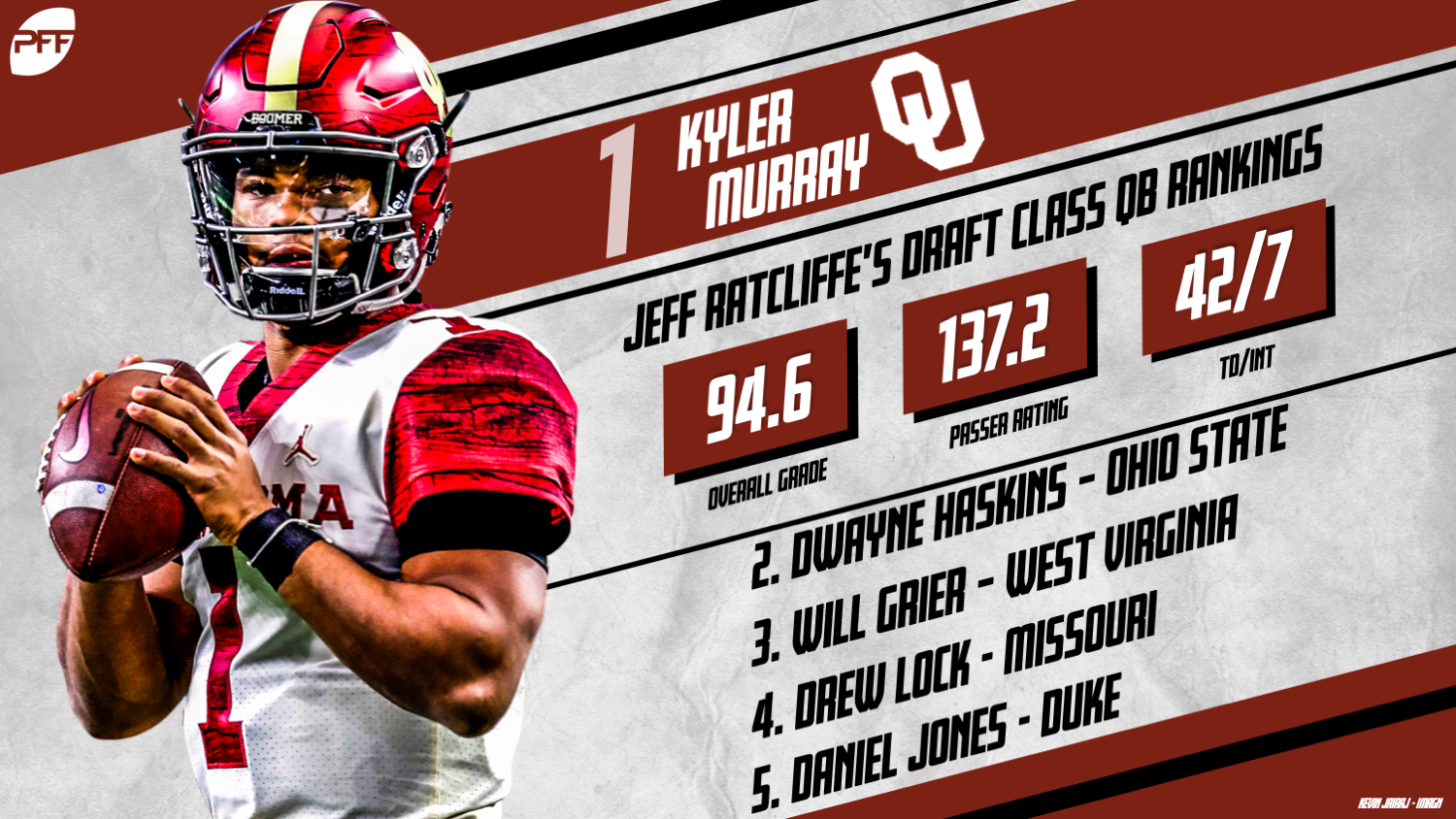 (Check our RB draft class rankings and WR draft class rankings as well.)
1. Kyler Murray, Oklahoma — Many question how his size will translate to the NFL, but Murray's dual-threat ability is custom-made for fantasy production. He graded out as the top passing quarterback and No. 2 running quarterback in this year's draft class. While a lot of folks want to find reasons to not like Murray for fantasy, those are two big reasons to really like him in the long term. He excels on open passes, with highest accuracy percentage in the class on balls thrown at least 10 yards down the field. Murray has been comped numerous times to Russell Wilson, and that's a great way to think about him for fantasy purposes. If he hits, Murray has the rare traits to make him a long-term elite fantasy option.
2. Dwayne Haskins, Ohio State — Much more of a traditional quarterback option than Murray, Haskins broke out in a big way in 2018 with 4,831 yards and a whopping 50 touchdowns through the air. However, he offers very little with his legs, averaging just 1.9 yards per carry at the college level. He also enters the NFL with an extremely limited resume as a starter, with just 15 starts under his belt. Haskins looks the part of an NFL quarterback and should surface as a long-term dynasty option. However, his limited mobility puts a cap on his fantasy upside.
3. Will Grier, West Virginia — Grier managed to put up big numbers as a passer in his two seasons at West Virginia, and also tied for the most big-time throws in the nation with 33 last year. He had 20 touchdowns on balls traveling at least 20 yards in the air. That moxie helps his overall fantasy level, as fantasy football tends to favor the bold. Grier racked up 71 passing scores over the last two years and posted an impressive 65.7% completion percentage over his college career. Grier is far from a lock for future fantasy success, but his upside is appealing enough to place him squarely on the dynasty radar.
4. Drew Lock, Missouri — A prolific producer who finished his college career with over 12,000 passing yards and 99 passing touchdowns. Despite the production, Lock's biggest knock is accuracy, as he completed just 56.9% of his throws at Missouri. Still, his overall profile and productivity makes him a likely candidate to surface on the fantasy radar at the pro level.
5. Daniel Jones, Duke — A quick look at the Jones' stats really fails to impress, but don't read too much into the numbers. Jones wasn't exactly surrounded by a fleet of receivers at Duke. In fact, his receivers committed 38 drops in 2018, which was tied for the third-most in the nation. Jones enters the pro level with athleticism and dual-threat ability. Over the past three seasons, he rushed the ball 406 times at a clip of 3.3 yards per with 17 scores. He'll be an appealing dart throw in dynasty rookie drafts.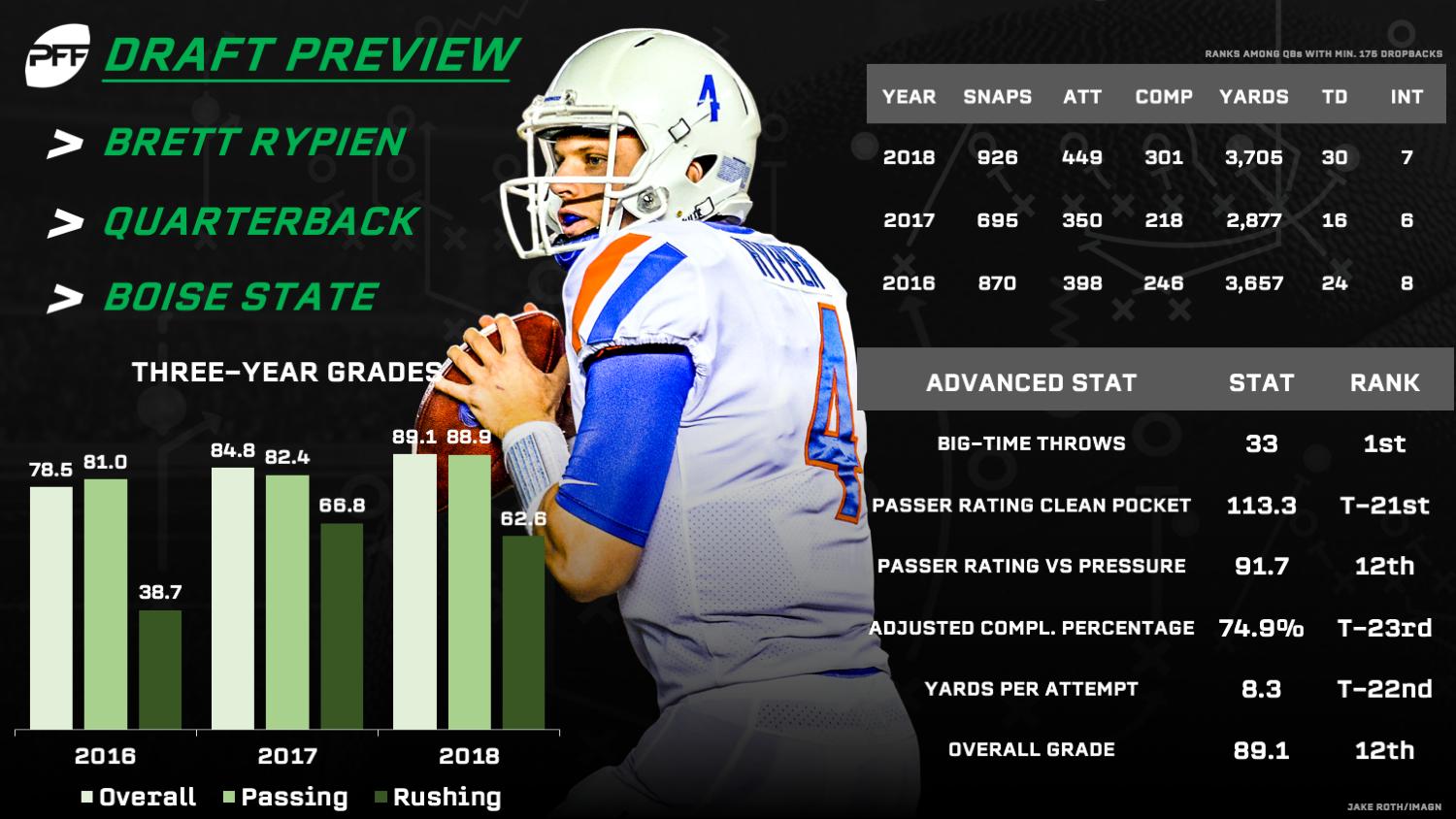 6. Brett Rypien, Boise State — Prolific in college, Rypien finished his college career with 13,578 passing yards, which currently rans 13th all-time, one spot ahead of Philip Rivers. He also threw for 90 scores and completed 64% of his throws. Rypien comes from a football pedigree, as his uncle Mark was the MVP of Super Bowl XXVI. The biggest knock on him is his size (6-2, 210), but it's tough to ignore his productivity. Rypien is a sneaky deep quarterback name to keep an eye on in dynasty leagues.
7. Tyree Jackson, Buffalo — Big and athletic, Jackson is coming off a 2018 season where he put up 3,131 yards and 28 scores through the air. While he has a big arm, Jackson struggled with accuracy, completing 55.3% of his passes last season. Jackson enters the NFL much close to his floor than to his ceiling, but his overall profile is appealing enough to consider him a dark horse to emerge as a long-term fantasy option.
8. Ryan Finley, NC State — An accurate quarterback who completed 64.5% of his passes over the last three years as a starter. He has solid production over that span, topping out at 25 touchdown throws this past season. Finley started his career at Boise State, but transferred in 2016.There are things to like about Finley's game, but he projects as more of a backup at the pro level and is unlikely to ever be a fantasy option.
9. Jarrett Stidham, Auburn — Stidham exploded onto the scene in 2017 when he put up 3,158 yards and 18 scores through the air in his first season as at Auburn. He started out at Baylor but transferred after the Art Briles scandal. Stidham's numbers regressed last season, especially his accuracy, which dropped from 66.5% in 2017 to 60.7% last year. The fact that he took a step back doesn't bode well for Stidham's long-term fantasy outlook.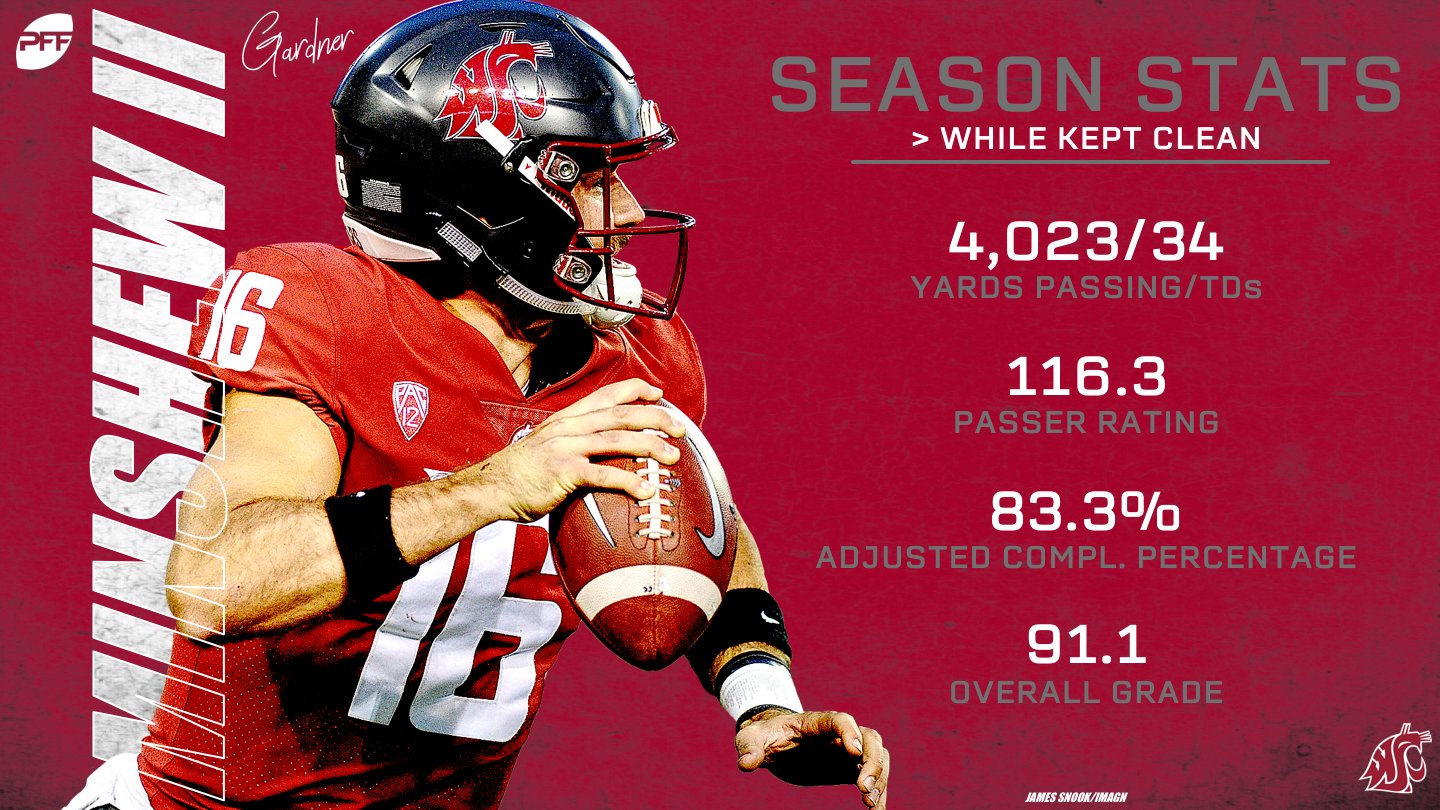 10. Gardner Minshew, Washington State — Mishnew played at Washington State as a grad transfer last season and went from relative unknown to a draft prospect in the process. He put up big-time numbers in Mike Leech's offense, with 4,779 yards and 38 scores through the air and completed an impressive 70.7% of his passes. Of course, those numbers are juiced up due to the system, so don't read too much into them. Mishnew will likely carve out a role as a backup, but his lack of prototype size (6-1, 225) and talent makes him unlikely to surface as a fantasy option.
11. Easton Stick, North Dakota State — Carson Wentz's replacement at NDSU was a productive dual-threat signal-caller. Stick didn't manage prolific passing numbers with his career high of 2,752 passing yards coming last year, but he was efficient with 28 scores in each of the last two seasons. He also averaged 5.9 rushing yards per attempt and scored 41 times in his college career. Despite his production, Stick profiles as more of a backup option at the pro level.
12. Trace McSorley, Penn State — Athletic but undersized (6-0, 202), McSorley was a three-year starter at Penn State. He posted big numbers in his sophomore and junior years, with an impressive 66.5% completion percentage in 2017. McSorley's numbers as a passer regressed last year, but he still fared well as a runner with 12 scores and 798 yards on the ground. McSorley's dual-threat ability is intriguing, but his lack of prototype size makes him a long-shot to surface as a fantasy option.
13. Kyle Shurmur, Vanderbilt — Pat Shurmur's son was a three-year starter at Vanderbilt who looks the part of an NFL quarterback from a size standpoint (6-4, 230). He really came into his own over the last two seasons with a combined 50 touchdown passes. Shumur's completion percentage improved in 2018, but that could be partially due to his low average depth of target (9.18). Shumur has a strong pedigree, but his overall profile is that of a career backup.
14. Clayton Thorson, Northwestern — A four-year starter who had over 10,000 passing yards in his college career, but only completed 58.4% of his throws at just 6.3 yards per attempt. Thorson also toss 15 interceptions in 2018, which ranked second among signal callers in the FBS. While he looks the part of an NFL quarterback, Thorson is a long-shot to ever be a fantasy option.
15. Manny Wilkins, Arizona State — Productive passer who tossed 52 scores over the last three seasons at ASU. Wilkins isn't quite built like an NFL signal caller (6-3, 200), but he performed well at his pro day despite being just under four months removed from an MCL tear. Unfortunately, Wilkins doesn't have enough juice to factor as anything more than a career backup.
16. Jake Dolegala, Central Connecticut State — Despite coming from the FCS level, Dolegala has NFL size (6-4, 240) and is coming off a solid 2018 season where he improved his completion percentage to 61% and his yards per attempt to 8.3. Dolegata will be stepping up in class at the pro level and doesn't figure to be anything more than a backup.
17. Taryn Christion, South Dakota State — Small-schooler who put up big numbers over the last three years. Christion racked up 30-plus passing scores in each of those seasons, and he finished his college career with 104 touchdowns. He has a big arm, but accuracy was an issue, as he completed just 59.7% of his passes in college. Christion also has dual-threat ability, with 26 career rushing scores. He's unlikely to ever emerge as a starter in the NFL, but Christion's physical upside makes him an uber-deep name to know.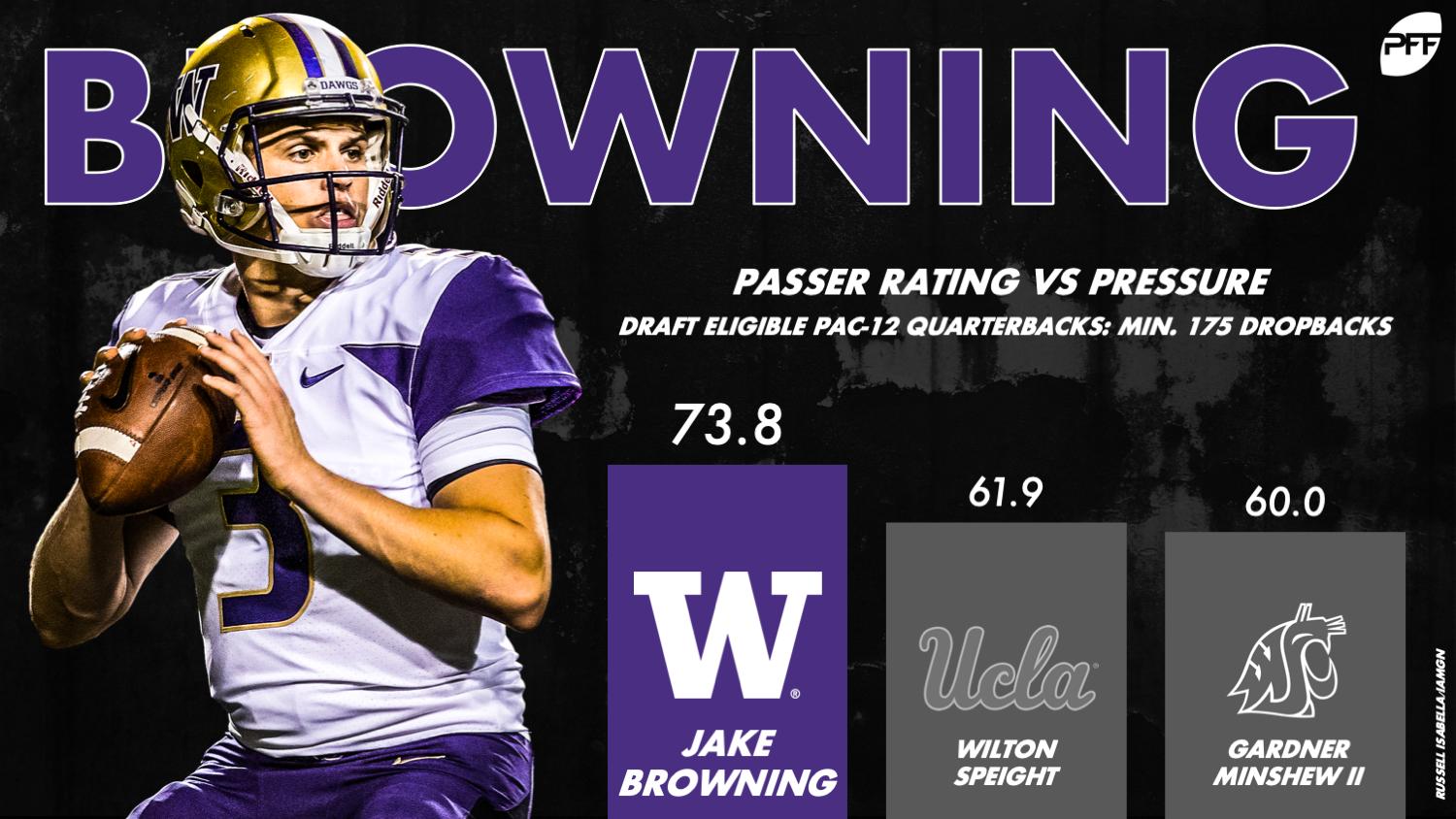 18. Jake Browning, Washington — Prolific at the high school level, Browning achieved the Al Bundy-like feat of passing for 91 touchdowns in a single season. He continued his productive ways early in his college career, racking up 3,420 passing yards and 43 scores in 2016. His numbers regressed over the next two seasons, which may have been due to multiple shoulder injuries. That said, Browning still managed to top 12,000 passing yards for his career. Despite the numbers, Browning doesn't have a good chance of being a fantasy factor.
19. Nick Fitzgerald, Mississippi State — Dak Prescott's understudy assumed the starting duties in 2016 and proceeded to top 1,000 yards on the ground. He achieved that feat again last season and finished his college career with an average of 6.0 yards per carry and 46 rushing scores. Unfortunately, his abilities as a passer didn't match his rushing chops. Fitzgerald managed just 6.6 yards per attempt and a lowly 54.2% completion rate. Fitzgerald's running ability could result in a Taysom Hill-like role, but his deficiencies as a passer will keep him off the fantasy radar.
20. Jordan Ta'amu, Mississippi — A one-year starter at Ole Miss who played two years at the junior college level. Ta'amu put up solid numbers last year with 3,918 yards and 19 passing scores with an impressive 9.4 yards per attempt. He has NFL size (6-3, 221), but his limited resume against big-time competition is a knock.