(With training camps starting soon around the league, we're looking ahead at the 2019 fantasy football season and attempting to answer the burning questions around the league. For each team, we'll ask, and hopefully answer, 3-4 questions about their season to come in fantasy. This is 100 Questions.)
If you play around on the internet long enough, you'll probably find someone who believes the Miami Dolphins can be contenders, inasmuch as you'll probably find people who liked The Happening or people who think this is the year Christine Michael puts it all together. But the more rational minds out there recognize that the Dolphins are rebuilding/tanking/gerund-du-jouring and have adjusted expectations accordingly.
For fantasy, though? Even bad teams can have fantasy producers. Duke Johnson was RB11 for the 0-16 Browns in 2017. Kevin Smith was RB16 and Calvin Johnson was WR3 for the 0-16 Lions in 2008. The Dolphins are bad — probably very bad — but is there room for fantasy production nonetheless?
The former first-round pick is entering his fifth year in the league and hasn't had 10 touchdowns. Not in a year, total. Parker has played 53 career games and scored nine times, including one in each of the last two years. He's had a fantasy finish worse than his ADP (per Fantasy Football Calculator) every year and just had a season of only 24 receptions and 309 yards.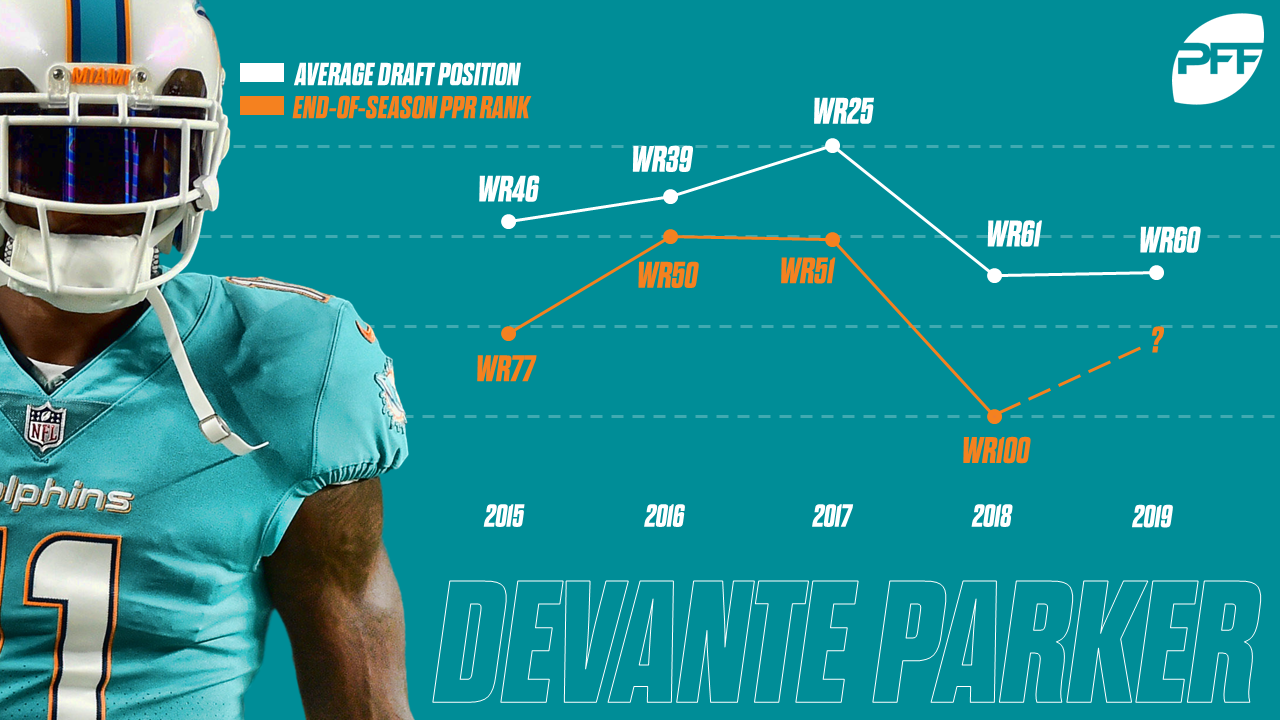 Hope springs eternal, though. Akin to the aforementioned Christine Michael hope, Parker is already drawing glowing reviews from his offseason performance, and the buzz has lifted his ADP by about a round over the last month. It's still low, but if Parker can truly be the No. 1 pass-catching weapon in the offense, maybepossiblyperhaps this can be his breakout year?
Best guess: Fool me once, fool me twice, fool me a hundred times. You know the drill. Parker may well be a competent weapon in 2019, all things considered. But in an offense with a ceiling that is below average (and a floor that is laughable), even getting a 90th-percentile Parker performance is underwhelming. And we've seen him disappoint so much that you'd be better off passing him over and watching whatever mini-breakout that might come happen on someone else's roster.
#5: Kenyan Drake — Working hard or hardly working?
Only 25 running backs played all 16 games in 2018. Of those, Drake ranked 16th in carries, at 120. The players below him? All pass-catching specialists (Tarik Cohen, James White, Nyheim Hines, Jalen Richard, Duke Johnson) and/or backups (Wendell Smallwood, Chase Edmonds, Devontae Booker, Jacquizz Rodgers). He barely had more carries than lost-his-job Alex Collins or barely-had-a-job Chris Ivory. And that was with the husk of Frank Gore as his only real competition.
This year, Gore is gone, but the Dolphins didn't do much replacing. Drake's main competition is Kalen Ballage, who had only 36 carries as a rookie and only had more than four carries in a game twice. Among running backs with at least as many carries as Ballage, only Jeff Wilson Jr., Corey Clement, and LeGarrette Blount had a worse rushing grade. So the Dolphins might be loathe to commit to Drake … but they might not have much choice.
Best guess: Drake will probably get a much larger share of the work! And it might not matter. Even if Drake goes from about 40% of the Dolphins' carries to, say, 60% or even higher, the team's likely awful gamescripts and poor offensive line mean the total run opportunities will be low and the ones that are offered will be low quality. Steer clear.
#6: Joshan Fitzrosen, huh?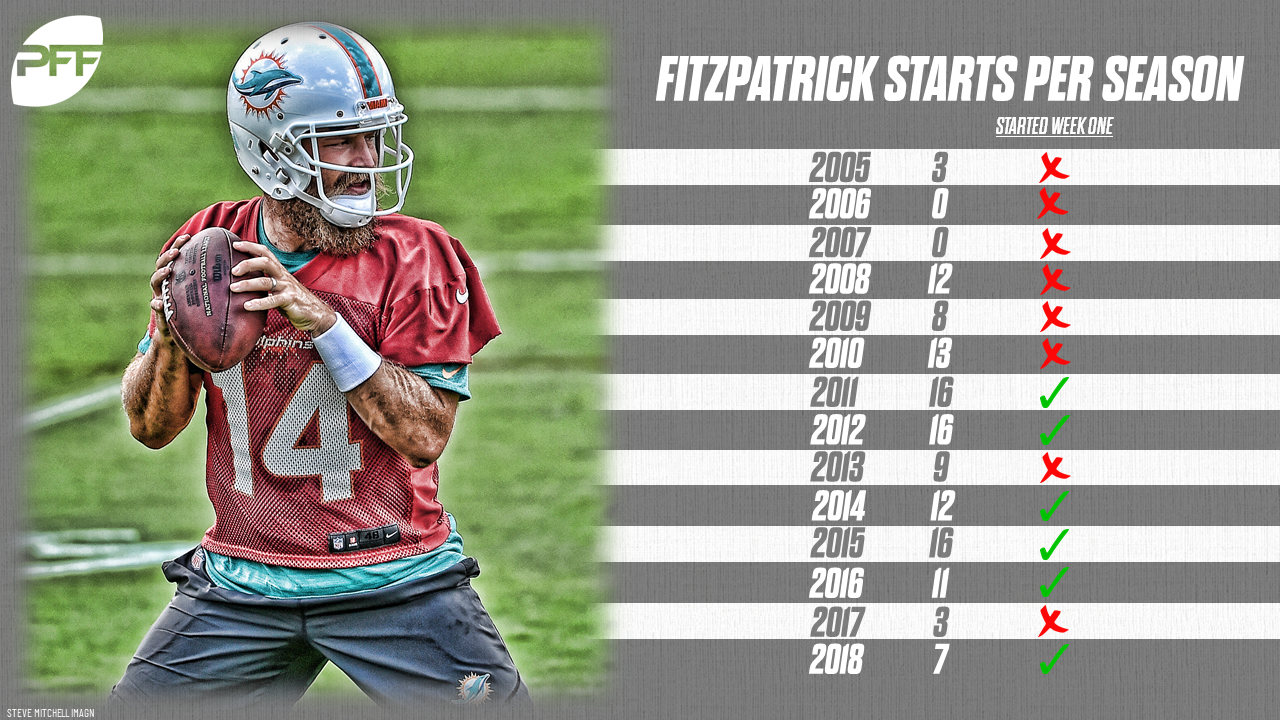 SB Nation is all over the "Ryan Fitzpatrick backup" curse. Every time he's been a backup quarterback, the starter has gotten hurt and/or suspended and he's come in as the replacement. Lucky (?) for Josh Rosen, though, Fitzpatrick appears to have the leg up on the second-year ex-Cardinal for the starting job in 2019. We only have to look back to 2018, and then again to slightly earlier in 2018, though, to see how quickly Fitzpatrick can go from starter to not-a-starter.
Rosen? He just spent a year as a top-10 pick on maybe the worst team in the league and it showed. He had the second-worst qualifying QB grade (49.1) playing behind the league's worst offensive line with one of the toughest schedules. And now … he is playing behind what could easily be the league's worst offensive line with one of the toughest schedules. There is still worlds of potential for Rosen in the NFL, but let's just say it's not a problem for him if he enters the year as the backup.
Best guess: If you're drafting Fitzpatrick in anything but a deep best ball, you're a daredevil. If you're drafting Rosen in anything but dynasty, you're … weird. But the question we need to ask is what the various quarterbacks mean for the team's weapons. As our Scott Barrett has noted, Fitzpatrick has targeted slot receivers more than any other quarterback in his career. That would make the Dolphins' slot receiver (likely Kenny Stills or Albert Wilson) intriguing for as long as Fitzpatrick has the role. Those guys might be worth best ball picks. Outside of that? Yeah, this team is a stayaway.