(With training camps starting soon around the league, we're looking ahead at the 2019 fantasy football season and attempting to answer the burning questions around the league. For each team, we'll ask, and hopefully answer, 3-4 questions about their season to come in fantasy. This is 100 Questions.)
If everything had gone right for the Kansas City Chiefs in 2018, they would have hoisted the Lombardi Trophy. But as many things as possible went right for the team without the Super Bowl title coming with it. Even when the team's running back was released midseason, the backup was one of the most productive backs down the stretch.
Inevitably, when so many things go right one year, at least some go wrong the next. That said, the Chiefs are as set up for success in 2019 as just about any team in the league, meaning they might be able to stave off some of the regression worries. Maybe.
#42: You said regression. Please tell us Patrick Mahomes can avoid it?
Do you need a recap of Mahomes' 2018? It was incredible. Best QB fantasy season ever. You know that.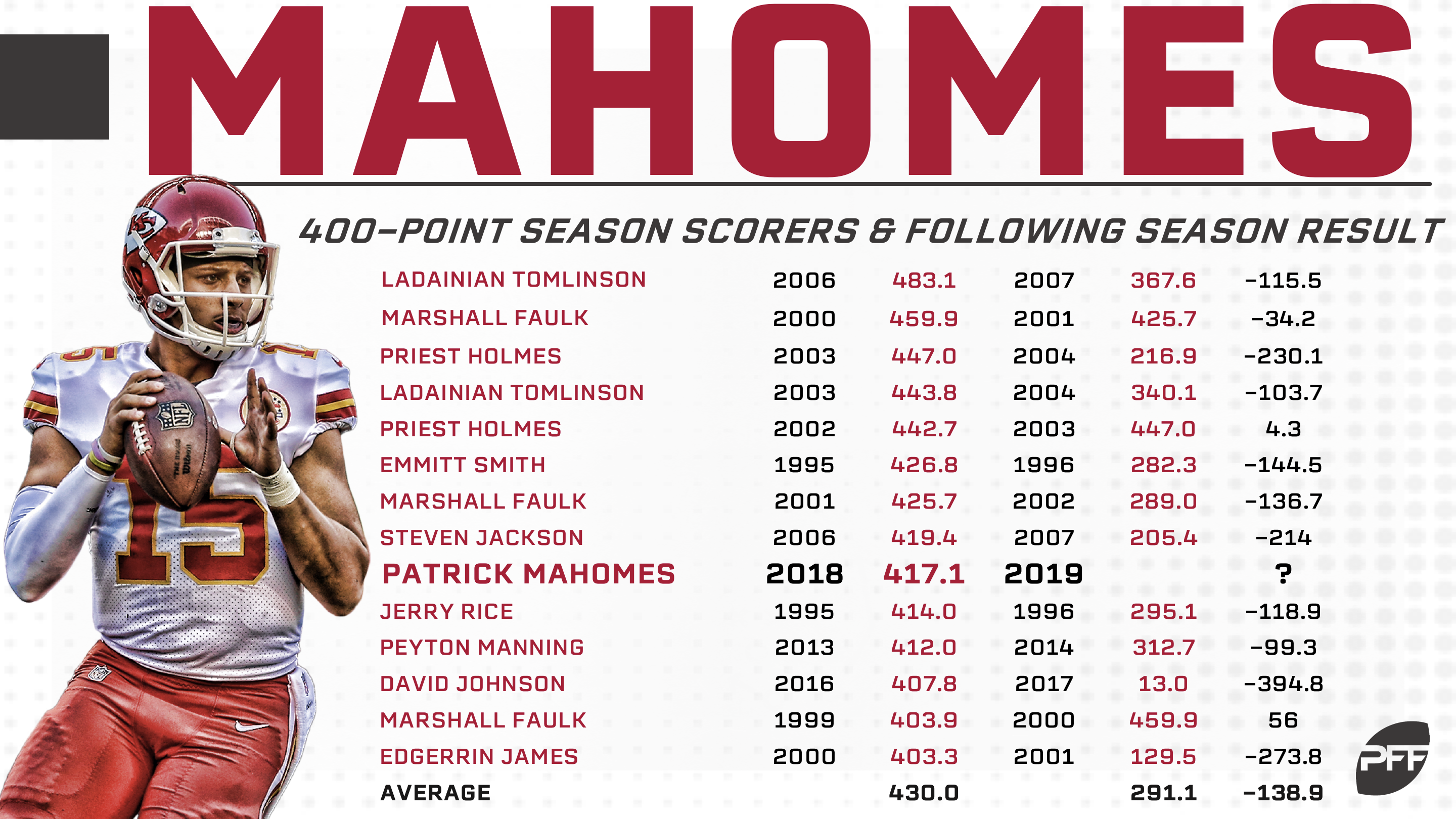 Best guess: He's going to regress. He has to regress. Before Mahomes, there had been 13 player-seasons all-time with 400-plus PPR points, and 10 of those 13 put up fewer points the next season, with an average dropoff for the list of 13 of 138.9 points. I'll bet everything I have that Mahomes has a worse 2019 than his 2018. That said … he could still be QB1. He could still easily be QB1. The question isn't whether he should be QB1 in drafts (he should), but where he should go overall. Per Fantasy Football Calculator ADP, Mahomes is going off the board 29th. But in our PFF Fantasy staff rankings, he's a round later, at 41st. Wait on Mahomes, and don't be devastated if you miss out.
Entering Week 15 of 2018, Williams had averaged 3.4 touches per game for his career. From Week 15 until the Chiefs were eliminated from the playoffs, he averaged 18.6. Obviously, there are extenuating circumstances there — he was a backup in Miami, in an Adam Gase offense, and then was the No. 3 back in Kansas City before Kareem Hunt's release and Spencer Ware's injury — but it's true nonetheless that we've never seen Williams with the kind of workload he had over that stretch. He thrived in the job, though, with 572 scrimmage yards and 8 total touchdowns over those five games.
Best guess: Here's the thing: The Chiefs are going to have a good (probably great) offense. So whoever is the team's main running back is going to get plenty of opportunity for fantasy success even if that person isn't great. The question, though, is if Williams can maintain a bell-cow-like workload given his low career usage and competition from names like Carlos Hyde, Darwin Thompson, and Darrel Williams. That's hardly a daunting group of backups. As a fantasy community, we basically have no choice but to treat Damien Williams like the presumptive bell cow in Kansas City and act accordingly — though personally, I think "accordingly" means drafting him as a mid-to-late RB2, not the borderline RB1 his current ADP (RB12) would indicate.
#44: Um, should we worry about the Chiefs receivers?
Obviously, for whatever games Tyreek Hill is available in 2019, he will be the team's top receiver, and of course Travis Kelce does the work of a wide receiver as well. So the team is not short on weapons. But with word still yet to come down about any possible suspension for Hill, the rest of the Chiefs' receiver depth chart has question marks.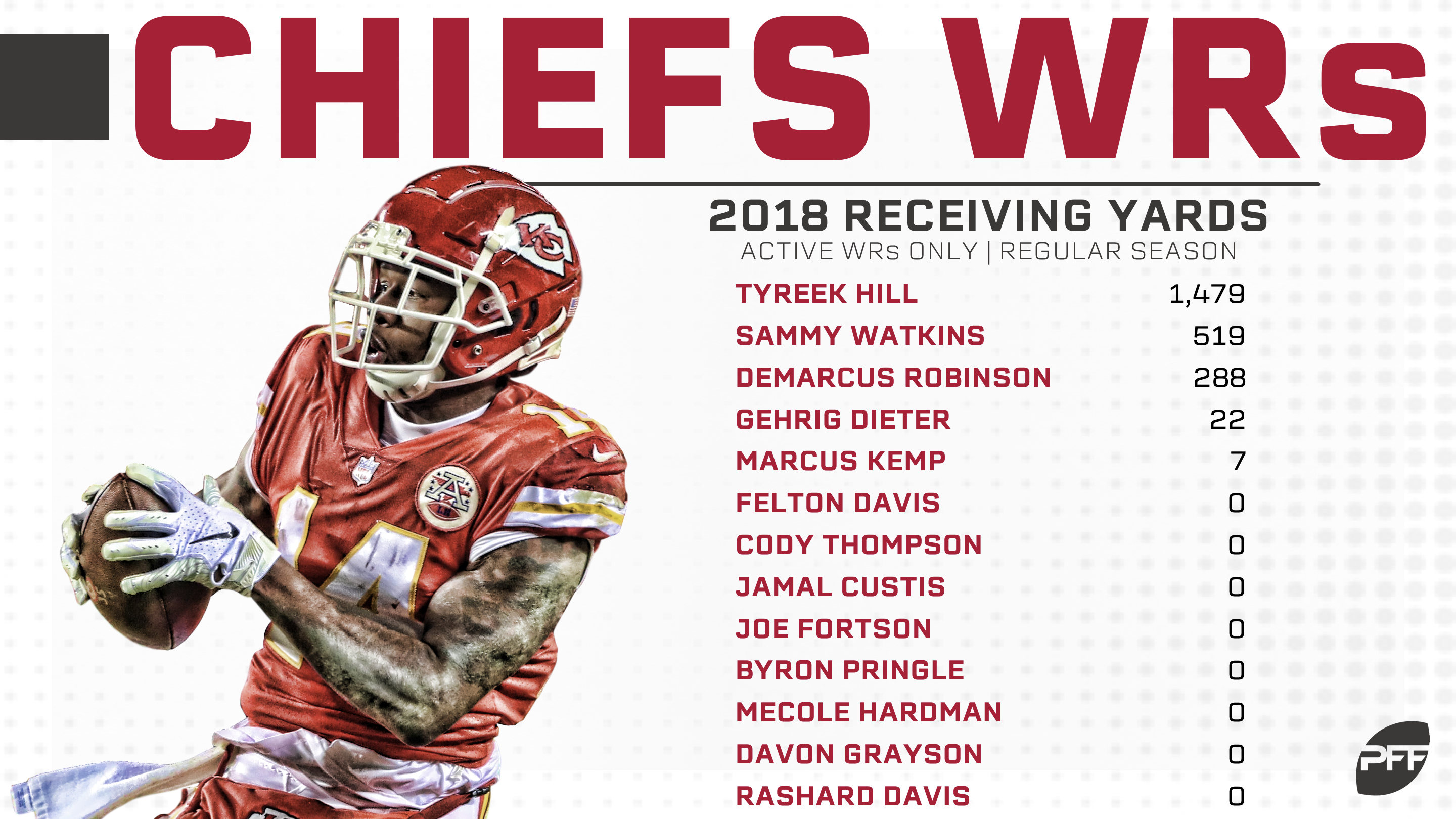 Best guess: There is Sammy Watkins, who has all the talent in the world but hasn't topped 600 yards since 2015 or played all 16 games since 2014. He'd be the No. 1 in this scenario. Behind Watkins, there are all of 317 receiving yards from the 2018 season available, with 288 of them coming from holdover Demarcus Robinson. 2019 draftee Mecole Hardman and 2018 Byron Pringle have both carried some buzz this offseason, but there are no sure things if Hill is out for any extended time. Looking at ADP or rankings right now for these guys can be misleading, since Hill is such a wild card, but if he misses a long time, Hardman (first) and Pringle make intriguing lottery tickets, but suffice it to say Watkins and Kelce will get a lot of work.