(With training camps starting soon around the league, we're looking ahead at the 2019 fantasy football season and attempting to answer the burning questions around the league. For each team, we'll ask, and hopefully answer, 3-4 questions about their season to come in fantasy. This is 100 Questions.)
It was easy to forgive the Green Bay Packers for their lackluster 2017 season. After all, Aaron Rodgers was hurt for most of the season, leaving a gaping hole where longtime massive production had been. Their 2018 season? That one's tougher to explain away. Their superstar quarterback played all 16 games, their superstar wide receiver was maybe the league's best, and yet the team's record got worse, falling a 6-9-1 mark that was the Packer's lowest since 2008.
The Packers saw very little changes to the offensive skill players this offseason. Randall Cobb left in free agency and the team spent a third-round pick on Jace Sternberger, but otherwise, the offensive side of the Packers in 2019 will look a lot like the 2018 version. So for fantasy, we at least have an idea of what we'll look at. But can the team fare better overall?
#82: Can Aaron Jones make the leap to bona fide RB1 status?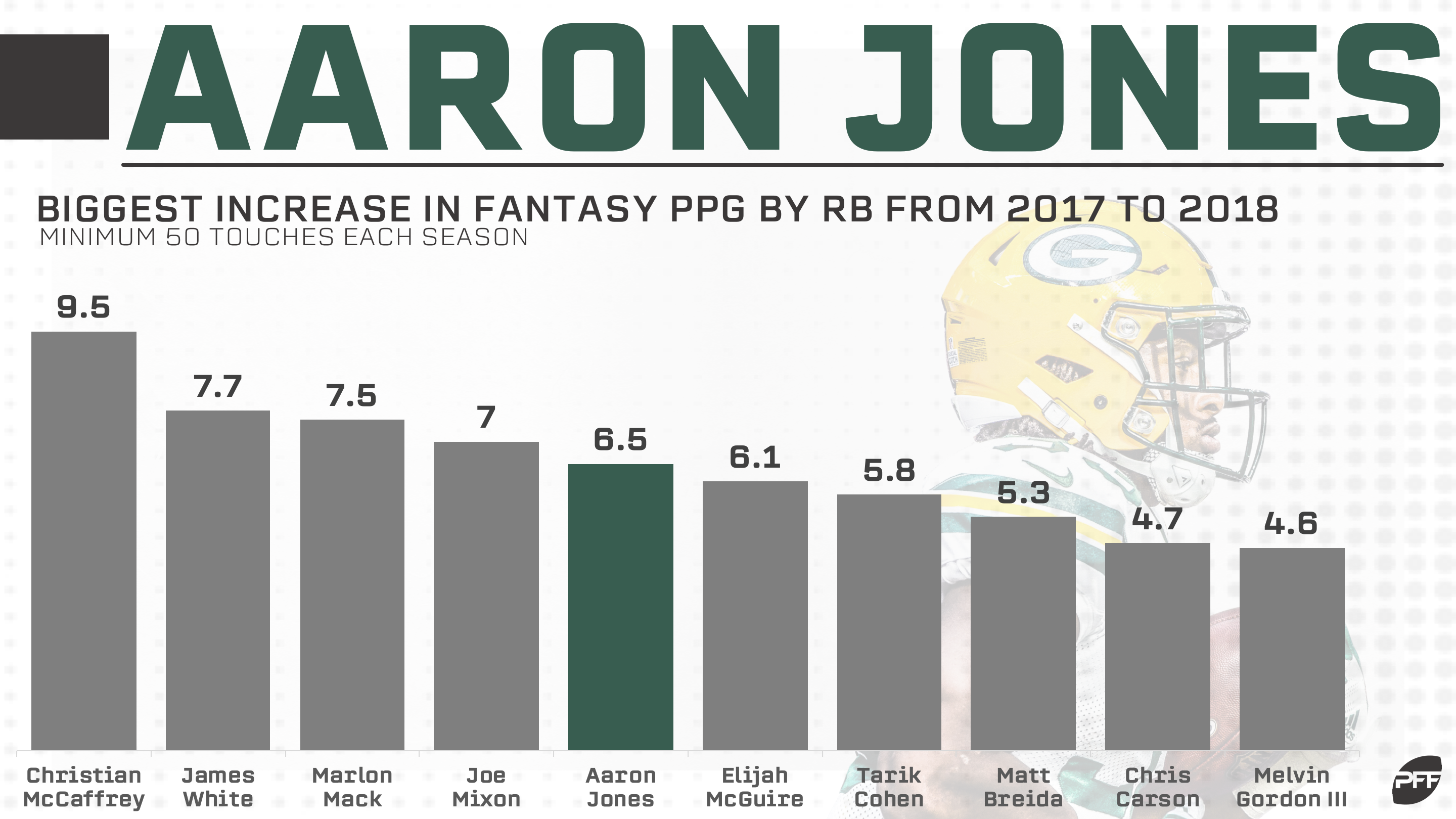 Among running backs with at least 50 touches in both 2017 and 2018, Jones had the fifth-highest increase in fantasy points per game last year, jumping from 8.0 PPR points per game to 14.5. Of the players ahead of him on the list, three — Christian McCaffrey, James White, and Joe Mixon — all finished as RB1s last year while the other — Marlon Mack — would have been on the borderline if he had played all 16 games. Jones was a genuine RB1 over a stretch of the season — he was the No. 4 back in Weeks 10-14, when he got the full starter's workload over Jamaal Williams. He got injured late in the year, but his hot stretch, combined with a new coaching staff, could bode well for his 2019.
Best guess: Offseason coachspeak is offseason coachspeak, but everything the Packers have said about Jones this offseason bodes well, including praising his fitness and wanting to get him more involved in the passing game. That positive buzz, combined with Jones' improvements as 2018 went on, help to explain why Jones is currently RB14 in both current Fantasy Football Calculator ADP and the PFF Fantasy staff rankings. And the upside in the Packers' offense makes Jones probably the back in the mid-teens of running back drafts the most likely to climb to RB1 status.
In 2017, when Graham's quality of play fell off (he put up a then-career-low PFF grade of 66.0), he made up for it with a lot of success near the end zone, scoring on an exceptional 10.9% of his targets and seeing a lot of those targets near the end zone (his 20 end-zone targets were six more than any other tight end). Last year, his grade got even worse, falling to 59.3, and his scoring slid as well, as he dropped to a touchdown on a career-worst 2.4% of his targets. He had only eight end-zone targets and scored on only one of them. That goes a long way to explaining why Graham finished as the No. 12 PPR tight end on the year and why he's going even lower than that (15th) in current ADP.
Best guess: Graham sits even lower in our staff rankings (TE19) than he is in ADP, and for good reason — it appears he's just not that good anymore, and if the rookie Sternberger cuts into his workload at all, he might not be worth much of anything in fantasy. That's all true, and it's definitely concerning for fantasy, and it explains why you definitely wouldn't want to go into the year with Graham as your only (or best) option. That all said, this is still a 6'7 end-zone weapon who just a year ago scored 10 touchdowns. I am certainly not excited about Graham's fantasy stock in the coming year, but I'd be lying if I said he didn't have more upside than the other tight ends being drafted around him. If you're desperate late, he might be worth a total lottery play.
#84: What's going on behind Davante Adams in the receiver depth chart?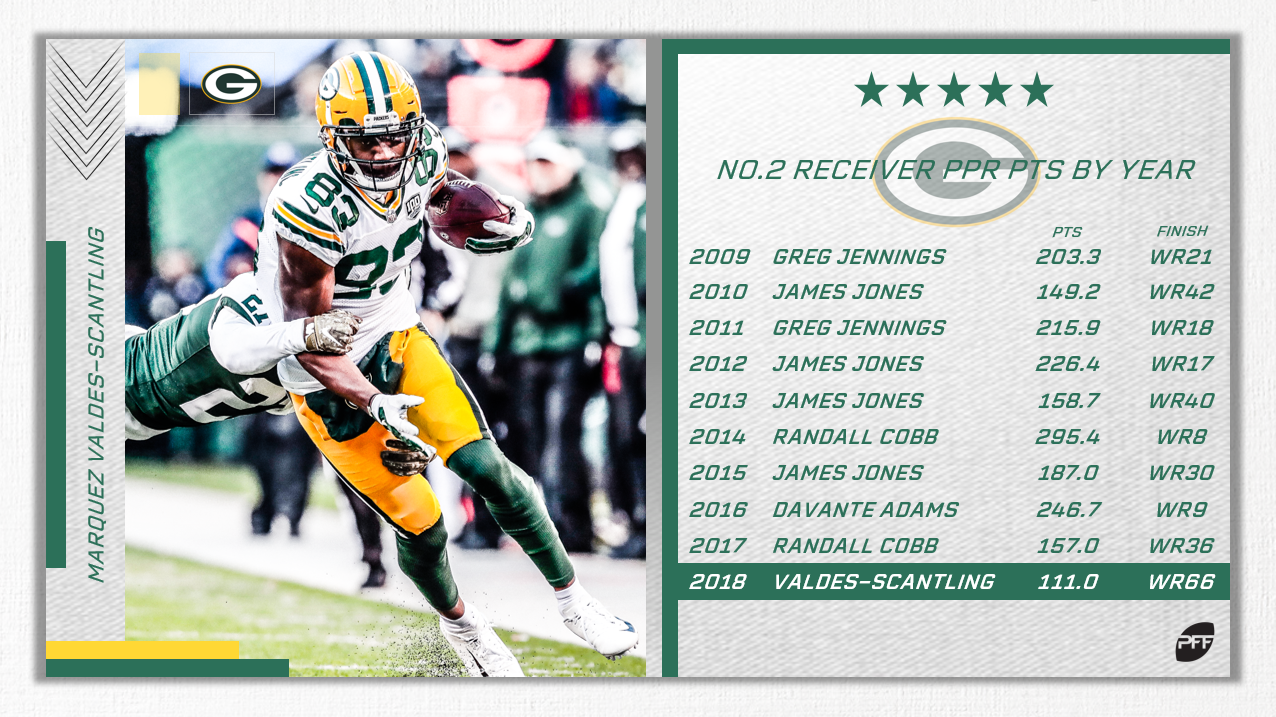 Over the last decade, the Packers' second-highest-scoring receiver has finished as a WR1 twice and a WR2 five times. From 2009 to 2017, the worst finish for the team's second-best receiver was WR42, back in 2010. That all evaporated in 2018, when the team became top-heavier than it's ever been under Rodgers. Adams had a monster year, but Marquez Valdes-Scantling was the No. 2 receiver at only 111.0 PPR points, finishing as WR66. It got worse from there, with Cobb the next-best scorer at 88.3 points. Valdes-Scantling, Equanimeous St. Brown, Geronimo Allison, and Jake Kumerow are all back for 2019.
Best guess: This is a clear case where public opinion is not aligned with coachspeak. Right now in ADP, Allison is going off the board 37th, with Valdes-Scantling 42nd. Our staff rankings are a similar story, with Allison 48th and Valdes-Scantling 56th. But everything coming out of Green Bay camp has MVS running ahead of Allison as the No. 2 to Adams, and that's I'm the holdout, ranking Valdes-Scantling 17 spots higher than Allison. The truth is that either guy (along with St. Brown, Kumerow, and anyone else on Green Bay not named Adams) is mostly a lottery ticket and not someone you want to rely on, but if I have to take one, I'm going MVS.