With fantasy football draft season fast approaching, one of the biggest questions fantasy managers need to answer for themselves is who will win the top position battles around the league. Obviously, in an ideal situation, you'd be able to draft only guys who are their teams' clear-cut No. 1 options, but that's not always practical.
Below, we'll be looking at some of the top position battles to monitor for fantasy at the wide receiver position, hopefully handicapping how to prioritize the candidates in fantasy drafts. We looked at position battles at running back earlier this week, and later we'll look at tight ends.
With wide receivers, often the "position battle," as it were, is not for the No. 1 job like it is at running back. Sometimes we're looking at the second or third receiver in an offense. But receivers behind the No. 1 can obviously still have extreme value.
(Keep an eye on preseason and training camp reports on all of these situations, of course, as these are the places most ripe for quick changes in status.)
(The contenders: Marquez Valdes-Scantling, Equanimeous St. Brown, Geronimo Allison)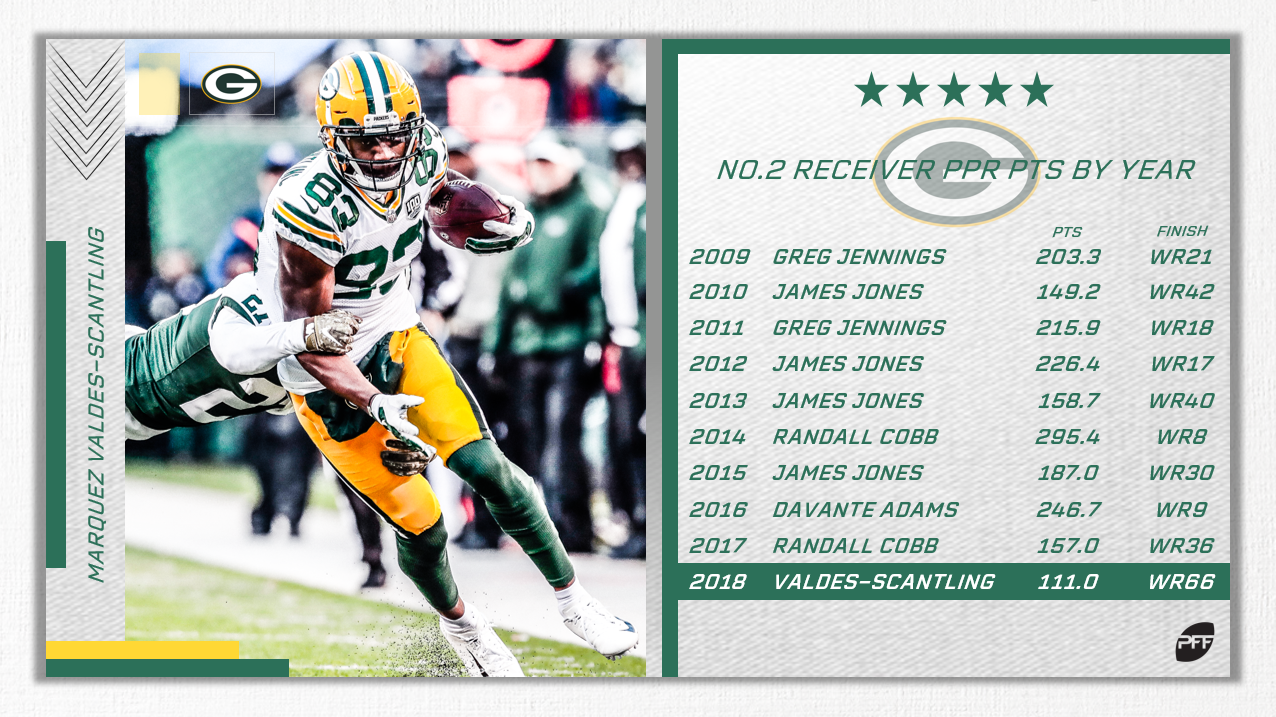 Obviously, the top receiver role in the Green Bay offense is locked down by Davante Adams, but if there is any team in the league that we know can support a second fantasy-relevant receiver, it's Aaron Rodgers' team, and with Randall Cobb now gone (along with, of course, Jordy Nelson),  there's a huge gaping opening.
Each of the three candidates had flashes in 2018. Allison was the No. 27 receiver in Weeks 1-4, with at least 64 yards in all four games and two scores total. Valdes-Scantling was WR27 in Weeks 5-9 (which even included the Green Bay bye), with two hundred-yard games in that stretch. And while St. Brown never found the end zone as a rookie, he did have an 89-yard game in Week 5 and 94 yards in Week 16.
How to approach them in drafts: Current average draft position (per Fantasy Football Calculator) has Allison was WR36, Valdes-Scantling WR47, and St. Brown going undrafted. That's a surprise on the surface, as the buzz around MVS has been much more positive than Allison so far this offseason. Tracking their respective ADPs over the offseason, though, is more illuminating — Allison's has mostly held steady, maybe falling a little, while Valdes-Scantling's has risen almost five rounds since mid-March. If you assume that continues, the logical endpoint is (a) Valdes-Scantling rising above Allison in ADP, and (b) Valdes-Scantling ending up overvalued in drafts. If you can get MVS where he's going now, do it and enjoy, but monitor his rising stock and tread lightly if he keeps rising.
(The contenders: Donte Moncrief, Diontae Johnson, James Washington)
Speaking of teams that can support two fantasy-relevant receivers and have an opening. Early this offseason, Washington was the sleeper of choice, with Antonio Brown gone to Oakland, JuJu Smith-Schuster ascending to the No. 1 role, and neither Moncrief nor Johnson on the team yet. Now, the Steelers have signed Moncrief and drafted Johnson, and Washington's 2019 fantasy stock is falling.
How to approach them in drafts: The news around Moncrief has been so positive so far this offseason, that it almost feels foolish to include the Steelers in this space; barring a surprise, he is the No. 2 and should be drafted as such. The notable thing, though? Moncrief (WR55 in ADP) is still going behind Washington in drafts (WR50). That makes this an area to exploit. Draft Moncrief and hope the reports are right.
(The contenders: Larry Fitzgerald, Christian Kirk, Andy Isabella, Hakeem Butler)
I imagine you'd be surprised by current ADP information that has Kirk (WR31) going ahead of Fitzgerald (WR39) in drafts so far, with Isabella (WR60) trailing behind and Butler going undrafted. The Cardinals could barely support one fantasy-relevant receiver in 2018, let alone four, but an offense headed up by Kliff Kingsbury and Kyler Murray should have considerably more upside than that.
How to approach them in drafts: While drafters have been opting for Kirk over Fitzgerald so far, our PFF Fantasy staff rankings go the other way, with Fitzgerald 33rd and Kirk 44th, and all three rankers having them in that order. That implies there's value to be had in drafting Fitzgerald, if our rankers know what they're doing. Meanwhile, Kirk appears to have a pretty solid grip on the No. 2 role. That makes Butler and Isabella little more than deep-league lottery tickets as rookies.
(The contenders: Dante Pettis, Marquise Goodwin, Deebo Samuel, Jalen Hurd)
Pettis was a pleasant surprise when healthy as a 2018 rookie. Goodwin was an unpleasant disappointment. Heading into 2019, with Jimmy Garoppolo back healthy and Kyle Shanahan still at the helm of the offense, the 49ers have those two and 2019 draftees Samuel and Hurd, giving San Francisco a very deep receiving corps. But while it's deep, we really have no idea of the respective ceilings, because we've never seen Shanahan's offense really clicking with all its pieces yet.
How to approach them in drafts: The consensus is that Pettis will enter the year as the No. 1, which is reflected in his maybe-even-too-high current ADP of WR32. Goodwin is the only other name here with a draftable ADP, going 66th, but all indications are that Samuel will be the No. 2 to start things off. That makes Goodwin a deep-dive best ball option and gives Samuel a bit of appeal as a late-round lottery pick.
(The contenders: Devin Funchess, Parris Campbell)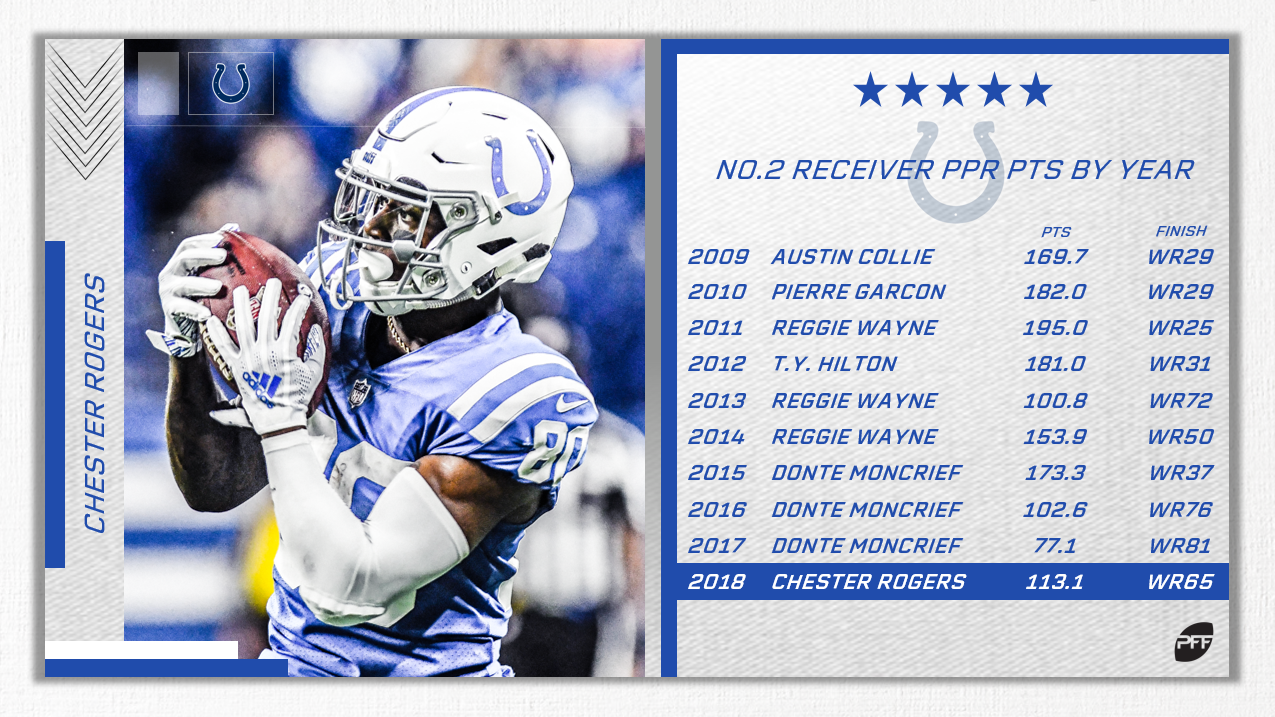 We know T.Y. Hilton will be the Colts' No. 1 receiver, and we know the tight end duo of Jack Doyle and Eric Ebron will command plenty of attention (not to mention Nyheim Hines out of the backfield). For a team that hasn't had a star second receiver since, well, Hilton in the waning days of Reggie Wayne, we'll see if Andrew Luck can generate a second big-time producer.
How to approach them in drafts: This surprised me — Campbell is actually going ahead of Funchess in ADP right now, 52nd compared to 56th. That must be residual draft buzz and/or negative feelings about Funchess coming out of his down 2018, because all indications out of Indianapolis are that Funchess is going to get the No. 2 role to start things off and Campbell will settle for scraps after the rest of the weapons get fed. Campbell might have some best ball value, but for 2019 redraft leagues it's hard to envision investing.
(The contenders: John Brown, Cole Beasley, Robert Foster, Zay Jones)
A year ago, it was almost laughable to suggest the Bills could have even one receiver worth a draft pick in fantasy. Now … well, we can be fairly certain the team won't have four fantasy-relevant receivers, but you could make an argument for drafting any one of the aforementioned four at least. In the end, much of this discussion is going to come down to quarterback Josh Allen and whether he can prove to be a viable passer in the NFL. Beasley and Jones in particular are going to need him to show he can throw underneath, as his rookie year was mainly built on his deep ball acumen and his legs. But the Bills are at the least giving Allen as many chances to succeed as they can.
How to approach them in drafts: Fantasy managers so far are basically choosing "don't" as the answer to how to approach the Bills receivers; Foster (RB67 out of 68 with draftable ADPs) is the only one currently getting picked at all. Brown is probably more likely to have the role out of the gate and should maybe be the pick, especially in best ball leagues, but this is definitely a situation where the best answer is basically "monitor reports." If we here extra-positive news about Allen and/or one of these receivers in particular in training camp, that's probably the way to lean.
(The contenders: A.J. Brown, Adam Humphries, Taywan Taylor)
Barring a significant change in approach from the Tennessee offense that we haven't seen much indication of, you could argue there is only room for one fantasy-relevant receiver there, even at the ceiling, but there definitely doesn't appear to be room for more than two. And with Corey Davis reasonably locked into the No. 1 role, that leaves us with 2017 third-rounder Taylor, offseason free agent signee Humphries, and 2019 second-rounder Brown to contend for second-receiver duties. (And all of that is before we consider the return of Delanie Walker and continued presence of Dion Lewis as receiving options.)
How to approach them in drafts: If my cold-water paragraph above wasn't enough of an indication, it's going to be tough to divine much value from the No. 2 receiver in the Titans offense this year. That's reflected in the fact that Davis is the only Titans receiver with a draftable ADP at present (and it's 42nd, which is too low, but a topic for another day). Brown has the most upside of the three, while Humphries has the highest floor. If you're taking any of the three, though, you're drafting and hoping.