(With training camps starting soon around the league, we're looking ahead at the 2019 fantasy football season and attempting to answer the burning questions around the league. For each team, we'll ask, and hopefully answer, 3-4 questions about their season to come in fantasy. This is 100 Questions.)
The football-fan children of Cincinnati had a happy Halloween in 2018. Their Cincinnati Bengals were on their bye at 5-3, including a 4-1 stretch to start the season. A.J. Green and Tyler Boyd were both having big years as receivers, Joe Mixon was established as a top-flight running back, and while Andy Dalton wasn't having a peak season, he had the team in contention.
The football-fan children of Cincinnati had a sad New Year's, though. The Bengals went 1-7 after the bye. Dalton only played two more full games, Green didn't even play one, and even Boyd was lost for the season's last two weeks. The defense became a joke. What started as a promising year became a season that got their head coach fired and set the team up for what could be a tough stretch.
Those names, though? The ones who started out so well? They're all still there. Is there fantasy hope in Cincinnati in 2019?
#29: Can Andy Dalton still offer sneaky fantasy value?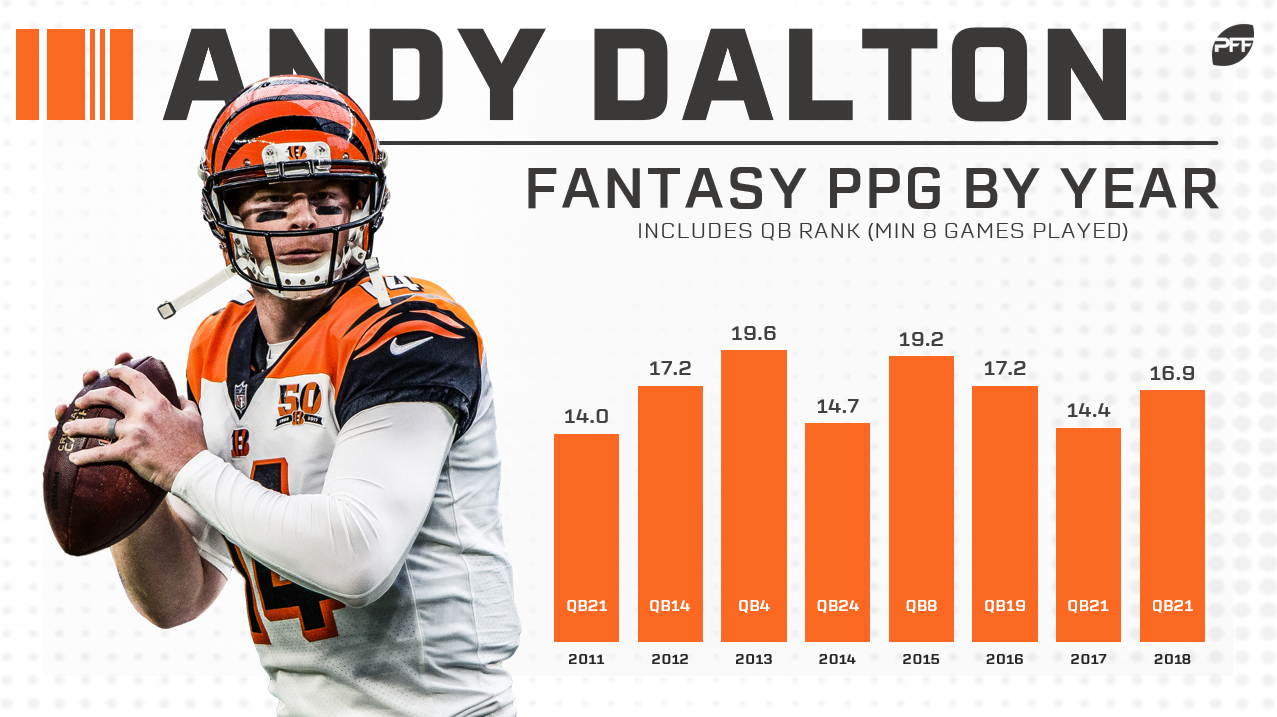 Dalton has the image of a quarterback who has perpetually been a mediocre option at best for fantasy, a modified Ryan Tannehill. But he was a top-10 option twice in three years in 2013-2015, including a peak as the No. 4 QB in 2014. It's true, though, that he's been no great shakes for our game in more recent seasons, finishing 19th, 21st, and 21st in the last three. Dalton has never been fleet of foot, but he hasn't reached 100 rushing yards in a season or scored even a single rushing touchdown in either of the last two years.
Best guess: In a single-quarterback league, you can safely ignore Dalton. But if we're talking two-QB and/or superflex, he's getting underrated. Dalton doesn't have a massive ceiling, but he was QB10 through four weeks of last season and he has a potentially elite receiving duo. He's currently not getting drafted at all (according to Fantasy Football Calculator ADP), but he's faring a bit better in our PFF Fantasy staff rankings, coming in at 24th. And even at that level, he has some plausible upside.
#30: Is there room for both A.J. Green and Tyler Boyd to be fantasy starters?
Boyd was a bust through his first two seasons, a 2016 second-rounder who had totaled 828 receiving yards and 3 touchdowns across both years. Most people had him behind 2017 first-rounder John Ross on the totem pole entering 2018. Instead, Boyd had a breakout year and topped 1,000 yards. Through Week 8, he and Green were both top-12 fantasy receivers (Green sixth, Boyd 12th). After the Bengals' bye, Boyd was only WR37 (though he did miss two games to injury) while Green had only one more target the rest of the season.
Best guess: There's definitely room. Two top-12 receivers is probably asking too much (though the Bengals' defensive deficiencies could keep the team throwing), but Green still has all the Green talent and Boyd was unquestionably better when he had Green on the field with him. Green's ADP (WR13) is his first time carrying an ADP outside the top-8 since his rookie year in 2011; he has more concerns than he's ever had but has easy top-10 upside. Meanwhile, Boyd is going off the board 28th, a high-end flex. That's a reasonable ADP, but his upside could be 10 spots higher.
#31: Can the Rams influence boost John Ross?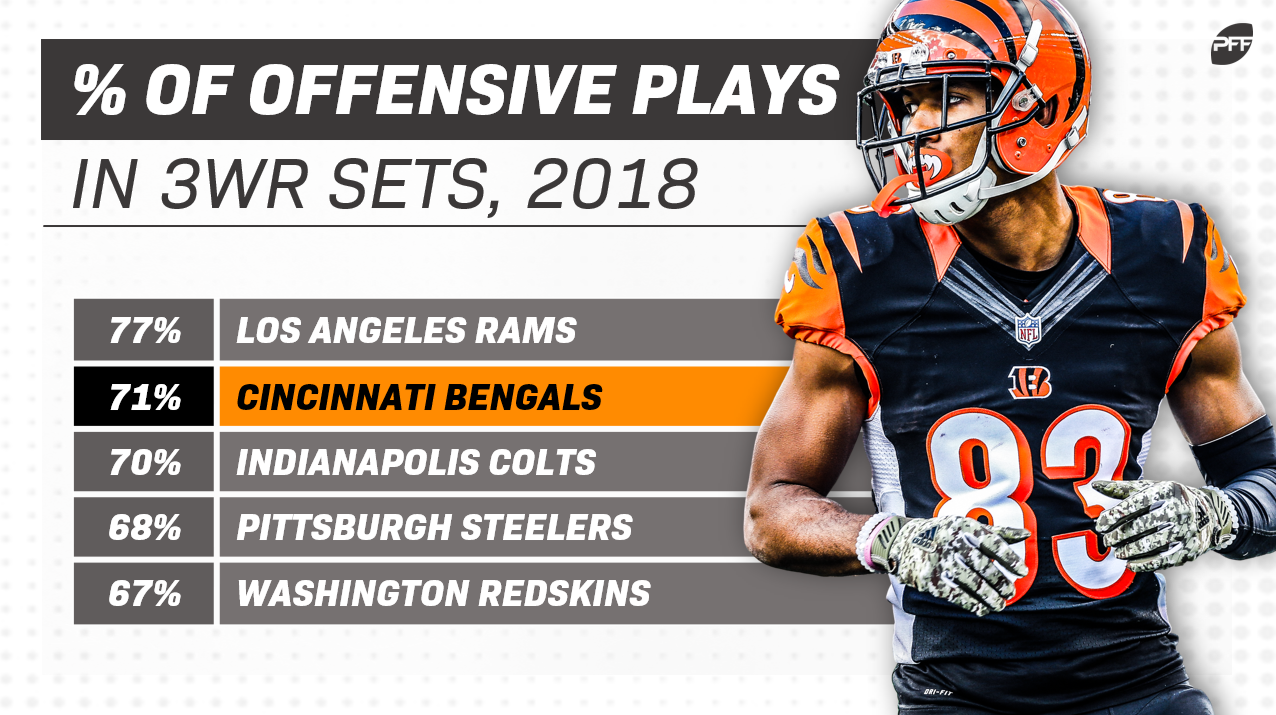 With Marvin Lewis gone in Cincinnati, we'll certainly see changes in the Bengals offense under the influence of new coach Zac Taylor, heading to Ohio after two years on the Rams coaching staff. Since the move, there have been murmurs that the three-receiver influence of the Rams' offense could filter down to the Bengals and help Ross put up better numbers after two disappointing seasons that featured a total of 210 receiving yards and the lowest PFF receivier grade in the league in 2018.
Best guess: Sure, Ross still has some upside just based on pedigree, but the possibility of influence of the Rams' offense might be overstated. The offense was far and away the heaviest in three-receiver sets last year, true, but second place was still these Bengals. Add to that the reports that Ross is struggling to pick up the offense this offseason and his current ADP of not-even-being-drafted is fair.