Pro Football Focus' Lead Draft Analyst Mike Renner dove into the steals of the 2019 NFL Draft in the list below.
[Editor's Note: To view all of Pro Football Focus' advanced stats and grades for draft-eligible players, check out our 2019 NFL Draft Guide. All EDGE and ELITE subscribers already have access to the guide, and for those who don't, you can get your copy for as low as $9.99!]
Big Board Rank: 5th
The needs on the offensive side of the ball in Jacksonville are bountiful. They already have one of the best defensive lines in the NFL, and they just drafted one in the first round last year (Taven Bryan). No matter – they recognized a talent like Josh Allen is well worth the luxury pick. He earned the highest pass-rush grade in the country last season and did it in the SEC. If you evaluated him solely as an off-ball linebacker, we'd likely have him number two in this class behind Devin White. At 32 years of age, Calais Campbell's production will wane in the coming years, but now the Jaguars' pass rush won't follow suit.
Big Board Rank: 4th
Reason prevailed with Jonah Williams' short arms; he was quite comfortably the top tackle prospect in this draft. Williams has history at both left and right tackle while grading out dominantly as a 21-year-old playing in the SEC. Yes, his 33 ⅝" arms and change of direction testing aren't ideal for the position, but I'll bet on a guy with his career trajectory and work ethic. The man keeps excel spreadsheets on all his opponents for goodness sake!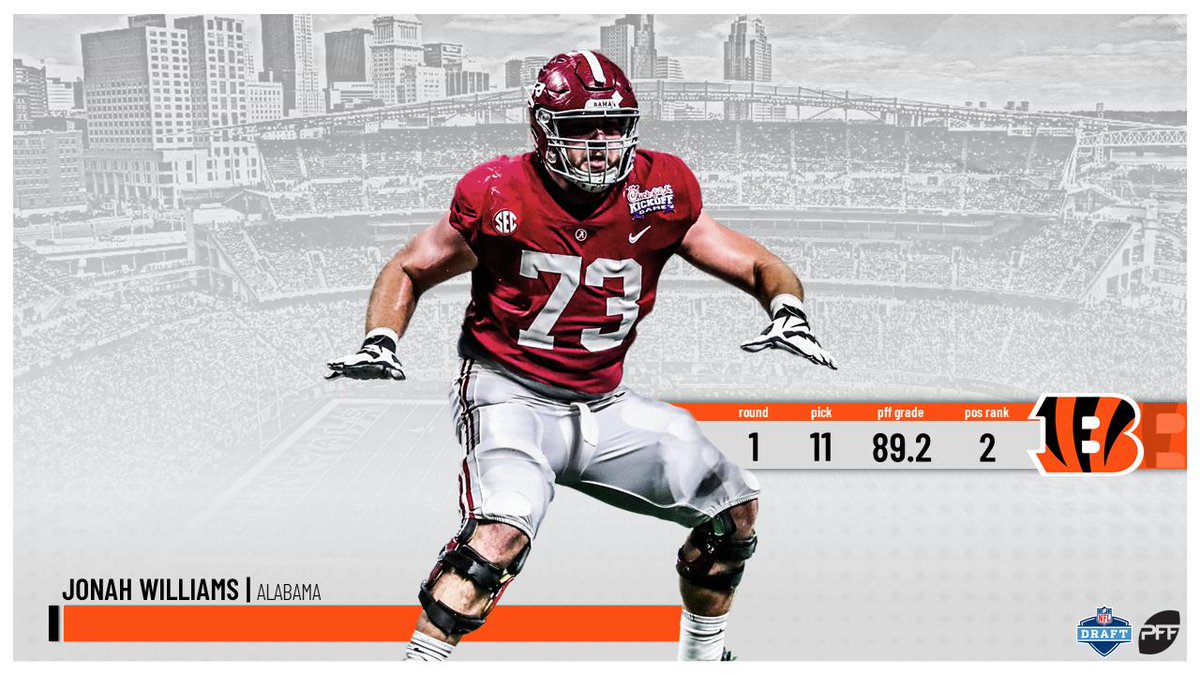 Big Board Rank: 10th
Haskins is far from a perfect quarterback prospect, but few are. Quite simply, there is nothing more valuable in the NFL today than competent quarterback play on a rookie deal. The Redskins are completely behind the 8-ball with the Alex Smith contract, and they can't realistically get out of the money until 2021! With the Haskins move, the Redskins set themselves up for a quarterback on a rookie deal to be entering his prime right as they get out from under Smith's contract. The kicker is that they didn't need to give up any draft capital to do so – a rarity when addressing the quarterback position in the first round.
Big Board Rank: 13th
Andre Dillard may not even see the field in 2019 if Jason Peters and Lane Johnson stay healthy. However, with the learning curve so steep along the offensive line, that might be a good thing. The reason I love the pick though is not solely because of how good Dillard is (he's very good), but also because of the foresight. This is likely Peters' last season and if they hit on Dillard, that saves them $15-plus million a year that they would have likely had to shell out in free agency if they wanted a competent starter. You can't get that type of incremental positional value drafting a guard or safety.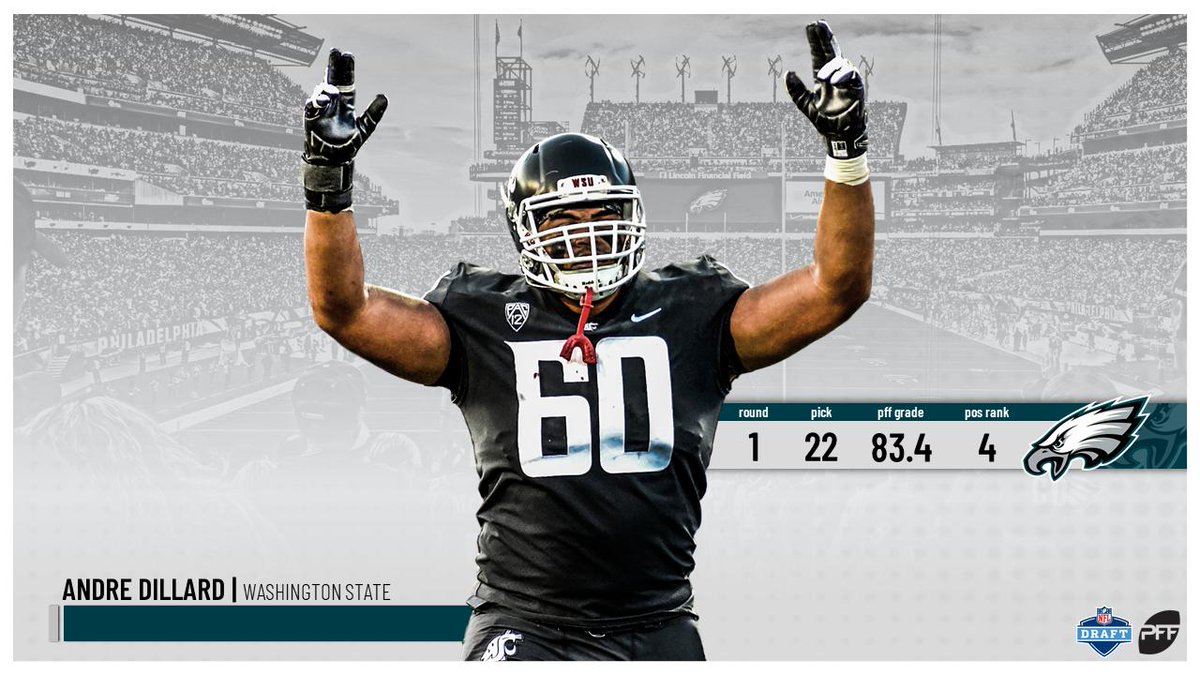 Big Board Rank: 7th
Tillery was tied with Quinnen Williams for the highest pass-rushing grade among interior defenders in all of college football last season. What is even more intriguing is that Tillery led all interior defenders in pass-rushing grades on screens last year. Pair his length and athleticism on stunts with Joey Bosa and Melvin Ingram on the outside, and you've got a deadly third-down package.
Big Board Rank: 16th
Baker is the most scheme-diverse of the top cornerbacks on our draft board, and he fits well in New York from that perspective. He addresses a massive need for the Giants at the second-most valuable position on the football field. Sometimes it doesn't have to be more complicated than that.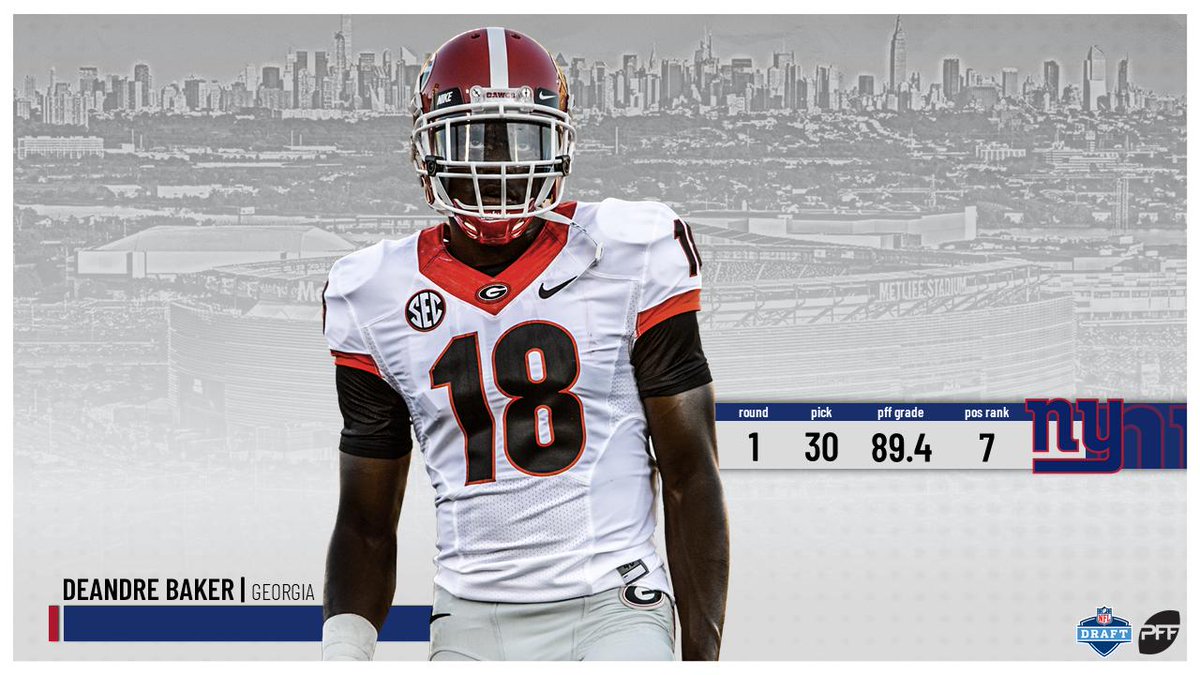 Big Board Rank: 6th
The best zone corner in the draft goes to Vance Joseph's zone-heavy scheme. Murphy is reminiscent of Broncos cornerback Chris Harris Jr. with his versatility and prowess in off coverage.
Big Board Rank: 15th
Taylor takes a short drive up north and gets to stay at his right tackle position. Taylor is as dominant a run-blocking tackle as there is in this class, and the Jags have been looking for a way to kick start Leonard Fournette.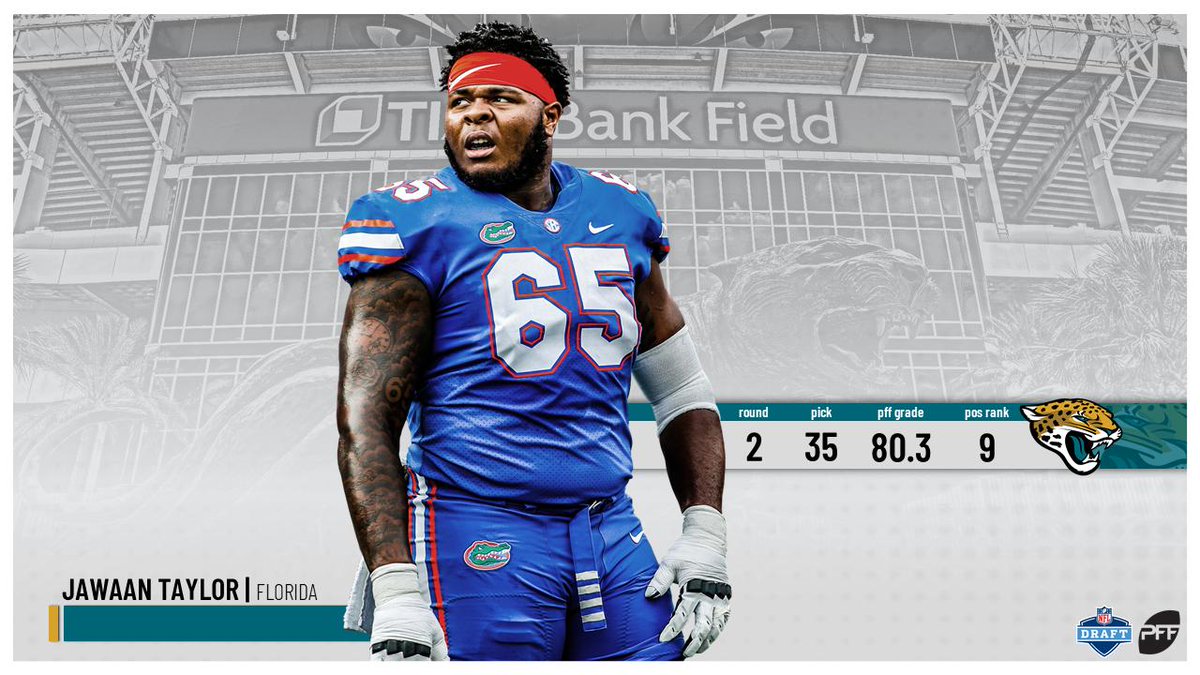 Big Board Rank: 19th
The analytics absolutely love Risner's pass-blocking ability – he allowed fewer than 30 pressures his entire college career. Risner probably kicks inside to center for Denver where he played a little as a freshman.
Big Board Rank: 9th
The Browns didn't technically have a first-rounder, but in our eyes, they got a top-10 pick here. Williams' speed and length will pair nicely across from Denzel Ward, and they'll be able to match up with whatever a receiving corps can throw their way.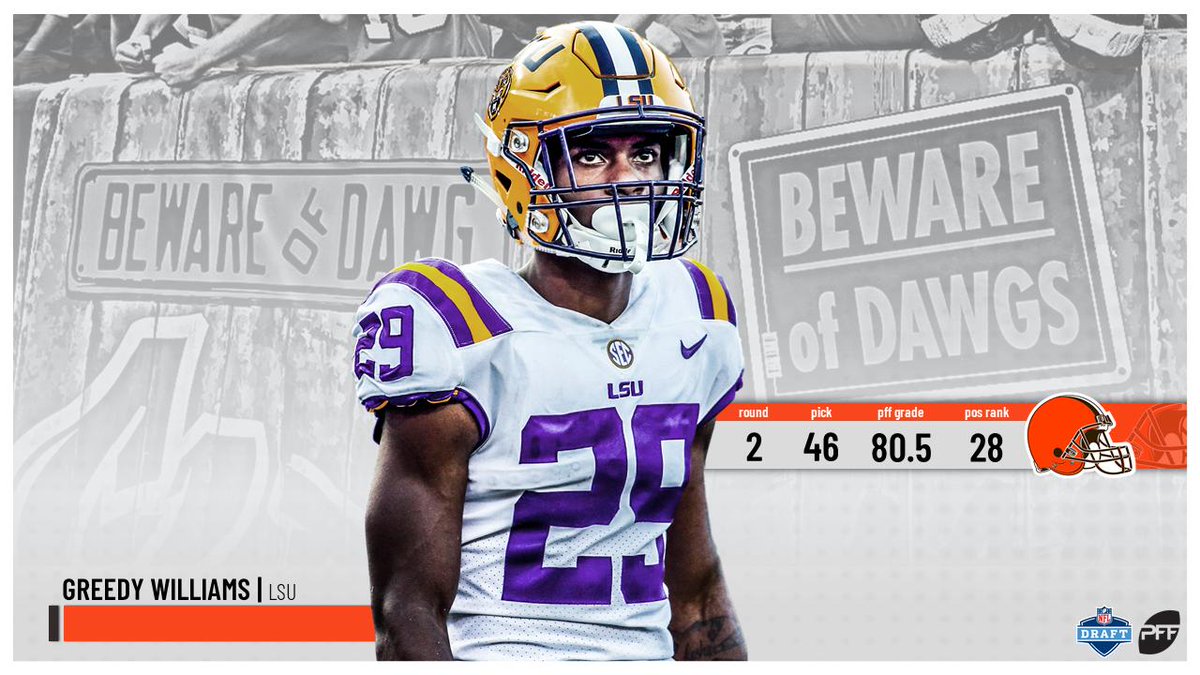 Big Board Rank: 20th
With Brown, the Titans get versatility and the dynamic presence after the catch that the offense has been lacking. The Ole Miss wide receiver broke 40 tackles over the past two seasons.
Big Board Rank: 23rd
Arcega-Whiteside should take the Eagles' red-zone offense to the next level. His body control and catch radius is a perfect pairing with Carson Wentz. The Stanford wideout led the nation in red zone receiving grade last year.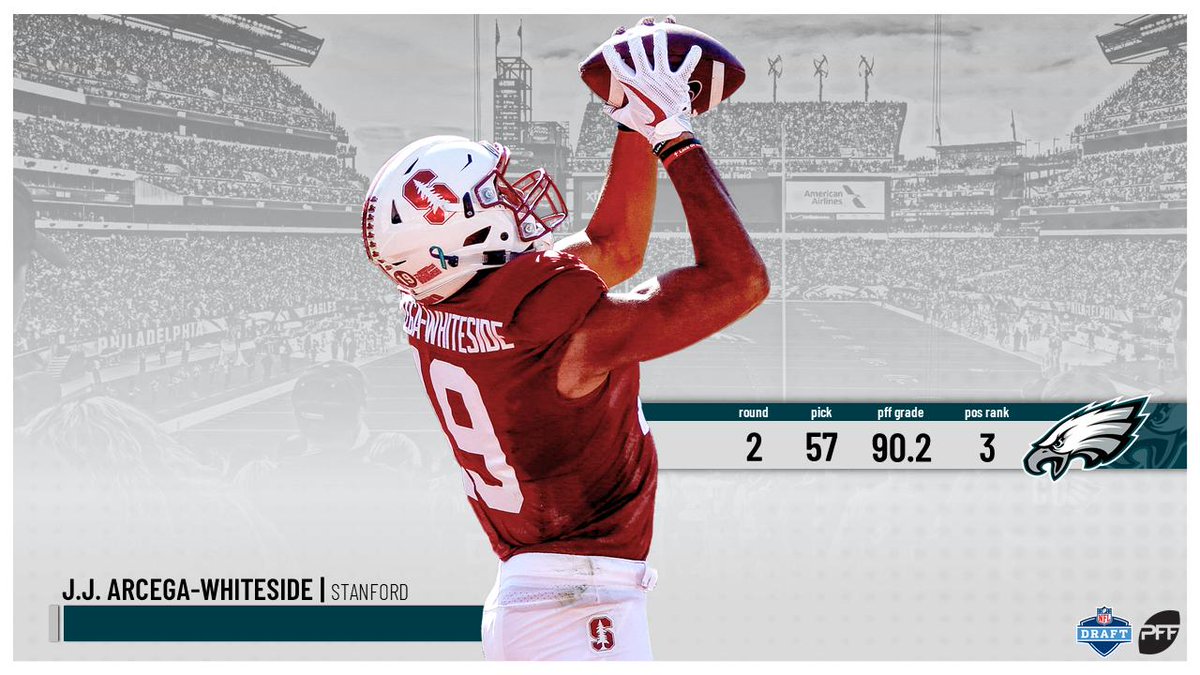 Big Board Rank: 27th
Adderley was the top safety on our board and the ideal single high safety to pair with Derwin James in the box. He had four picks and six pass breakups last season.
Big Board Rank: 30th
Isabella was the most productive wide receiver in the country last season, and his speed will be put to good use in Kliff Kingsbury's offense. The Cardinals' receiving corps was in desperate speed of dynamism, and they found it.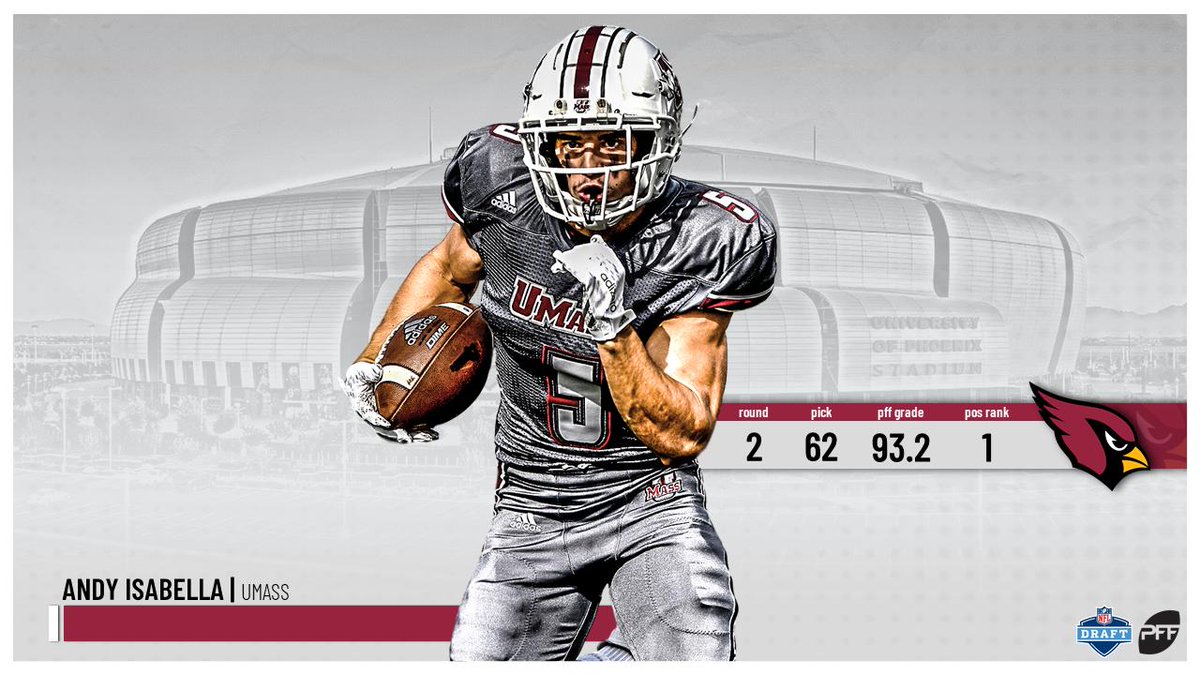 Big Board Rank: 17th
The top receiver on our draft board. Metcalf may be a bit of a one trick pony, but it's a good trick. With 4.33 speed at his size, he'll be able to separate well on the vertical route tree.
Big Board Rank: 29th
Winovich had back-to-back 90.0-plus graded seasons at Michigan and tested out as an elite athlete at the combine. At that point, there are not too many question marks in our eyes. His on-field play compared to teammate Rashan Gary at this point isn't even close.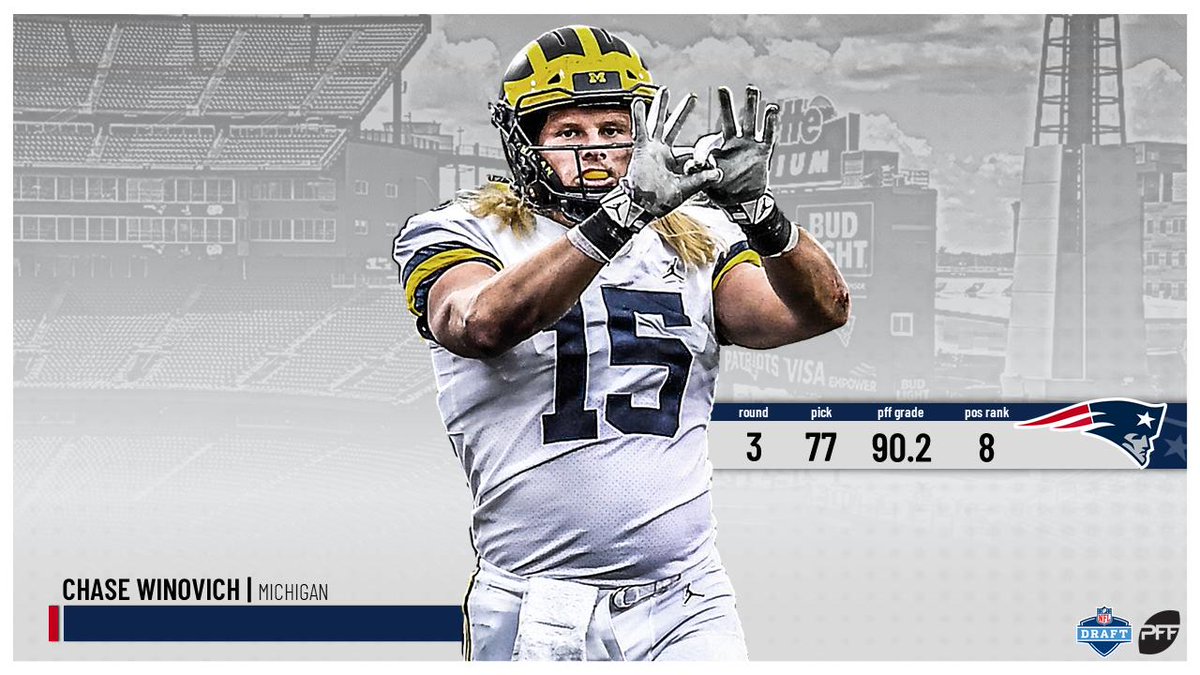 Big Board Rank: 33rd
Instead of plugging needs, the Rams had the luxury of taking some backups who will be future starters on Day 2. Long allowed only 18 catches his entire college career although he'll have to get up to speed with any sort of off-coverage in the NFL.
Big Board Rank: 47th
Saunders is the complete opposite type of nose tackle than the Chiefs got in the third round last season. Derrick Nnadi is far more of a space eater while Saunders is a gifted penetrator. At a shade over 6-0 and 324 pounds, Saunders has exceptional quicks for a man that size and had the second-best win rate in the one-on-ones among defensive tackles at the Senior Bowl.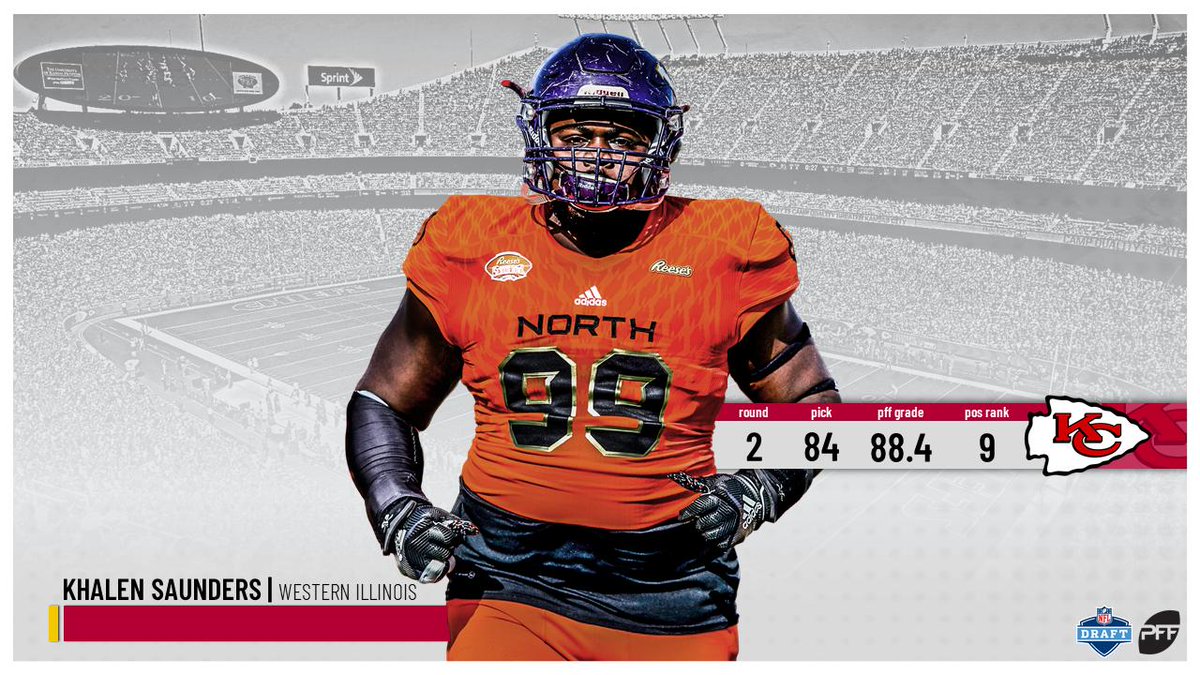 Big Board Rank: 64th
Edoga is a smooth offensive tackle who projects well in pass protection at the next level. He isn't going to win any awards for his run blocking, but he allowed all of 10 pressures over the past two seasons.
Big Board Rank: 24th
Grier has a trump card in this QB class and its pinpoint underneath accuracy. There are too many ugly throws on tape, and he takes more sacks than you'd like, but ball placement is far and away the most important trait for a quarterback to have.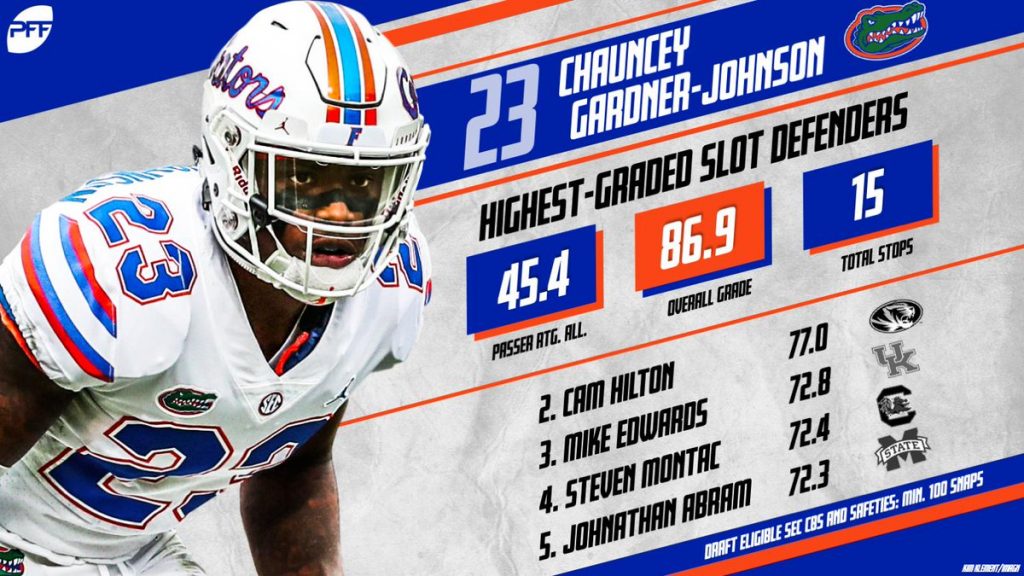 Pick 105 – S Chauncey Gardner-Johnson, New Orleans Saints
With the current state of the Saints' secondary, they could use some talent anywhere they can get it. Gardner-Johnson brings that in a versatile package. He played a slot/safety role at Florida this past season and earned an 89.7 coverage grade.
Nelson combines plus athleticism with prodigious size and elite production over his career at Iowa. The 6-foot-7, 271-pound behemoth ran an absurd 6.95-second three-cone and had a 35.5" vertical. Over the past two seasons, he earned a 91.2 pass-rushing grade.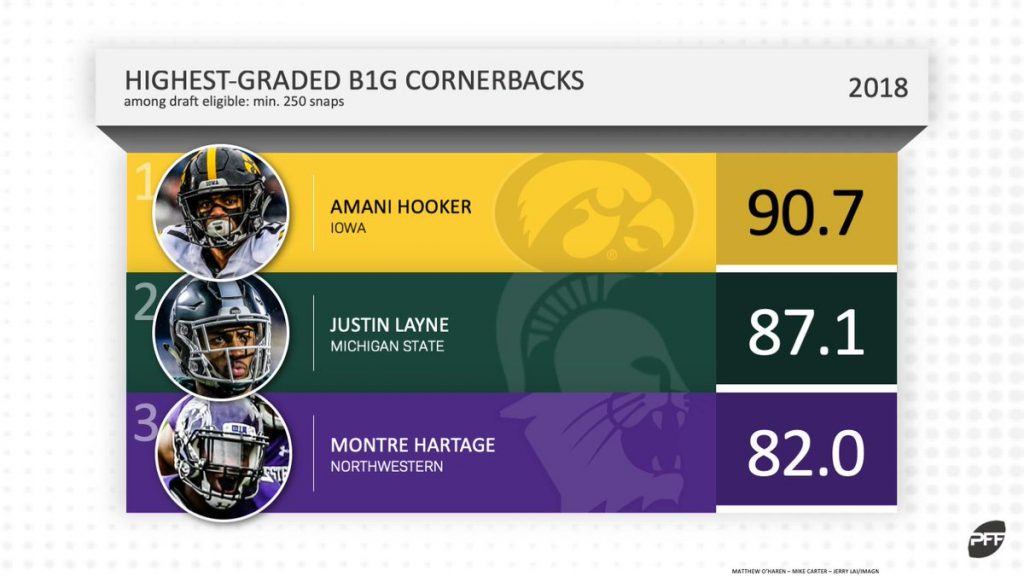 Love has better ball production than any other cornerback in the draft over the past couple seasons. His 38 forced incompletions over that span were the second-most in college football. He's also racked up 21 coverage stops and missed only four tackles on 77 attempts in coverage. His 4.54 40-yard dash dropped him down boards, but he can overcome that lack of elite speed with his physicality.
We had a second-round grade on Hooker, and there's no obvious metric or reason to point to for his fall. He had an elite 92.7 coverage grade over the past two seasons and tested out like an elite athlete with a 4.48 40-yard dash and 6.81 three-cone at 210 pounds.
Johnson was seen as one of the draft's biggest boom-or-bust prospects, though securing him in the fourth-round eliminates much of the bust risk. That low investment could pay big dividends with Johnson's traits. At 6-foot-2, 208 pounds with 33" arms, a 4.40-second 40-yard dash, 11′-1″ broad jump, 6.81 three-cone and 4.06 short shuttle, Johnson is how you'd build an ideal cornerback. He simply needs some seasoning after moving to corner from receiver only two years ago.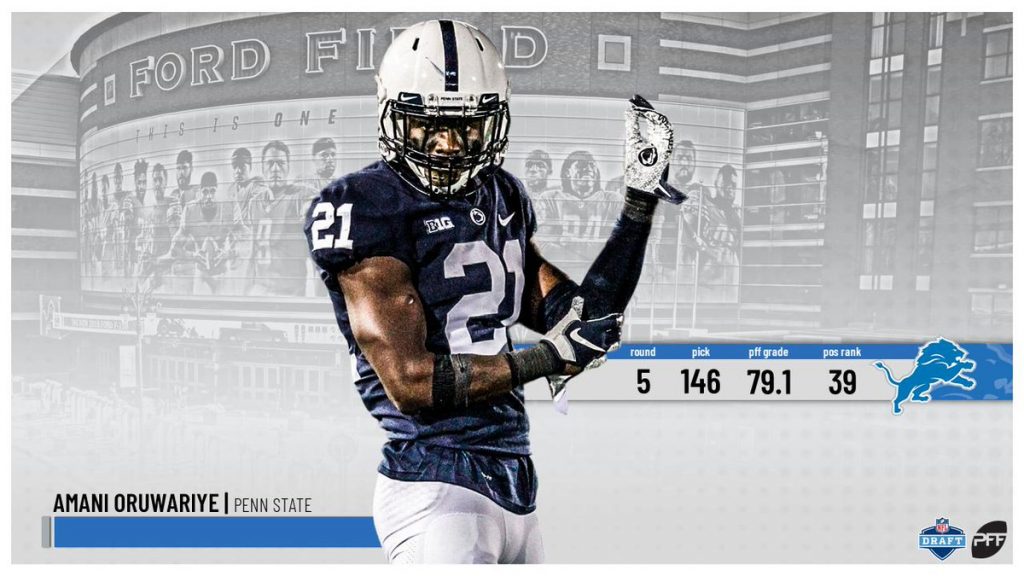 Pick 146 – CB Amani Oruwariye, Detroit Lions:
Oruwariye has some of the smoothest hips of any corner in the entire draft class, which is all the more impressive considering he's also one of the largest corners in this year's crop of corners at 6-1 5/8" and 205 pounds. At the Senior Bowl, he had the highest win rate of any corner in attendance.
Keke played a tad out of position at Texas A&M, where he took 62.2% of his snaps lined up over or outside the tackle. At 288 pounds, he realistically translates best to three-technique or interior rusher at the next level. And in that role, he dominated at the Senior Bowl practices in Mobile. He had the highest win rate and highest grade among all defensive linemen in attendance in the one-on-ones.
Pick 157 – LB Blake Cashman, New York Jets
Cashman's lack of length is an issue for a lot of teams (30 1/8" arms), but he makes up for it with some absurd range. He blazed a 4.50-second 40 with a 6.95 three-cone at the combine, and it shows up on tape. He allowed all of eight first downs into his coverage all last season and racked up 16 stops.
Gaillard has three years of starting experience at Georgia and three seasons of grading out at an above average level. This past season, he earned a 77.9 pass-blocking grade and a 77.1 run-blocking grade. He was good enough to clock in as the third-ranked center on our draft board.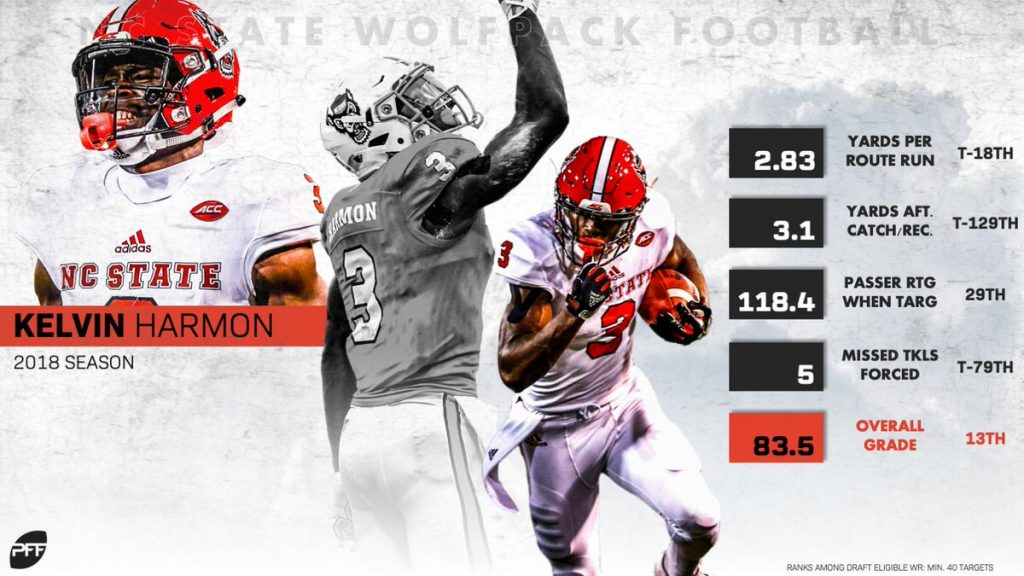 Harmon fell in the draft due to a lack of athleticism, but he does a lot of the little things at the receiver position, like run crisp routes and make contested catches, that should find him a roster spot. Over the past two seasons, Harmon has converted 36-of-65 contested opportunities and dropped all of nine passes on 159 catchable.
From a speed perspective, Wilson brings more of it than anyone not named Noah Fant in this draft class. He's also consistently produced at UCLA with grades over 90.0 each of the past two seasons. Wilson will never be much as a blocker and struggles with contact throughout his routes, but in Kliff Kingsbury's system, his speed will be a weapon.