On the eve of the NFL draft, we turn our focus to the most important position in football. The latest smoke is that the Cardinals, after being linked to Kyler Murray all spring, are now looking elsewhere with the number one overall pick. This article though isn't going to analyze where guys will go, we're going to break down with the full PFF database at our disposal where the top QB's in the class should go.
Before that, let's examine exactly which franchises could be in the market for a quarterback this weekend. The way I would break it down would be as follows: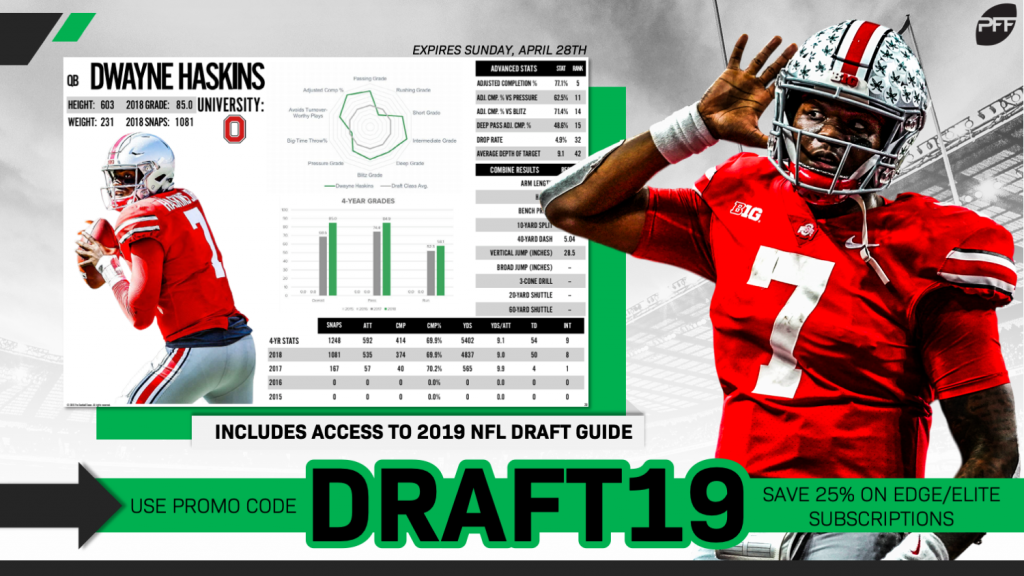 Definite QB Need
Possible QB Need
Developmental QB Need
You don't have to necessarily agree with the teams listed above, but with how valuable the quarterback position is and how contracts are starting to reflect that, I would never rule out addressing the position in a cost-controlled setting like the draft.
Anyway you want to slice it (besides height), Murray is the top dog. As a runner, it's not even close, and purely as a passer, he still comes out on top. We've found that downfield throws are what truly separates college passers, and no one was more accurate on them in the draft class than Murray. Only 28.8% of his targets downfield were deemed uncatchably off-target (Haskins 32.9%, Jones 33.3%, Lock 33.8%, Grier 32.5%) while 23.4% were charted as perfectly placed (Haskins 19.2%, Jones 23.7%, Lock 22.1%, Grier 20.9%).
Kyler gets to a different gear – and he doesn't rely on it, but when he needs it…my goodness pic.twitter.com/bWag541T2I

— Connor Rogers (@ConnorJRogers) April 4, 2019
I almost believe his rushing ability has actually been underrated throughout this draft process. The conversation has centered around his height and if he can pass in the NFL, but forgotten is the fact that he's every bit as electric as Lamar Jackson in the open field.
Jackson went in the first round himself with passing skills that can't hold a candle to Murray's. The key, though, is that Murray isn't looking to run. He threw to his second read 56 times last season – only Clayton Thorson and Gardner Minshew had more in the draft class. On those plays, he was deemed inaccurate only 29.2 percent of the time, the lowest rate in the draft class.
Pro Comp: Russell Wilson
Big Board Rank: 1st
Where We'd Draft Him: No. 1 Overall
Haskins has an ultra-quick release that shows zip and accuracy to all levels of the football field. He also showed improvement throughout his lone year as a starter with his highest-graded game coming against Northwestern in the Big 10 Conference championship game. So why all of a sudden has the NFL seemingly soured on the Ohio State prospect?
The obvious is that the raw numbers don't accurately reflect Haskins' performance on tape. He led the draft class in both yards (4,953) and touchdowns (50) but was only ninth in passing grade. The problem is 1,856 of those yards and 16 of those touchdowns came on throws targeted within five yards of the line scrimmage. That's over 600 more yards and 10 more touchdowns than any of the other QBs in this article. Which is meaningful because of the belief stated in Murray's breakdown above that the true separator of QB prospects is throws down the field.
Don't get me wrong, Haskins is still an incredibly productive QB who has shown an NFL-level of accuracy. I'm simply outlining the reasons for concern. Haskins was very much a facilitator of a high-level offense with an absurd amount of talent around him but rarely a creator. He completed only 18 of his 84 attempts into tight windows this past season and had a 38.0 grade on such passes. Those figures ranked third and fourth respectively among the five QBs in this article.
Pro Comp: Sam Bradford
Big Board Rank: 10th
Where We'd Draft Him: In the #5-#15 Range
After taking in all of Jones' throws from last season, the very first thing that popped into my mind was, "this guy's getting drafted top-10." It wasn't this guy should be drafted top-10, mind you. The reason I say that is because he does the little things at an NFL level already. Executing fakes, maneuvering the pocket, throwing with anticipation, avoiding sacks – Jones looks like a seasoned NFL veteran in all those aspects. Throwing the ball accurately and making good decisions with the ball – that remains to be seen. Maybe the biggest tick box in Jones' favor is the fact that he had the 126th-ranked pass-blocking offensive line and the 116th-ranked receiving corps in all of the FBS this past season. He might as well have been playing an entirely different game from Haskins with regards to the talent around him.
The high level is as impressive as any QB in this class.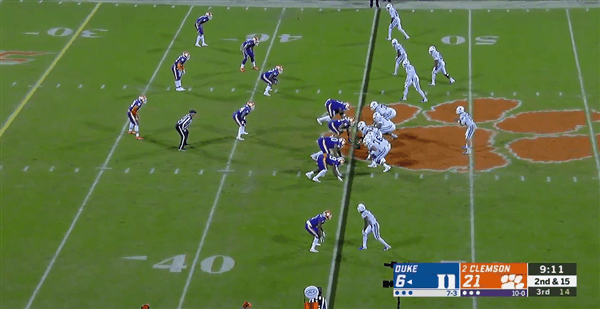 But the lows were far too frequent to draft him highly.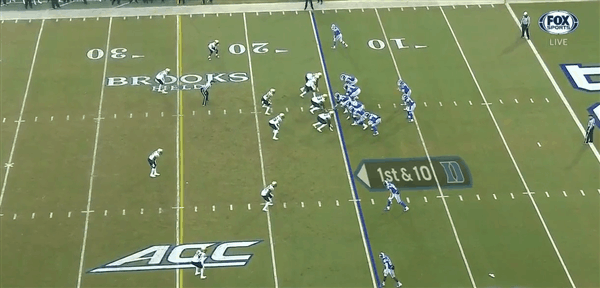 Pro Comp: Nick Foles
Big Board Rank: 70th
Where We'd Draft Him: Day 2
Some red flags are a brighter shade of red than others. The biggest red flag at the quarterback position is obviously a lack of accuracy, but for my money, the second is a lack of pocket presence. You'll always hear about how the windows get tighter in the NFL, but what's just as impactful to young quarterbacks is the fact that the pockets get tighter as well. That's bad news for Lock's projection. The Missouri QB's pocket presence was quite easily the worst among the QB prospects in the draft. He saw ghosts far too often, bailed out of clean pockets and refused to step up and into throws that required it. There is zero reason for him to be drifting off the throw below and this was a regular occurrence on Lock's tape.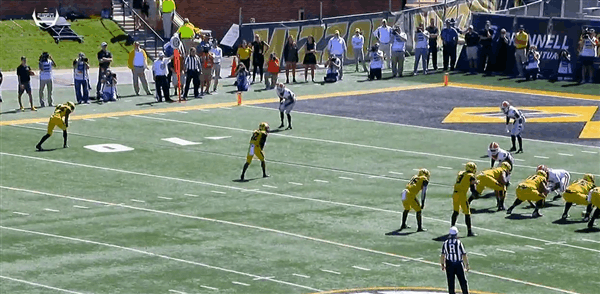 On the flip side, it can be easy to fall in love with Lock's arm talent. The ball flies out of his hand differently from the other quarterbacks in this class. When he can step into throws from a clean pocket, I'm not sure there's anyone I'd rather have in this draft. Lock was both the most accurate and the highest-graded quarterback against air in the one-on-ones during Senior Bowl practices. The question is whether everything else can ever be brought up to speed enough for that natural talent to take over.
Pro Comp: Jay Cutler
Big Board Rank: 37th
Where We'd Draft Him: Day 2
Grier has been treated like an afterthought from the masses in this quarterback class, but we here at PFF see special accuracy from the West Virginia signal-caller. On throws within 10 yards of the line of scrimmage, Grier was off target only 5.5% of the time – the best such figure in all of college football. As much I've hammered home downfield throws mattering most, that sort of pinpoint placement underneath is still a valuable skill. And it's not like he couldn't throw the ball down the field. The well-traveled QB tied Drew Lock and Brett Rypien for the most big-time throws in the country this past season (33).
The issue with Grier has always been the low end. His 'bad' is worse than the bad of all the other QBs listed here. Grier doesn't have the sixth sense of when to just dump it and move on to the next play. He converted pressure to sacks an absurd 24.2 percent of the time. That's well clear of the next closest QB on this list (Jones, 18.8%) and was bottom-10 among all starters in college football. That's a scary sign when projecting to the next level.  
Pro Comp: Andy Dalton
Big Board Rank: 24th
Where We'd Draft Him: Late Round 1