When Jonah Williams arms measured in at 33 5/8" on Wednesday, a loud screech was heard throughout downtown Indianapolis as NFL general managers around the league scratched him off their tackle list. The Alabama offensive lineman will be the next big name in a debate that has raged on for ages in the NFL.
Does arm length actually matter at the offensive tackle position in the NFL?
The short answer is, yes. All things being equal, a tackle with a longer reach is going to have an advantage over one with a shorter reach. The long answer though is a little more complicated.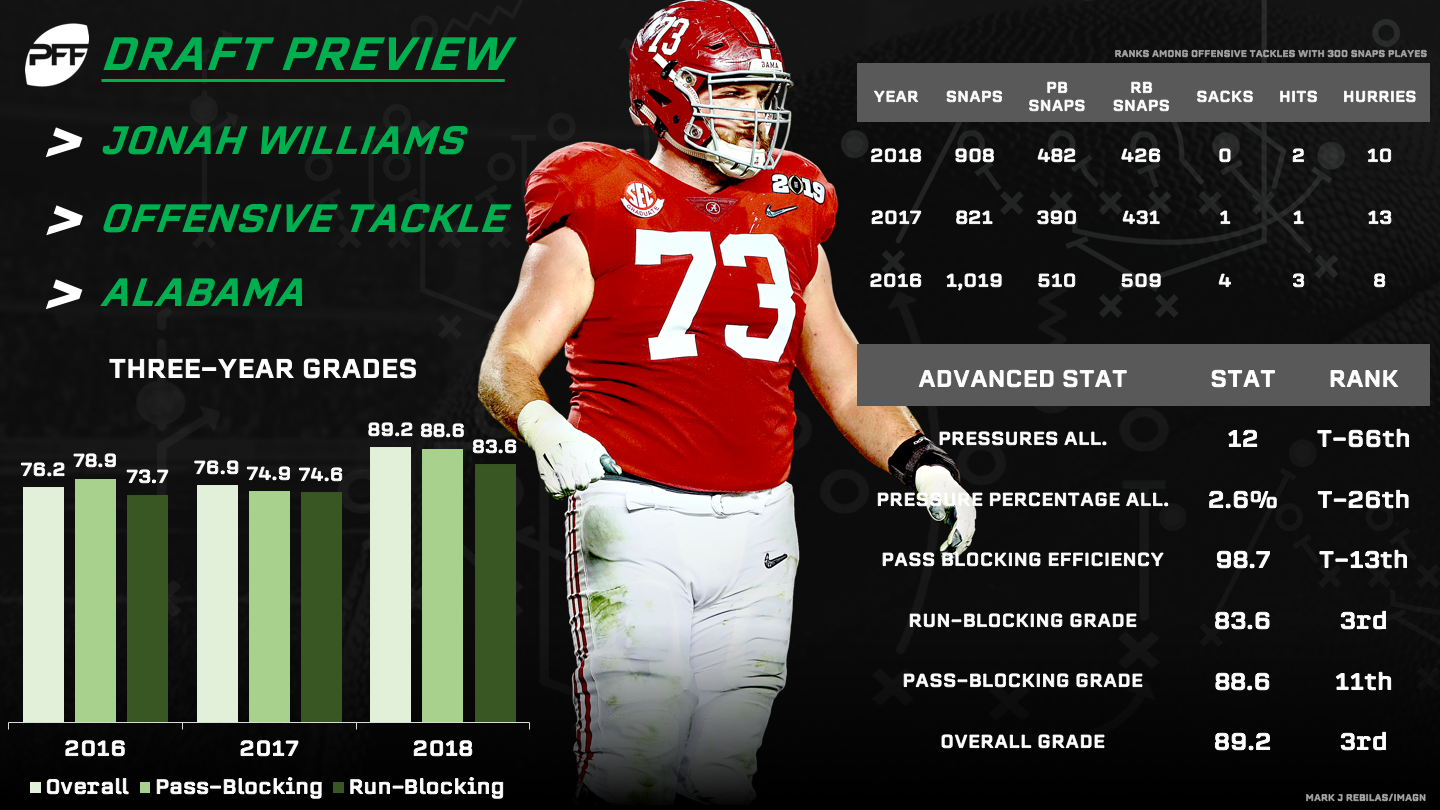 To answer it, we must first identify where and when short arms are problematic on the football field. Let's use Williams' tape from this past season to highlight the crux of the issue.

Length difference plays the biggest role when establishing initial contact. For the same reason that the reaches of boxers are always listed before a fight, the reach difference between the offensive tackle and defender he's blocking can dictate who lands the first strike. A 36"-armed edge rusher can stick out one hand into the chest of a 33"-armed offensive tackle and the tackle won't be able to touch the defender's shoulder pads.
What professional evaluators worry about is the rep below:
Mississippi State defensive end Chauncey Rivers wins the initial hand placement battle and Williams is unable to ever gain control of the interaction. The fact of the matter is though, this is one small piece to the overall puzzle that is playing the tackle position – and it's one that we've seen overcome again and again.
If that long-arm issue were really worrisome, surely it would have been exploited by likely first-rounder Clelin Ferrell (who is 6-foot-4 with long arms himself) in the National Championship Game. Below is every rep where Ferrell, and 6-foot-6 edge Austin Bryant, go with the long arm.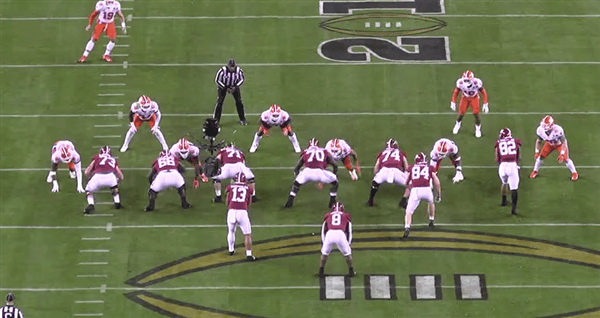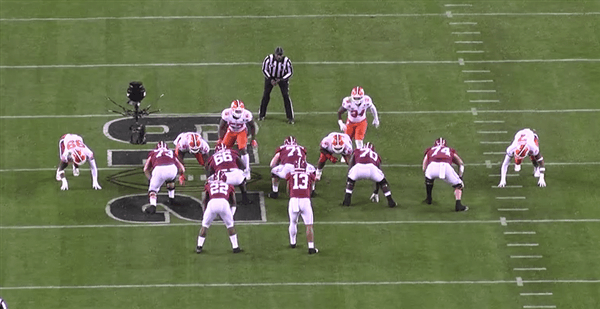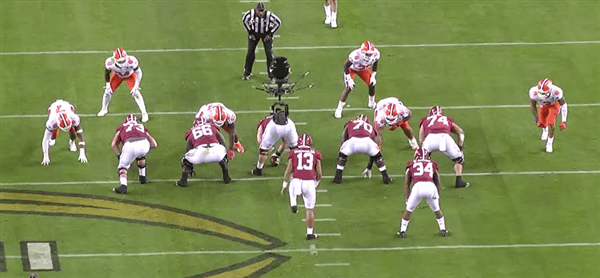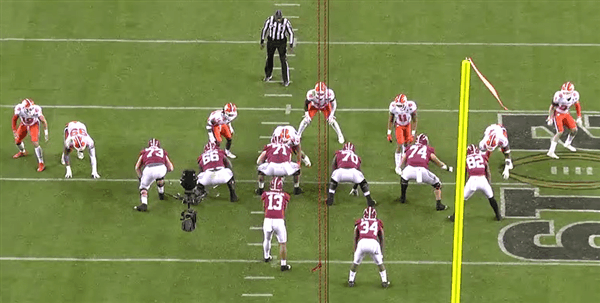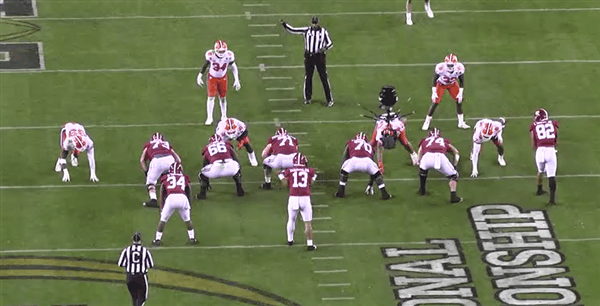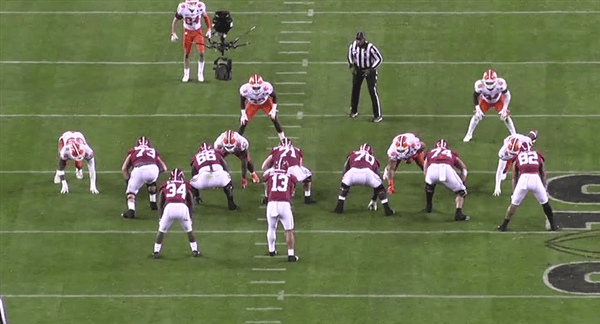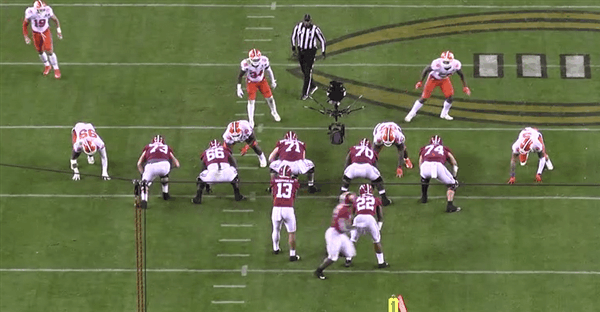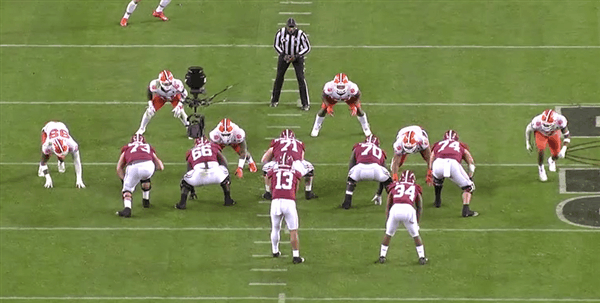 Not one single pressure.
As we can see, there are two key traits Williams possesses that neutralize his length disadvantage. The first is absurdly good hand placement. The fourth rush is probably the best example of this. As soon as Ferrell tips his hand, Williams swats it away, resets his hands and stops the long-arm before it even starts.
The second is a rock-solid anchor. On the fifth play, Ferrell lands his hands perfectly with both engaging Williams' shoulder pads. The problem is, Williams absorbs the contact, plants both feet and sits down in his tracks. He may be a touch over 300 pounds, but the Alabama tackle is an ox for a true junior.
This isn't a new problem that Williams has uniquely solved either. Joe Thomas, Joe Staley, Bryan Bulaga, Donald Penn, Duane Brown, Jason Peters, Jordan Gross: all sub-34-inch arms, all technicians with superb anchors, all elite tackles at one point. Most measured in with even shorter arms than Williams. Staley even made his opinion on the 'debate' known on Twitter:
???? extending my 33 inch arms to show you that. Measurables are for the birds https://t.co/S1QMQFawBv

— Joe Staley (@jstaley74) February 27, 2019
When you factor in the analytics that say how much more valuable an offensive tackle is than an offensive guard (due to the fact that they are left 1-on-1 far more often in pass protection), it's a no brainer to let Williams play the position he played in college.
The ironic part about all this is that measurable cutoffs are actually one of the original forms of analytics. Teams found tackles with shorter arms were busting more than long-armed ones. But again, it's one trait an offensive lineman possesses. Just like hand usage, strength, agility, mental processing and understanding of angles. To completely eliminate a player because one trait doesn't meet an arbitrary cutoff is how you pass on good football players.
Jonah Williams is PFF's OT1 and no test he performs in Indianapolis is going to change that.