The 2018 defensive interior class is decidedly top-heavy. Maurice Hurst and Vita Vea have separated themselves in a big way grade-wise from the rest of the defensive tackles in this draft, but that's not to say there's no talent to be had in the rest of the class.
Rather, Hurst and Vea are just that good.
Version 2 of the 2018 NFL Draft Guide is here! For PFF Edge & Elite subscribers, a comprehensive guide featuring player profiles of signature stats, grades and exclusive PFF content including position by position rankings. Find out more information here and join PFF now!
[Editor's note: These rankings were originally posted on February 28, edited on April 9 following the 2018 NFL Scouting Combine and various pro day workouts, these rankings have evolved one final time on April 23 as we are just days away from the 2018 NFL Draft.]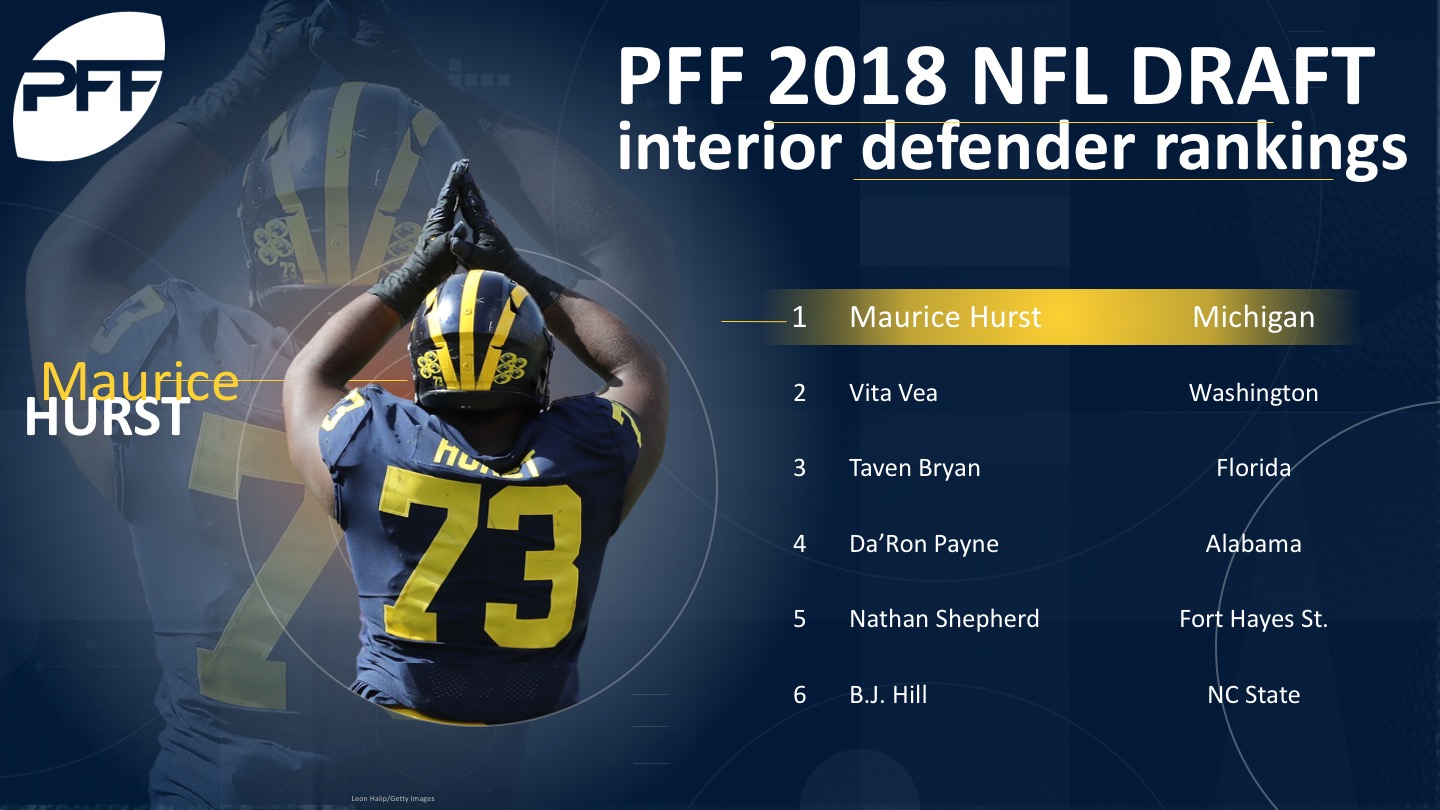 1. Maurice Hurst, Michigan
The prototypical 3-technique defensive tackle, Hurst offers a pass-rushing toolbox that no other interior player in this class can come close to matching. His four-year career of grades is unlike anything we've ever seen at the defensive tackle position, proving his durability and sustainability at the position.
2. Vita Vea, Washington
Vea is the definition of a disrupter, he moves the line of scrimmage and not the other way around. Only playing 62.2 percent of Washington's snaps this past season is a little concerning, but there are few concerns about his on-field performance.
3. Taven Bryan, Florida
Bryan is a freak of nature athletically who is only starting to put it all together. There's no telling if he'll ever do just that and put it all together, but he's improved greatly in every season of his college career.
4. Da'Ron Payne, Alabama
Payne showed a complete different gear against Georgia in the National Championship game where he set career highs for pressures (seven) and run stops (six). That high-end is encouraging, but it was shown too infrequently to be on the level of Hurst and Vea.
5. Nathan Shepherd, Fort Hayes St.
Shepherd's blend of size, power and athleticism is rare. His competition is obviously a concern, but looked like he belonged in his limited time at the Senior Bowl.
6. B.J. Hill, NC State
Hill dominated the Senior Bowl 1-on-1 unlike any other defensive tackle in Mobile. He won 73 percent of his reps that week, but unfortunately, that same dominance was rare in NC State's actual games.
7. Tim Settle, Virginia Tech
Settle is a ball of power at this point, he's unrefined and out of control at times, but you can't teach 330-plus pound men to move the way that he does. As a redshirt sophomore, Settle has two years of solid grades under his belt.
8. RJ McIntosh, Miami (Fla.)
McIntosh created havoc on one of the most consistent bases of anyone in this class. His tape against the Wisconsin offensive line in Miami's bowl game though is concerning as was the lowest-graded game of his career, against top caliber offensive linemen.
9. Harrison Phillips, Stanford
No one was more productive against the run than Phillips last season. He notched 48 run stops, but his 33 total pressures were concerningly low.
10. Derrick Nnadi, Florida State
Nnadi is a nose tackle in a 3-techniques body. With a little more beef, he could easily hold up at the nose full-time. He's a difficult man to out-leverage and has a history of being stout in run defense.
11. P.J. Hall, Sam Houston St.
Hall is an athletic freak who is as raw as can be. In a weak defensive line class, however, that athleticism will be coveted.
12. Trenton Thompson, Georgia
Thompson never could quite stay healthy at Georgia, but when he was, he flashed more than his fair share of 'wow' reps. Thompson can make plays on the opposite side of the line of scrimmage that few in this class are capable of.
13. Rasheem Green, USC
Green was likely out of position as a 3-technique at USC this past season. When given a chance to play on the edge though, he flashed the explosiveness to be a consistent pocket-pusher.
14. Jalyn Holmes, Ohio State
Holmes wasn't the biggest name on the Ohio State defensive front this past season, but was still very productive. His best role in the NFL could be as a base end that kicks inside on third downs.
15. Deadrin Senat, USF
Senat is one of the stoutest run defenders in this class. He compliments that with a pass-rushing motor that won't quit.
16. Andrew Brown, Virginia
Brown was inconsistent over his career at Virginia though he flashed some impressive reps as a pass-rusher. He has tweener size that make him a difficult projection in the NFL.
17. Folorunso Fatukasi, Connecticut
Fatukasi was a run-stuffing nightmare from the moment he stepped on campus at Connecticut. Unfortunately, his pass-rushing never quite matched his run-stuffing prowess.
18. Will Geary, Kansas State
Geary was the third-highest graded interior lineman in the country a season ago. He's extremely limited athletically though and measured in under 6-foot.
19. Kevon Perry, Louisiana
Perry was the fourth-highest graded interior defender in the country last year.
20. Da'Shawn Hand, Alabama
A former top recruit, Hand never truly lived up to the hype on the field, never topping a 77.3 overall grade. He's solid against the run, but his 71.2 pass-rush grade in 2016 represents a career high.
21. Poona Ford, Texas
It's all about disrupting the run game for Ford who posted back-to-back run grades of 88.8 in 2016 and 88.4 last season. He can move blockers in 1-on-1 situations, though he provides little pass-rush as his career-high grade was only 71.7 back in 2016.
22. Breeland Speaks, Ole Miss
Speaks is an undersized defensive tackle who may not have a position at the next level. Still, he's very athhletic for his size and ranked fifth among interior defenders in pass-rush productivity last year.
23. Antonious Sims, Appalachian State
Sims has excellent production on only 733 career snaps, and he's a sleeper to watch in this draft. He finished with 16 sacks, 10 QB hits and 47 hurries on only 421 career rushes.
24. DeQuinton Osborne, Oklahoma State
Osborne had a breakout 2017 season, doing his best work in the run game where he finished with an 84.7 grade. He has room to improve as a pass-rusher after picking up six sacks, nine QB hits and 11 hurries on 309 rushes.
[Editor's note: These rankings are ever-evolving as we head toward the draft.]
Position ranks: QB | RB | WR | TE | OT | OG/C | EDGE | DI | LB | CB | S