As mock drafts run rampant, looking at the NFL Draft and team fits from a different angle can't hurt. Forget the draft slots; forget the futile effort of playing NFL general manager and guessing who gets taken where and in what order; forget excluding teams that traded away their first-round pick.
In this exercise, we'll look at players who fill a need and fit into what each team likes to do, eschewing the structure of the draft order itself. Most of these guys are first-round talents — they're the easiest players to project into an immediate role at the next level — but there are a couple potential mid- to late-round gems as well. 
It's hard not to leadoff with the numbers that Wirfs put up at the combine — a 4.85 40-yard dash, 10-foot-1 broad jump and 36.5-inch vertical at 320 pounds. These are some all-time numbers at that weight, and it confirms just how much of a freak athlete he is. It isn't just the athleticism with Wirfs, though. He improved each season as a starter at Iowa, ending his career with a 91.3 overall grade as a junior last season. 
The Cardinals locked up D.J. Humphries long-term to man the left tackle spot, but with Marcus Gilbert failing to play any snaps due to injury last season after the trade and Justin Murray recording just a 62.9 grade in relief, the Cardinals could stand to add a quality starting right tackle. Whether Wirfs mans that right tackle spot or kicks inside to guard, as some have suggested, he would add athleticism and stability in front of Kyler Murray. That's surely something that Arizona is looking to accomplish this offseason. 
Henderson's 2018 tape was better than his 2019 tape, but the strength of the 2018 season is too good to ignore. In 343 coverage snaps, he allowed just 18 receptions with nine forced incompletions and two interceptions. Henderson's athleticism showed at Florida, and he didn't disappoint at the combine, showing off his sub-4.4 speed in the 40-yard dash. When high-level production meets up with high-level athleticism, NFL teams are going to be interested.
Henderson's ability to stick with wide receivers down the field makes him an ideal fit in a man-heavy defense. The Falcons ended the 2019 season with the sixth-highest percentage of their coverage snaps coming in man. Desmond Trufant ended the season with PFF's No. 31 grade at corner — he's been solid throughout his career with Atlanta, but the Falcons are still in need of a strong option opposite Trufant at the other outside cornerback spot. Neither Isaiah Oliver nor Kendall Sheffield cracked a coverage grade of 55.0 in 2019. At worst, Henderson would add some talent and competition to the group.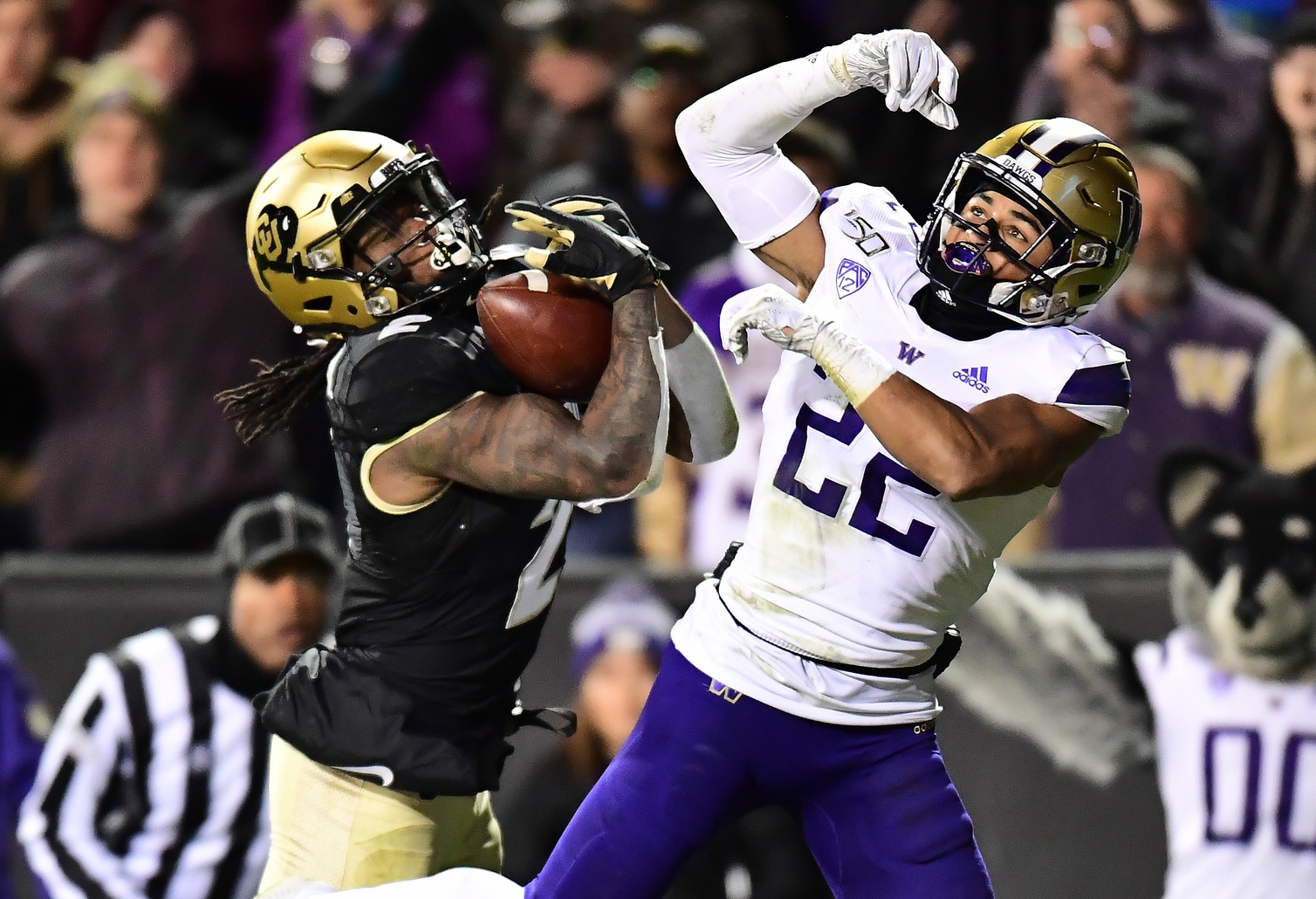 Baltimore Ravens: WR Laviska Shenault Jr, Colorado
More than anyone in the wide receiver class, Shenault is imposing with the ball in his hands. He is equal parts explosive and physical — a terror in the open field, as he showed with his class-leading 44 broken tackles after the catch over the last two seasons. The kind of yards-after-the-catch expertise Shenault displayed at Colorado is something we've seen translate to the NFL level. There is still some refinement to see from him as a route runner, and he has a concerning history of injury, especially when paired with his play style, but the physical tools and ability with the ball in his hands cement his spot as one of the top wide receiver prospects in the class. 
The one team I think could best make use of Shenault's skill set is the Ravens. He is a different type of receiver than their top two options currently — Marquise Brown and Mark Andrews — and you have to imagine that Greg Roman and company would find a number of different ways to get the ball into his hands. Put him in the slot or out wide; line him up in the backfield; motion him across the formation; even put him as a wildcat quarterback, something he did on occasion for Colorado. Similar to what the 49ers did with Deebo Samuel last season, Shenault could thrive in that offensive environment. 
The ridiculousness of this wide receiver class keeps Higgins' name from being mentioned at the top, but that just means one of the wide receiver-needy teams in the back half of the first round is going to land a good one. Higgins is coming off two consecutive seasons with receiving grades of 88.0 or higher, and he has a combination of size, speed, catch radius and hands that suggest he can contribute early at the NFL level. 
The Bills added John Brown and Cole Beasley last offseason, and both players produced well in their roles, earning receiving grades of 74.2 and 74.3, respectively, on the season. But each will be 30 or older next season. Higgins would bring a different look to the wide receiver room as a bigger receiver who converted 23 of 43 contested target opportunities over the last two seasons at Clemson. Add in his quickness at the line of scrimmage and good speed for his size and it's hard to imagine the Bills being disappointed with Higgins at pick 22. 
Simmons was one of the stories of the combine this past week, and it's not hard to see why. This is a 6-foot-4, 238-pound linebacker/safety/slot corner/edge rusher hybrid who ran a 4.39 40-yard dash and posted an 11-foot broad jump. Everyone expected Simmons to blow up the combine, but it's still hard not to marvel at those numbers. He's not just a workout warrior, either. Last season, Simmons played over 100 defensive snaps at edge defender, linebacker, strong safety, free safety and slot cornerback, and he played this array of positions well. He earned grades of 80.0 or higher as a run defender, pass rusher and coverage defender. When it comes to multi-faceted defensive weapons, Simmons is one of a kind. 
The Panthers are in a spot where they could sorely use someone with Simmons' skill set. Luke Kuechly's retirement leaves a gaping hole in the middle of their defense. Their primary slot cornerbacks (Javien Elliott and Ross Cockrell) and free safety (Tre Boston) are free agents. Eric Reid struggled last season with a coverage grade of 34.4 in 1,094 defensive snaps. Simmons could theoretically fill any of these roles, but his best role is a combination of them. Like Derwin James and Jamal Adams, limiting Simmons to just one position is doing him a disservice. 
Chicago Bears: G Jonah Jackson, Ohio State
Jackson exits the combine as PFF's No. 2 interior offensive lineman and the 38th-ranked player overall. He posted solid seasons at both right guard in 2018 (73.8 overall grade) and left guard in 2019 (78.1) for the Buckeyes, and this versatility is one of the bigger checkmarks he has next to his name. Jackson has also displayed quality pass protection across a good amount of true pass-blocking sets over the last couple seasons, putting up a two-year pass-blocking grade of 84.4 since 2018. From that standpoint, it's not hard to see why he is one of our top guards in the class.  
Thanks to the Khalil Mack trade, the Bears are once again without a first-round pick in the upcoming NFL Draft, but they do have two second-round selections. Jackson makes sense as one of those picks to fill in at right guard, which was a spot manned by Rashaad Coward and his 51.7 overall grade last season. The offensive line as a whole was one of the bigger disappointments of the Bears' season, as they ended the year ranked 25th in PFF's final offensive line rankings. Adding Jackson in the second round would be a step in the right direction for that unit.
Joe Burrow stories have been plentiful following his Heisman-winning season. We've discussed how he went from relative unknown to unstoppable in the LSU offense, how his 2019 season was the best PFF College has ever seen since its inception in 2014 and how he is the best prospect in the 2020 NFL Draft. In the PFF Draft Guide, lead draft analyst Mike Renner calls Burrow "easily the most accurate quarterback we've ever scouted." The fact that his jump in production from 2018 to 2019 was so pronounced is reason to give some pause, but what Burrow put on the field last season gives us every reason to believe he has what it takes to be a franchise quarterback at the next level.  
There is no reason for the Bengals to overthink this. Burrow is their guy. After deciding to bench Andy Dalton last season, they made it clear that they're ready to move on at the quarterback position. Last year's fourth-round selection, Ryan Finley, was abysmal in his chance as the starting quarterback, managing somehow to record zero big-time throws compared to 10 turnover-worthy plays. The Bengals' offensive environment should improve with A.J. Green likely to return and another offseason to improve the offensive line.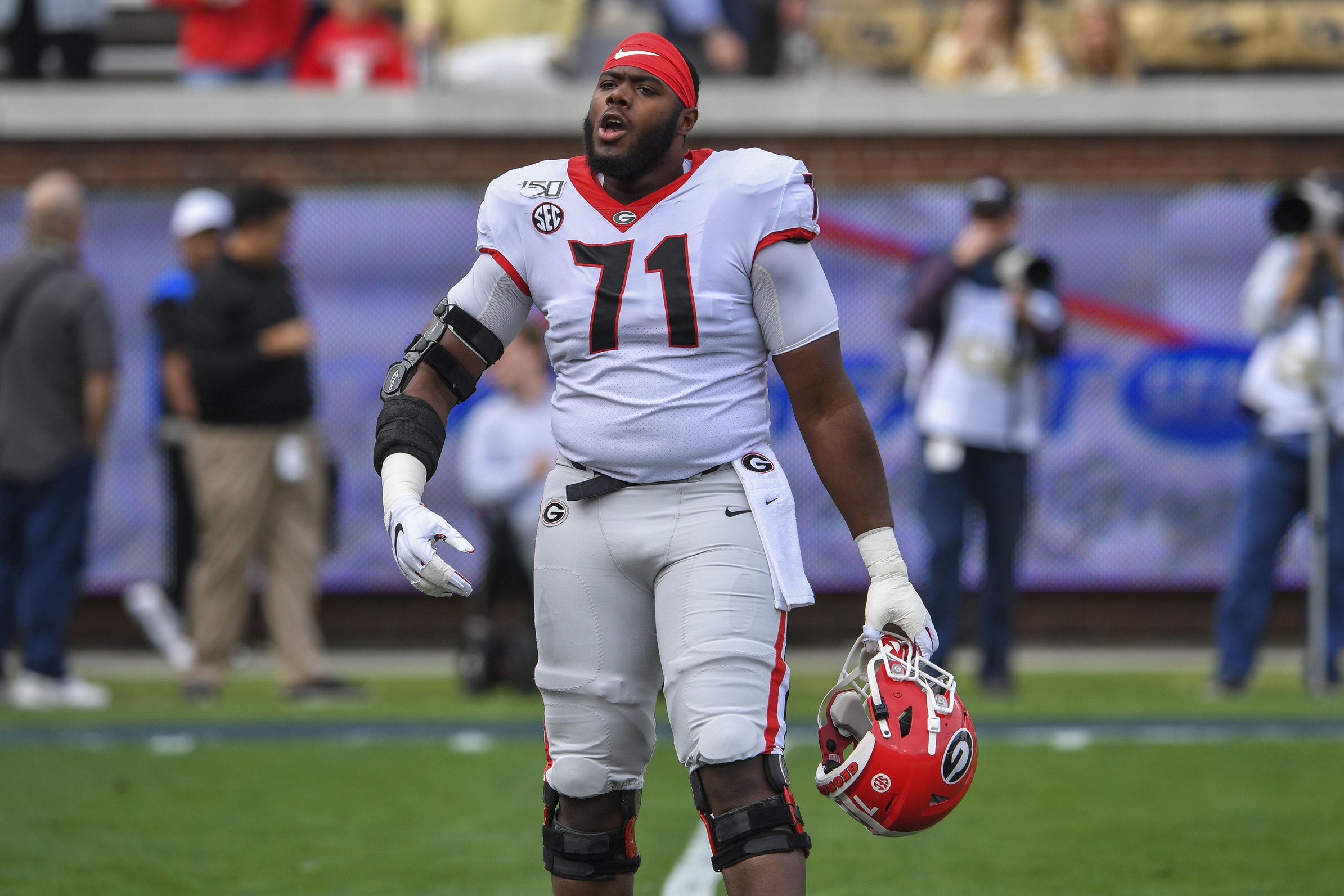 Thomas didn't light the combine on fire like Jedrick Wills or Tristan Wirfs — outside of measuring in with arms over 36 inches long — but he remains the top tackle on PFF's Big Board. Thomas is a guy who stepped in as a true freshman in 2017 and showed he could pass protect at a high level in the SEC. Then he continued to improve as a sophomore and a junior. He ended last season with a 92.4 overall grade that ranked tops among all SEC tackles. Thomas checks the boxes from both a physical and technique standpoint. 
The Browns were likely in the market for an offensive tackle before Greg Robinson was arrested, and they surely aren't bringing him back in free agency now. With guys like Becton, Wills and Wirfs getting more buzz than Thomas, there is a decent chance he is there for the Browns at No. 10, and he would help solidify their line both in pass protection for Baker Mayfield and in the run game for Nick Chubb. 
Being tagged as the most complete and versatile safety in the draft class, McKinney has the profile that most NFL teams are looking for at the position. Last season for the Crimson Tide, he played 200 or more snaps in the box, at slot cornerback and at free safety. McKinney's 2018 season was a similar story. He ended both years with an overall grade of 80.0 or better, improving from a grade of 82.0 in 2018 to 88.4 last season. There isn't a whole lot on the field that McKinney doesn't do well.
The Cowboys are continually linked to such versatile safeties, and McKinney fits into what they do defensively. Xavier Woods has played well for Dallas, with coverage grades of 70.0 or higher each of the past two seasons at free safety. McKinney could fill in with more of a strong safety role, roaming in the box with the ability to man up in the slot and stick to receivers inside. Considering he has also shown the versatility to play deep as needed, McKinney is one of the safer bets in the secondary in this draft. 
Denver Broncos: WR John Hightower, Boise State
Coming out of Boise State with just one season of significant playing time, Hightower is going to fly under the radar in this deep wide receiver class. As the PFF Draft Guide notes, that's only going to make him more of a steal. Being a deep threat isn't all about speed, and Hightower shown the route nuances and ball tracking that you like to see on tape. He'll likely have to continue to fill out his frame, but weighing in at 189 pounds at the combine is a nice start. 
The Broncos are in search of a complementary option to Courtland Sutton. Sutton took a massive step forward last season, but the options at receiver opposite him were lacking. DaeSean Hamilton led the group with just 28 receptions. Henry Ruggs is a popular first-round target, but if the Broncos decide to go elsewhere in Round 1, Hightower will be available later in the draft. He could give the Broncos the deep threat they're looking for while allowing them to address other needs early, or even doubling down at wide receiver. 
Detroit Lions: CB Jeffrey Okudah, Ohio State
There haven't been many more complete cornerback prospects coming out of college in recent seasons than Okudah. In the PFF College era dating back to 2014, Okudah is up there with the likes of Jalen Ramsey coming out of Florida State. Athleticism, length, technique, multiple seasons of high-level production in college — no matter what you're looking for, Okudah has it. Over the last two seasons, he has allowed just 42% of the passes into his coverage to be completed. You're going to be hard-pressed to find a better cornerback prospect than that. 
The Lions will have options at No. 3. Depending on what happens at No. 2 with Tua Tagovailoa, they could have their pick of the top defensive prospects on the board. While many would push for Chase Young in that scenario, a prospect like Okudah at one of the most valuable positions on defense is hard to pass up, especially with Darius Slay trade winds swirling. Okudah has all the tools to excel in man coverage, and the Lions have some of the heaviest man usage in the NFL. Even if Slay doesn't get traded, they could still use Okudah at the other outside position, with Rashaan Melvin hitting free agency after a 2019 season in which he earned just a 54.3 coverage grade outside. 
Reagor's production might not suggest that he's a first-round pick. He ended last season with just 43 receptions and 611 receiving yards, but he also received an accurate pass — based on PFF's ball-charting data — on just 35% of his targets in 2019. Abysmal quarterback play, combined with a lack of creativity in Reagor's usage, makes the lack of production forgivable, especially when you look at the physical tools he brings to the table. The 4.47 40-yard dash was disappointing considering the expectations coming into the combine, but his jumps (42-inch vertical and 138-inch broad) show the kind of juice he has. This class is filled with explosive athletes, and Reagor is near the top of that list. 
It's no secret that the Packers need to add another wide receiver across from Davante Adams this offseason. They've tried with various guys over the last several years — Geronimo Allison, Marquez Valdes-Scantling, Equanimeous St. Brown, etc. — but none of those options have stuck. Allen Lazard is a possibility after several strong performances last season, but there is certainly room for an addition. Reagor would give the Packers a legitimate downfield threat while also providing a different element to the offense with the ball in his hands after the catch. 
Houston Texans: CB Cameron Dantzler, Mississippi State
Dantzler's 40-yard dash time at the combine was one of the more disappointing results of the entire week. Going over 4.6 seconds isn't something you like to see, but that doesn't change the fact that he showed some of the best tape in the entire cornerback class at Mississippi State. There's a reason he got a first-round projection in PFF's Pre-Combine Draft Guide. Dantzler has the length, instincts and ball skills you want for the position, and he was one of the best at limiting Biletnikoff-winner Ja'Marr Chase last season, holding him to just one reception for six yards as the primary coverage defender. 
That said, the 40 time is a major reason for concern, and it will push his name down in the draft unless he puts up a better number at his pro day. This potentially works to the Texans' benefit, as they are without a first-round draft pick after trading it away in the Laremy Tunsil deal. Cornerback is the most pressing need for Houston this offseason, and Dantzler's man coverage skills would fit in nicely on their defense. With his thin frame and sub-par speed, Dantzler is fighting an uphill battle physically, but he could provide some value toward the latter half of the second round if he falls to the Texans.  
Kinlaw has earned overall grades of 85.0 or higher on 500 or more defensive snaps each of the past two seasons for South Carolina. When you hear him talk at the combine about how he was limited in his pass-rushing moves and how he thinks he can take a big leap forward with better coaching in the NFL, it's hard not to like his prospects. Kinlaw has the sort of size, length and burst you can't teach. Paired with the production he's put on tape, Kinlaw is a borderline top-10 prospect in the draft. 
Colts general manager Chris Ballard said during his end-of-the-year press conference, "The 3-technique drives this thing. It does. Every time I've been a part of this, the 3-technique drives this." Grover Stewart, Margus Hunt and Denico Autry all saw time on the interior for the Colts, but none of them are close to the dominant presence that Kinlaw brings as a 3-technique. The Colts' big acquisition last offseason, Justin Houston, delivered in his first season in Indianapolis with an 87.1 overall grade. There wasn't a whole lot in the way of pass rush outside of him, though. Kinlaw would help remedy that.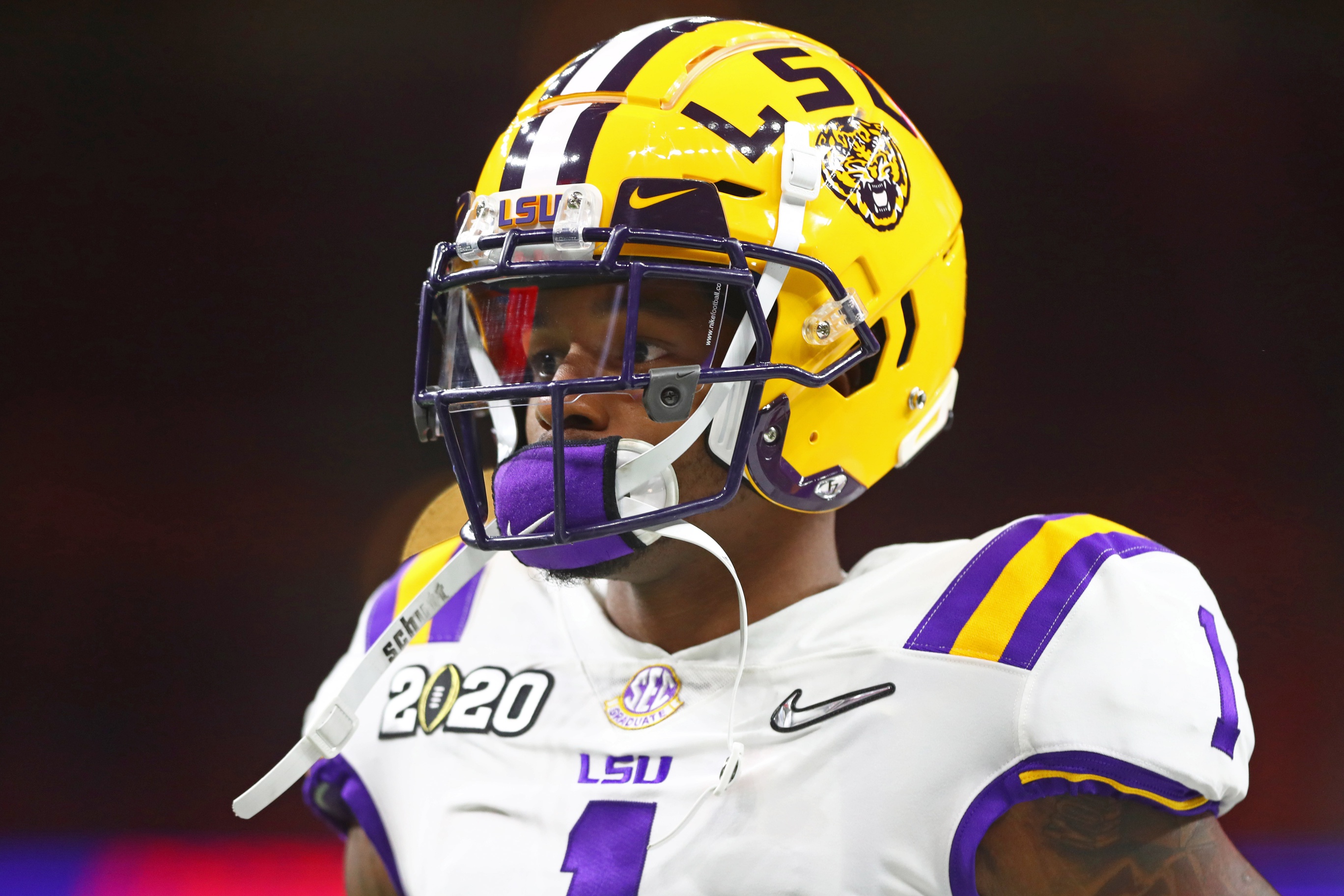 Over the last two seasons as a starter on the LSU defense, Fulton has coverage grades of 89.7 and 86.8. He has allowed just 48 of the 110 passes into his coverage to be completed, racking up 20 pass breakups in the process. This past season, no receiver caught more than three passes on him in a single game all year. From a production standpoint, Fulton ticks the boxes, dominating the SEC across multiple seasons. Additionally, his movement skills and ability to stick with receivers without getting overly grabby are a major draw to his game. That's a profile that fits in most NFL defenses. 
After trading away Jalen Ramsey and A.J. Bouye in the last calendar year — two cornerbacks who ranked among the top 30 players at the position in PFF grade as recently as the 2018 season — Jacksonville now has an obvious need. Fulton's player comp in the PFF Draft Guide was none other than Bouye himself, making him a natural candidate for replacement in the first round. Tre Herndon was the only other cornerback on the roster to play significant snaps outside in 2019, and he ended the year with a sub-50.0 overall grade in those alignments. Jacksonville needs to put serious resources toward improving that group, and Fulton would be a good start. 
Kansas City Chiefs: LB Willie Gay Jr, Mississippi State
There isn't a whole lot of tape on Gay at Mississippi State because of his several suspensions, but the performances we've seen are reason enough to be intrigued. Not only did Gay show that he was one of the most athletic linebackers in the class at the combine, running a 4.46 40-yard dash and jumping out of Lucas Oil Stadium, he has shown the instincts that indicate he can be a positive contributor in coverage at the NFL level. In his three seasons of limited action at Mississippi State, Gay posted coverage grades of 85.0 or higher each year. 
That kind of athleticism and coverage ability at the linebacker position is something the Chiefs defense could certainly use. The two Chiefs linebackers to play 500 or more snaps last season — Damien Wilson and Anthony Hitchens — both ended the year with PFF grades below 50.0, and neither was impressive in coverage. With limited collegiate playing time, plus off-field concerns, Gay isn't a perfect prospect, but the upside as a potential Day 2 pick is there for sure. 
Dye isn't going to win any awards for his physicality or size, but when it comes to staying with players over the middle of the field in coverage and using his length to impact passes, Dye is your guy. This is the direction the position is heading nowadays anyway. Dye is coming off a four-year career as the starter for the Ducks, and he was strong in coverage each of those four seasons. Dye never recorded a coverage grade below 70.9 on at least 250 coverage snaps in any season from 2016 to 2019. That kind of coverage ability at the linebacker position is something that is becoming increasingly valued in the NFL.  
When you look at what the Raiders had to work with in 2019 at linebacker, it's easy to see them targeting one come late April. Tahir Whitehead and Nicholas Morrow recorded coverage grades of 42.2 and 42.5, respectively, last season. While Patrick Queen is the popular selection for the Raiders in the first round, they could opt for Dye later with one of their third-round picks. That would be the more prudent move, as just eight spots separate Queen and Dye on the latest edition of the PFF Big Board. 
If it weren't for Wirfs going straight alien on the combine, more people would be talking about the numbers that Wills put up. As the PFF Draft Guide says, Wills is one of the most explosive and agile tackles you'll ever see. He still has some things to clean up in pass protection, but he's shown the ability to be a dominant run blocker in the NFL. This past season at Alabama, Wills ended the year with an 86.9 overall grade and a 90.1 grade as a run blocker. Considering his tools and the fact that he still isn't 21 years old, there is no reason to believe that Wills won't continue to improve in the NFL. 
The Chargers are one of the teams that most desperately need his services. The last time they had a team pass-blocking grade that ranked higher than 26th in the NFL was 2014. Sam Tevi and Trent Scott picked up overall grades of just 59.0 and 49.6, respectively, this past season. Relying on a rookie offensive lineman to come in and be a savior is not realistic, but it's hard to imagine Wills not being an improvement on what they put on the field at right tackle last season. It may be enticing to go after Justin Herbert early, but that probebly isn't the best course of action. As one of the top players in the entire draft at a position of need, Wills makes sense as a first-round target. 
Pinter is one of those small-school tackles coming out of Ball State that is going to get increased attention with the athleticism he showed off at the combine. He ran a 4.91 40-yard dash (second to Wirfs among offensive linemen) while putting up strong showings in both the three-cone and 20-yard shuttle. He only has two years as an offensive lineman under his belt after a position change from tight end, but he's graded out well at tackle. Pinter followed up a 74.6 grade in 2018 with a 91.2 overall grade last season, improving significantly as a run blocker. He might have to kick inside one more slot to guard in the NFL, but his athleticism should be intriguing to teams after the opening stages of the draft. 
With how much outside zone the Rams run, Pinter's athleticism seems to play naturally into what they like to do. The offensive line is a pretty clear area of concern after what was a solid group in 2018 fell apart last year, exposing some of Jared Goff's limitations. They don't have a first-round pick to go after one of the higher-ranked offensive linemen in the class, but Pinter could be an interesting target later in the draft. The only Rams offensive lineman to record an overall grade above 65.0 last season was 38-year-old Andrew Whitworth. They can use all the help they can get. 
If it weren't for the major injury that Tagovailoa suffered to end his 2019 campaign, the gap between him and Burrow would be significantly smaller. Unfortunately, an injury that serious is a reason for concern. Even as a true freshman, Tagovailoa's number was called on the biggest stage, and he delivered with a National Championship victory. His accuracy is top-notch and, combined with his anticipation, helps make up for a lack of elite arm strength. This shows in his grading at Alabama. Tagovailoa recorded elite 90.0 overall grades in both 2018 and 2019 around the injuries. 
The Dolphins have been the natural connection for some time for Tagovailoa, but it seems increasingly likely that they'll need to trade up to secure him if he's their guy. That's something they should be willing to do. They have more draft capital and cap space than any other team — what is the point of amassing all that if not to use it to secure a franchise quarterback? Ryan Fitzpatrick has played well over the last two seasons, ranking 12th in PFF grade among qualifiers over that span, but they need to find a long-term answer. Tua can be that. 
Hennessy was the highest-graded center in the class last season, earning an overall grade of 86.5 in his final season at Temple, and he was categorized as one of the best outside zone centers in the country by PFF's lead draft analyst Mike Renner. Additionally, Hennesy was superb in pass protection in college. He allowed just three pressures on 240 true pass sets over the course of his last two seasons at Temple. The concerns with Hennessy involve his athleticism, but his second-place results among offensive linemen in the three-cone and shuttle at the combine show that there is some agility to work with.  
Hennessy fits one of the bigger needs for the Vikings — interior offensive line. They probably aren't ready to pull the plug yet on last year's first-year selection, Garrett Bradbury, after his 41.4 pass-blocking grade in Year 1, but they do need to look to improve at guard, particularly at left guard for Pat Elflein. Elflein has posted two straight seasons with pass-blocking grades below 47.0. Hennessy could be a mid-round option who pushes to start as a rookie at guard. He also the versatility to play center if needed after playing there at Temple. His ability in outside zone and pass protection is a strong fit for what the Vikings are looking for.  
Baun is somewhat stuck between positions as he transitions to the NFL. He played almost exclusively as an edge defender at Wisconsin, where he produced at a high level as a pass rusher. Last year, his 91.0 pass-rushing grade was a top-10 mark among qualifying FBS pass rushers. He showed, however, that he could also perform out in space in coverage, earning a 91.1 coverage grade over the last two seasons on 195 coverage snaps. At only 238 pounds, he may be better suited as an off-ball linebacker given his combination of size and fluidity. 
Why not let him play in both roles, though? And what better team to utilize that skill set than the Patriots? With New England's propensity to blitz their linebackers and their experience with players in hybrid edge/off-ball roles, they appear to be the perfect fit for Baun, especially with potential departures from Kyle Van Noy and Jamie Collins in free agency. The only issue is that New England doesn't have a second-round pick, so they might not have a selection in the window for Baun unless they trade back or trade up.  
It's been mentioned before, and it's worth mentioning again — after-the-catch ability is something that translates from college to the pros. Aiyuk has that in spades, averaging over 10 yards after the catch on his 65 receptions last season with Arizona State. He played second fiddle to N'Keal Harry in 2018, but Aiyuk exploded for nearly 1,200 receiving yards and eight receiving touchdowns this past season. His jumps at the combine showed just how explosive he is, and his freakish wingspan gives him an impressive catch radius for his size. He's a strong option in this talented wide receiver class. 
The return of Drew Brees means that the Saints should once again be serious contenders in the NFC, provided he doesn't hit a wall at 41 years old. Michael Thomas is outstanding, but they need another receiver who can help shoulder the load and produce big plays. There is no reason that can't be Aiyuk. His after-the-catch ability and explosiveness with the ball in his hands would play well in the Saints' quick passing game, which puts a focus on the short and intermediate ranges.
At 6-foot-1 with 4.42 speed, Terrell has the combination of length and speed that you want at the cornerback position. More importantly, his movement on the field is just so smooth. Terrell put up two consecutive seasons on the Clemson defense in 2018 and 2019 with coverage grades of 80.0 or higher. Yes, LSU and Ja'Marr Chase got the better of him in the National Championship Game, but Terrell remains one of the better cornerback options in the class. 
The Giants selected the first cornerback off the board a season ago in Deandre Baker. His struggles as a rookie, along with the lack of high-level play from anyone else at the position, warrants another go in the 2020 NFL Draft. While New York will likely have its pick of the tackles or a player like Isaiah Simmons at fourth overall, Terrell would be a strong second-round target if he makes it to them at pick 36. As we saw with Baker, it doesn't always work out in Year 1, but it's worth taking shots at good cornerback prospects early in the draft when the opportunity arises. 
The way that Jeudy moves is just fun to watch. He has the speed (even if his 40-yard dash wasn't quite the number that people were expecting), and he has an arsenal of moves both as a route runner and ball carrier who creates separation at an elite level. Additionally, he was the alpha in a loaded Alabama receiving corps, putting up high-level efficiency numbers in each of the past two seasons. His 3.31 receiving yards per route run across the 2018 and 2019 seasons is one of the best marks in the class. The one area to nitpick in Jeudy's game is that he played mostly in the slot, avoiding press, in his time at Alabama, but there's no reason to believe he can't win on the outside against press given his tools. 
Jeudy and CeeDee Lamb have been neck-and-neck in the pre-draft process, and they are here at PFF as well. Jeudy comes in at fifth on the PFF Big Board. Lamb is a spot behind at sixth. With the expected run on offensive tackles and quarterbacks, there's a chance both guys are on the board when the Jets pick at 11. They might want to target an offensive lineman themselves, but getting someone like Jeudy would be a more impactful addition to their offense, particularly if Robby Anderson leaves. He could step in as the No. 1 wide receiver Sam Darnold hasn't seen so far in his Jets career.     
There may be no player shooting up draft boards more than Ruggs right now. That is what running a 4.27 40-yard dash and having an absurd high school basketball highlight reel circulate on the internet will do for you. It's clear that Ruggs has the speed and bounce to be an elite deep threat, but his route running and ball skills make him more than just that. The lack of high-level production shouldn't be a major concern for prospective teams given how effective he was when he did get the ball and the number of players with first-round talent on that Alabama offense. Across his three years for the Crimson Tide, Ruggs never posted a passer rating when targeted below 142.7. 
If the Eagles need one thing, it's somebody who can take the top off the defense like Ruggs can. That was supposed to be Desean Jackson, but his injuries in 2019 led to a year in which Miles Sanders led the team in receiving yards on passes 20 or more yards downfield. Ruggs is a natural fit in a role that the Eagles need, complementing the possession-receiver types of Alshon Jeffery and Zach Ertz. It seems unlikely that he'll be there for them at 21, however, so they'll likely need to move up if Ruggs is their guy. 
Not too many people are on board with Muti as IOL1 hype train, but that's where we are at PFF. Muti comes in as the highest-ranked center or guard prospect on the PFF Big Board (32nd overall). Injuries have robbed us of seeing extensive action at the collegiate level — he has played just over 300 total snaps each of the past two seasons. What he showed in limited action those two years, along with impressive tape as a freshman in 2017 against NFL-caliber players like Ed Oliver, was enough for us. Muti recorded run-blocking and pass-blocking grades of 80.0 or higher in that 2017 freshman season. Putting up 44 reps on the bench press at the combine puts an asterisk next to the kind of power that he plays with.  
The national consensus is lower on Muti, which could play into the Steelers' favor after they traded their first-round pick to the Dolphins for Minkah Fitzpatrick last season. With Ramon Foster being a potential cap casualty at 34 years old after a down season and reserve interior offensive lineman B.J. Finney being a free agent, Muti could help fill one of the bigger needs on the team and potentially start as early as next season. His nastiness and strength on one of the teams with the most rushing attempts in the NFL in gap schemes last season would be an ideal fit. Muti should be a target for the Steelers on Day 2.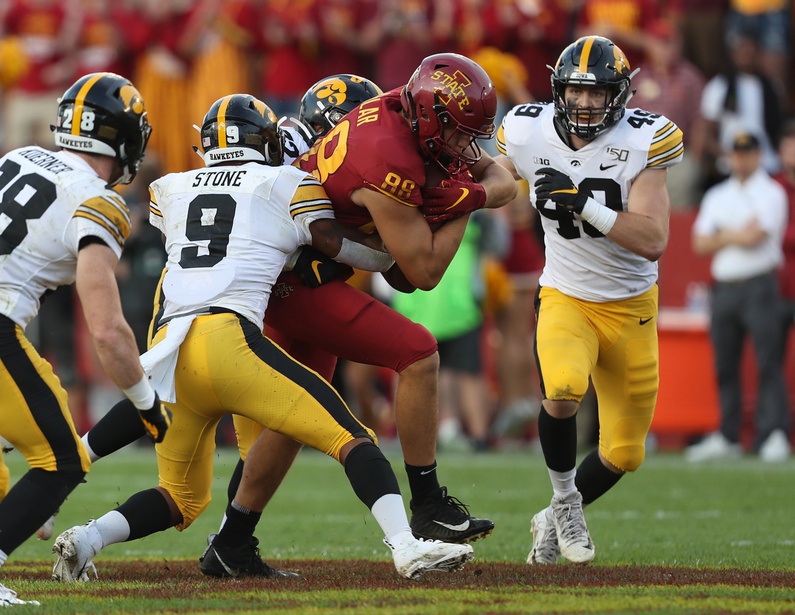 You're not going to find anyone higher on the safety out of Iowa than PFF's Mike Renner. Outside of calling him the most underrated prospect in the entire draft, Stone comes in as the fifth-highest safety on the PFF Big Board and the 52nd ranked prospect overall. He's known for his instincts in zone coverage, having shown the ability to process plays and make breaks on the ball that you want to see from a playmaker on the back end. His grading profile is impressive as well. Stone picked up overall grades of 88.4 in 2018 and 83.4 last season on 500 or more defensive snaps both seasons. 
With limited cap space and draft capital, the 49ers are going to be looking for players such as Stone — guys who can be had for cheap and can potentially pay off in a big way. They pick in Round 1 but not again until Round 5. If Jimmie Ward leaves in free agency, Stone is someone the 49ers could target late in the draft to potentially fill that role and provide playmaking from the free safety position. There are not going to be many other borderline top-50 talents in the class going that late.  
Diggs may be the longest cornerback prospect in the entire draft. He uses this length to eat wide receivers alive in press coverage, not allowing guys to get over the top often. There's only one full season to go off at Alabama, but that season was impressive. Diggs earned a 90.1 coverage grade in 2019, allowing 22 receptions compared to 11 combined pass breakups and interceptions. He's an ideal fit on any team that is going to use his length and press coverage ability to disrupt receivers at the line of scrimmage. 
This sounds a whole lot like the Seahawks. Shaquill Griffin is coming off a breakout campaign in 2019, a season in which he earned a 77.0 coverage grade, but Tre Flowers was not the answer at the other outside cornerback slot. His 47.0 coverage grade on the season was one of the worst marks in the NFL among outside cornerbacks who played the entire season in a starting role. Diggs would have the opportunity to contribute early in one of the schemes best suited for his style of play. 
Weaver is another one of these players we're higher on at PFF than most around the industry. It all comes down to his history of production. Weaver dominated in 2018 and 2019 off the edge for Boise State, earning pass-rushing grades of 92.8 and 92.3 in those campaigns. In 2018, his pass-rush win rate crossed over 30%, an absurd number for a player who rushed the passer on a significant number of snaps. The concern with Weaver is whether he has the athleticism to produce against NFL offensive linemen. Weaver has helped put some of that at ease, though, particularly his 7.00 three-cone, which is outstanding for someone of his size.  
The popular selection going around mock drafts is K'Lavon Chaisson to the Buccaneers at 14th overall. We simply don't see Chaisson as that level of player. He comes in at 46th on the latest PFF Big Board, while Weaver sits at 22nd thanks to his high-level production in college combined with his bend and hands. If the Buccaneers are looking to replace the production they got last season from Shaquil Barrett, or even add someone alongside him, it makes more sense to target Weaver after the first round than it does Chaisson in the first. Weaver's familiarity as a stand-up outside linebacker also plays in well with the Tampa Bay scheme. 
Like Weaver, Okwara is an edge rusher who PFF is higher on than most. And, again, it comes back to production. Okwara was highly productive across his last two seasons with the Fighting Irish, putting up pass-rushing grades of 86.5 in 2018 and 90.4 last season. He recorded pass-rush win rates of at least 23% both seasons as well. That level of production combined with his athleticism and length makes him intriguing as a pass-rushing specialist at the NFL level and eventual all-around edge defender. He may be undersized, but Okwara is still able to bring power with the bull-rush, one of his go-to moves. 
The Titans need to add some juice to their pass rush. The only Titans edge rusher to record a pressure rate of at least 10% last season was Cameron Wake, and he only rushed the passer 174 times all season. Okwara has shown the ability at Notre Dame to consistently pressure the quarterback out of a two-point stance, making him a natural fit on the Titans defense. There's no reason to believe he couldn't contribute as a rookie in a rotational pass-rushing role at worst. 
Claypool was listed as one of our biggest risers coming out of the combine this past week, thanks in large part to the combination of size, speed and explosiveness he put on display. There is still some question as to whether tight end or wide receiver is his best spot in the NFL, but there should be a spot for him at the next level. There aren't too many players with his physical profile, athleticism and history of production coming out of the collegiate ranks. Claypool racked up over 1,000 receiving yards and 13 receiving touchdowns this past season at Notre Dame to go along with a receiving grade of 82.3. 
Whether it's at tight end or wide receiver, the Redskins could use a player like Claypool. They have needs at both positions, lacking a strong secondary option at receiver opposite rookie sensation Terry McLaurin and in need of a new tight end after the release of Jordan Reed and the retirement of Vernon Davis. Outside of McLaurin, no other player on the Redskins offense had a receiving grade of 70.0 or higher. Obviously, they have a big decision to make at No. 2 overall, but Claypool would be a solid target after that when looking to add talent to their offense.