Before you hit me with 'trust the tape' and tell me that the combine numbers are overrated, let me first explain why I believe this matters. First and foremost, these players are still only facing other college players on their tape. Some guys may not face another player that gets a shot in the NFL all season. Even in the SEC, you might face a few all year worthy of playing in the league. Beating up on them will never quite be the same as doing it in the NFL. We've got a long history of testing data that suggests the guys who are good in college, but well below average athletes tend to struggle in the NFL. On the flip side of the coin, guys who are good in college with elite athleticism, turn out pretty good. This is why the board won't look the same after we get hard and fast numbers on who these guys are.
[Editor's Note: PFF's 2020 NFL Draft Board with updated rankings for the top 150 prospects in the class is available here. Click the link to access the full rankings.]
BIGGEST RISERS
WR/TE Chase Claypool, Notre Dame
The combine can be most impactful for players trying to remake their bodies to play a different position. Claypool not only gained nearly 10 pounds (weighed in at 238), but he also kept the same explosiveness with a 4.42s 40-yard dash and a 40.5-inch vertical. My biggest pre-combine worry was his ability to get off press on the outside and run a full route tree. If he can get defenses to treat him as a tight end, those concerns with Claypool go away to a degree and his natural athleticism can be a weapon.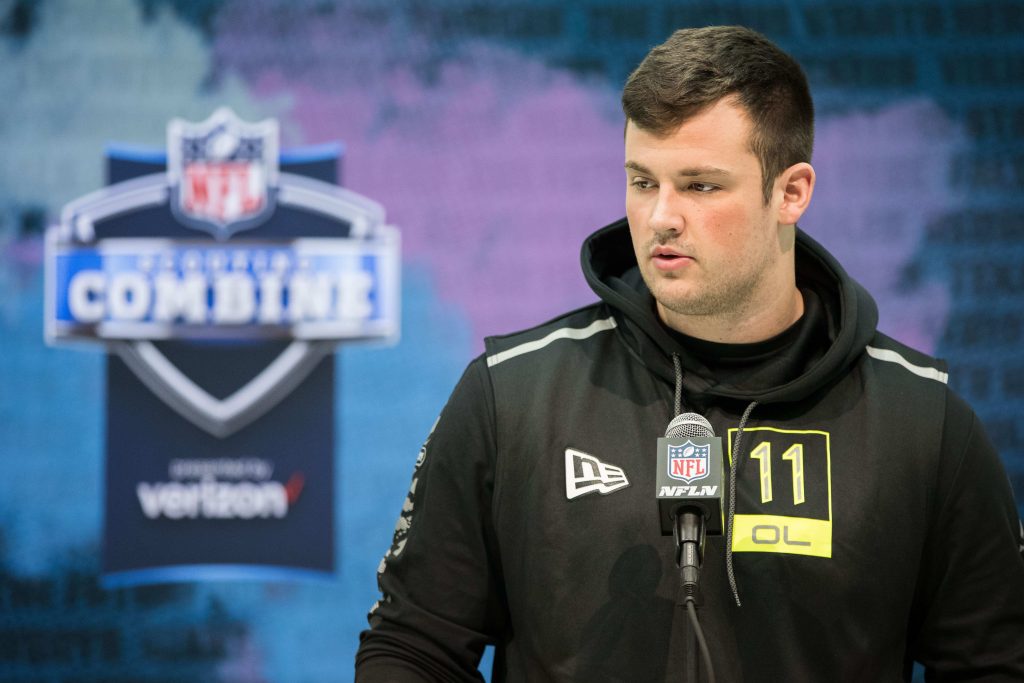 OT Ezra Cleveland, Boise State
Cleveland has had three straight seasons of 80.0-plus pass-blocking grades at Boise State, but the level of competition and how he fared against better pass-rushers was a concern. With his elite movement skills testing though, he proved he has all the mirror ability you could want in the NFL. Cleveland led all offensive linemen in the short shuttle (4.46) and three-cone (7.26) over the weekend. The history of tackles that test at that level in those drills is very encouraging.
BIGGEST FALLERS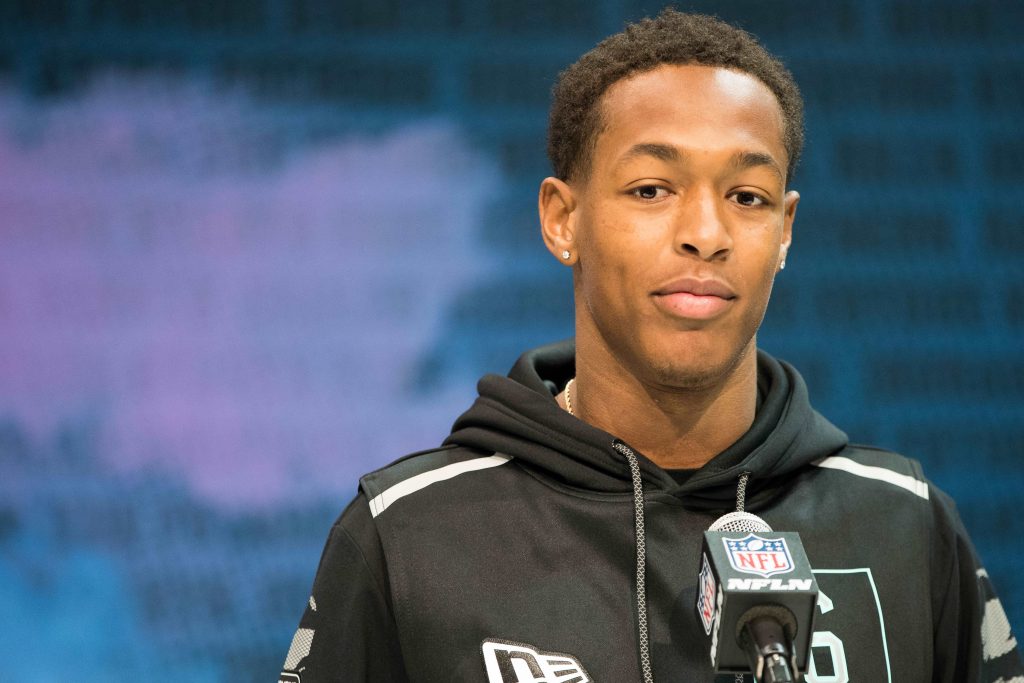 CB Cameron Dantzler, Mississippi State
With Dantzler's playstyle at Mississippi State, it was difficult to get a handle on his speed. Anytime someone went vertical on him, Dantzler got his paws on them and hung on for dear life. That's not feasible with illegal contact in the NFL and his 4.64s 40-yard dash will get far more exposed in the league. Skinny and slow isn't a great combination in the NFL.
OL Calvin Throckmorton, Oregon
While interior offensive line isn't the most athletically driven position, it's concerning that Throckmorton was at or near the bottom in every athletic test in Indy. You're going to want this guy playing in a phone booth, and he's likely a center at the next level. It's just not worth the risk anywhere near the first four rounds with how much of an outlier he is athletically.
TICKED THE BOXES
CB Jeffrey Okudah, Ohio State
The 4.48s 40-yard dash wasn't quite jaw-dropping, but it ticked the box. His 41-inch vertical and 11-3″ broad jump were both tops among all corners in attendance, though. With ideal height (6-foot-1) and length (32 ⅝" arms), Okudah cemented a top-10 spot in the draft.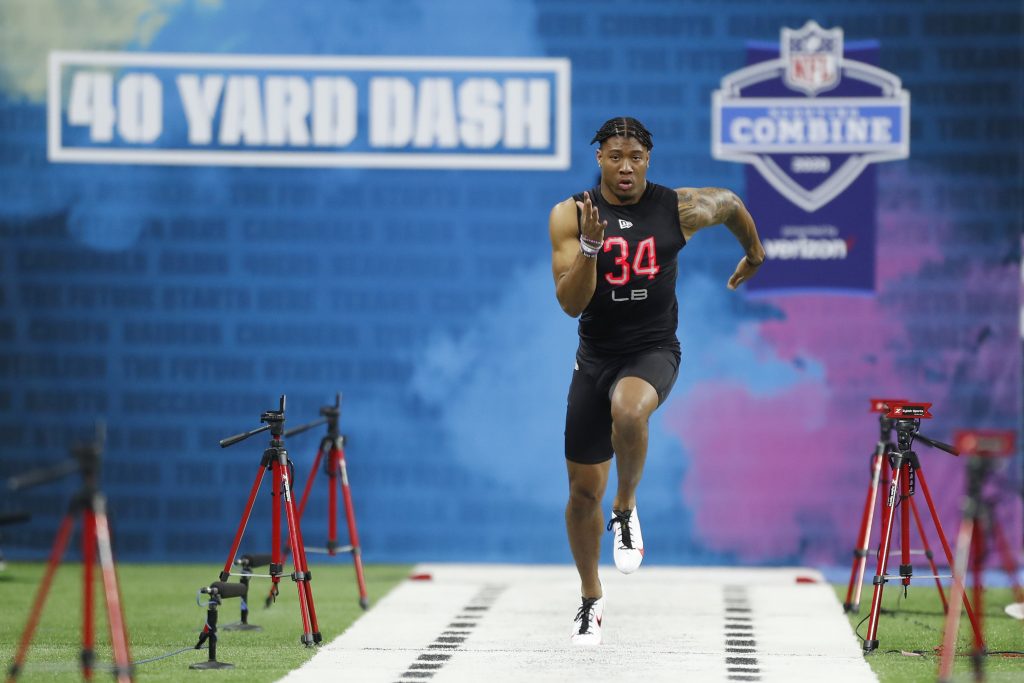 LB Isaiah Simmons, Clemson
The 4.39s 40-yard dash at 238 pounds was nothing short of incredible. His burst is on another level, and it showed with his 39-inch vertical and 11-0″ broad. The positionless tag is well deserved and with testing numbers like that, I'm not sure he couldn't be a cornerback or pass-rusher if he wanted to.
WR Henry Ruggs III, Alabama
The 4.27s 40-yard dash was obviously nice, but we knew he was fast. The 42" vertical showed a little more something that wasn't really his game at Alabama. In a class full of explosive wideouts, Ruggs is in his own tier at the top
OT Tristan Wirfs, Iowa
The first box ticked was Wirfs' 34-inch arms. The second was him setting the combine records with a 36.5" vertical and 10-1 broad jump. The finale was a strong 7.65 three-cone and 4.68 shuttle that firmly planted him as one of the top tackles in the class.
[Editor's Note: PFF's 2020 NFL Draft Board with updated rankings for the top 150 prospects in the class is available here. Click the link to access the full rankings.]