Prospects like Isaiah Simmons come along once in a blue moon. Everyone knows how great he was at Clemson, and he rightly earned top-10 hype before the 2020 NFL Scouting Combine. But no one was quite expecting Simmons to be the highlight of the event with his insane measurables.
At 6-foot-4, 238-pounds with 33 3/8-inch arms, Simmons clocked in at 4.39 in the 40-yard dash, had a vertical of 39.0 inches and a broad jump of 11 feet. 
Although some are overvaluing these measurables just a tad, Simmons is one of the five best non-quarterback prospects in this draft, as stated in PFF's latest big board. Still, throughout the pre-draft process many have questioned how valuable Simmons can really be in the NFL considering he doesn't have a set-in-stone position.
But we must ask ourselves: Is this really a big issue? 
Simmons did everything at a high level for Clemson in 2019 — rushing the passer, defending the run, dropping into coverage — ultimately becoming the most valuable linebacker of the 2019 season. Simmons is the only player among 250 players profiled in PFF's latest 2020 NFL Draft Guide who we didn't bother offering a comp — he's that unique.
Out of every FBS defensive player, only three recorded at least 100 snaps on the line, in the box, in the slot and at free safety: 
| | | | | |
| --- | --- | --- | --- | --- |
| | D-Line | Box | Slot | Free Safety |
| Jacoby Stevens (LSU) | 146 | 295 | 257 | 268 |
| Tyson Williams (Nevada) | 100 | 360 | 164 | 158 |
| Isaiah Simmons (Clemson) | 116 | 299 | 262 | 132 |
At the NFL level, only seven players have played at least 100 snaps at each of these alignments in either of the last two seasons: 
The role Simmons played at Clemson was extremely uncommon to see in college football. It's even rare to see at the NFL level considering the required skills and athleticism necessary to play each position.
Out of the seven players to play such a multifaceted role on an NFL defense, only two really succeeded. Derwin James of the Los Angeles Chargers and Jamal Adams of the New York Jets were the only ones who earned a PFF overall grade above 80.0. Among the three college players, only Simmons was really successful — both Jacoby Stevens and Tyson Williams produced PFF grades below 62.0.
While the measurables and athletic profiles of Simmons, James and Adams are vastly different, playing Simmons in a similar role is the best option. Simmons is too good to be limited to just one role within the defense. Out of every single off-ball linebacker and safety this past season in college football, Simmons was the only player to produce 80.0-plus grades against the run, when rushing the passer, in tackling and when in coverage.
Wherever he was at on the field, Simmons could rush the passer better than most. He could explode through the gap as a linebacker like so:
Or he could come from the outside and assert his dominance on a tackle or pass-protector in the backfield:
This past year, Simmons garnered 30 pressures on his 73 pass-rush reps — the highest rate in the FBS at his position — en route to an 81.1 pass-rush grade. 
Simmons could be slightly better in defending the slot, but considering his size you can't ask for much better. He was tested in the slot more than most "linebackers," and he still ended up producing one of the 10 best coverage grades and fourth highest by a Power-5 "linebacker" when in the slot. On his 138 coverage snaps in the slot, Simmons surrendered just one explosive play of 15-plus yards while forcing four incompletions and intercepting one pass.
While he gave up around a yard per coverage snap in the slot, most of his yards surrendered were schemed — you will rarely see someone of Simmons' stature be as good one-on-one. Regardless of alignment, Simmons could hang with any wide receiver he faced. In fact, on his 28 targets in coverage against wide receivers, Simmons forced an incompletion on 21.4% of those targets with three interceptions while allowing just 10 first downs.
When in the box, Simmons' coverage ability was again better than most "linebackers." Whether he was picking up a tight end inline, a running back in the backfield or receiver in the slot, Simmons won.
He ended up allowing a minimal 67 yards on his 130 coverage snaps with just two first downs while forcing two incompletions and picking off one. He can also close on underneath routes exceptionally well with his sharp instincts. In 2019, Simmons had eight such defensive stops (e.g. tackle that constitutes as a loss for the offense), with three of those being a tackle for loss. 
Perhaps Simmons' greatest attribute in coverage is his range when playing free safety. He can make plays all over the field when deep, whether he is playing single- or two-high. When playing free safety in 2019, Simmons was responsible for only 25 yards on 87 coverage snaps with one interception and one forced incompletion. This game-changing play he made late in the third quarter against Ohio State in the College Football Playoff Semifinal is a prime example of the damage Simmons can do at free safety: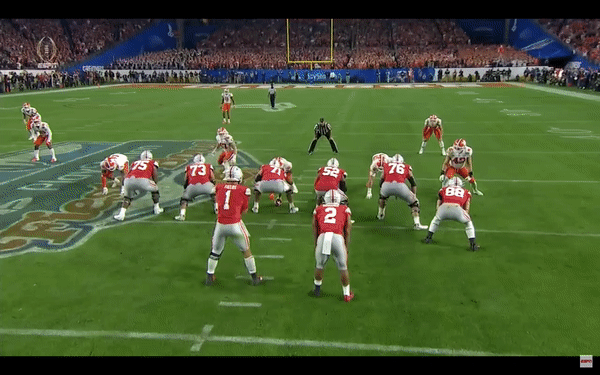 Playing deep over the middle, Simmons reads Justin Fields like a child's book and makes an impressive play on the ball.
Simmons is a Swiss Army knife — like Derwin James and Jamal Adams — but, again, he has a far different physical profile as those two. Although we can't comp Simmons to those two, teams should use him like these dynamic defensive weapons and prosper.