NFL Draft season is nearly upon us. And with that comes the PFF NFL Draft Guide, which comes loaded with scouting reports and advanced data on the class' top draft prospects.
Very few draft prospects are perfect and come with a collection of pros and cons, crucial evaluation points when it comes to projecting the players to the NFL.
Here are the pros and cons for PFF's top five safeties.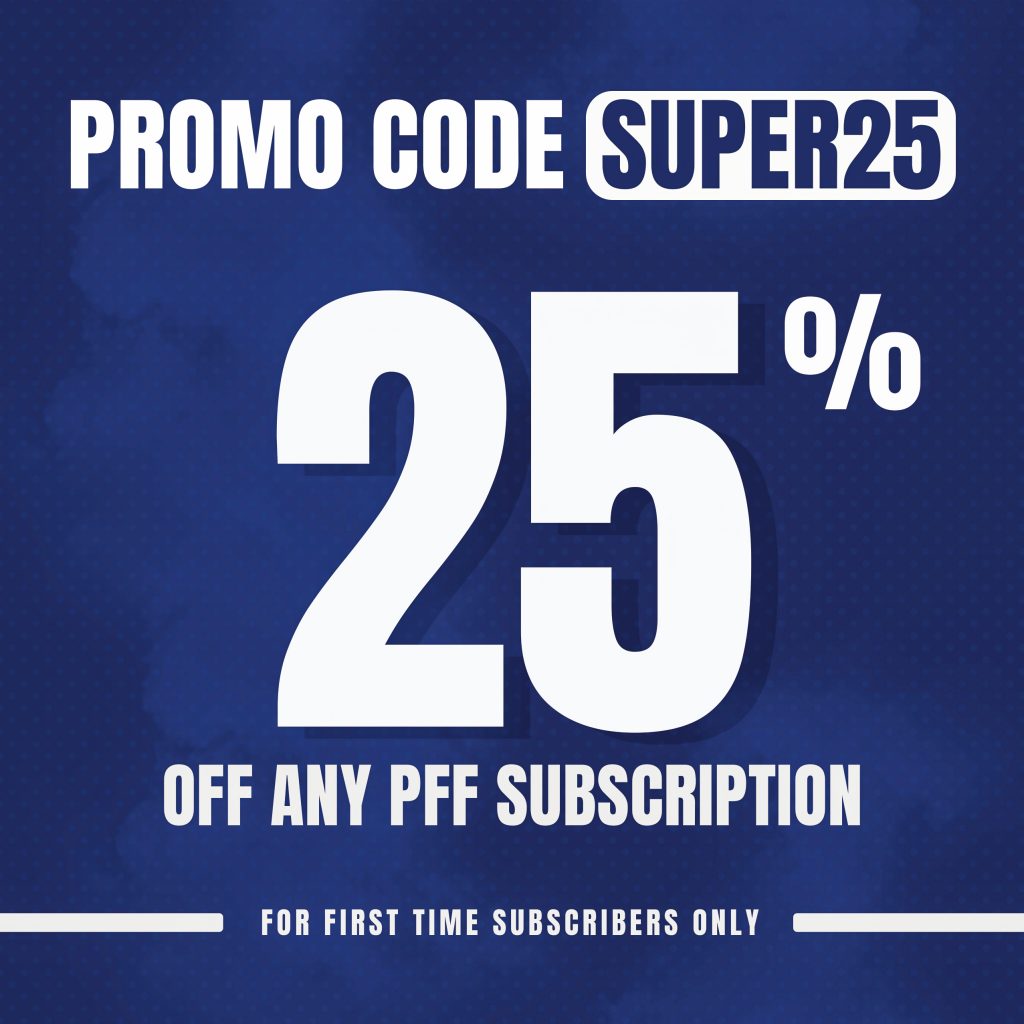 Click here for more PFF tools:
Rankings & Projections | WR/CB Matchup Chart | NFL & NCAA Betting Dashboards | NFL Player Props Tool | NFL & NCAA Power Rankings
Best Bets Tool
---
PROS:
Hamilton has an unheard-of frame for a safety at 6-foot-4, 220 pounds. He's made to erase tight ends.
He has a high-level range on the back end. He can go from sideline to sideline.
The former Notre Dame star has consistent ball production with tremendous work at the catch point.
CONS:
His short-area quickness is just OK. It's hard to get moving at his size.
Hamilton has come in high on numerous occasions and been flagged for it.
A knee injury against USC cut his 2021 season short.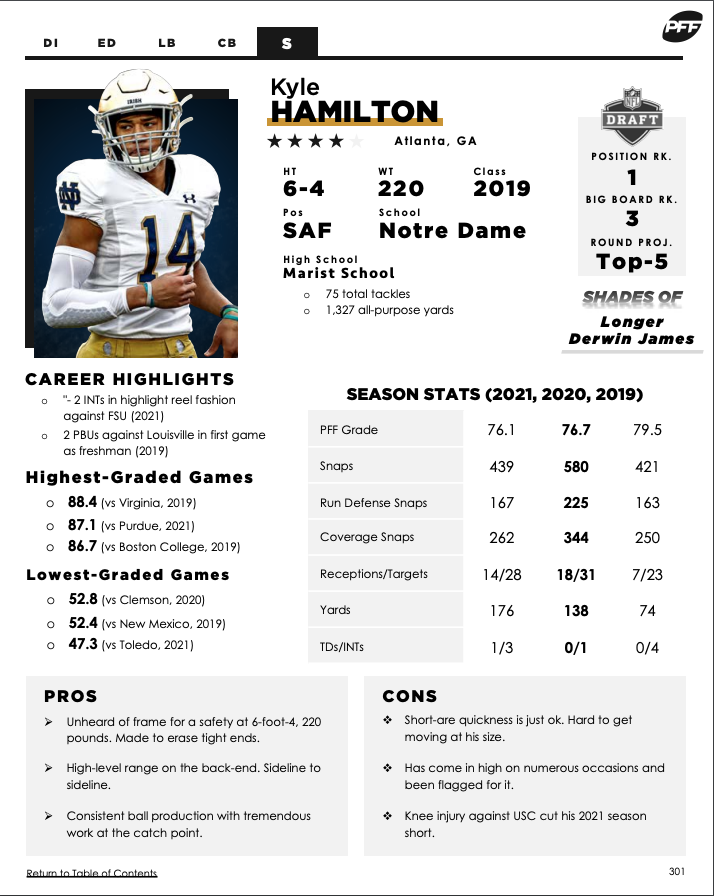 PROS:
The national champion is so good at reading route stems and anticipating breaks.
He's a well-put-together safety and an outstanding tackler.
He has some gorgeous speed turns from deep safety and is quick to relocate receivers in route.
CONS:
He has adequate speed, but there's nothing special about his range or closing speed.
Cine gets caught flat-footed and tall in space, which limits his ability to break on passes.
He has limited pure-man coverage skills — much better when he has a cushion.
---
2022 NFL Draft position rankings:
Top 10 players at every position
QB | RB | WR | TE | iOL | OT | DI | EDGE | LB | CB | S
---
PROS:
Brisker adds on to the run game with an uncoachable will and is a tremendous run defender.
He is an explosive athlete who stops ball carriers in their tracks as a tackler.
He has a nose for the football. He was everywhere for Penn State last season.
CONS:
He gets caught peeking into the backfield in coverage and can lose responsibility.
He's primarily used in a box role that didn't vary his coverage responsibility much.
Brisker is a different player going backward than forward. His hips are nothing special.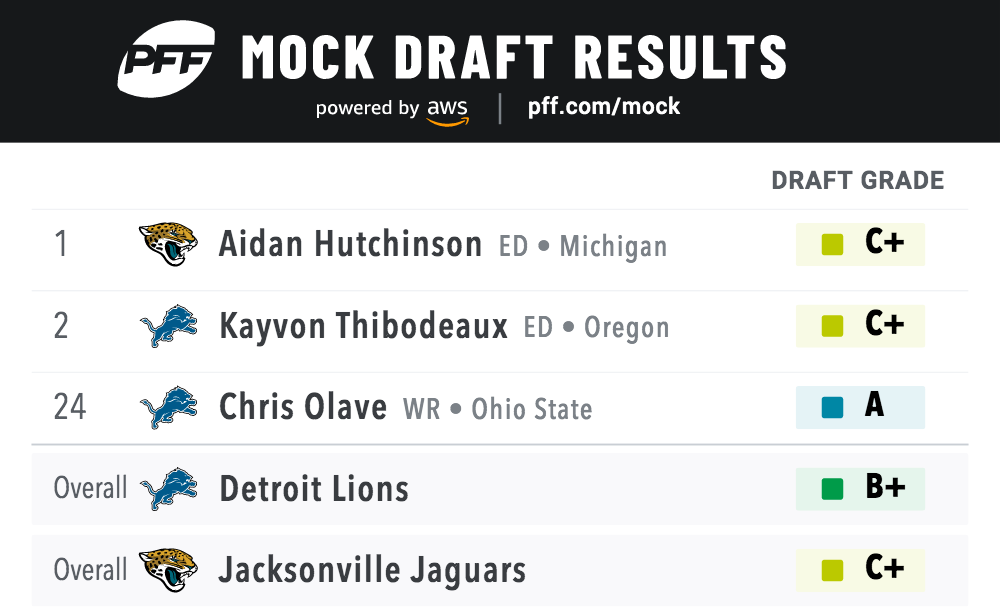 PROS:
He glides when he runs and can flip his hips like it's nothing.
He also has ball skills akin to a wide receiver. He made some spectacular plays on the football.
Joseph is a fantastic tackler and thrives as a gunner on special teams.
CONS:
He couldn't lock down a starting spot at Illinois until his senior year.
His range is lacking. He doesn't cover ground the way teams want from a deep safety.
He's a little rough around the edges due to his lack of experience. You can see his brain working on the fly.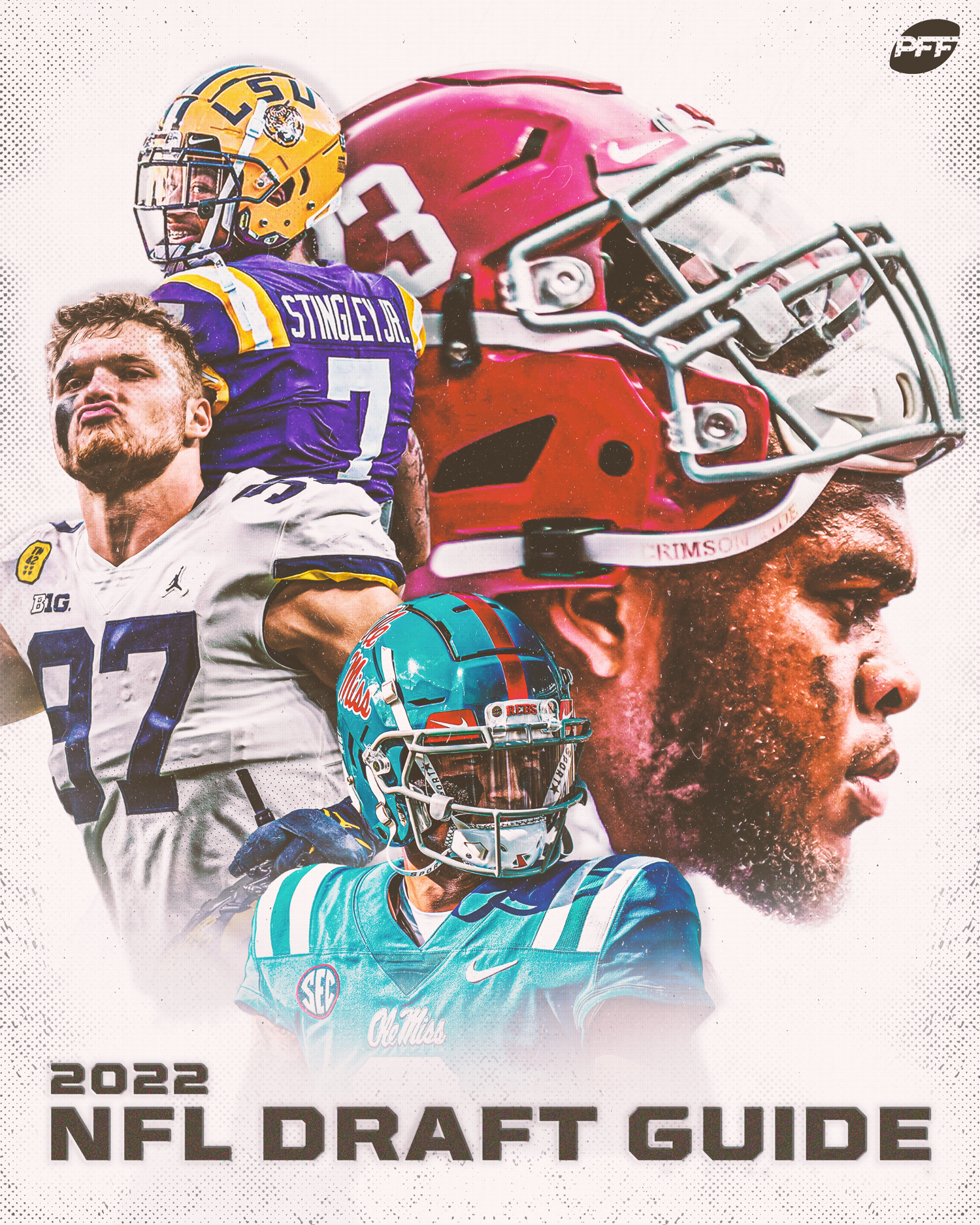 PROS:
McKinley has elite ball production, with 10 interceptions and nine pass breakups in the last two full seasons.
He trusts what he sees — there's no hesitation when he jumps routes.
The former Duck has no fear when attacking downhill to the catch point. He has numerous breakups from behind.
CONS:
He's very skinny for a safety and is built more like a cornerback.
His tackling form is all over the map. he can be high one play but on the ground the next.
He's not particularly interested in taking on blocks — not a box player.