NFL Draft season is nearly upon us. And with that comes the PFF NFL Draft Guide, which comes loaded with scouting reports and advanced data on the class' top draft prospects.
Very few draft prospects are perfect and come with a collection of pros and cons, crucial evaluation points when it comes to projecting the players to the NFL.
Here are the pros and cons for PFF's top five quarterbacks.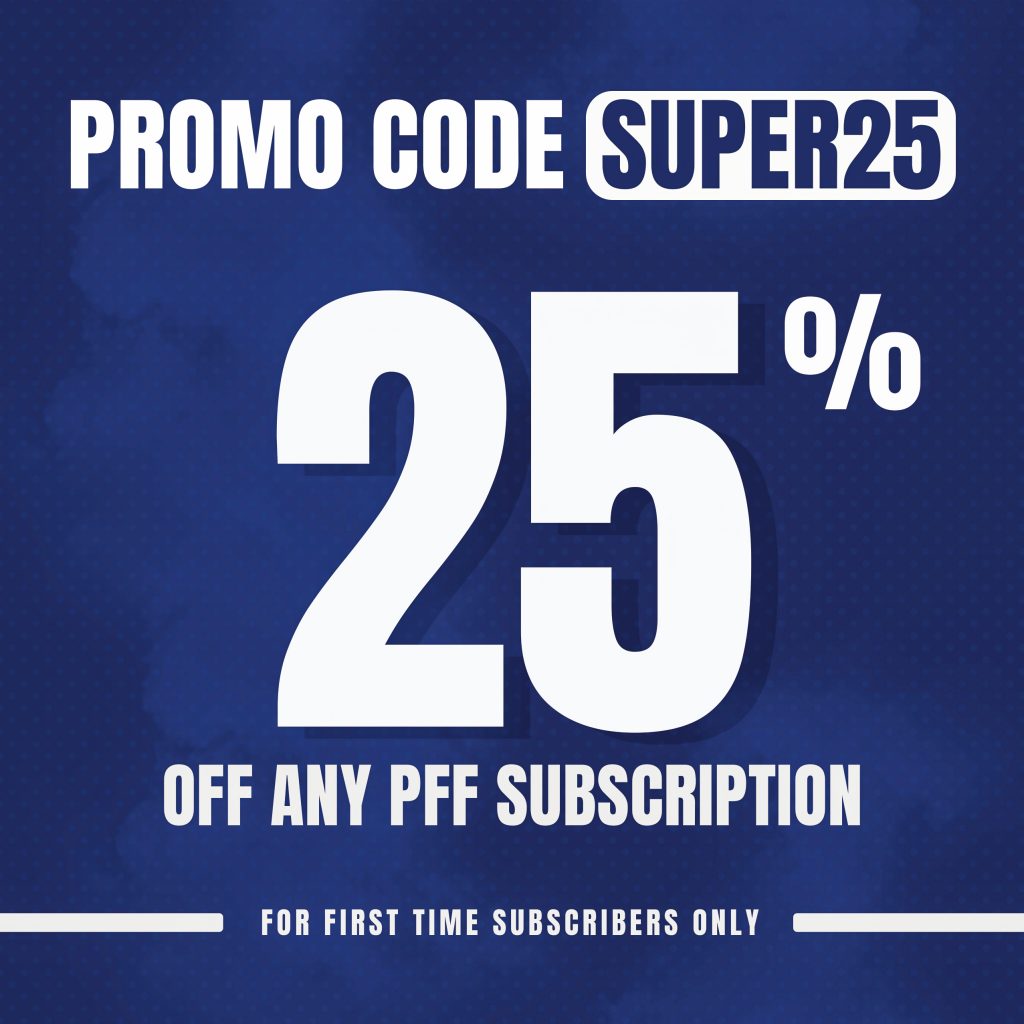 Click here for more PFF tools:
Rankings & Projections | WR/CB Matchup Chart | NFL & NCAA Betting Dashboards | NFL Player Props Tool | NFL & NCAA Power Rankings
Best Bets Tool
---
PROS:
Howell has arm talent for days. He has been an elite deep-ball thrower over course of his career.
The former Tar Heel is light on his feet in the pocket. He can make subtle and not-so-subtle moves to buy time.
He has a thick build. Howell shrugs off defenders with relative ease and broke 65 tackles in 2021.
CONS:
His passing game could be described as "one and run." His first instinct is to drop his eyes and bolt.
The former UNC signal-caller inexplicably turns down open receivers too often. He doesn't have enough anticipatory throws.
The UNC offense was almost all RPOs and go-balls, both of which he led the nation in.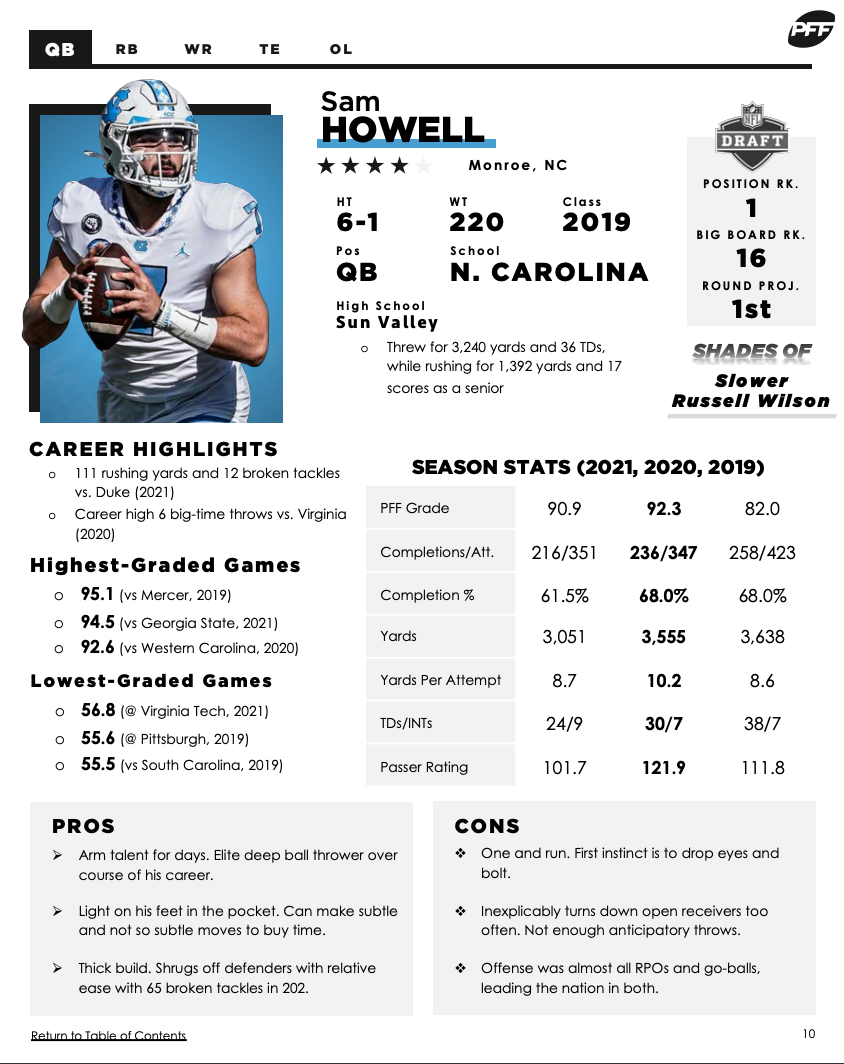 PROS:
Ridder is a quick processor. In fact, he might be the best in the class in this regard. He already mentally plays at an NFL speed.
He has straight-line gas in the open field. Ridder is a big-play threat as a runner if he is unaccounted for.
Coaches rave about his work ethic and leadership. The former Bearcat has improved his weaknesses every year.
CONS:
Ridder has a slightly elongated throwing motion. There is a little dip in his cocking phase.
Thin frame. He's not as elusive as others, which has led to high sack conversion rates.
Ridder has beat up on bad competition. Additionally, he had a 70.6 passing grade against Power Five schools the last two years.
---
2022 NFL Draft position rankings:
Top 10 players at every position
QB | RB | WR | TE | iOL | OT | DI | EDGE | LB | CB | S
---
PROS:
Corral is an athlete who happens to play quarterback. His mobility is a big plus.
The former Ole Miss QB has a compact motion — he generates serious torque during his throwing motion.
He stands tall in the pocket and rips from a consistent base. He is accurate to all levels.
CONS:
He has a slim frame and is listed at 205 pounds. Plus, he dealt with multiple injuries in 2021.
There's not much throw shaping on his tape — lasers only.
Corral looks like a different quarterback and lacks confidence when he's forced past the first read.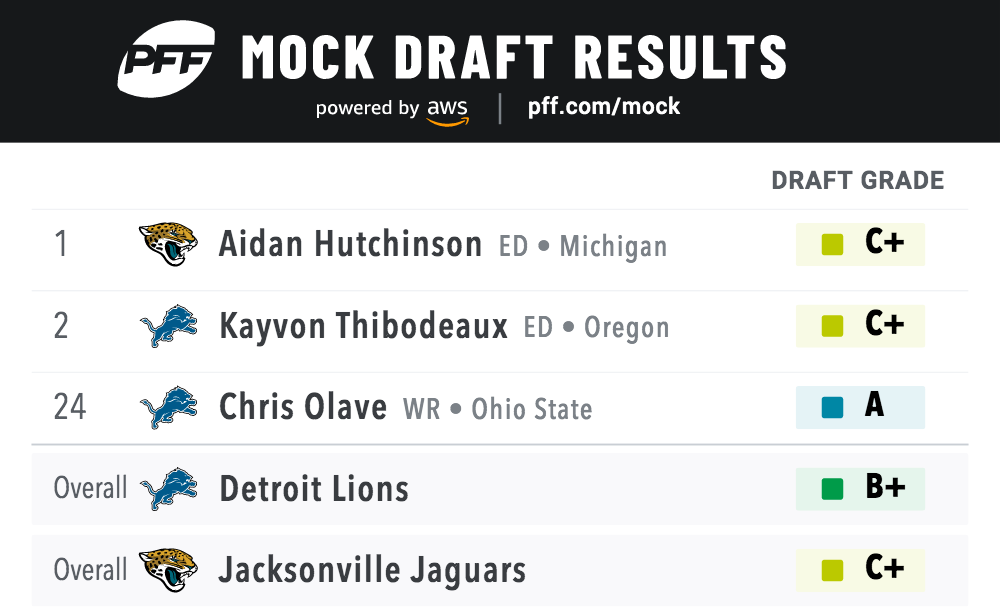 PROS:
Pickett's accuracy on the move is a big plus. He is pinpoint accurate outside the pocket.
He can sting a far-hash out-route with ease. He also has obvious arm talent from the pocket and on the move.
The 2021 Heisman finalist is mobile but always has his eyes downfield. He is terrific at creating space to work.
CONS:
Pickett holds the ball until the bitter end. He has the second-highest time to throw in the country.
The quarterback has a bad habit of throwing off his back foot. It's worrisome how often he does so on vertical shots.
Pickett is a one-year wonder. He's had one of the biggest single-season grading leaps we've seen during his fifth year.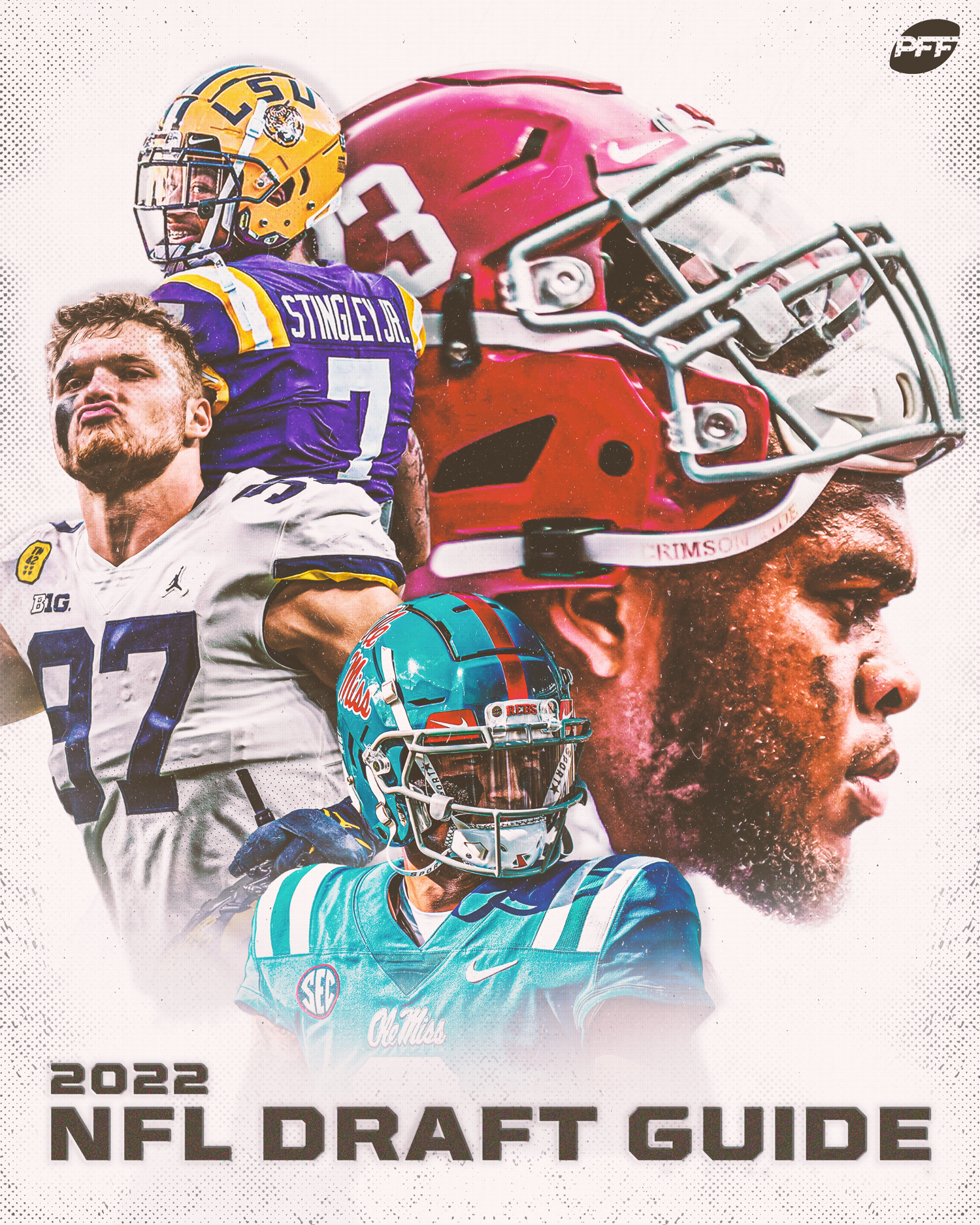 PROS:
Strong has a gorgeous, tight spiral, which is paired with a quick release. This the ideal combo for NFL windows.
His arm talent opens the entire field. He had five 50-plus-yard completions — the most in the FBS.
The Wolfpack offense was entirely on his right arm. He had 50-plus dropbacks in six straight games.
CONS:
The former Nevada signal-caller has serious knee problems — Osteochondritis dissecans. This could possibly be career-threatening.
Strong is like a statue — no escapability. He has broken just six total tackles in his career.
He could be described as a pocket-drifter. He's too quick to eliminate options while drifting from non-existent pressure.