NFL Draft season is nearly upon us. And with that comes the PFF NFL Draft Guide, which comes loaded with scouting reports and advanced data on the class' top draft prospects.
Very few draft prospects are perfect and come with a collection of pros and cons, crucial evaluation points when it comes to projecting the players to the NFL.
Here are the pros and cons for PFF's top five edge defenders.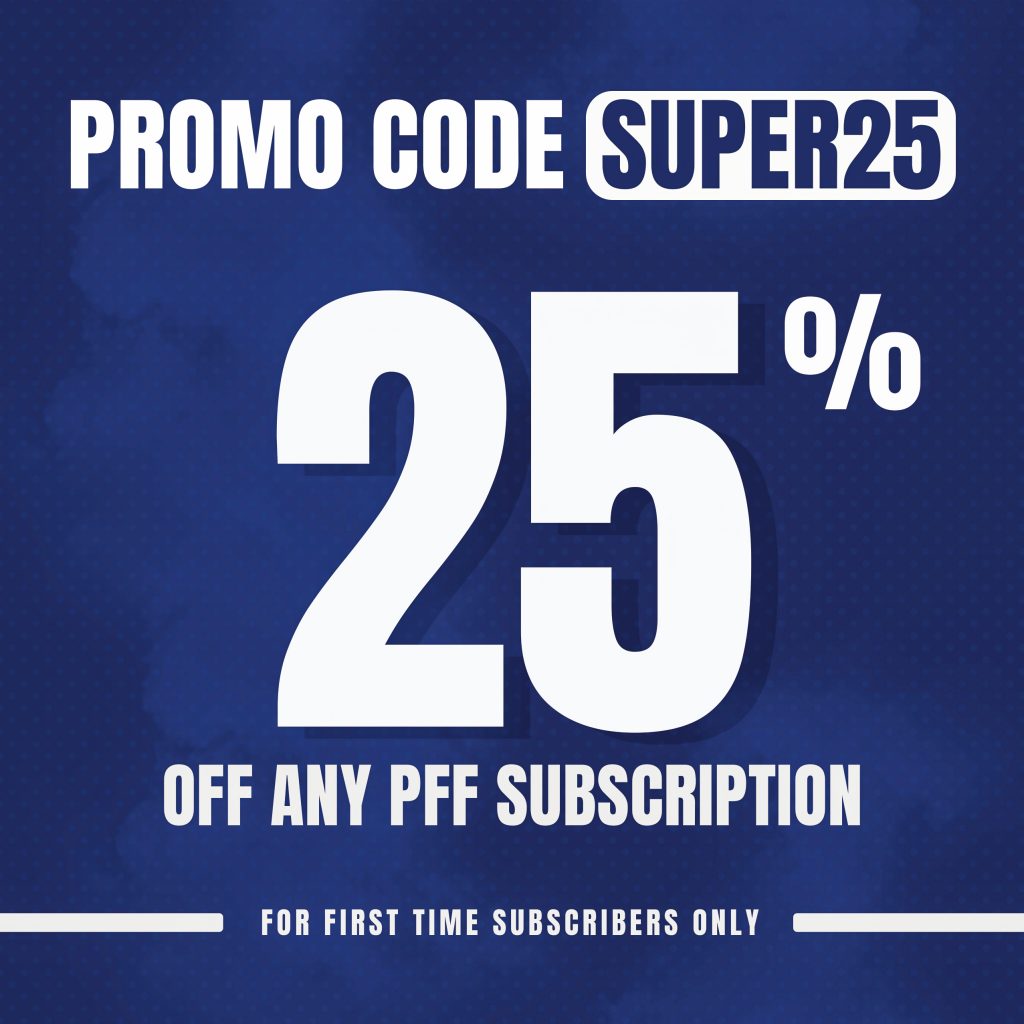 Click here for more PFF tools:
Rankings & Projections | WR/CB Matchup Chart | NFL & NCAA Betting Dashboards | NFL Player Props Tool | NFL & NCAA Power Rankings
Best Bets Tool
---
PROS:
The former Wolverine has explosiveness and strength throughout his frame. He dictates interactions.
He has stupid-good agility for a man his size. His inside counters are deadly.
He is able to sequence one move into another. He's never "done" as a pass-rusher.
CONS:
Hutchinson's length is poor for his height and below average for the position.
He's a little herky-jerky as a pass-rusher. He doesn't always look pretty.
The 2021 Heisman finalist is a late bloomer. He was a fringe first-rounder before his senior season.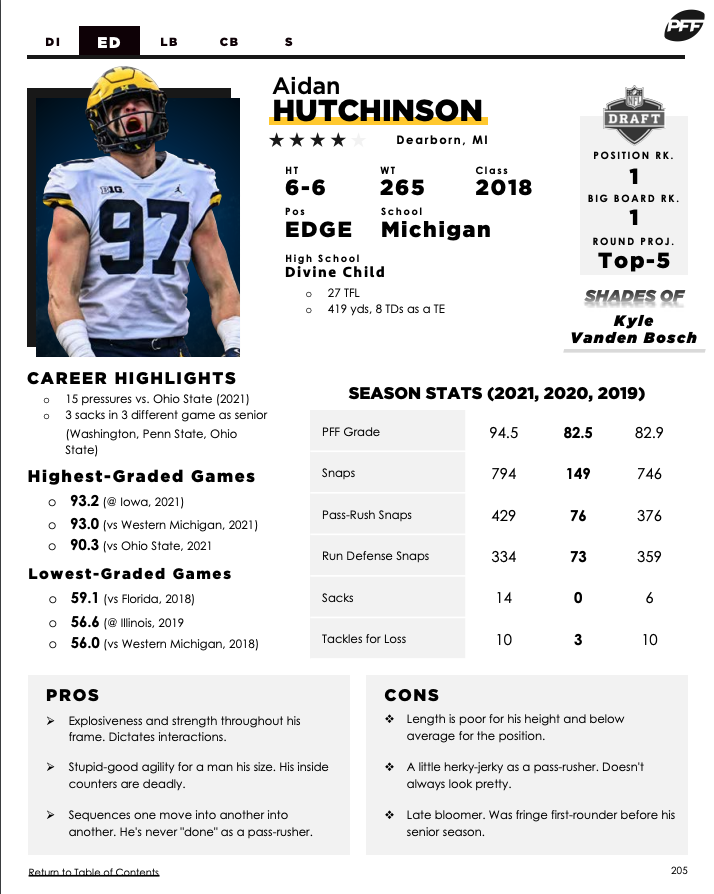 PROS:
Thibodeaux has an unreal first step. Players who get off that fast are usually 20 pounds lighter.
His frame is made to play edge in the NFL. He has broad shoulders and an ideal length.
The former Oregon standout is flexible and bendy around the edge. He is also great at cornering.
CONS:
His pass-rush plan is lacking. There are some reps where there's not even a move to speak of.
Sometimes, he can focus too intently on blockers and lose sight of ball carriers in the run game.
Thibodeaux's timing with his hands as a pass-rusher is very inconsistent.
---
2022 NFL Draft position rankings:
Top 10 players at every position
QB | RB | WR | TE | iOL | OT | DI | EDGE | LB | CB | S
---
PROS:
Karlaftis has a devastating bull-rush. There is so much power through his lower half.
His versatility is a massive plus. He can legitimately line up inside full-time.
The former Boilermaker has a bowling-ball type frame. He has some serious thump to him.
CONS:
He can get too cute at times. He tries to be a speed rusher despite weighing 275 pounds.
His length is below average for the position, which is not ideal for a bull-rusher.
He can get locked up in the run game and can be sluggish to shake hands off him.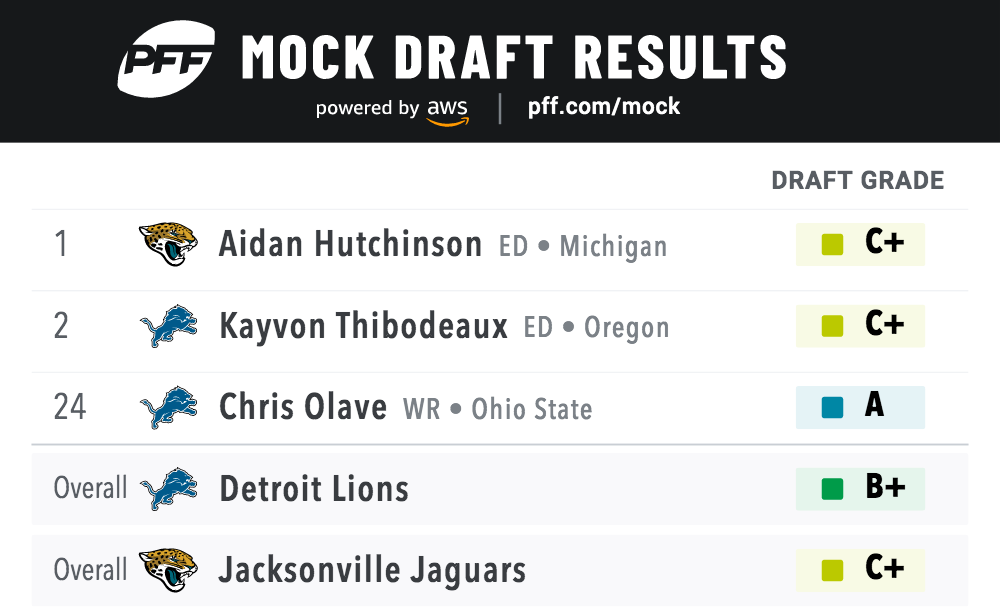 PROS:
Ojabo has the traits of a good edge rusher. His length, explosiveness and bend are all there.
He already knows how to adjust his pass-rush plan on the fly. He doesn't just predetermine moves.
He played football for less than five years. He grew up playing soccer in Scotland.
CONS:
He is a liability in the run game at the moment. He didn't even play run downs against Georgia.
You can still see him thinking out there on the field. There is a lag time in his move sequencing.
Ojabo is all speed-rush. There's no semblance of power or bullrush to his game.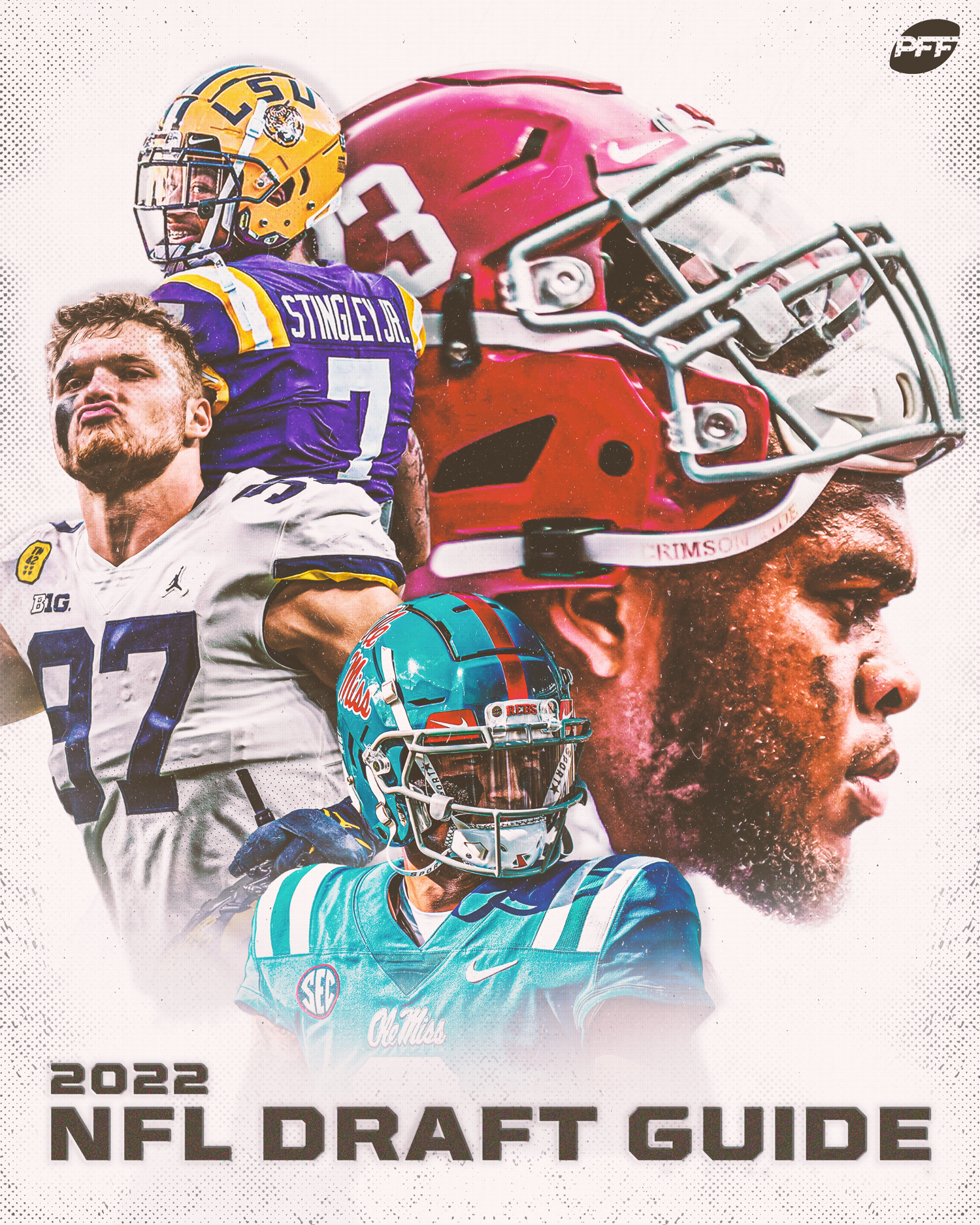 PROS:
Ebiketie has active and powerful hands. He's very good at stopping tackles from getting in his frame.
He consistently brings a pass-rush plan. He's adept at approaching angles and setting up tackles.
There are a number of ways in his repertoire to win the edge.
CONS:
Ebiketie has a below-average get-off by NFL standards. It's not where he wins.
He is a middling power player and doesn't show pure bull-rushing prowess.
The former Nittany Lion is an extremely late breakout. He didn't play a full season until his fifth year.