• Young, Stroud, Richardson and Levis go Nos. 1, 2, 3 and 4: Quarterback is the most valuable position in football, and that's reflected early in this mock draft.
• Seattle steals Alabama's Will Anderson Jr.: The early run on quarterbacks, combined with the Cardinals trading down, allows Seattle to draft arguably the best non-quarterback in the class.
• Jaguars add Brian Branch at No. 24: The sliding Branch makes it to Jacksonville's pick and boosts their secondary with his positional flexibility.
Estimated Reading Time: 15 mins
---
With fewer than 10 days until the Carolina Panthers are on the clock with the first overall selection in the 2023 NFL Draft, we wanted to run through an exercise we've done in the past. This is not a predictive mock draft, but a mock draft that exclusively follows "analytical" thinking by viewing positional value through two lenses: on-field value and surplus value compared to the veteran marketplace.
Each pick in this mock draft was made by factoring in a player's statistics and grading from college, along with the value of the player's natural position. While taking one of the best running back prospects we've seen in quite some time in the top 10 may seem fun, it isn't the best allocation of resources given the depth at the position in this year's draft.
When looking at team needs, we made sure to consider the long-term outlook of how the player fits in a roster, not just their impact in 2023. Expiring contracts, age in the position group and overall skill level in the group were all part of the process when mocking each player to their respective teams.
With all that said, let's mock.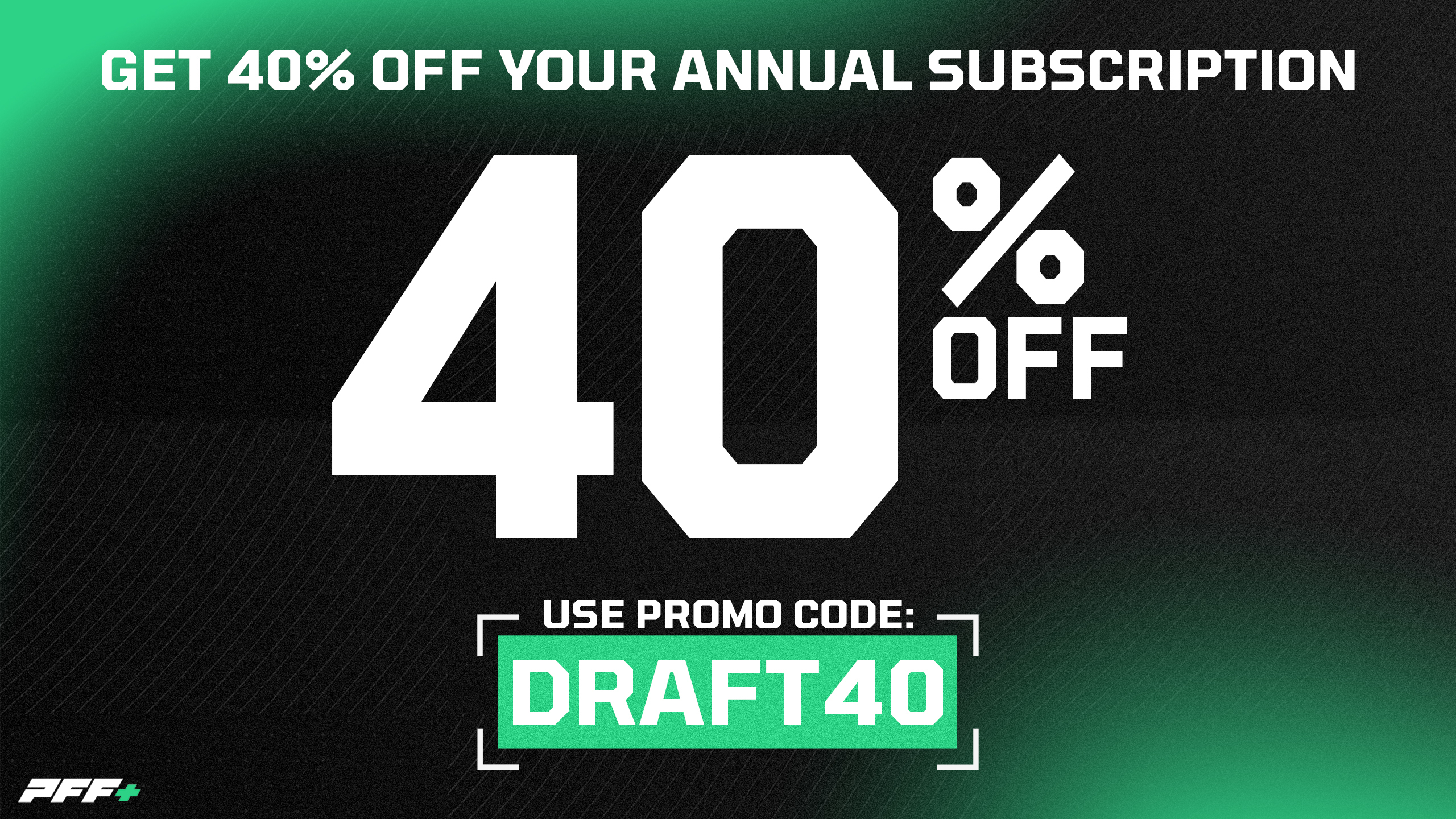 ---
Young is the consensus best quarterback in this draft and, per Benjamin Robinson's Grinding the Mocks App, is also projected to be the first player selected. He finished as a top-10 graded quarterback in back-to-back years despite playing in the uber-tough SEC conference and losing multiple starters to the NFL from 2021 to 2022.
---
After a lot of early steam for Stroud to go No. 1 overall following the Panthers trading up with the Chicago Bears, Stroud's stock has fallen back down to earth. While there are reasons for concern with his ability to produce outside of structure — and the context of his elite supporting cast always complicates his evaluation — he was charted as accurate on 68.2% of passes thrown over the past two seasons, second in the FBS.
---
The Raiders are currently in a division with Patrick Mahomes and Justin Herbert, which means they need a quarterback of that caliber to compete in the long term. As PFF's Timo Riske outlined, Richardson has the goods to develop once he hits the NFL and become an elite quarterback based on his physical tools. Going to a team where he can sit a year behind Jimmy Garoppolo and be mentored, similar to Trey Lance, would be a good landing spot.
---
Will Levis seems like the quarterback at the center of the widest range of opinions in the public sphere. But the Colts desperately need to find a franchise signal-caller and can't afford to wait another year for that to happen. Given the surplus value of taking a quarterback over a non-quarterback in this spot, Levis makes the most sense for the Colts and gives new head coach Shane Steichen another big-armed passer, similar to what he had in Los Angeles with Justin Herbert.
---
Anderson seems like this year's prospect that was so good so early on at the college level that we've begun to have hype fatigue, overanalyzing every little aspect of his profile. While there are reportedly teams with concerns about how exactly to deploy Anderson, a good organization should be able to figure it out.
Anderson ranked 14th in pressure rate on true pass sets (22.9%) among edge defenders in 2022, and his continued high-level success was important as a player who received maximum attention from offenses given how much he'd already proven in his college career.
---
Off-field concerns notwithstanding, Carter would likely be the first non-quarterback taken in the draft with zero hesitation. Over the past two seasons among FBS interior defenders, Carter ranks fifth in pass-rush win rate on true pass sets (23.2%) and fourth in pressure percentage (19.6%). The Lions added two starting-caliber outside cornerbacks in free agency, so here they address arguably their biggest remaining weakness.
---
The Cardinals lost their top cornerback Byron Murphy Jr. this offseason and didn't do anything to replace him. Gonzalez has all the physical tools to be a great cornerback in the NFL and would fit well in new head coach Jonathan Gannon's zone-heavy scheme that he'll likely employ in Arizona. Gannon also comes from teams that have drafted cornerbacks early in the draft, such as Minnesota with Trae Waynes and Indianapolis with Rock Ya-Sin.
---
Atlanta has overhauled its defense this offseason, which makes sense considering the unit ranked 30th in expected points allowed per play in 2022. One area still in need of reinforcements is edge defender.
Atlanta has typically added smaller edge players than the 6-foot-6, 271-pound Wilson, but he offers inside-outside flexibility, and adding a power rusher to a group of more finesse-type players could be smart. You simply cannot be successful against the pass in today's NFL with your edge defenders winning on fewer than 15% of pass-rush reps. The Falcons ranked dead last in the NFL at 14.7% in 2022 and pressured the quarterback on just 12.3% of rushes — also last.
Wilson ranked 17th in pass-rush win rate on true pass sets among FBS edge defenders (29.9%) and 16th in pressure percentage (22.4%). He should also be a solid run defender right out of the gate, with his massive frame allowing him to control the point of attack.
---
The Chicago Bears already made the most important move they could this offseason: acquiring a true No. 1 wide receiver in D.J. Moore for quarterback Justin Fields. In free agency, they largely focused their efforts on improving the defensive front seven.
Unless Jalen Carter is still on the board, the Bears should pivot back to offense with their first pick and reunite Fields with tackle Paris Johnson Jr., who allowed a 4.4% pressure rate on true pass sets in 2022, good for 20th in the FBS despite it being his first year starting at left tackle. Johnson played right tackle in 2021, which is where Chicago has its biggest hole along the offensive line. The Bears also deploy the popularized outside-zone-based rushing attack, and Johnson's 85.5 run-blocking grade on outside-zone runs in 2022 ranked sixth among FBS tackles.
---
The tough part with this selection in an "analytics mock" is that it relies on Skoronski being able to play tackle at the next level. In his final season at Northwestern, the short-armed Skoronski allowed a 1.3% quarterback pressure rate, the third-best mark in the FBS going against quality Big Ten edge defenders. If Skoronski cannot hold up as a left tackle at the NFL level, could he perhaps play right guard next to future Hall of Fame right tackle Lane Johnson and then get a shot to take over his job at right tackle?
While the value of a guard in the top 10 is debatable, no longer should right tackle be viewed as significantly less valuable than left tackle; if anything, there is a marginal difference between the two positions.

It seems easy to forget because he missed the entire 2022 season to injury, but Smith-Njigba was one of the best wide receivers in all of college football in 2022. His 91.7 PFF grade ranked second at the position, and he led a wide receiver room with two future top-12 picks in Garrett Wilson and Chris Olave. The Titans could use an offensive lineman here, but with Skoronski and Johnson off the board, Smith-Njigba makes sense and adds another body to a wide receiver room that desperately needs more star power.
---
Van Ness' snap sample size was fairly small at Iowa, but for a good reason: Iowa typically lets its older players get more run, and the redshirt sophomore will be 21 years old on draft night. When we did get to see Van Ness, he displayed a lot of power and really impressive bend around the edge for someone who measured in at 6-foot-5 and 272 pounds. In 2022, Van Ness ranked 12th among FBS edge defenders in pass-rush win rate on true pass sets (31.7%) and fourth in pressure percentage (27.7%).
Houston needs to get after the quarterback more consistently, and after the team lost Ogbonnia Okoronkwo to the Browns in free agency, Van Ness would serve as a capable replacement.
---
There is nothing wrong with continuing to invest resources at premium positions. In fact, in many ways, we could argue teams don't do enough of it — especially at quarterback. Jones requires some continued growth at setting his anchor and not succumbing to bull rushes so frequently but is a remarkable athlete in space. He allowed only a 2.3% pressure rate on true pass sets in 2022, ranking 10th among FBS tackles.
---
Witherspoon is regarded as the best man cornerback in this draft class, recording an elite 92.5 PFF coverage grade this past year (first in the FBS). Given Bill Belichick's man-heavy scheme, Witherspoon would be a great fit if he falls to No. 14. Even though the Patriots found a couple of gems in the draft at cornerback last year, they're still missing a true shutdown CB1 like they had with Stephon Gilmore and JC Jackson. Witherspoon can be that.
---
One could certainly argue that Green Bay should take a pass catcher here, but with Rashan Gary tearing his ACL to close out the 2022 season, the Packers' pass rush took a major hit.
Over the past two seasons, Smith is one of just five Power Five edge defenders to earn 80.0-plus grades as a pass rusher and a run defender, with his 91.3 run-defense grade the top mark in the entire FBS.
---
Ron Rivera has never taken a cornerback in the first round as the head coach of a team, but this is a great year to do so given the state of Washington's roster and the strength of this year's cornerback class. The Commanders are currently projected to have Benjamin St-Juste and Kendall Fuller starting on the outside, which doesn't elicit a ton of confidence. Getting a true CB1 would be the best pick for them, adding resources to a secondary that has struggled in recent years.
---
The Steelers may have found their franchise quarterback in Kenny Pickett, but now they need to surround him with pieces to allow him to develop and succeed. Taking Darnell Wright, the best remaining offensive lineman on the board, would be a huge boost in that department, as he would replace Dan Moore Jr. at left tackle and give Pickett a solid line to throw behind.
---
The Lions traded away Jeff Okudah to the Falcons and now need a new starting cornerback for Aaron Glenn's scheme. Banks is the best cornerback on the board and would be a good addition to Detroit's secondary with his frame and athleticism. This would probably cause one of Cam Sutton or Emmanuel Moseley to kick inside to play slot cornerback, given that Banks primarily was an outside cornerback in his time at Maryland. Regardless, Banks' addition would give the Lions their best secondary in a while.
---
The Bucs recently signed Matt Feiler, but he projects more as a guard, especially since they traded away Shaq Mason and Feiler played his past two seasons at left guard with the Chargers. Tampa Bay still needs to find a tackle opposite of Tristan Wirfs, and with Harrison still on the board, this pairing makes sense. This would also allow Wirfs to remain on the right side of the line, given that Harrison played left tackle since he was a true freshman at Oklahoma.
---
The Seahawks have done well to provide Geno Smith with offensive weapons while building up their offensive line, but they're still lacking a quality third wideout. Zay Flowers is similar to Tyler Lockett in terms of his frame, but different in the way they operate. While Lockett is notorious for not generating many yards after the catch, Flowers ranked 16th in college football in that category last year and would give the Seahawks a horizontal element to their offense.
---
The Chargers will likely use the 21st pick to address depth, given they have most of their starting roles filled. They currently have Chris Rumph II as EDGE3, and one of Joey Bosa or Khalil Mack will likely be released next season due to their cap hits. With Murphy still on the board, and him fitting the athletic thresholds the Chargers have historically had under general manager Tom Telesco, this would be a good pick for Los Angeles.
---
The Ravens signing Odell Beckham Jr. doesn't completely remove them from the wide receiver sweepstakes in the draft, but it does minimize the need. Here, they choose to upgrade over projected starting cornerback Brandon Stephens by taking Emmanuel Forbes. He improved upon his PFF grades in each of the past three years and recorded the 16th-best PFF grade in college football in 2022.
---
After releasing Adam Thielen in the offseason, the Vikings need to find a wide receiver opposite Justin Jefferson. Johnston makes the most sense of the remaining receivers and offers more downfield and after-the-catch ability than Jordan Addison. Johnston's 8.9 yards after the catch per reception in 2022 ranked 10th among FBS receivers.
---
Branch doesn't really have an assigned position. He fits in as a box safety or a slot cornerback at the next level, which is where he would be projected to play for the Jaguars. Currently, Tre Herndon is projected to start for the Jaguars in that role, but Branch would likely take over from Day 1. The Alabama product also brings the flexibility to move back to safety, if necessary, throughout the season or later in his career.
---
The Giants could really use a cornerback here to play in Wink Martindale's blitz-heavy scheme, but because of the run on cornerbacks earlier in the draft, it doesn't make sense for the G-Men to reach on a prospect. Instead, they take Bresee, who has fallen a bit down draft boards but would be a good pickup for general manager Joe Schoen and company. They have their starters filled out for this season, but Leonard Williams is a free agent after this season, and there's no succession plan currently in place.
---
The Cowboys have invested a lot into their edge room but are still lacking in the pass-rushing department from the interior. Kancey is widely considered the second-best pass-rushing defensive tackle in the draft behind Jalen Carter and would give Dallas an interior threat. Given that Dan Quinn stunts more than any defensive coordinator in the NFL, having an athletic defensive tackle like Kancey would create havoc for opposing offensive lines.
---
The Bills need to add more weapons around Josh Allen and find another reliable pass catcher for him to throw to. Gabe Davis was expected to take that next step in 2022 but failed to do so. While some mocks might want the Bills to replace Tremaine Edmunds and take a linebacker, positional value and Allen's contract have to be factored in here. The Bills simply can't afford to waste a premium pick on a non-premium position.
---
The Bengals made it a priority for the second straight offseason to upgrade their offensive line, this time signing Orlando Brown Jr. Here, they continue to add to the unit by signing another mammoth of a lineman in Dawand Jones to play right tackle (where he played at Ohio State). This is also assuming Jonah Williams is traded at some point in the offseason.
---
The Saints lost a lot of talent from the interior of their defensive line this offseason. Mazi Smith would be a great fit for them as a run-defending tackle who also has the athleticism to develop into a reliable pass rusher. Don't count out Mickey Loomis from trading up in the first round, either.
---
The Eagles need to find an heir apparent to Fletcher Cox, and Adebawore would fit in well with their current defensive line. Adebawore is sort of a tweener, but we project that he'll fit in better inside rather than outside, and given the resources the Eagles have poured into their edge defender room the past couple of years, it's likely they'll take Adebawore under the premise of him kicking inside.
---
The Chiefs coming off a Super Bowl do have some holes to fill on the roster. They need to find a tackle to replace Andrew Wylie and a receiver to replace JuJu Smith-Schuster and Mecole Hardman leaving in free agency. However, they could still use another edge rusher behind George Karlaftis and Charles Omenihu. Given that the drop-off in finding a starting edge rusher in Round 1 versus other rounds is significant, getting one with a top-50 pick is important and would allow the Chiefs to build depth at a premium position.