• Richardson has the highest ceiling: The Panthers have maneuvered themselves into a situation where they have to shoot for a high ceiling because they no longer have excess surplus value to build around their new signal-caller.
• QBs don't need to be exceptionally accurate to be elite: As long as Richardson meets a baseline in other aspects of quarterback play, he can be an elite quarterback without being a top-20 or even top-25 starter in terms of consistent accuracy.
• What do the Panthers get? If they draft the Florida quarterback at No. 1 overall, they get maybe the best athlete ever to play quarterback in the NFL. On top of that, they'll get a quarterback who is already very polished when it comes to managing the pocket and going through progressions.
Estimated reading time: 11 minutes
---
In a little under four weeks, the Carolina Panthers will have to make a final decision on which quarterback they are to select with the No. 1 overall pick in the 2023 NFL Draft.
Almost as soon as the news of Carolina's blockbuster trade up to first overall broke, the betting market landed on one clear favorite and has yet to back down: Ohio State's C.J. Stroud continues to be the overwhelming choice, as the betting odds from FanDuel imply:
At the moment, it's unclear whether that stems from inside knowledge within the organization or whether it's based on what people believe head coach Frank Reich looks for in a quarterback.
When Reich took the Panthers' head coaching position in January, he spoke to Panthers.com reporter Kristen Balboni about the position. He mentioned decision-making and accuracy as the most important tangible traits, seemingly considering them to be more important than athletic ability and pure physical tools.
This, then, would put Stroud and Bryce Young over Anthony Richardson and Will Levis, as the former were vastly more accurate in college, especially between 10 and 19 yards downfield.
At the combine, the Panthers' head coach was also asked whether size can be a concern for a quarterback prospect. His immediate response was simple and to the point: "Yes, it is a concern," he said, leaving all signs pointing toward the 6-foot-3, 218-pound signal-caller from Ohio State.
However, there are a few things we should note here. First, did he know he would have the opportunity to select first overall back in January? At that point, maybe he had Derek Carr in mind when he spoke about accuracy and decision-making.
The second point is that the betting market hasn't exactly been accurate with notable quarterback selections over the past two drafts. Yes, everybody knew Trevor Lawrence and Zach Wilson would be the first two picks in 2021, but the betting market failed to answer the big question of who the 49ers would pick after trading up to No. 3 — Mac Jones and Justin Fields alternated as the favorites, and you could get Trey Lance for +150 or better on the day of the draft.
And when it comes to last year's draft, the betting market obviously had no idea how far some passers would fall.
So, it's far from over at this point. We still don't know who the Panthers will select, and maybe even those inside the organization don't yet know.
This leaves the looming question, what should they do?

Physical tools are important nowadays
We have to start with an analysis of why the Panthers hold the No. 1 overall selection in the first place. The answer is very simple: Justin Fields' athletic ability and physical tools give him a much higher ceiling than a quarterback who is comparable as a passer but less gifted as an athlete.
As far as the floor goes, Fields averaged -0.13 expected points added (EPA) per play over the first two years of his career, generating -0.17 EPA per play in 2021 and -0.09 EPA per play in 2022.
He improved in 2022 — and did so with a less-than-stellar supporting cast — but it's more than apparent that this isn't the main reason Chicago decided to forego selecting a quarterback in this year's draft.
If you remove scrambles from Fields' data set, here is how the Bears quarterback has fared as a passer in his two years in the NFL, along with a comparable number for reference.
In other words, if Justin Fields didn't possess the physical and athletic ability to find solutions for bad situations, his passing-efficiency numbers would be comparable to Josh Rosen's — and Rosen was the last first-round quarterback to be ditched in favor of a replacement at No. 1 overall. Even worse, there would have been no improvement from Year 1 to Year 2.
If Fields didn't have the game-changing floor his physical tools provide, the Bears would have almost certainly chosen to stick at No. 1 to select their quarterback of the future in the 2023 draft.
But in terms of ceiling, we've seen what happens when the Bears' passing game is working and Fields is presented with easier solutions through the air via open receivers downfield. Look no further than the games against the New England Patriots or Minnesota Vikings when he put up 70th-plus-percentile numbers in terms of EPA per pass.
There are also games in which moving the ball through the air doesn't work well, but the rushing ability alone yields a high-ceiling game, like against the Miami Dolphins when he generated a season-best 0.172 EPA per play, earning a 58.1 passing grade but a 91.9 rushing grade.
But why am I talking about Justin Fields here? My point is that the Bears had to answer a very similar question to the one the Panthers are now trying to answer: "Are we going to draft Justin Fields and his impressive physical tools, or do we select a passer who might be able to find better solutions through the air from within the pocket?"
Chicago's answer was Fields.
Granted, Fields and Richardson aren't exactly the same despite their comparable insane athleticism. Fields' main weakness is decision-making from within the pocket, while Richardson's issues in college mainly come down to accuracy.
Still, the Bears decided that athleticism and physical tools trump Bryce Young's prowess under pressure and C.J. Stroud's accuracy. The Panthers should come to the same conclusion.
Don't get me wrong, if I strictly order this year's quarterbacks by how well they played in college based on their tape and numbers, I don't think many would disagree with me having Bryce Young and C.J. Stroud at No. 1 and No. 2.
But if you consider the supporting cast this year's quarterbacks played with, the coaches they had and their pure physical talent, there is a point to be made that Anthony Richardson has the best projection as an NFL quarterback.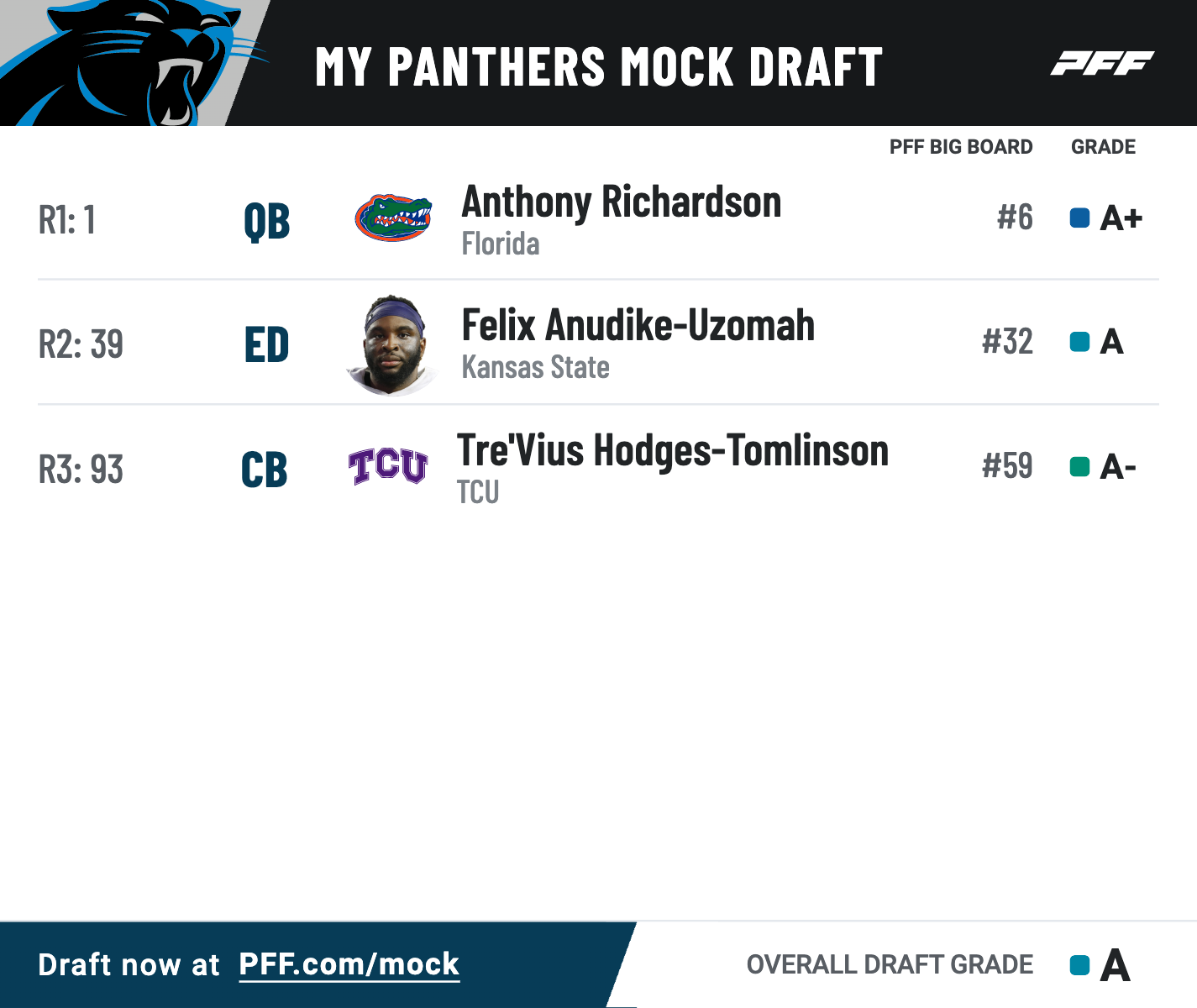 First, there is simply the base rate in today's era. We've evolved past the days when physically-less-impressive quarterbacks such as Tom Brady and Drew Brees could just master the game on a mental level through repetitive live reps and practice time. Frank Reich himself said that quarterbacks don't get as much time to develop these days, and a large reason for that is reduced practice time and the rookie wage scale.
Because of the nature of the position, the industry is notoriously bad at accurately predicting which draft prospects will develop into good pocket passers. But because these signal-callers now have less time to develop, we have now become bad at detecting good pocket passers in the NFL, as the example of Geno Smith showed last year.
Once we realize that we should be humble when evaluating the heart of quarterback play, we can conclude that it is valuable to emphasize tangible and stable things, such as physical tools.
While there may be debate regarding the exact order, when it comes to first-round quarterbacks since 2011 who have proven top-five quarterback potential in the NFL, everybody's list would include these names (in chronological order):
Cam Newton, Andrew Luck, Patrick Mahomes, Deshaun Watson, Josh Allen, Lamar Jackson, Joe Burrow, Justin Herbert and Trevor Lawrence.
Only one quarterback on this list came without the allure of having elite physical tools through either elite rushing ability, an elite arm or an elite frame — and that's Joe Burrow.
In other words, if you are looking to draft a perennial top-five signal-caller, drafting a quarterback without these athletic gifts means that you are betting on an outlier to succeed. Since 2011, the next-best first-round pick without elite physical tools would probably be Jared Goff, who is the most common pro comparison for C.J. Stroud.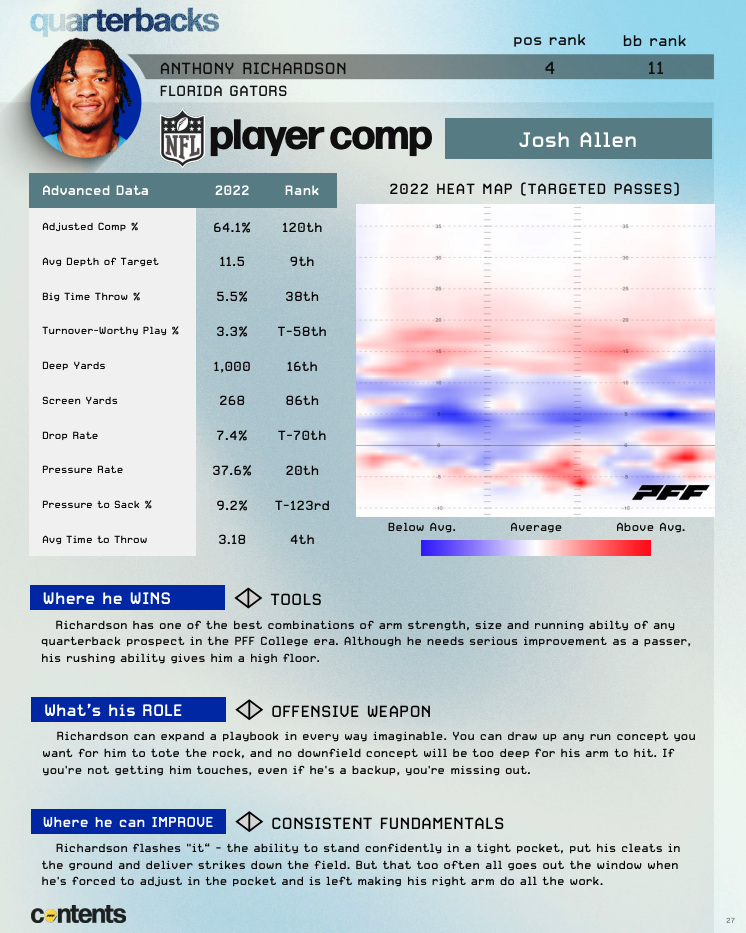 This brings us to the specific situation of the Carolina Panthers.
Usually, one could argue that if a team has a quarterback on a rookie contract, it doesn't need him to have perennial top-five potential for the team to be successful.
DOMINATE FANTASY FOOTBALL & BETTING WITH AI-POWERED DATA & TOOLS TRUSTED BY ALL 32
Unlimited Fantasy League Sync
Fantasy Start/Sit Line-Up Optimizer & Waiver Wire
WR-CB & OL-DL Matchups, PFF Player Grades, & Premium Stats 2.0 Tools
Nathan Jahnkes Rankings - #1 Most Accurate Last 70 Weeks
PFF Best Bets, Player Props, & Power Ranking Tools
NFL Mock Draft Sim with Trades & Draft Grades
Already have a subscription? Log In