Joe Burrow may not be playing in this game, but there is still a plethora of talent to take the field in Mobile, Alabama, this week in front of scouts from across the league. At the quarterback position, specifically, there is one NFL prospect on each side who could make or break their draft stock this week.
Utilizing PFF's advanced database that is used by all 32 NFL teams and 70 FBS programs, we preview the 2020 Senior Bowl, highlighting players to watch and presenting NFL draft implications of various prospects:
[Editor's Note: All EDGE and ELITE subscribers have access to three-page profiles on every FBS player in attendance at the 2020 Reese's Senior Bowl inside PFF's latest 2020 NFL Draft Guide. Subscribe today to download your copy!]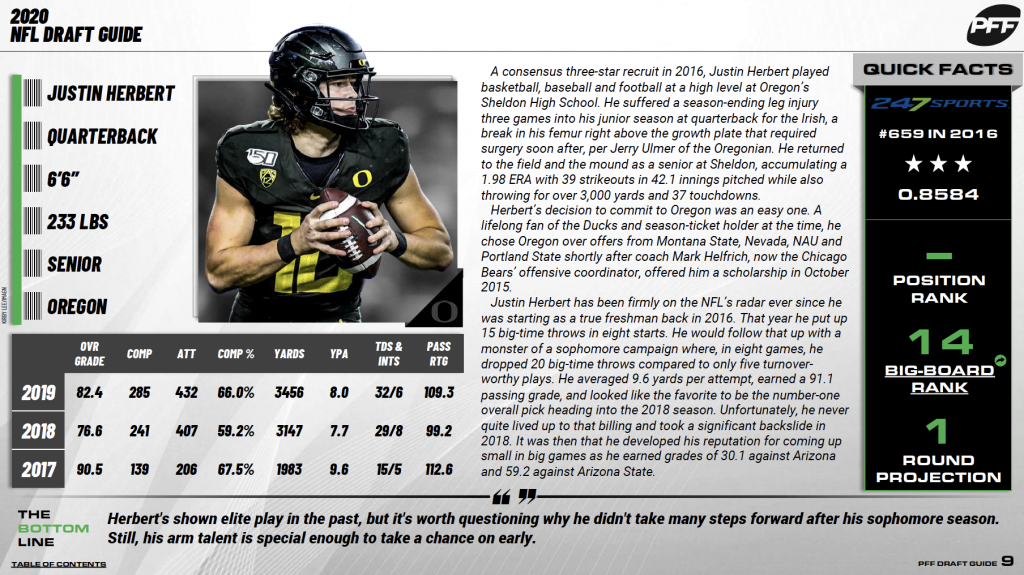 REESE'S SENIOR BOWL WEEK SCHEDULE
Tuesday, Jan. 21 (practice)
1:00 pm – 2:30 pm CT (South)
3:00 pm – 4:30 pm CT (North)
Wednesday, Jan. 22 (practice)
12:30 pm – 2:30 pm CT (North)
3:00 pm – 5:00 pm CT (South)
Thursday, Jan. 23 (practice)
12:30 pm – 2:30 pm CT (North)
3:00 pm – 5:00 pm CT (South)
Saturday, Jan. 25 (game)
1:30 pm CT/2:30 pm ET
TV: NFL Network
ROSTER BREAKDOWN
Quarterback
Utah State quarterback Jordan Love highlights the North squad's quarterbacks, as he is being pegged by some as a first-round prospect. However, Love's junior season made him look anything but a first-round quarterback. He impressed in 2018 as a sophomore, producing an 82.8 PFF grade that was among the 25 best at his position. Instead of taking a bigger leap as many thought he would, Love regressed in 2019 to a 75.2 PFF grade that was 53rd among FBS quarterbacks. Most of Love's best throws in 2019 came in favorable situations, which is incredibly concerning. When his receiver had a step or more of separation on 10-plus yard throws, Love produced the second-most big-time throws (20) and limited his turnover-worthy play count to just two. When throwing to a tight window 10-plus yards downfield, Love tied for 39th in big-time throws and produced the fifth-most turnover-worthy plays — leading way to a PFF grade that failed to crack the 50th percentile among FBS quarterbacks on those throws. He has great pocket presence, but his accuracy and decision-making on a throw-for-throw basis is not what you want to see from an NFL prospect. Love may have the most to prove of anyone at the Senior Bowl.
Justin Herbert has slowly made his way down numerous draft boards throughout the 2019 season. His 82.5 overall grade ranked 24th among FBS quarterbacks and featured poor performances in big games. One of the biggest knocks on Herbert was him not showing up against good defenses, and his 2019 campaign showed that — Oregon's three biggest games (Week 1 vs. Auburn, Pac-12 Championship vs. Utah and Rose Bowl vs. Wisconsin) were three of his four lowest-graded games of the season. He has a cannon for an arm and can hit guys perfectly downfield in a clean pocket but gets panicky when things begin to collapse around him, tossing up desperation heaves at times. His negatively graded play rate under duress ranked 124th among 129 FBS quarterbacks.
With his mobility and the rise of Lamar Jackson in Baltimore's offense, Jalen Hurts has become one of the more intriguing prospects in this draft class. In his first two years with the Crimson Tide in 2016 and 2017, Hurts showed some promise by improving his 71.4 PFF overall grade to 82.2 but was inconsistent as a whole. For that reason, he was benched for top-five prospect Tua Tagovailoa. In his sole year with Oklahoma as a graduate transfer, Hurts performed better than anyone likely could've imagined. In fact, his 91.6 PFF overall grade was second to only Joe Burrow this year.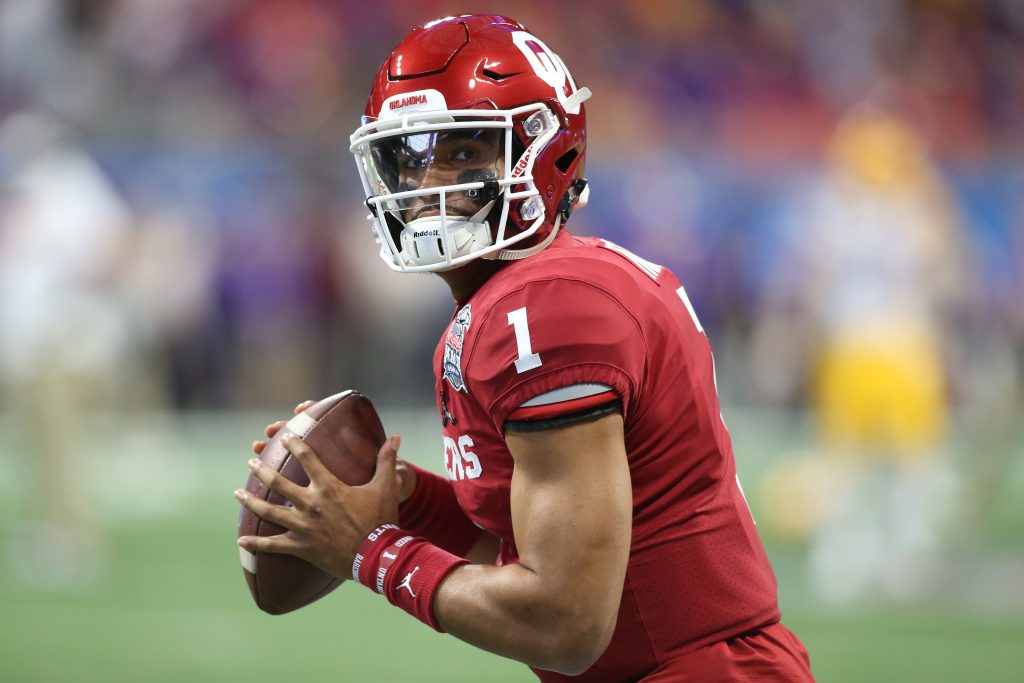 © Brett Davis-USA TODAY Sports
In addition, his PFF wins above average total was fourth in the FBS and second in this draft class — in other words, he has the production to warrant a look in the first round. However, there are traits of his play that leave people skeptical. One of them is his willingness to hang onto the ball for way too long and his slow release when he does throw it. He had a 3.08-second average time-to-throw this year, which was far higher than the next slowest at 2.91 seconds, and his anticipation when throwing was rather poor. There's no chance anyone can get away with that willingness to hang around in the pocket at the NFL level. We know he can rush at a high level, whether it's designed or scrambling, but Hurts really needs to impress with his arm this week to raise his draft stock.
Wide receiver
Out of the seven wide receivers on the North roster, the highest-graded from the 2019 season is Liberty's own Antonio Gandy-Golden. Yes, that's right. Gandy-Golden was among the 10 best wide receivers in PFF grade this year. He was responsible for the fifth-most explosive plays this season and could get shifty after the catch. But he wasn't necessarily at his best in tight coverage. If he can use his 6-foot-4 frame to body some defensive backs in contested situations this week, he could be a draft riser.
[Editor's Note: All EDGE and ELITE subscribers have access to three-page profiles on every FBS player in attendance at the 2020 Reese's Senior Bowl inside PFF's latest 2020 NFL Draft Guide. Subscribe today to download your copy!]
While Gandy-Golden beat him in PFF grade, SMU's James Proche bested him in PFF WAA in 2019. In fact, he beat every FBS wide receiver in that metric. Proche has been an integral part of SMU's offense since his redshirt freshman season in 2016, seeing 457 targets in his career — and he's dropped just nine of those. He has been top tier these past couple of seasons, especially, ranking among the 10 best wide receivers in two-year PFF grade. Like Gandy-Golden, Proche is a receiver who had great success in college and will rise up the draft board with a great week in Mobile.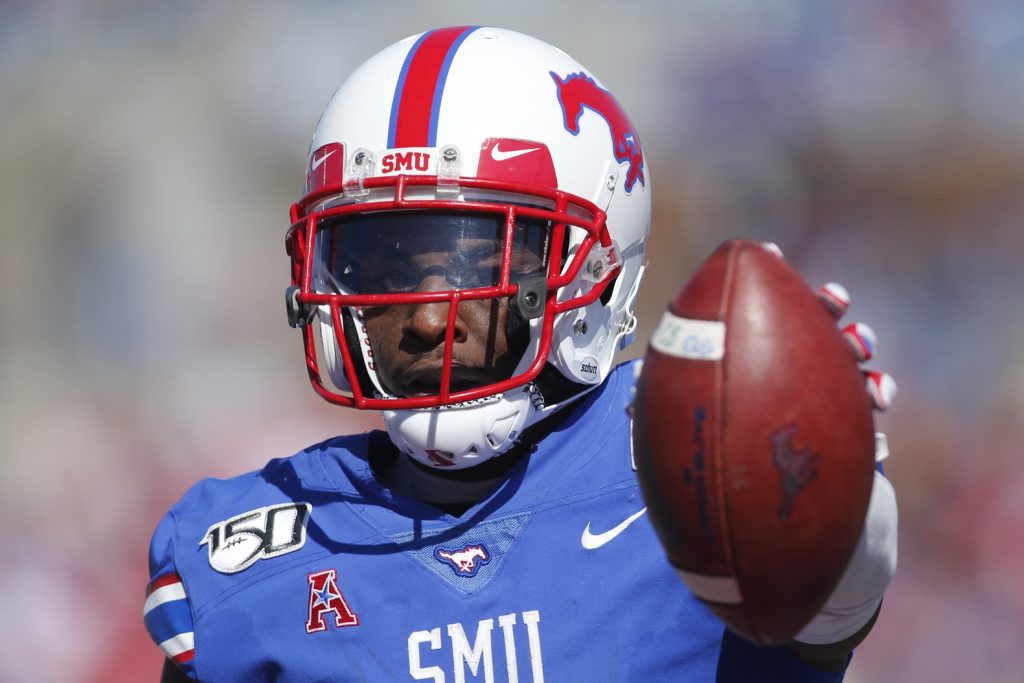 © Tim Heitman-USA TODAY Sports
Those two can be the biggest risers of the group, but both Michael Pittman Jr. and Denzel Mims are two of the premier prospects of the group. Pittman Jr. is projected to be a second-round selection in PFF's latest draft guide, owning a massive catch radius and some of the best hands in the country by dropping just five of his 176 catchable targets in his career. As for Mims, he currently sits in the third-round range. He doesn't get any separation but uses his 6-foot-3 frame to win consistently in tight coverage, slotting in as the seventh highest-graded receiver in tight coverage last season.
The south squad is headlined by Brandon Aiyuk of Arizona State. Given that this wide receiver class is loaded with talent, Aiyuk will likely be drafted far lower than he would be in a normal class. Still, he is looking like an early second-round prospect. Aiyuk didn't have much production prior to 2019 — he picked up just 474 yards and a 67.4 receiving grade in 2018. In 2019, Aiyuk broke out and displayed his after the catch ability that'll be highly coveted at the NFL level. He averaged 10.9 yards after the catch per reception while gathering 3.09 yards per route run and generating a 133.9 passer rating.
Devin Duvernay was one of the five best slot receivers in regard to PFF grade in 2019. He was used extensively underneath and thrived in that role, as he was incredibly difficult to take down and slipped through defenders with ease. Among all FBS receivers, he ranked in the top five in yards after contact, yards after the catch and broken tackles forced.
Running back
Darius Anderson will likely be the first one off the board from the North squad, though he's still likely to be around the range of a fifth-round pick. He's had a lack of a consistent rate of explosive plays throughout his career and still has room to improve in the receiving game. Anderson did improve immensely in the run game from 2017-18 to 2019 when it came to his elusiveness. In 2017-18, Anderson broke just .21 tackles per attempt and averaged 3.0 yards after contact per attempt. But he grew those totals in 2019 to 0.28 and 3.9, respectively. He's perhaps too picky in the backfield and waits longer than he should for something to open up.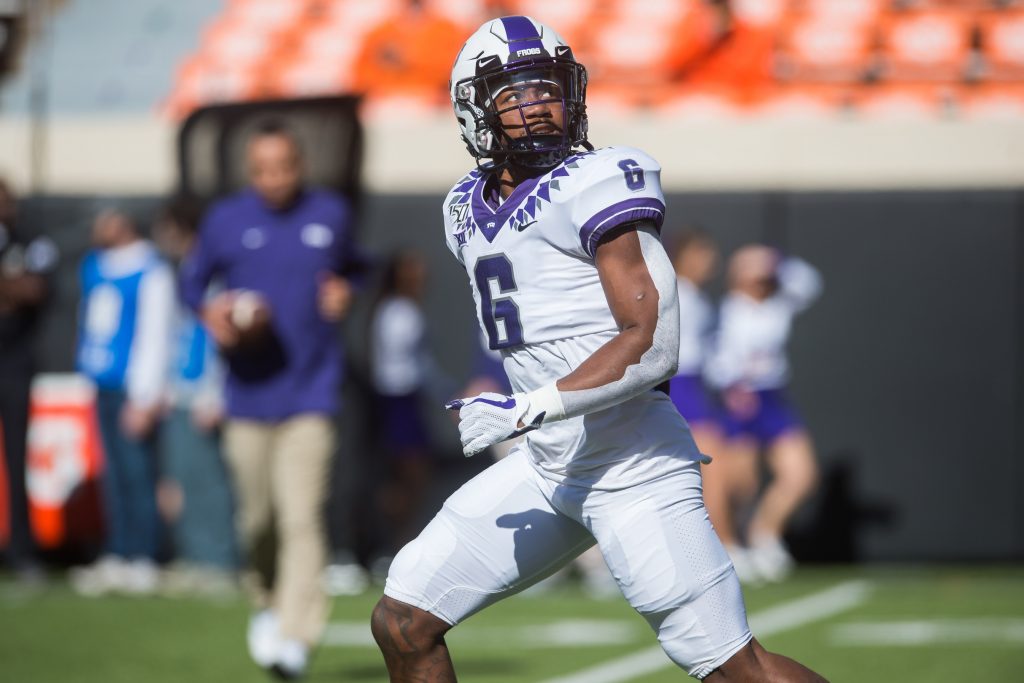 © Brett Rojo-USA TODAY Sports
Antonio Gibson carries one of the more valuable traits in a running back with his receiving ability. At Memphis this past season, Gibson saw 58 targets and hauled in 38 of them for 19.3 yards per catch, breaking 17 tackles and generating a 148.3 passer rating along the way. Gibson saw little action in the run game, carrying the ball just 33 times. In that small sample size though, he certainly impressed with 16 broken tackles and 11 runs of 10-plus yards. Basically, he's a doppelganger of Ty Montgomery. If Gibson carries that small sample size success to Mobile, he could very well be the first of the Senior Bowl backs to be taken in the draft.
Tight end
Purdue's Brycen Hopkins will almost certainly be the first tight end off the board from the North. While he's not the prototypical tight end that can run-/pass-block as NFL teams want, he has elite speed that's rarely found at the position. He can haul in downfield targets and explode after the catch better than anyone else. His 21 explosive plays of 15-plus yards were among the five most last year, and he managed to reel in 10 of his 18 contested targets. The big problem with his play, though, is his 22 drops on 152 catchable targets in his career.
The only other tight end really rivaling Hopkins to be the first taken in April is Jared Pinkney from Vanderbilt. But the decline he saw in his play from 2018 to 2019 could dash those hopes. The 6-foot-4, 260-pound tight end put up a solid 78.5 PFF overall grade in 2018 and had that drop to 53.8 in 2019. His physicality is still a massive plus, and teams might look at the fact that he saw his number of targets drop nearly 50%, but Pinkney is among those in the "make or break the draft stock" this week.
[Editor's Note: All EDGE and ELITE subscribers have access to three-page profiles on every FBS player in attendance at the 2020 Reese's Senior Bowl inside PFF's latest 2020 NFL Draft Guide. Subscribe today to download your copy!]
If you haven't heard of Harrison Bryant, he might be one to take note of. Bryant has produced elite PFF receiving grades in each of his past three seasons with FAU and was the most productive tight end in college football this past year by picking up 3.04 yards per route run. He improved his contested catch ability over that time period and was routinely trucking defenders after the catch. A lot of his production was a result of being the go-to guy in the offense, but he certainly has proved that his receiving skills are on par with his counterparts.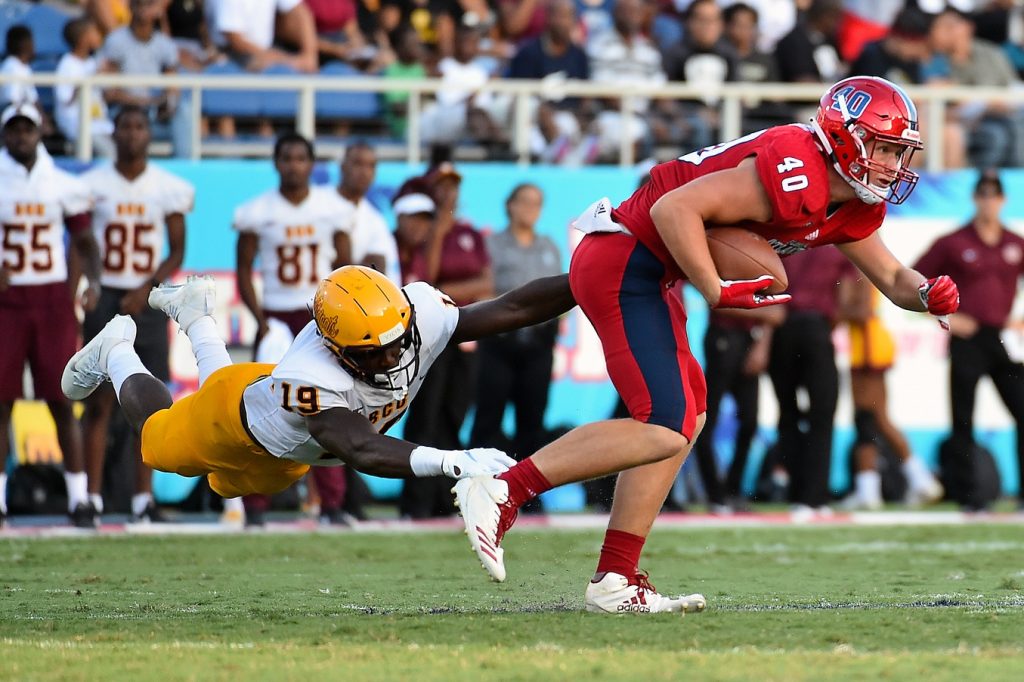 © Jasen Vinlove-USA TODAY Sports
Offensive tackle
The best offensive tackle in Mobile this week is Houston's Josh Jones, whose 93.2 PFF grade in 2019 was the best we have ever given to a Group-of-5 offensive tackle. He's always been great in pass-protection, allowing just 18 pressures on his 1,282 pass-block snaps the past three years. His run-blocking was a large part of his improvement, as he bettered his 62.8 run-block grade in 2018 to 92.7 in 2019. At this rate, he is looking like a lock in the first round and will be a tough matchup for the edge group at the Senior Bowl that is full of pass-rushers who still have a lot to prove.
Prince Tega Wanogho looked like a breakout candidate who could go from very good to elite prior to the 2019 season, but he instead regressed. His 2018 PFF overall grade sat at 84.0, and he had that drop to 77.0 in 2019. This isn't bad by any means, but less than ideal considering many thought he'd be one of the first offensive tackles off the board entering the season. Instead, he looked anything but that.
Interior offensive line
Jonah Jackson has been one of the more consistent offensive guards in college football. In the entirety of his collegiate career, Jackson has allowed 25 total pressures on 1,020 pass-block snaps with only one being a sack and zero total hits on the quarterback. Jackson transferred to Ohio State this past year from Rutgers and improved his run-blocking from a 70.3 grade to a 77.8 mark. He was the fifth most valuable left guard in college football in WAA this past year, but he has shown in the past that he is more than capable of playing anywhere on the interior.
Logan Stenberg had an impressive last couple of seasons for Kentucky and is a day-two prospect as of now. In pass-protection since the start of 2018, Stenberg has allowed a minimal pressure rate of just 1.5%. A big red flag on his play is the 24 penalties he has accrued in that same time span. Even with that, he finished the year as the fourth most valuable guard in college football in WAA. The 6-foot-6, 322-pounder is one of the most physical players in the class and is going to be a treat to watch in the Senior Bowl with NFL scouts all around him.
Edge
Zack Baun's ability to get the job done in both the pass-rush and in coverage makes him an intriguing prospect. Over the last two seasons combined, Baun has generated pressure on 16.5% of his pass-rush reps, which tied for the sixth-highest rate among FBS edge defenders. This past year was his best from a pass-rushing perspective, as he had an elite 91.0 pass-rush grade and combined for 25 sacks and hits. In coverage over the past two seasons, Baun dropped back 195 times and allowed just 112 yards with five combined pass breakups and interceptions. His size is the biggest knock on his play, thus making it likely he'll be moved to primarily off-ball linebacker. Regardless, though, he's still a weapon in the pass-rush and the best of the North group.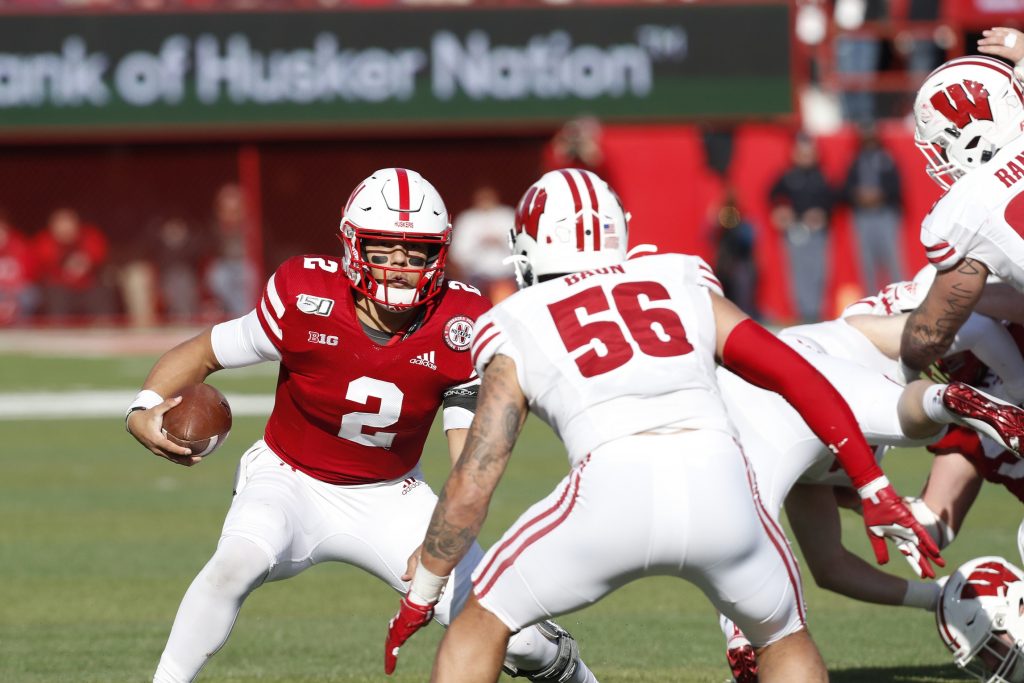 © Bruce Thorson-USA TODAY Sports
Two of the more disappointing seasons of 2019 came from Carter Coughlin and Kenny Willekes. At Minnesota in 2018, Coughlin produced an elite 92.2 pass-rushing grade and totaled 26 combined sacks and hits. Instead of maintaining that grade, it dipped down to 80.5 this past season. Granted, this is still good, but he has provided cause for concern with his inconsistency against non-NFL caliber tackles. Willekes is in the same exact boat. His pass-rushing grade dipped from 86.2 in 2018 to 74.3 in 2019, and his win rate and pressure dropped over three percentage points each.
[Editor's Note: All EDGE and ELITE subscribers have access to three-page profiles on every FBS player in attendance at the 2020 Reese's Senior Bowl inside PFF's latest 2020 NFL Draft Guide. Subscribe today to download your copy!]
Joshua Uche has largely flown under the radar at Michigan. He saw only 49 snaps in 2016-17 and 148 in 2018 but flashed potential that year, producing 19 pressures on 97 pass-rushes with seven being a sack. He still didn't play as much as we wanted him to in 2019, but he maintained the production with the second-highest pressure rate and pass-rush win rate among FBS edge defenders. Michigan used him at off-ball at times, and his best pass-rushes weren't when he came off the edge. Uche could be moved to off-ball, and the third-round prospect is going have a lot of eyes on him throughout the week.
Bradlee Anae has been generating an absurd amount of pressure for the past three years. In fact, his 158 total pressures since 2017 leads all FBS players. He has a massive inventory of pass-rush moves but is limited by his athleticism and 235-pound frame. Anae is a day-two lock as of now and could rise from there if he wins at the Senior Bowl — as he did often against Pac-12 tackles.
After missing all of 2018 at Louisville due to injury, Jonathan Greenard wasn't expected to be one of the highest-graded edge defenders in 2019 — yet, he was. Greenard finished the year with an elite 90.4 PFF overall grade and was valuable both against the run and in the pass-rush, producing grades above 87.0 in each facet. That being said, there's a lot of inconsistency in Greenard's play. His 2019 season was nowhere near what we saw from him in the past, making him a risk/reward prospect to watch.
Greenard's 2019 teammate Jabari Zuniga is another inconsistent player to watch. Injuries derailed most of his 2019 season to 188 snaps, though he was productive on his pass-rush reps by producing a 21% win rate and a 15.8% pressure rate. This was, of course, a small sample size, and his previous seasons were nothing close to that type of production. He could light up bad tackles but generated just a 13% win rate against Power-5 competition over the course of his career.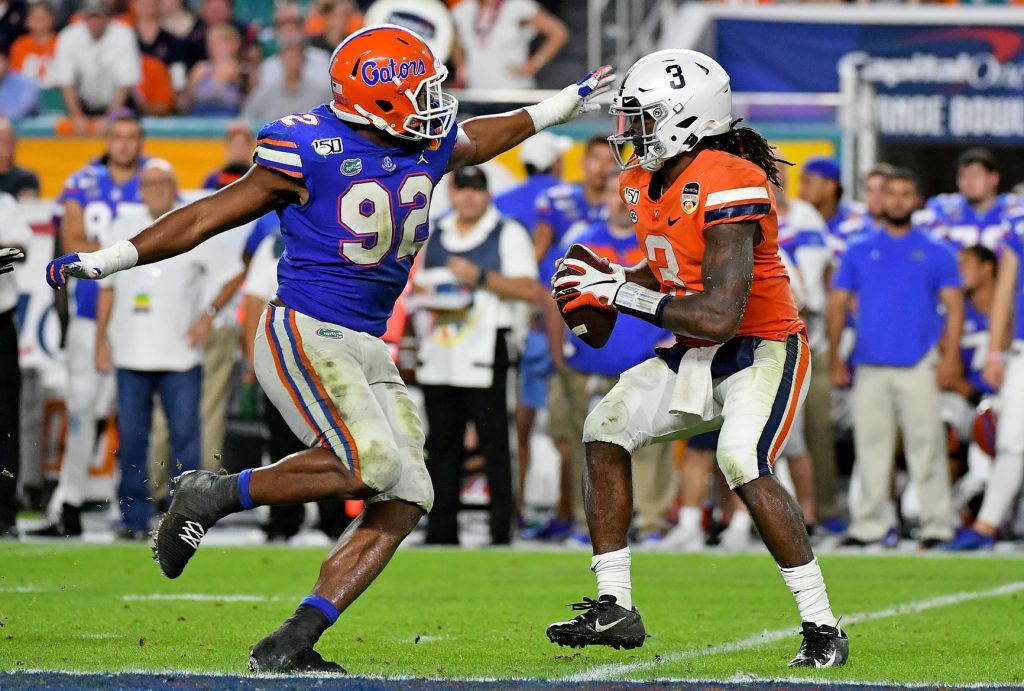 © Jasen Vinlove-USA TODAY Sports
Alabama's Anfernee Jennings was on his way to stardom after his breakout sophomore season in 2018 when he recorded an 86.4 PFF overall grade but was unfortunately injured at the end of the season, and it clearly affected his 2018. His PFF overall grade dropped to 72.5 that season but jumped back up to 86.5 in 2019 when he was fully healthy. He's been great against both the run and in the pass-rush, though he's far from an off-ball linebacker.
Interior defensive line
Neville Gallimore has steadily improved over the course of his career at Oklahoma, and in 2019 he proved to belong among the best interior defensive linemen in the FBS. Gallimore's PFF grade in 2019 sat at 88.0, and he produced run-defense and pass-rushing grades above 80.0. He has 0/1-tech written all over him at the NFL level — he ranked sixth in PFF grade at that alignment in 2019 and will certainly get his opportunity to show that in Mobile.
At 6-foot-5, 335 pounds, Leki Fotu is one of the more physically dominant interior defensive linemen in this draft class. He's been a run stuffer, missing no tackles against the run in 2019 while producing an 83.4 run-defense grade.  But he has been ineffective in the pass-rush, producing just a 61.0 pass-rush grade. Teams will love the size, but he needs to impress in the pass-rush this week to maintain that fourth-round status.
Javon Kinlaw is the crown jewel of interior defensive linemen taking part in the 2020 Reese's Senior Bowl. He is projected to be a first-round pick and is among the 25 best prospects in this class on PFF's Big Board. Kinlaw has shown elite pass-rushing ability, ranking first among those at his position in two-year pass-rushing grade. Whether he was at nose tackle or at defensive tackle, his pass-rush success remained with his near-perfect physical traits. Kinlaw can only go up from here.
Linebacker
Perhaps one of the most NFL-ready linebackers in this class is Utah's Francis Bernard. In coverage in his three seasons played (2016 with BYU, 2017-18 with Utah), Bernard allowed 522 yards on his 851 coverage snaps and combined for 11 interceptions and pass breakups. He's already 25 years old, though, and missed tackles were a massive problem in 2019 — he had 17 misses on 99 attempts.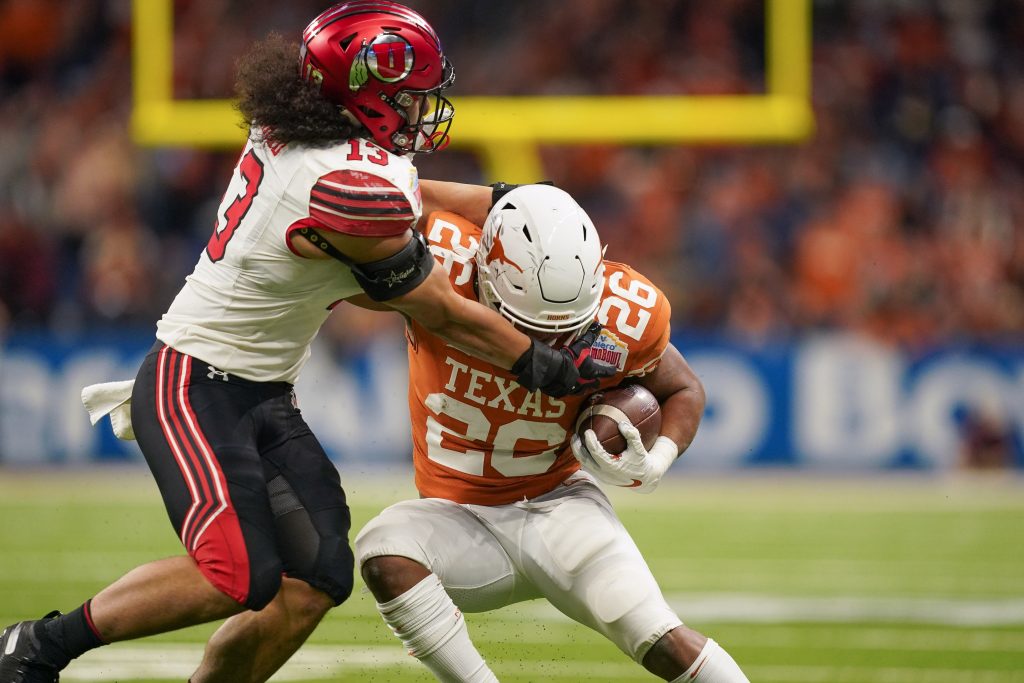 © Daniel Dunn-USA TODAY Sports
Appalachian State's Akeem Davis-Gaither is slotted as a second-round talent in PFF's latest draft guide. He's produced at a high level in every facet throughout his college career. Against the run, Davis-Gaither's 2019 grade was at 87.1. He was also used heavily as a blitzer and thrived, generating 25 pressures and recording an 82.2 pass-rush grade. There were a handful of explosive plays given up in coverage due to missing tackles, but he held his own when covering downfield by allowing just 10-of-21 targets of 10-plus yards to be caught in the past two years.
Safety
Ashtyn Davis didn't receive a single offer coming out of high school and is likely going to end up as a late first- or early second-round pick in the 2020 NFL Draft. He's arguably the best in the class playing deep safety, ranking among the 10 best in the FBS in two-year grade at free safety and combining to have more interceptions and pass breakups than catches allowed at that alignment. He can come down and play the slot, too, but he primarily fits the mold of a single-high safety.
[Editor's Note: All EDGE and ELITE subscribers have access to three-page profiles on every FBS player in attendance at the 2020 Reese's Senior Bowl inside PFF's latest 2020 NFL Draft Guide. Subscribe today to download your copy!]
Utah's Terrell Burgess can continue to rise up the draft board with a big week at the Senior Bowl. Due to playing behind Marquise Blair in his first few years, Burgess saw limited action until 2019. In his one year as a starter, he solidified himself as one of the best at his position in coverage, producing a 90.4 coverage grade that was the fourth best. He rarely allowed an explosive play and had a knack for the football downfield. This was a bit of a one-hit wonder for Burgess, so he still will need to prove he's more than that this week.
Clemson's K'Von Wallace will be a nickel/dime back at the NFL level, manning just the slot. He's been incredibly consistent in his past three seasons with the Tigers by owning overall grades in the low 80.0s each year. He's been tasked more the last two, specifically, with locking down the slot, and he's been one of the best in the country in doing do — his two-year coverage grade ranks sixth among all players defending in the slot. He was never a real ballhawk in college until 2019, when he combined for 10 interceptions and pass breakups, exceeding his career total entering the year. Wallace is projected as a third-round pick, but if he continues to force tight coverage and blow up underneath routes at the Senior Bowl, his stock will certainly rise.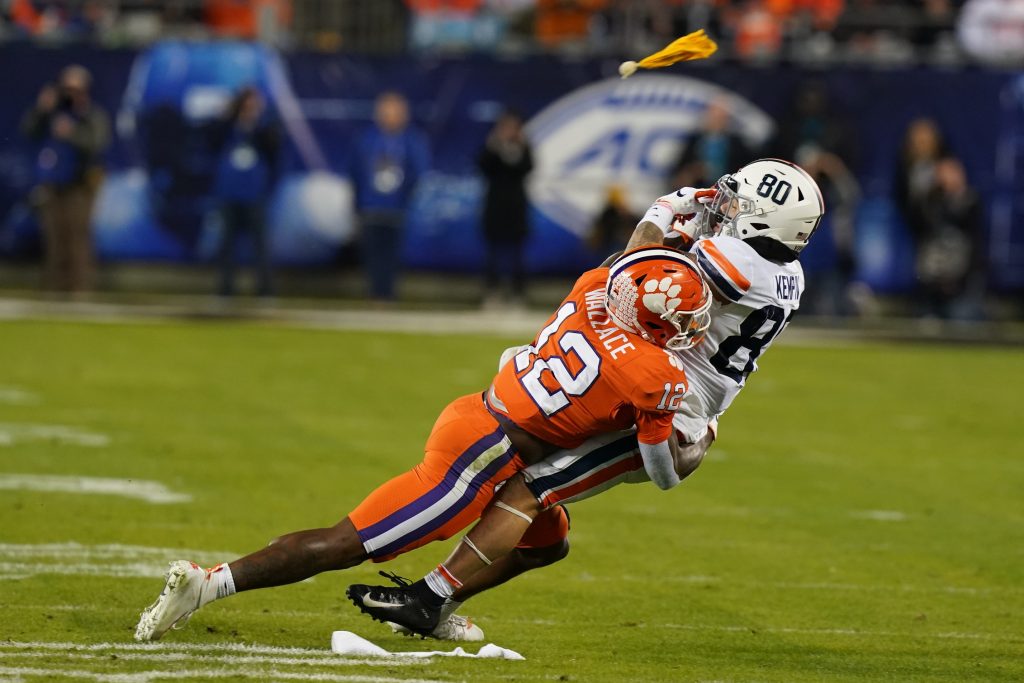 © Jim Dedmon-USA TODAY Sports
Cornerback
Essang Bassey has been the most durable cornerback the past three years, playing more snaps than any other player at the position. Bassey posted top-tier forced incompletion rates in 2017 and 2018 but made fewer plays on the ball in 2019. He's been sort of boom-or-bust for Wake forest in his career. On contested targets of 10-plus yards, specifically, Bassey has forced incompletions on 19-of 35 targets but allowed 12 to be caught for 283 yards and four touchdowns. His 41 missed tackles over that timespan don't help matters, either.
One of the more frustrating tape sessions you'll ever have is that of Troy Pride Jr. His speed his elite and some of the best in the entire class. He's used this speed when defending vertical routes, rarely getting beat for a big play. On 20-plus yard targets, Pride Jr. has allowed just six of 38 to be caught in his career. His ball tracking has been unbelievably poor, though, and it's something that he'll have to be better at in Mobile.
Jeff Okudah is the clear-cut number one cornerback in this draft class, but number two honors will likely go to Kristian Fulton. He made an immediate impact when thrown into his starting role to start 2018 and has continued that through the 2019 season, as his two-year PFF grade at outside corner is the best in the country. Fulton is elite at the catch point, owning the highest forced incompletion rate the past two years and allowing just 23.7% of contested targets to be caught in that span. The most alluring quality is the fact that he has vast experience playing press-man coverage — and he did it at a high level. NFL teams will be jumping all over that this week.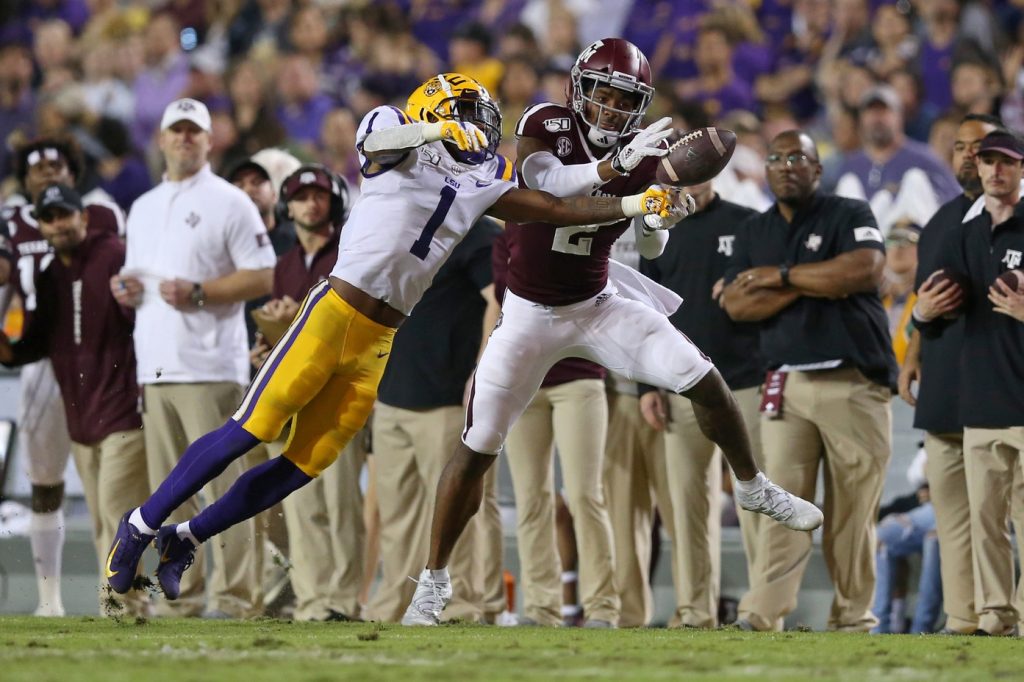 © Chuck Cook-USA TODAY Sports
Another candidate for most disappointing 2019 season goes to Darnay Holmes. His 80.3 coverage grade in 2018 dropped down to 61.8 in 2019, as he made far fewer plays on the ball. Over the past two years, Holmes has surrendered 20 explosive plays in coverage and allowed 11 touchdowns while picking off just five. The tools are there, but Holmes' tape gave a lot to be concerned about. He's one that can make or break his stock this week.
Specialists
North participants: Tyler Bass (K – Georgia Southern), Braden Mann (P – Texas A&M), Steve Wirtel (LS – Iowa State)