"Let me tell you … Jordan Love is better than Herbert, and I'd take him over anyone but Tua …" – anonymous NFL scout to Bleacher Report's Matt Miller, September 2019
The NFL draft quarterback market has flipped significantly throughout the season. Joe Burrow went from unknown to first overall, Tua Tagovailoa suffered a season-ending injury that could have long-term health complications, and Justin Herbert raised more red flags. When it comes to Utah State's Jordan Love though, he is still being viewed as a top prospect.
Everyone expected Love to graduate transfer to a Power 5 program at the conclusion of the 2019 season, to improve his draft stock even more and show he's an NFL starter. Instead, he opted to declare for the draft and make quarterback-needy NFL teams and fan bases (that aren't picking in the top five) salivate over Love's potential.
Love's 2018 sophomore season was good considering his experience — he improved his PFF grade to 82.8 and was among the 25 highest-graded quarterbacks in the FBS. We expected Love to take an even bigger leap in 2019 to perhaps elite status in his redshirt junior season. However, this was not the case. Love regressed to post an overall grade of 75.7, ranking 50th in the FBS and short of the 50th percentile mark among draft-eligible quarterbacks. The fact he did this against a weaker schedule is alarming. There were only two games when Love faced a Power 5 school in 2019, and he failed to impress in either. Against Wake Forest in Week 1, Love's PFF grade was at 54.8. Against LSU in Week 6, it was just 44.0. All-in-all, Love produced a PFF grade of just 67.5 against teams with a winning record in 2019.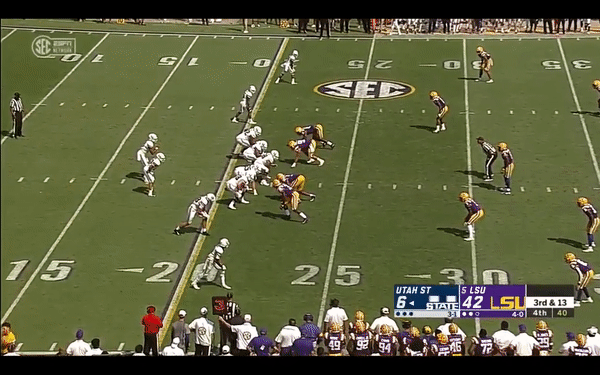 Nothing gets the draft community all rattled up like the word "potential." The public takes the wordand perceives it to mean that they could get a steal in the corresponding draft whop could become their team's next All-Pro franchise quarterback. Love is the poster face of this exact scenario. He has a lot of potential and, as a result, is mostly noted for the positives of his play with little to no mention of all the negatives. Among the 33 quarterbacks taken within the first three rounds of the draft since 2015, as well as the top prospects from this year's class (Joe Burrow, Tua Tagovailoa, Justin Herbert, Jake Fromm, Jacob Eason and Jalen Hurts), Love's PFF overall grade in his final collegiate season ranks better than only the following: Jacoby Brissett, Christian Hackenberg, C.J. Beathard, Davis Webb, DeShone Kizer, Josh Allen and Daniel Jones.
So, what happened from 2018 to 2019 that caused the regression?
First, he was under pressure 7% more this season as opposed to last – going from the third-lowest rate to the 34th-lowest. His clean pocket and pressured grades were nearly identical over the two seasons (both around the FBS average), and while he still had a favorable pressure rate relative to the FBS average, the bump in pressure rate caused his overall play to decline a tad.
Moreover, Love saw an increase of his passes going to a tight window – after hovering around the FBS average in 2018, the rate at which Love targeted a receiver with separation dropped 5% to one of the 10 lowest in the FBS. However, we must consider that this isn't really on the receivers themselves, but on Love himself. For example, let's look at how he performs when going to his first read. Love's PFF grade took an insane hit in this category, dropping from 85.0 last season to 69.8 this year (would be far and away the lowest among the last three draft classes' top quarterbacks). There were an insane number of throws made by Love to his first read this season that were just head-scratchers – some where the play was nowhere near to being fully developed, thus causing an unnecessary tight window throw. There were eight turnover-worthy plays of Love's in 2019 that were to his first read, under 2.0 seconds, and into a tight window. That's three more than anyone in those situations in 2019 (six of those resulted in an interception and another was negated by penalty).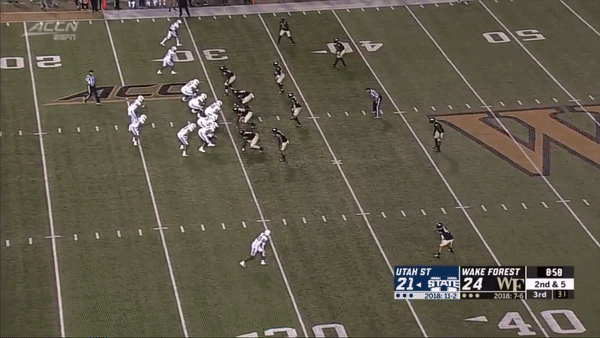 Along with that, Love's decision-making and accuracy on his horizontal lead passes (throws in which he is leading the receiver across the field, like crossers, slants, etc.) was significantly worse. PFF charts every single quarterback pass made at both the collegiate and professional levels in a process led by former NFL quarterback Bruce Gradkowski, and the findings on Love are a big red flag. He had seven interceptions on horizontal lead passes in 2019 that were solely his fault – not his receiver, not a great play by the defense, but a pass that was either an overthrow, underthrow, ball thrown behind the receiver, misread in coverage, etc. He had zero of these on horizontal lead passes in 2018.
Altogether, Love has produced a turnover-worthy play rate of 4.7% that ranks 109th among 136 FBS quarterbacks. When examining the past quarterback draft classes, one in particular produced a high number of big-time throws and a high number of turnover-worthy plays like Love in 2019: Sam Darnold in 2017. Darnold was drafted second overall and has pretty much been the same player at the NFL level – below average at best.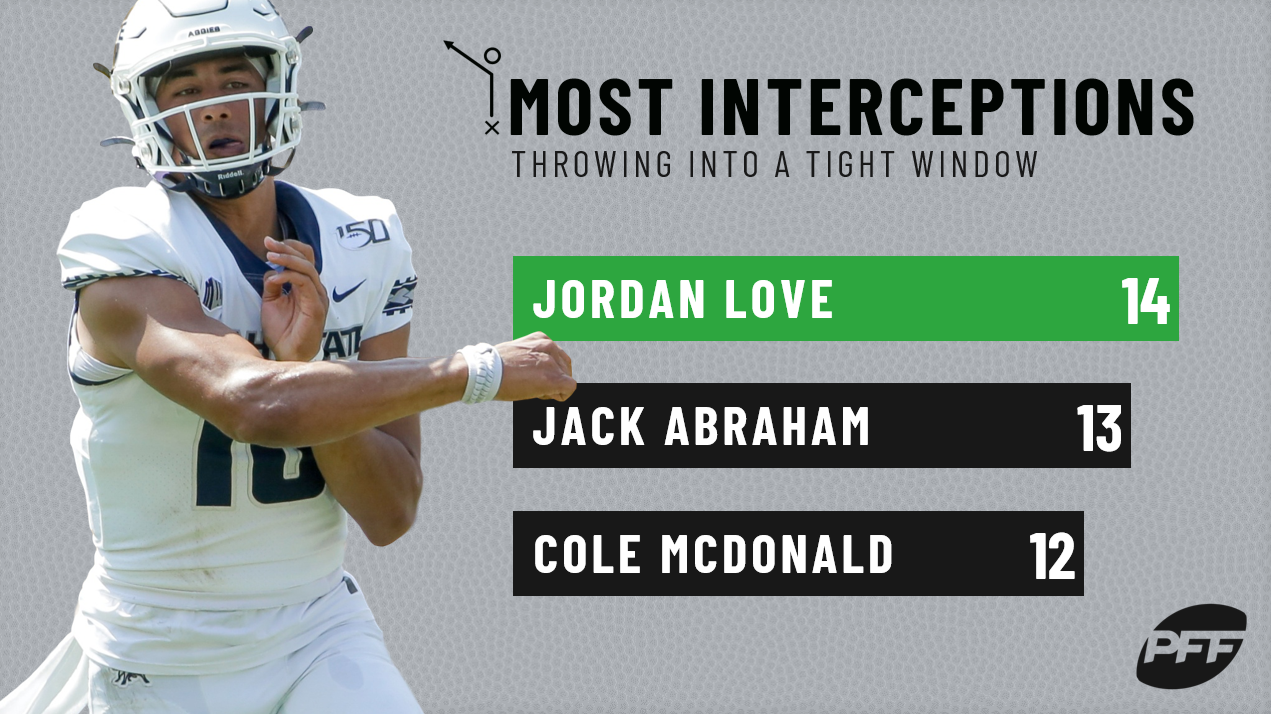 Many these turnover-worthy plays of Love's came on tight window passes where he has performed far below expectation (as indicated earlier), ranking 98th in PFF grade and tossing more interceptions than anyone else. When comparing Love's tight window passing to quarterbacks who were drafted in the first three rounds of the last three NFL drafts as well the top choices from this year's class mentioned earlier, the concern grows larger. Love has produced an uncatchable pass rate into tight windows higher than any of these quarterbacks at 44.4%.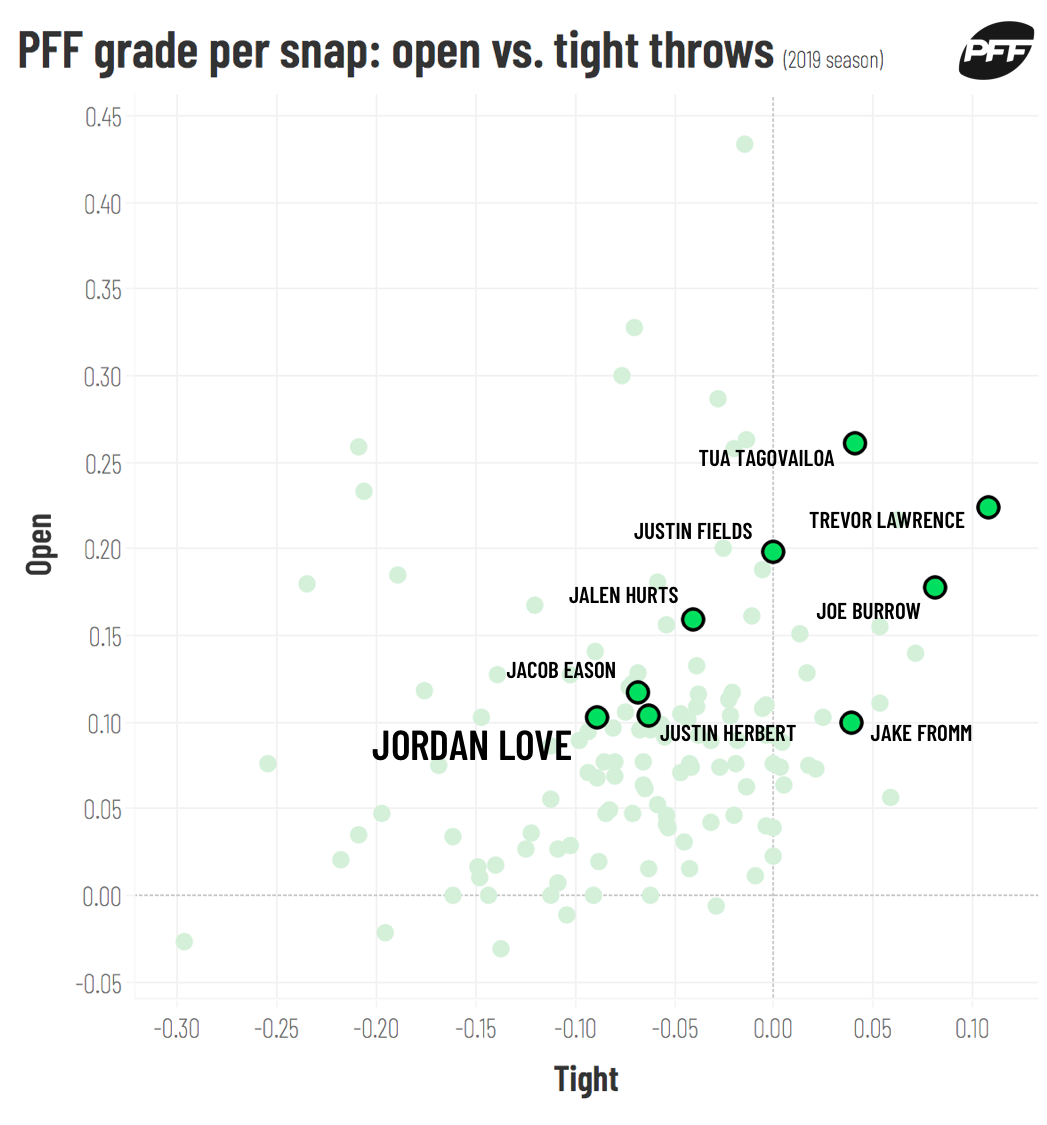 What makes some giddy about Love's "potential" is the decent number of big-time throws (PFF's highest-graded passes for a quarterback) he has produced in 2019, ranking 16th of 136 qualifying FBS quarterbacks in big-time throw rate at 5.8%. When the receiver has separation, Love has thrown some absolute strikes. In fact, when he has targeted a receiver with a step or more of separation, Love has the second most big-time throws in the FBS at 23 and limited his turnover-worthy play (PFF's lowest-graded throws) count to just two. That said, this is precisely the point: Love looks the part in favorable situations but collapses when he has to make a play himself.
Another alluring quality of Love's is his pocket presence, which is one of the best in college football. As PFF lead draft analyst Mike Renner mentioned in PFF's unique draft guide, Love has been superior in having pressure not turn into a sack, as just 15.5% of his pressured dropbacks have resulted in one – 3% lower than the FBS average. What Love does after avoiding the sack, though, is where the concern lies. When under pressure, Love has recorded a below-average PFF grade, ranking 73rd in the FBS. His pressured passing is reflective of what has been said repeatedly – despite the pressure, he's been good throwing to a receiver with separation, but if it's a tight window, the results have not been great. Love under pressure has produced the seventh-most big-time throws at eight and the 13th most turnover-worthy plays at 11. Six of those eight big-time throws came when the receiver had a step or more of separation while eight of the 11 turnover-worthy plays went to a tight window.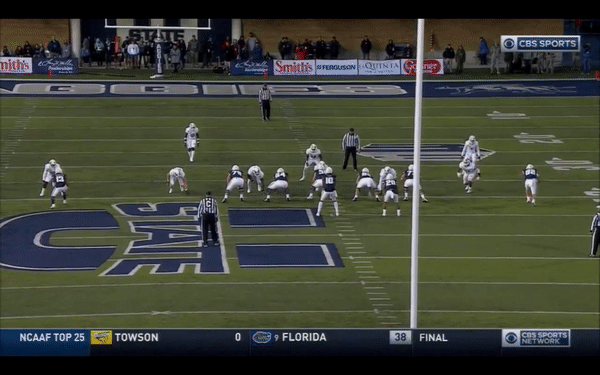 Caption: (Yes, it was a horrible snap, but this is an easy interception and he really should have just thrown the ball away or run out of bounds)
There have been a lot of forceful throws and desperation heaves from Love into double or triple coverage when under duress and has resulted in 44.3% of his pressured attempts being an uncatchable pass. That's 3% higher than any of the top quarterback prospects in 2019 and any quarterback taken in the first three rounds of the last four NFL drafts.
| | |
| --- | --- |
| Quarterback | Wins above average |
| 1. Joe Burrow | 2.156 |
| 2. Jalen Hurts | 1.204 |
| 3. Jake Fromm | 0.747 |
| 4. Tua Tagovailoa (just 9 games played) | 0.505 |
| 5. Justin Herbert | 0.395 |
| 6. Jacob Eason | 0.270 |
| 7. Jordan Love | 0.009 |
Only notable 2020 draft-eligible quarterbacks prior to postseason play
Love's 2019 season was full of plays in which he tried to be superman and lofted some horrendous passes. The more concerning part of his play is that his absolute worst throws were against average competition. After his good performance on national television in the Tropical Smoothie Cafe Frisco Bowl against Kent State, who owns the 113th-ranked defense in PFF's Massey rankings, fans were ready to call Love the quarterback of their team's future. Watching him at Utah State in 2019, it's pretty evident that Love has great zip on the ball. As indicated earlier, Love hits his open receivers perfectly with a rocket or a feathery drop in the bucket. That and his athletic frame is a large reason why he'll likely be among the first five quarterbacks taken in the draft. Other than Love's "potential" and "perfect quarterback frame," he has shown very little to warrant that though. If you're going to vie for your team to draft Jordan Love, do so with caution.