INDIANAPOLIS — It's amazing what a Super Bowl appearance and an ascending, young quarterback can do for the reputation of an NFL franchise.
Completely unprompted, an agent for a prominent free-agent tight end told PFF recently how badly he wanted his client to sign with the Bengals and play with quarterback Joe Burrow.
Click here for more PFF tools:
Draft Guide & Big Board | Mock Draft Simulator
Dynasty Rankings & Projections | Free Agent Rankings | 2022 QB Annual
Player Grades
---
Rob Gronkowski, who's also a free agent and lost his longtime quarterback to retirement, expressed a similar sentiment publicly last month.
"I kinda like this young buck quarterback. He's in the Super Bowl now: It's Joe Burrow, man," Gronkowski said in February. "I watched him in college. I just love the way he presents himself out on the football field. In the pocket, he's just so calm and he just slings it out on the field. … I just love his swag, too."
Burrow was PFF's top-graded quarterback in 2021 and exudes the confidence that earned him the "Joe Brr" moniker. The Bengals don't need help at wide receiver or running back, but they could certainly use upgrades on the offensive line and at tight end. Would a player sign with the Bengals for less money to play with Burrow? Maybe not. But if it's for the same amount, then at least one agent is pushing his player to Cincinnati to play with Burrow.
"I want to stay there," Bengals GM Duke Tobin quipped when asked if Burrow makes Cincinnati a destination for free agents. "The people that cover him, they don't want to trade him out to cover someone else. He's the real deal. Our job — like I said when we drafted him — is to support him in the best way we can. … Having Joe, I think players really respect Joe."
More notes from Tuesday at the NFL Scouting Combine
"We had two receivers go over 1,000 yards and a third get close," Tobin said. "We had a running back over 1,000 yards. Our quarterback was first or second in the league in passer rating. We're a top-10 scoring team. We're a top-10 yards-per-play team."
He capped it off with this message:
"The five guys up front, they're a big part of that, too. It's more than just the sack numbers."
It's admirable to hear Tobin and Taylor defend the offensive line, which has been criticized mightily. But they also definitely need help on their offensive line.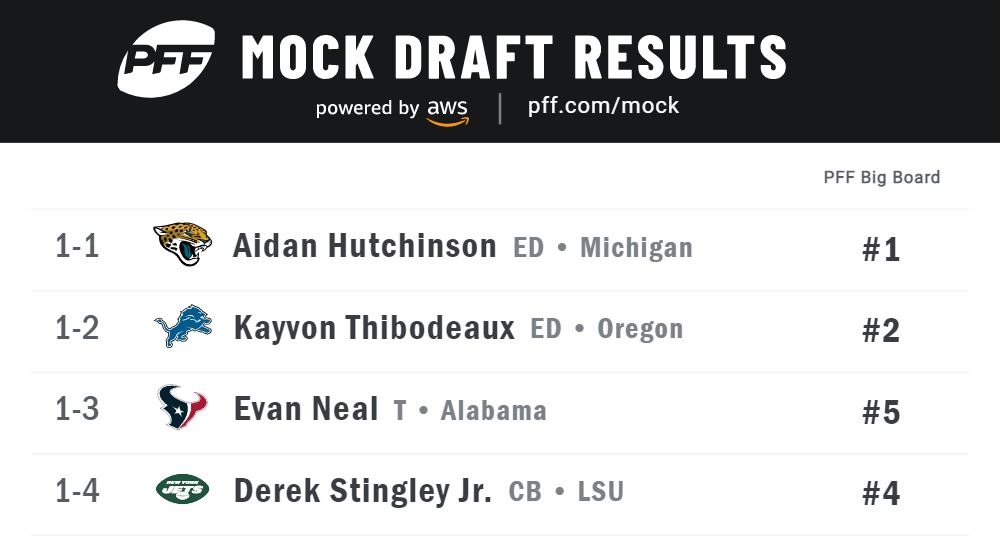 "We have spent a lot of time already on the quarterback class and had an opportunity to watch them," Rivera said. "There's several quality guys, several standout guys that we're going to spend even more time on. Yesterday was our first opportunity, we got a chance to interview a number of them. We'll continue the interview process, we'll start looking to figure out which guys are we going to do privates with, which ones we're going to bring in, which ones we're going to attend. 
"It's a different type of group because you've got everything from pure passers, to guys that have pure athleticism. And so you've got to really look at that. You've got to look at how it's going to fit the type of players you have. Ideally, if you can find a guy that can do both, hey, you're very fortunate. But again, you know, we're picking at No. 11, and I promise you, these are all things that we're looking at."
Rivera noted they watch game film with quarterback prospects to measure their retention.
He also openly acknowledged that Washington tried to trade for Matthew Stafford.
"We were trying to get into that, and we lost out to the (Los Angeles) Rams," he said.
"Now this year we are being very proactive, looking, searching, doing things we are trying to truly cover every base. And I've said this, there's really three avenues to finding that guy or actually there's four, whether you got it on your roster, whether you can make a trade for it, whether you're out there in free agency or now the draft. I mean, we're looking at all four of those things and we really are and trying to decipher and figure out. It's a long process, It really is. And then you're still not guaranteed anything, that's the truth of the matter. For everything that's going on right now with all the quarterbacks potentially being traded and listening and following what's going on. I mean, every time you hear something, you're checking into it. And so we've got to do our work. We've got to do our due diligence."
Rivera said the Commanders are "trying to figure out" if a franchise quarterback can be acquired via trade. There aren't many who even could be made available, so it's pretty easy to figure out who they're checking in on. They're willing to pay up.
"There's an old saying, 'What are you willing to pay for that major league baseball card?' Whatever you pay, that's what you think the value is," Rivera said. "So, when you get in these negotiations with another team, it's whatever they're asking for, is it what you're willing to pay for then that's what it is. I mean, to sit there and say, what is or isn't, who knows. Does anybody really care what was traded for Matthew Stafford last year? No. So who knows?"
---
2022 NFL Draft position rankings:
Top 10 players at every position
QB | RB | WR | TE | iOL | OT | DI | EDGE | LB | CB | S
---
"Actions speak much louder than words in this volatile business," the statement read, in part.
Cardinals head coach Kliff Kingsbury shares an agent with Murray. He said he hasn't spoken to Murray since the statement, nor did he know it was being released.
Kingsbury was asked if things are complicated since he and Murray share an agent.
"With me and Erik, we talk about what he and I need to talk about," Kingsbury said. "And any negotiations he's going to have are going to be with Steve (Keim). We know that's part of the deal. I love Kyler. I love Erik. That's not going to change."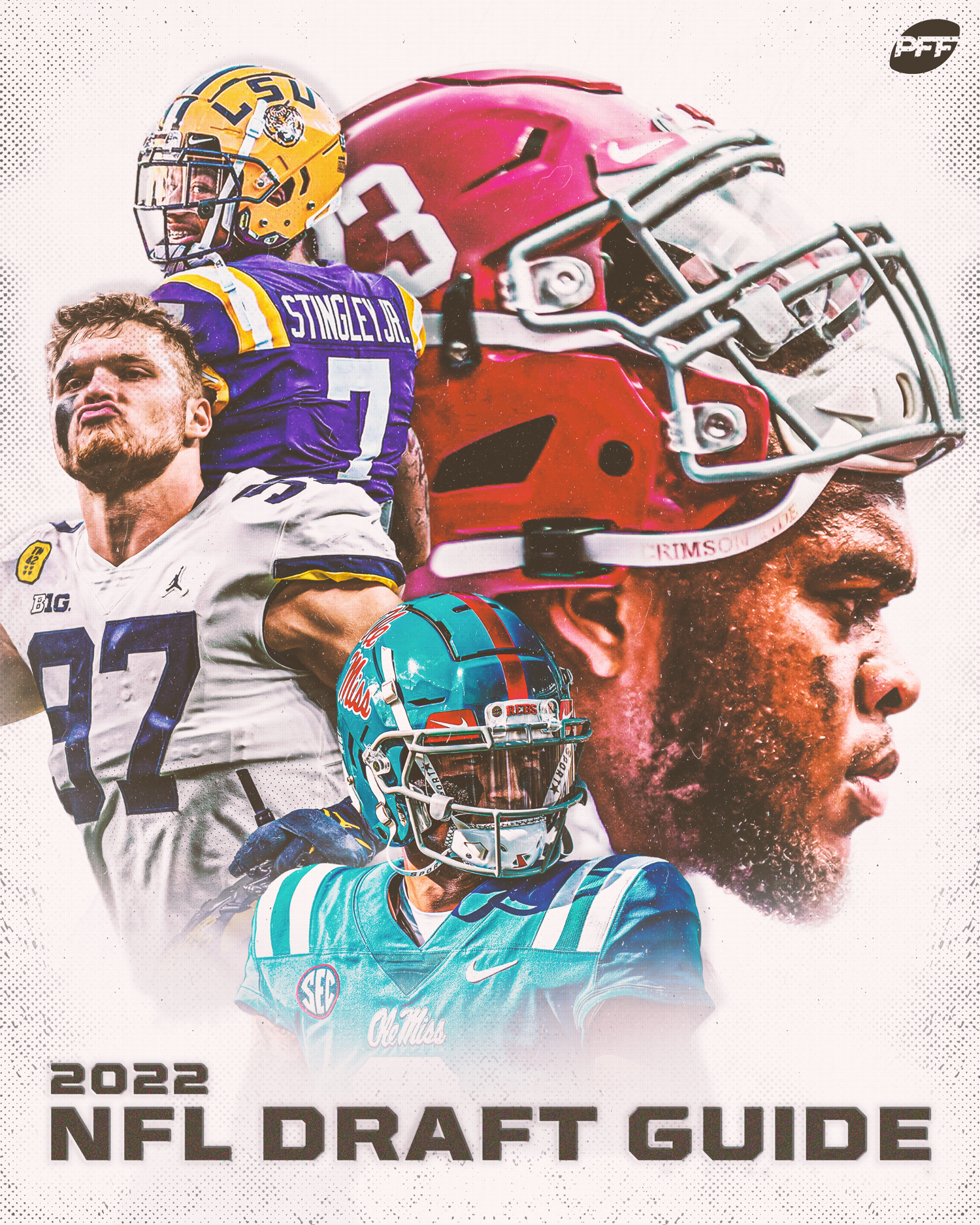 "Whenever Tom wants back, he's back," Arians said.
Arians said it would be "bad business" to accommodate a trade if Brady wanted to return but play for another team. When asked what it would take to make such a trade, Arians said, "Five No. 1 (picks)? Maybe."
Arians also said he'd be "very, very comfortable" if the Buccaneers' quarterbacks next season were Blaine Gabbert and Kyle Trask.
Prepare for the offseason with PFF:
♦ 2022 Free Agency Rankings
♦ 2022 NFL Draft Guide
♦ 2022 NFL Draft Big Board
♦ 2022 NFL Mock Draft Simulator
♦ 2022 NFL QB Annual
♦ NFL & NCAA Player Grades