It's that time of the year.
Now that the Super Bowl is almost a week behind us, draft season is here and in full force. Mock drafts are the cornerstone of the draft season, and while no mock draft is ever likely to be 100% accurate — especially this far out — they do provide insight from the experts as to what NFL teams could be thinking. My colleague and PFF's lead draft analyst, Mike Renner, recently released his latest mock draft, where he broke down who each team would take in the first round as of right now. To follow that up, we decided to do a mock quarterback draft of what we would do, not what we think the teams will do.
[Editor's note: The Senior Bowl edition of PFF's 2020 NFL Draft Guide is live! Subscribe to PFF's EDGE or ELITE subscription today to download your copy.]
Why they should: The Bengals have been clear that the Andy Dalton era is over in Cincinnati. The longtime Bengals signal-caller produced a 66.3 PFF grade in 2019, ranking 23rd of 32 qualifying quarterbacks, but he will still generate interest in the trade market due to the high-end he showed in 2015 and 2018, when he finished eighth and 13th, respectively, in PFF grade. The Bengals took Ryan Finley in the fourth round last year and gave him three starts in 2019 to see what he had to offer. Based on that sample, and the 29.3 overall grade he earned over his 104 dropbacks, there's not much there.
What they are getting: This pick shouldn't even be a debate. LSU's Joe Burrow shattered PFF records across the board this past season. No college quarterback has ever recorded a higher PFF grade or more wins above average (WAA) in a single season than Burrow, and he did it all against SEC competition. His most alluring quality is also the most important, and that quality is his top-tier accuracy. On passes 15-plus yards downfield, Burrow had an accurate-pass rate of 62.3% that led all college quarterbacks and was seven percentage points higher than second place. He's the crown jewel of this draft, and he's debatably the best QB prospect of the last few.
Most valuable players in the @PFF College era in PFF wins above average:

1. Burrow (2019) – 2.95
2. Mariota (2014) – 2.36
3. Murray (2018) – 2.33
4. Mayfield (2017) – 2.32

Friendly reminder that Burrow's 2019 season was stupid good and unlike anything we have ever seen. pic.twitter.com/UrvnZDOLVB

— Anthony Treash (@PFF_Anthony) February 6, 2020
Why they should: Ryan Fitzpatrick really wasn't that bad in 2019. In fact, his 76.5 overall grade was the 15th-best grade at the position. The unfortunate part is that that level is his ceiling. It was the second-highest graded season of his career within the PFF era, and he will enter the 2020 season as a 37-year-old on a rebuilding team. In other words, he'll be a great mentor and backup, but he's not a reliable option to lead a team for 16 games. Miami's other option is former 10th overall pick, Josh Rosen, but Rosen has yet to truly show anything as a pro after producing overall grades 49.1 and 46.0 in the previous two seasons.
What they are getting: Miami got lucky that they still landed in a position to land Alabama's Tua Tagovailoa after they abandoned the tank and won five games. Despite being dealt an injury that could have long-term implications, Tagovailoa should absolutely be the pick for Miami at Pick 5. Tagovailoa earned an elite 90.0-plus grade in each of his two seasons as the starter for the Crimson Tide, and over that entire two-season stretch, he had the highest positively graded play rate in college football. If you are cautious about buying into the Tua hype because of his elite supporting cast, don't be. He owns the second-highest rate of "accurate plus" passes on tight-window throws over the past two years and has the decision-making and pocket presence that NFL teams will covet.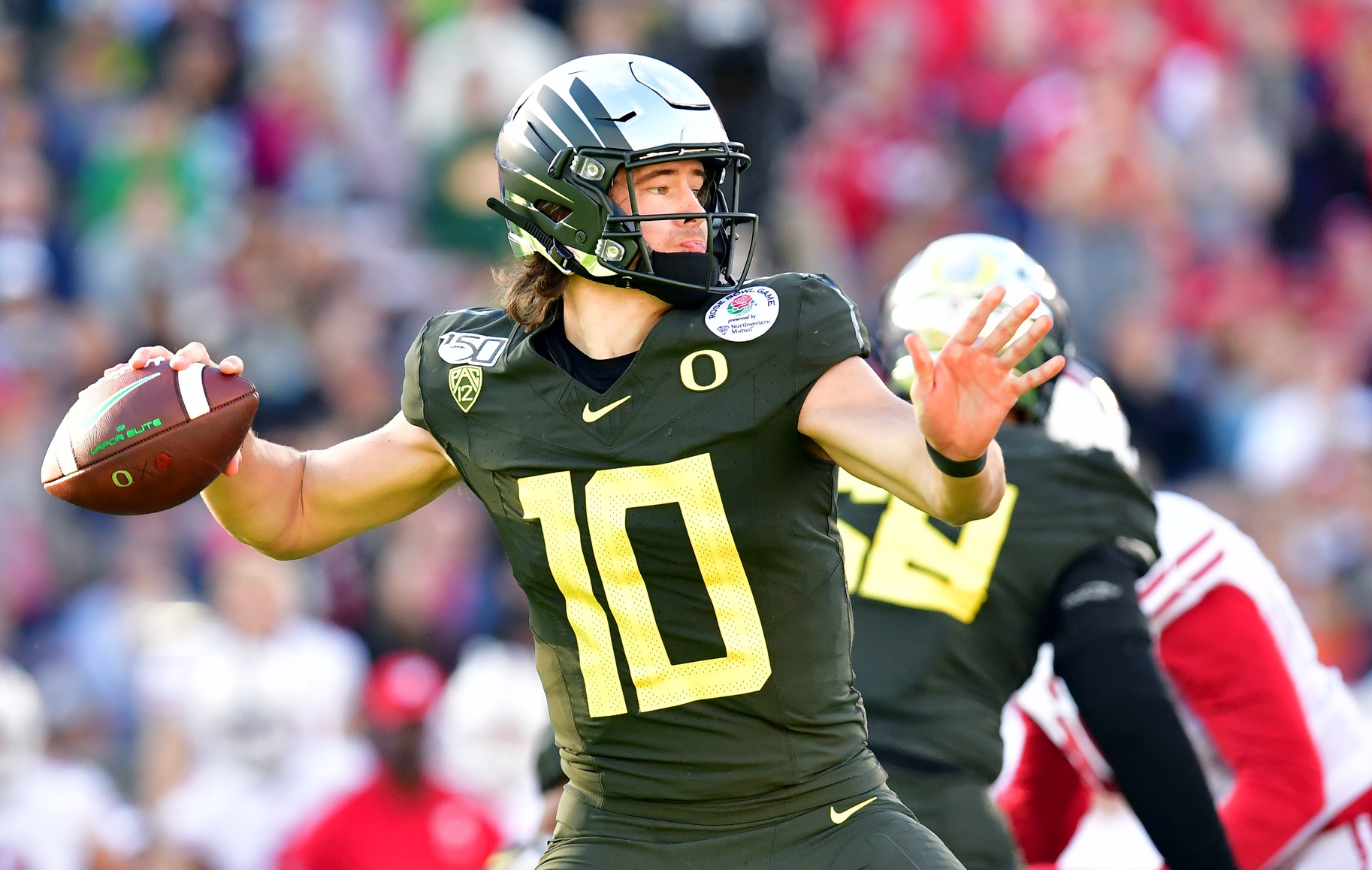 Why they should: Jacoby Brissett had a shot to prove that he was capable of leading an NFL team when Andrew Luck went down due to injury in 2017, but he couldn't take advantage of that opportunity, as he was the fifth-lowest graded quarterback that year, at 62.4. He got one more shot in 2019 following Luck's sudden retirement, but once again, he couldn't get the job done and stumbled to a PFF overall grade of just 59.3 on the year, the fourth-lowest grade among qualifying players at the position. His arm strength and accuracy downfield is suspect, as you can see from his profile in PFF's 2020 QB Annual, and the Colts have reportedly recognized that, according to NFL's own Ian Rapoport.
What they are getting: There's reason to be concerned about Justin Herbert's pro potential. He was just 41st among quarterbacks in WAA this past year and failed to show up in arguably the three biggest games of his 2019 season.
| | |
| --- | --- |
| Game | PFF grade |
| Week 1 vs. Auburn | 55.6 |
| Pac-12 Championship vs. Utah | 60.4 |
| Rose Bowl vs. Wisconsin | 65.3 |
Those three games were among the four lowest-graded games of his 2019 season. The good news is that he has a rocket-launcher for an arm when needed. He's shown he can throw it 40 yards downfield with ease and thrives when in rhythm. On top of that, he made some excellent throws both outside the numbers and when asked to lead his receiver across the field, and on such passes, Herbert produced the third-highest grade in the FBS.
Whenever pressure would arise, though, you could see the panic in Herbert, and he ended up ranking among the 10 worst quarterbacks in negatively graded play rate under pressure. The quick Oregon scheme didn't do him any favors, either. There's a lot to be worried about with Herbert, which is a big reason why he is 27th on the most recent PFF big board, but quarterback is the most important position on the field, and Indianapolis needs one desperately.
Why they should: PFF has been pretty honest when it comes to Mitchell Trubisky. He isn't quite what we and the Bears thought he'd be (yes, we were wrong on Trubisky, too). His best season in terms of PFF grade came in his rookie campaign when he ranked 25th of 32 quarterbacks, and in 2019, he was one of four quarterbacks to rank 25th or worse in both positively graded and negatively graded throw rate. Coaches and scouts famously say that you can't coach accuracy, and Trubisky's accuracy has been especially poor over the last three seasons, a sentiment that's evidenced by the fact that he's finished among the bottom five signal-callers in accurate-pass rate when targeting past the sticks in each of his three seasons in the NFL.
What they are getting: Jake Fromm graded out reasonably well throughout his time at Georgia, producing a PFF grade above 80.0 in each of his three seasons. This is mostly due to the care he takes with the football. In 2019 alone, he had a turnover-worthy play rate that ranked sixth of 125 qualifying quarterbacks. He was solid throwing into a tight window, as well, producing the fourth-highest grade and the second-highest rate of "accurate plus" passes on his tight-window throws.
The big concern with Fromm is that Georgia relied more on everyone else to win games. He fits the "game manager" title and wasn't someone who could create outside the structure of the play. Truth be told, creating outside the structure was never his thing; he only had 25 dropbacks on which he scrambled outside the pocket and tried to create a play, which ranked 148th among college quarterbacks. On those dropbacks, Fromm produced a grade in the low 30s. For perspective, Burrow had over 100 of these dropbacks and produced an elite PFF grade.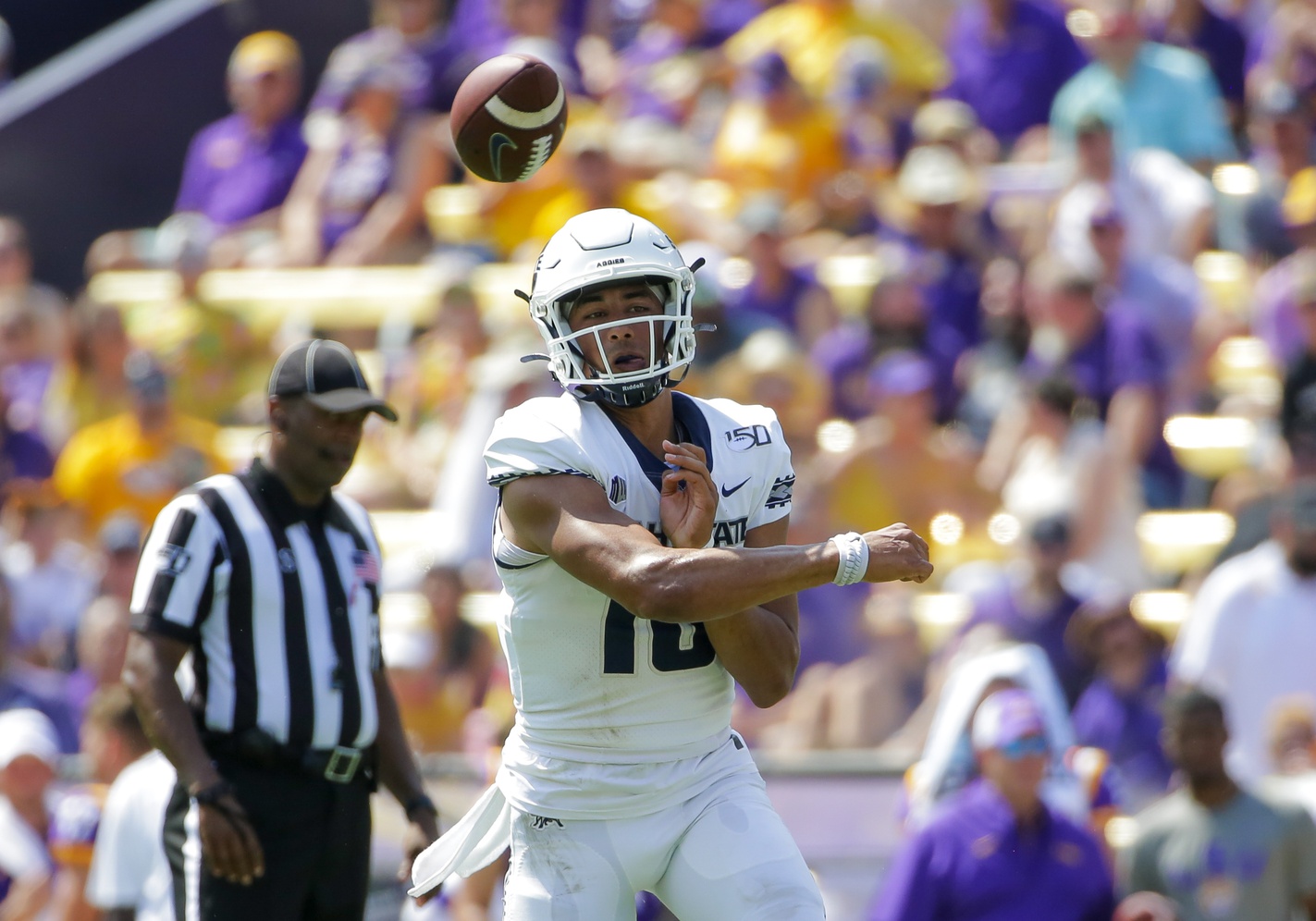 Why they should: Big Ben Roethlisberger has recently undergone fairly significant elbow surgery to fix the ailment that ultimately ended his 2019 season. And even before that season-ending injury, he was still coming off one of the worst seasons of his career. The near 38-year-old had a passing grade that ranked 17th among qualifying quarterbacks in 2018, and he actually uncorked the league's most incompletions on 10-plus-yard throws when looking at misses that were down to the fault of the quarterback (overthrow, underthrow, etc.). Pittsburgh's 2018 third-round pick, Mason Rudolph, was looking to be Pittsburgh's heir apparent, but he proved to be anything but that, as he ranked second to last in PFF grade in 2019 at just 53.0. Big Ben is apparently going to give it a go next season, but I wouldn't bet the mortgage on him being what he once was.
What they are getting: It was a bit of a surprise to see Jordan Love declare for the draft in the first place given that he regressed, not progressed, from 2018 to 2019. After producing a good-not-great 81.9 passing grade in 2018, Love took a step back with a 76.5 passing grade in 2019. Even in terms of PFF's wins above average metric (WAA), Love was 72nd among all quarterbacks and the lowest among those on this list.
| | |
| --- | --- |
| QB | WAA |
| 1. Joe Burrow, LSU | 2.95 |
| 2. Jalen Hurts, Oklahoma | 1.42 |
| 3. Tua Tagovailoa, Oklahoma (2018) | 1.21 |
| 4. Josh Love, San Jose State | 0.91 |
| 5. Jake Fromm, Georgia | 0.79 |
| 6. Anthony Gordon, Washington State | 0.76 |
| 7. Cole McDonald, Hawaii | 0.48 |
| 8. Justin Herbert, Oregon | 0.36 |
| 9. Jacob Eason, Washington | 0.31 |
| 10. Jordan Love, Utah State | 0.10 |
Now, this isn't the be-all and end-all for Love's NFL future, but it's a big red flag on his resume, and that's part of the reason why we don't see Love as a first-round pick like everyone else. In fact, we have him at 65th on PFF's latest big board, and if Pittsburgh wasn't as needy at the position as they are, he'd be a third-rounder in our books.
The big reason why Love is still the fifth quarterback off the board, though, is because of his arm and how well he performed when his receivers helped him out. When throwing 10 or more yards downfield to a receiver with a step or more of separation, Love was a top-10 quarterback in terms of PFF grade, and he had the second-most big-time throws and just two turnover-worthy plays on such throws. When his receiver didn't get that separation, though, things got ugly. No quarterback threw more interceptions on tight-window throws than Love, and that wasn't due to poor play from his receivers. He also had only two games against Power-5 competition this past season, and he produced grades of 54.8 (Wake Forest) and 44.0 (LSU) in those two.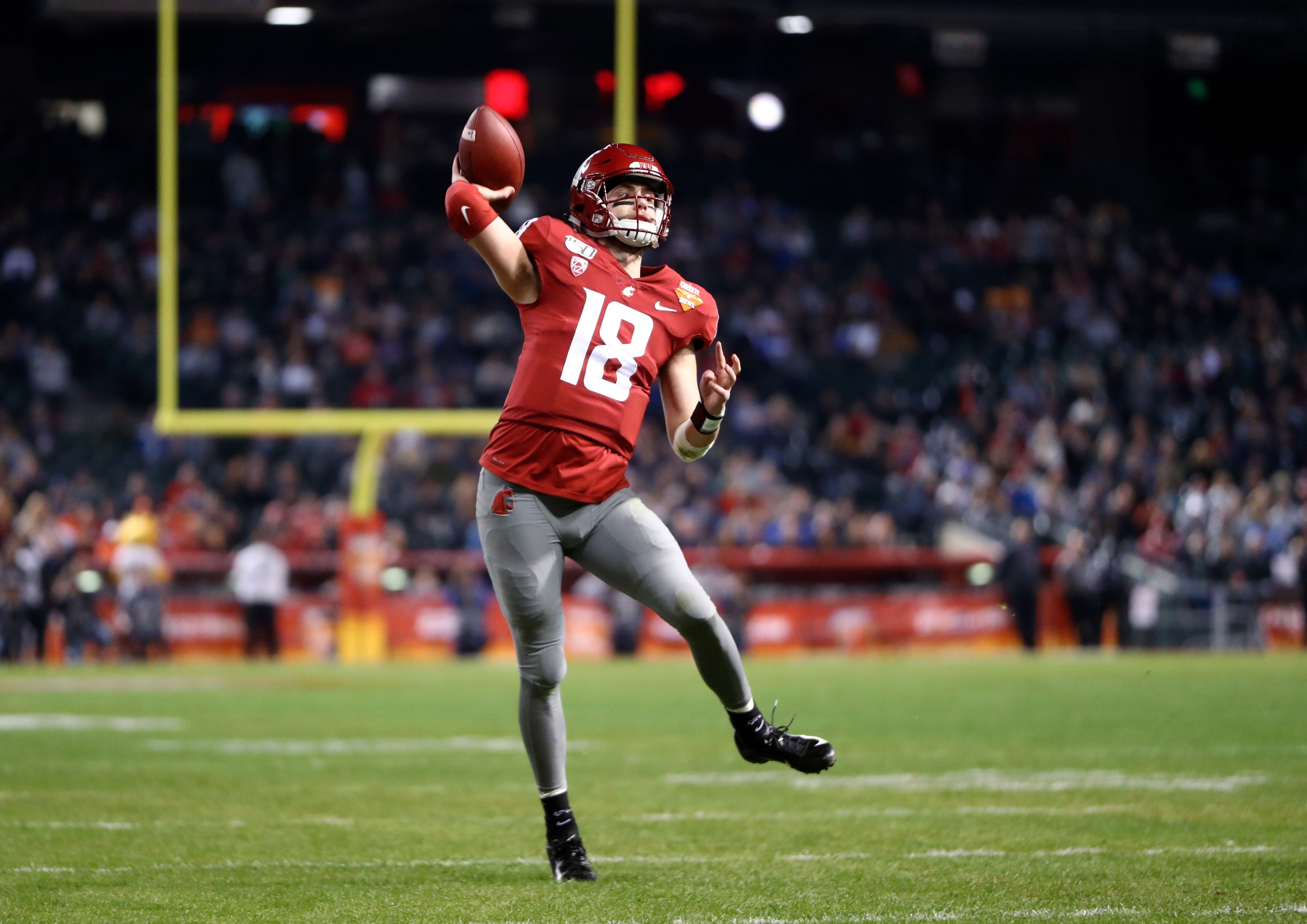 Why they should: Kyle Allen had an excellent debut in Week 3 of the 2019 season, earning an 86.6 overall grade on the day. The rest of the season, however, was frankly horrendous. He had just one more game that earned a 70.0-plus grade, and he ended up as the lowest-graded qualifying quarterback in the NFL with a mark of only 49.7. Cam Newton has shown that he's capable of being a top-10 player when he's healthy and has a solid supporting cast (e.g., his 2015 season when he earned an 86.5 grade and MVP honors). However, his health is a big concern at this point. They might dip into the free agency pool, but they might be searching for a rookie quarterback to bridge to Trevor Lawrence or Justin Fields in 2021 after moving on from Newton. Given the Panthers' unstable situation at the position, and given the importance of that position, they shouldn't stop looking for a franchise quarterback until they know for sure that they have one.
What they are getting: Anthony Gordon's box score stats benefitted massively from Mike Leach's Air Raid offense. He graded out reasonably well, too, placing among the 25 best quarterbacks of the 2019 season. Gordon consistently made plays when targeting his first read and finished among the 10 best CFB signal-callers in PFF grade on those plays. However, when things didn't go as planned, Gordon fell apart. On top of that, a lot of his production was down to the scheme in which he played. He had over 900 more yards and 130 more attempts than any other quarterback when targeting underneath the coverage and from his receiver finding a hole in the zone. When looking at his 10-plus yard throws, things start to get a little shaky, as he sits right around the 25th percentile in PFF grade on those throws and ties for the most turnover-worthy plays. Going to an offense like Joe Brady's, one that lives off of short, quick throws, would be a best-case scenario for Gordon.
Why they should: The quarterback situation in Tampa Bay is murky. It seems likely that Bruce Arians brings back Jameis Winston for another one-year tryout given his upside, but if that fails, they'll almost certainly move on and would be left without any hope until the next draft pool. Winston has been among the five best quarterbacks in positively graded play rate in each of his five seasons in the NFL, but he's also been among the 10 worst in negatively graded play rate in each season. A quarterback competition between Winston and a rookie might be the best way to approach the 2020 season for the Buccaneers.
What they are getting: Jacob Eason looks the part with his size and arm strength, but there's still a lot that needs to be answered. Eason was among the 10 best college quarterbacks in terms of PFF grade when he was kept clean from pressure, but after that, there's not much to get excited about. When pressured, Eason produced the 76th-best grade among 92 quarterbacks, and over half of his downfield passes under pressure were uncatchable. That's not what you'd like to see from a potential franchise quarterback. Clean-pocket play is more stable than play under pressure, so while there's some hope that the Bucs might be getting value at pick 107, he's still got a ways to go before he's considered a sure thing.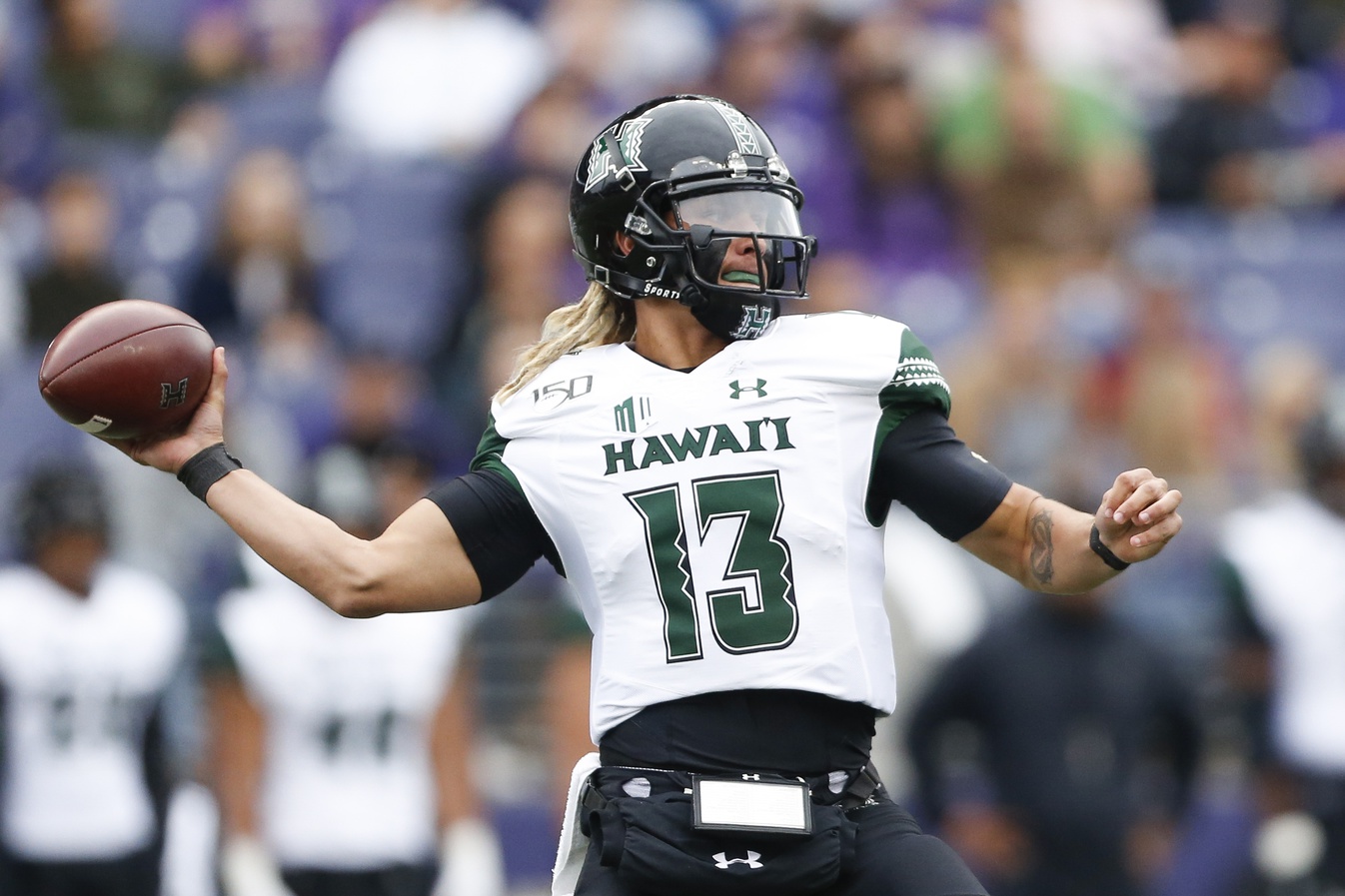 Why they should: Matt Ryan had the second-lowest graded season of his career in 2019, but he still had a higher grade than over half the league's quarterbacks. That being said, he still had a pretty significant drop-off from the few years prior, and he's set to turn 35 this May. Not to mention, his current backup, Matt Schaub, turns 39 in June and has had just three starts since 2014, so who honestly knows whether or not he could handle a string of NFL starts if Ryan were to go down.
What they are getting: Cole McDonald has absurd arm strength and had nine completions of 40 or more yards downfield, which led all college quarterbacks in 2019. The problem was that he was just incredibly volatile, and for the most part, his decision-making was bad. McDonald ranked 102nd in negatively graded throw rate and 20th in positively graded play rate this past season. He made the throws when he was in rhythm and got through his progressions, but as soon as he was knocked out of rhythm, he was one of the worst-graded quarterbacks in the country. He finished with the sixth-lowest PFF grade in the country on those out-of-rhythm plays.
Why they should: Kansas City has one of the best quarterbacks in the NFL in Super Bowl champion Patrick Mahomes. His two seasons as the starter have resulted in two elite grades of 90.0 or higher, one league MVP award and one Super Bowl MVP award. The Chiefs, however, are in the market for a viable backup quarterback, as 35-year-old Matt Moore is set to hit free agency, and despite what the box score says, Moore wasn't that great when filling in for Mahomes when he was injured. In relief of Mahomes, Moore produced a 63.3 grade on his 100 dropbacks.
What they are getting: Jalen Hurts brings a lot of value in the run-pass option game, as he averaged 7.4 yards per carry on those plays with Oklahoma this past year. But while he has the speed to make a big impact with these option plays at the next level, the NFL game is vastly different from the college game, so it'll be increasingly difficult for him to transfer that type of production exactly.
Unfortunately, Hurts' passing brings a lot to worry about. No quarterback held onto the ball longer than Hurts (3.08-second average time to throw) in 2019, which in turn brought a lot of pressure. Hurts was charged with the seventh-most pressures of any quarterback this past season, and given his slow release, things will only get worse in the NFL. There's a chance he could end up as one of the top quarterbacks in the class, as his WAA looks like that of a first-round pick, but his style of play just doesn't translate well to the NFL, and that will always be a concern.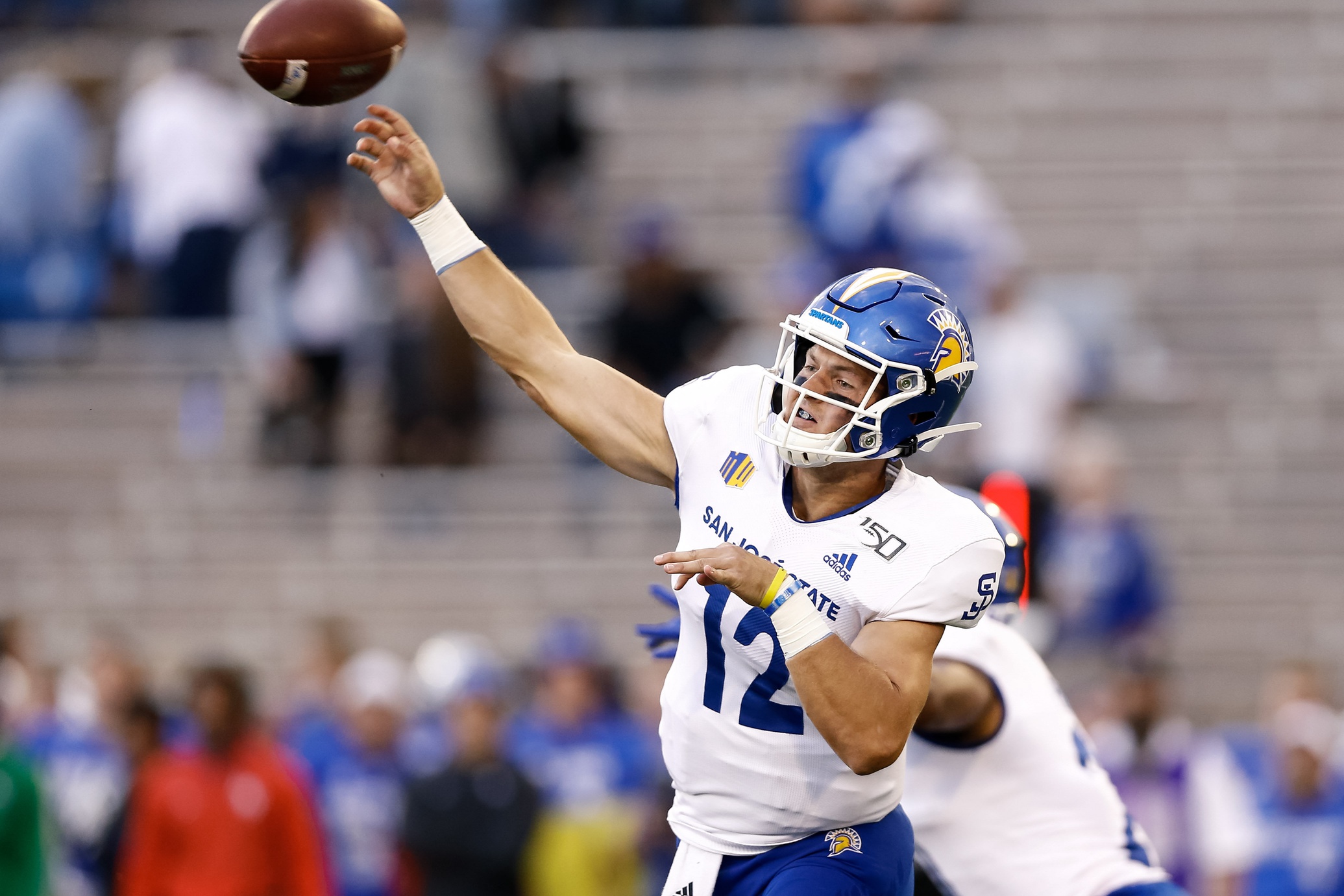 Why they should: Matthew Stafford, Detroit's starting signal-caller since 2009, was amid a career year in 2019 before injury cut his year short after Week 9. His style of play changed for the better this past year, as he opted to air the ball out more, and that saw him take the NFL lead in big-time throw percentage while earning a top-10 PFF grade. However, his replacements, David Blough and Jeff Driskel, both produced poor grades in the 50s, and they were among the six worst quarterbacks from a grading standpoint over the last half of the season. The back injuries to Stafford constitute a significant concern for his playing future, and Blough and Driskel made it clear they weren't the answer.
What they are getting: Love's pocket presence is better than most on this list, and he converted pressure to sacks and an incredibly low rate en route to earning the fourth-highest PFF grade in college football. Obviously, the strength of competition was pretty poor, and he isn't going to wow you with his arm strength — he was among the 25 worst in accurate-pass rate on throws 20-plus yards downfield — but his sixth-best WAA is worth taking a flyer on in the later rounds.