Welcome to PFF draft week! Just like you, we are excited to get back to football.
With just hours remaining until the start of the 2021 NFL Draft, I take my best pass at Round 1. My mock draft features one trade, as I have the New England Patriots moving up for Ohio State's Justin Fields, while the first two picks rank first and second on PFF's draft board.
Please join us over on PFF's YouTube channel before, during and after the draft for a complete analysis of every pick. Here we go!
View PFF's 2021 NFL Draft position rankings:
QB | RB | WR | TE | T | iOL | DI | EDGE | LB | CB | S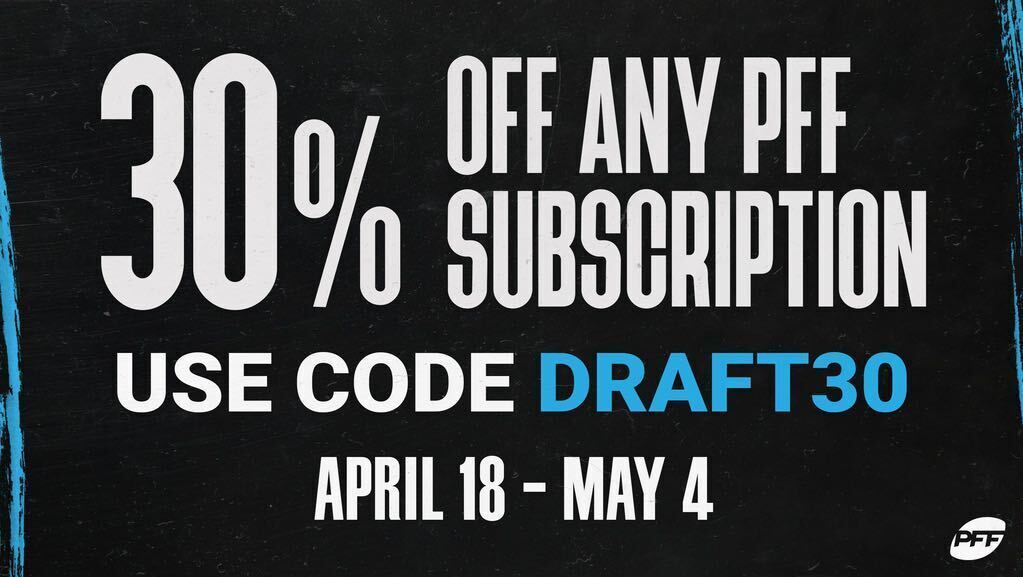 Billed as one of the best draft prospects in the country since his high school days, Lawrence consistently won big games with great play against top competition.
Clemson's team in 2020 was not as good as it was in past seasons, so he did struggle at times, and Miami's athletes and pressure did unsettle him some. Still, Lawrence's running skills will make the RPO game very difficult to stop. Nobody is better with mobile quarterbacks than Urban Meyer, as Tim Tebow and Alex Smith will attest. Lawrence's running skills may allow him to put up Josh Allen-type red-zone numbers in 2021, and he also possesses excellent seam-throwing skills that I thought were underutilized at Clemson this year. He's an easy pick for No. 1 overall.
Wilson floats around the pocket like Joe Montana and flicks the ball like an Aaron Rodgers. His tight spirals and ease of release really are something to watch. And he looked as though he was toying with defenses at times this past year.
You will see him flip out on scrambles like a Russell Wilson, and he is just as mobile. His RPO footwork is special, he is a dangerous runner in space and he has a great feel for back-shoulder and high-and-away throws to protect the ball and receivers.
Wilson misses throws rolling right more than he should, but his skills are special and he could be great. He will get hit more this year than he has in his career to date, so I just hope he can survive at just 212 pounds. Can he play the same when he isn't perfectly protected like at BYU? That is my only doubt.
I don't believe the Niners traded up with Trey Lance in mind. I will always think that Kyle Shanahan traded up to get Mac Jones, but the fan base revolted. So, the 49ers go the developmental route with Trey Lance and let Jimmy Garoppolo play one more year.
Lance will eventually give the 49ers that final element: a QB who can run on bootlegs opposite those stretch runs. San Francisco already fields the most creative offense in the NFL, and Lance may add that final piece that proves too much to stop. At the same time, the FCS product has so little experience against top competition that this is still a very risky move.
Atlanta is in cap hell and would love to trade for additional picks to rebuild this team with lower-priced rookies. But the 49ers paid so much to get to No. 3 that no trade seemed fair. In the end, the Falcons draft Kyle Pitts.
Arthur Smith did great things in Tennessee with multiple tight end sets, and despite having a defense that needs help everywhere, the value with Pitts here is just too high to draft defense.
The Florida tight end is a brilliant catcher of the ball and possesses a comical catch radius. His flexibility and ability to contort his body to make plays is just fun to watch; he also has genuine breakaway speed and will be a nightmare as the single receiver in 3×1 sets. His flaws will be as an inline blocker and any route that requires him to stop quickly and come back to the ball, but when he is moving forward, Pitts is almost unstoppable.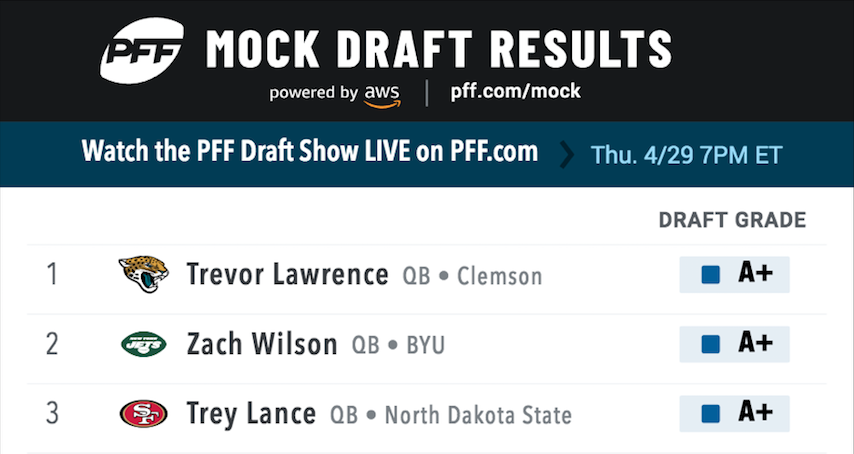 As much as I would love to see the Bengals trade back, it just never seems to happen in Cincinnati. Sewell is a potential Hall of Fame talent, and the Bengals know who their best player in franchise history is — Anthony Muñoz.
During the Muñoz era of the '80s, Cincinnati had two MVP QBs and went to the Super Bowl twice. They have not been close to either since Muñoz retired, so they hope Sewell is their next HOF tackle and that Joe Burrow can survive long enough to go to the ceremony.
When Chase ran under 4.4 at his pro day, I knew he would be the first receiver off the board. His ball skills and creative contested catches are really special; he knows how to position/stack his body against the defender in very creative ways, and he doesn't foul while doing it. He also has a way of gaining separation early in the route and then holding it with his size and strength.
Chase can block and even played some tailback, but there is no arguing with the fact that he caught 24 deep balls against SEC competition at just 19 years of age and almost beat Clemson by himself in the 2019 National Championship Game.
This is where the action really begins. Mac Jones and Justin Fields are both likely gone the next two picks, so the Patriots pull the trigger, beating out Chicago and Washington for Pick No. 7.
I am not sure if the Patriots would prefer Mac Jones or Justin Fields, so I gave them my choice: Justin Fields. The reports that Fields has been managing epilepsy may have caused him to drop, but he is an accurate passer, will learn to work through progressions better and is an absolute bear as a runner. But the Ohio State product will have to break the habit of running as a second option in his passing reads, or he will get blitzed to death in the NFL.
Checkdowns will become his best friend in the new 17-game season. Fields has so much talent as both a passer and a runner that I think he will become a star.
If there is one big loser here, it is the 49ers, who would have loved the Patriots to have missed out on one of the top quarterbacks to keep a possible trade for Jimmy Garoppolo alive, but those dreams just ended. The Lions, meanwhile, are quietly building their own war chest as protection behind a one-year trial with quarterback Jared Goff.
I was told that Mac Jones would be a late first-round pick early in the process. And when I watched the tape, my first question was, "what am I suppose to not like about Mac Jones?"
His accuracy, touch, poise, anticipation, ability to quickly read defenses and distribute the ball are all unmatched in the class. And while he has the weakest arm of these top five quarterbacks, it is plenty strong enough to win a Super Bowl.
Accuracy is the key, and Jones is very accurate. He picks apart zone defenses and has a quick release when he pulls the trigger. Jones also dealt with plenty of pressure from SEC defenses, as Alabama's protection wasn't always perfect. He is Brady-like with his in-pocket movements but still has enough speed to be a factor in the running game. He may have benefited from a lot of open receivers in college, but his tight-window throws stood out. Matt Ryan may be my closest comparison, but that works for me.
He's not nearly as physical as Virginia Tech's Christian Darrisaw, but Slater is an incredible pass protector. His father played in the NBA for eight years, and if Rashawn's feet are anything to go by, the apple doesn't fall too far from the tree. Slater's footwork might not yet be on the same level as David Bakhtiari's, but his ability to stay in front of elite pass-rushers will keep him in the league for a long time.
Nobody hates being predictable more than Jerry Jones, but Surtain is the safe choice for Dallas. The Dallas defense really struggled last year, and while Surtain is not the fastest corner in this class, he has played 662 snaps in press coverage over the last two years, by far the most of any corner in this class.
Dan Quinn takes over as the defensive coordinator and needs a Richard Sherman to run this defense. Surtain has many of those traits: he sees route combinations coming, he studies the QB and not the receiver, he easily gets his head around and finds the ball on deep passes, he is very physical tackling in the flat and he plays with the savvy of a much older player. He will not beat himself with penalties, either.
Jerry will be tempted to go for Caleb Farley, the best athlete in this cornerback class, but the injury risk associated with the Virginia Tech corner is just too great.
Smith's lack of size will create doubt … until you watch him play. His confidence continued to grow throughout the 2020 season, and he was simply fantastic in the biggest moments. He catches the ball so easily that converting to his great running skills happens very quickly. He has no fear across the middle, while his ability to take big hits and hold onto the ball may be his best trait. I loved watching his creative route running, which features subtle pauses and an ability to bounce off defenders to gain position. Jaylon Waddle is certainly in play here, but Smith won the Heisman voters and me over with his end-of-season run.
The Eagles get lucky here. Waddle likely would have been a top-10 pick but for his injury. His speed flashes often, and he consistently pulled away from SEC defenders. His double-moves are frightening, given his speed, and few receivers run them more often.
One of the things I really like about Waddle is that he tends to hold his speed and create comfort for the defensive back before hitting the jets, and then it is all over. His diving catch and collision against Missouri showed his toughness.  Jaylen Hurts gets an intimidator outside.
The Chargers' history of offensive line issues has been erased in just one offseason. Free agents Corey Linsley and Matt Feiler will team with Darrisaw to complete the transformation.
Justin Herbert proved his worth last year, so the Chargers respond by investing in his development and protection. Darrisaw is a physical mauler, a legitimate tough guy, and should create real opportunities in the running game, as well.
Darrisaw has an athletic kick step and a death grip when he gets his hands on rushers. He comes off the ball low and powerfully in the run game and has plenty of athleticism in space. My concern is how he'll fare against speed off the edge; he has such great energy in the running game, but I would just like to see him use that same energy finishing in protection. But make no mistake, he is a bad man.
The Vikings have to add a pass-rusher.
The more tape I watched, the more I was convinced that Phillips was the best defender in this class. A series of head injuries forced him to retire from football early in his college career, but after his return, nobody was better rushing the quarterback in the second half of the 2020 season. His pedigree as a former five-star recruit doesn't hurt matters, either.
Phillips flew all over the field with a violent approach and never showed any signs that he was dealing with a history of concussions. He has power and a great inside move; his one-armed jam creates space that he takes advantage of, and he just has a frenzied approach to the game. He is a hammer on the edge and can play in a 4-3 or 3-4. He is powerful and quick inside, as well. Plus, his hustle sticks out, as he often chased down scrambling quarterbacks running downfield. Jaelen Phillips will be a rockstar if he stays healthy.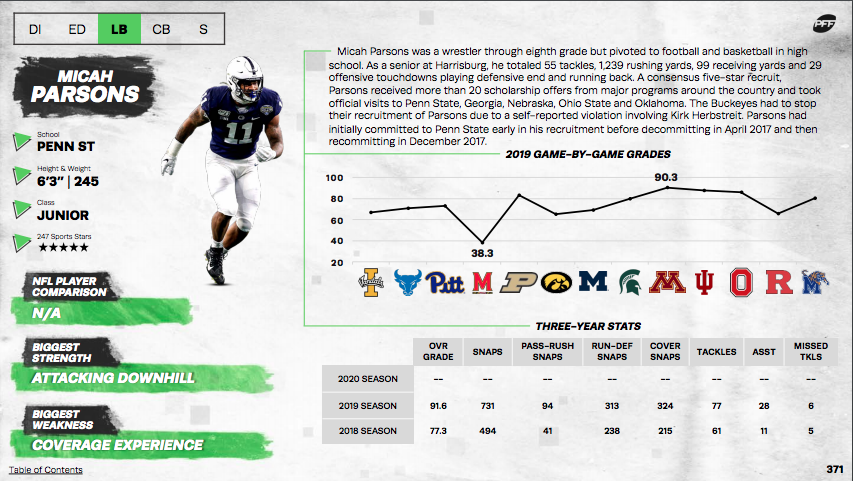 Tough pick here. I would have gone either Christian Barmore from Alabama or CB Jaycee Horn from South Carolina, but Parsons will be hyped like crazy as the best player available at this point. The Lions will take the win.
The upside with Parsons is that he may end up an even better edge player than a linebacker — and he is a good linebacker. He has flashy speed and is almost impossible for backs and tight ends to block when he sets his sights on the quarterback. Penn State uses so many zone-coverage drops that it is hard to evaluate his coverage skills, but a prospect with his level of athleticism should be able to do anything.
He tends to struggle one-on-one against offensive linemen, as his speed can run him past or out of gaps if blocks are made. Still, football is rarely played in a phone booth anymore, so his skills should match today's NFL.
Horn allowed a completion rate of only 33% on throws into his coverage in 2020. He faced the best receivers in the country, and his physical style created issues for almost everyone he faced. He will fight — and hold — and jam the entire game. How much he can get away with is always a factor in his success. He will fight to get in the action as a tackler, but his big shots can also lead to missed tackles. Like his father, Joe Horn, he will battle all day. So, the Cardinals will try to replace Patrick Peterson with a similar presence in their secondary.  Horn could easily be the best corner in this class when we look back in five years.
This was a coinflip for me between Farley and the safer pick of Northwestern's Greg Newsome II. Farley is the higher upside pick, with 4.25-second speed that jumps out on tape. He would likely be the first cornerback taken in this draft but for his recent back surgery.
Farley has the size, too, measuring in at 6-foot-2 and 207 pounds, so he would be a steal at Pick 17 if healthy. This pick has nothing to do with skills; Farley checks that box despite being new to the position. He was a high school quarterback whose 58 total touchdowns still rank third all-time in North Carolina state history. If Farley can maintain his health, he will make Deion Sanders-like flashy plays running down overthrown balls. And if not, the Raiders look foolish. This is a big swing for the fences.
At 6-foot-5 and 310 pounds, Barmore is surprisingly nimble. He fights hard to get to the edge against guards, using his hands well, and then is just too much to keep from turning the corner. Fletcher Cox is a good comparison. He could play anywhere inside, including defensive end in a 3-4 defense.
Interior pressure is hard to generate, but Barmore does so consistently. He is fast enough for any stunt or loop and wins quickly in one-on-one situations. His play in the College Football Playoff elevated him to the next level. He was just a blur against Notre Dame in Alabama's semifinal contest. His hard step up the field outside the guard and then loop inside to smash an unsuspecting center makes for great theatre. Barmore is a can't-miss pick.
Toney is the flashiest player in this draft. He will be a favorite of the post-game highlight shows. Despite weighing only 177 pounds, he shows power when running over potential tacklers. His routes and moves are what really set him apart, though. I found myself laughing while watching people trying to tackle or cover him. He will drop his head into contact and then back off a step before pulling free from tacklers. He is nearly impossible to cover inside on option routes.
It was a challenge to play Cover 0 versus Florida because you couldn't leave Toney one on one with anybody. The Gators even played him at running back against LSU to try to isolate him, and the Tigers still doubled him. He would provide instant offense for Ryan Fitzpatrick in Washington. Toney's weakness comes in traditional route running. I think he has plenty of time and the physical skills to improve there, though. Enjoy watching a lot of his highlights this year.
The Bears would love to sizzle in this draft, but only solid picks remain. And Newsome is rock solid. He ran a 4.38-second 40-yard dash at his Pro Day, showed great poise on deep balls and got his head around easily to locate the ball at Northwestern. He likes to grab a little jersey at the catch point, which may catch up to him. His tackling is not flashy, but he breaks down and gets guys on the ground. He allowed only 12 catches on 34 targets for 93 yards in 2020. You can tell he is smart and has a plan on each and every snap.
I have never seen a player quite like Rousseau, who is 6-foot-6 and 260 pounds with an 83-inch wingspan. He looks like a skinny NBA power forward, and he is often playing nose tackle. The best word to describe him is probably "slippery." He can look completely blocked at times and still find a way to sneak through for the sack as the quarterback steps up. His wiggly moves will remind you a little of Jason Pierre-Paul in his early years.
Offensive linemen are just not sure which part of Rousseau's body to aim for. But don't let his thin frame fool you: He will show some pop against linemen trying to pull and kick him out. Miami even dropped him into coverage from the nose tackle position. He can play any position on the defensive line and create problems. Rousseau did get cut blocked a few too many times, but when you consider he may put on another 20 pounds, you can't help but think about what he might become.
This isn't a sexy pick, but it gives the Titans a powerful guard, if they choose to play Leatherwood inside, or a solid run-blocking tackle who will need some support in pass protection. But when you have Derrick Henry, that positional flexibility and power come into play.
Most of the pressures Leatherwood gave up at Alabama were to speed rushers, but with his strength, he may never allow a pressure if bumped inside to guard. I considered USC's Alijah Vera-Tucker here due to his guard-tackle versatility, but I ultimately went with the more powerful player in Leatherwood to block for Henry. I would also not be surprised if Tennessee drafts Minnesota's Rashod Bateman to replace wide receiver Corey Davis, who signed with the Jets in free agency.
Any time you have a 240-pound edge player, there will be physical concerns. But when I watch Alabama guards trying to pull and kick Ojulari out, they were met with force and failed to move him. He is by far the most skilled pass rusher of the players left on the board. His hand swats are a thing of beauty, as he often runs right through punches.
Ojulari's balance sticks out, too. Against Tennessee, he was down to a foot off the ground, regained his balance and completed the sack. He will run down backs trying to bounce outside, and as quarterbacks get more mobile, defenders will have to match those skills. It's a rare sight to see a quarterback escape Ojulari in space. He can also drop into coverage for new Jets head coach Robert Saleh.
Again, position versatility gives Vera-Tucker the nod here. He proved last year that he can play left tackle after previously featuring at guard. He did get bulled into the QB at times, though. He isn't a power player or a finesse player, but he lands somewhere dependably in between. He has a great feel for loops and stunts and is the best player available at a position of desperate need for Pittsburgh.
Alabama running back Najee Harris could be the choice here if the Steelers opt to go for one of the more powerful offensive linemen in Round 2. It is also possible that Pittsburgh could draft injured Alabama center Landon Dickerson and wait for him to recover.
I'm expecting new defensive coordinator Joe Cullen to attack much like Wink Martindale does in Baltimore. The Ravens can rush anybody on the field from any position. Jeremiah Owusu-Koramoah could play slot corner or inside linebacker. The Butkus Award winner made some of the flashiest plays in college football last year. I could see Cullen drawing up crazy blitz schemes to take advantage of his skill set.
At Notre Dame, Owusu-Koramoah would play in the slot but often rush off the edge, stealing pitches, blowing up screens and creating big negative plays for offenses. That rover position has been used a lot in college, but the wide college hash marks that created such a need don't really exist in the NFL. There is no doubt about the player — only the position.
This was a tough choice. There are still good edge players on the board, but defensive improvement is key this year in Cleveland. Bolton led the SEC in defensive stops the past two years while setting the tone for Missouri. He reads plays so quickly that zone-blocking offensive linemen often can't reach him. He has great eyes and awareness in zone coverage and makes plays on the ball. He will often see pulling guards and beat them to the hole.
One of my favorite traits of Bolton's is his ability as a read blitzer. When he sees backs blocking, he adds on as that extra rusher very quickly. He shoots gaps quickly and seems to always be a step ahead on his reads. Tennessee had some success getting linemen on him and attacking downhill, but generally, he is very difficult to block. Bolton possesses untapped potential as a man coverage linebacker and likely will not come off the field.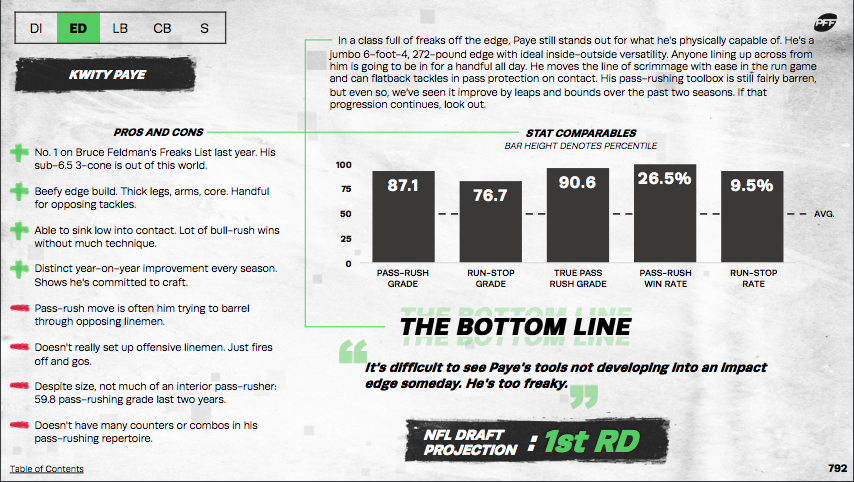 The 6-foot-4 Paye is a freaky athlete who ran a 4.5-second 40-yard dash and a sub-6.5-second three-cone. He was a Pro Day superstar. Relentless effort will always work for defensive coordinator Wink Martindale. The Michigan product isn't a polished pass rusher, but he will learn a lot in Baltimore. The team will take him out of that four-point stance and work on his explosion off the ball.
Paye's get-off is unimpressive for his athleticism. He currently takes a lot of short, choppy steps that put little pressure on the tackle. Despite his flaws, he still carries a very impressive 26% pass-rush win rate. He also wants to jam with two arms instead of using his length with a one-armed jam. As of now, his inside move is his best. He has much to learn, but sometimes, that's what teams are looking for: guys who can improve.
With a wide receiver class filled with slot guys, Terrace Marshall Jr. sticks out. He's 6-foot-3 and 205 pounds and ran a 4.38-second 40-yard dash at his Pro Day. With Justin Jefferson headed to the NFL in 2020, Marshall took over the slot this year in LSU's offense.
Marshall is still very young and will be 20 years old when drafted. He had some explosive catch-and-run plays against Vanderbilt, Missouri and South Carolina last season. And while he is one of the least impressive catchers of the ball in this class, it appeared his confidence grew as the season went along. Marshall is an uninterested blocker, but he has the size to do it at the next level, where there will be added motivation. My personal choice would have been North Carolina's Dyami Brown, but Marshall likely gets the nod due to his size.
Bateman's 4.39-second 40-yard dash time surprised me. He was great as a sophomore and led the country in yards per route run. Bateman caught 14 deep passes in 2019 and broke 36 tackles on 147 career catches. He is a very comfortable catcher of the ball and has good top-of-the-route moves, similar to Keenan Allen.
Bateman is a free-flowing route runner who doesn't look overly fast or quick on tape. But running a 4.39 with the numbers he put up will get him into the first round. His best routes are slants and digs. Again, I would have taken Dyami Brown here, but Brown ran only a 4.46-second 40-yard dash at just 185 pounds, so he will give way to Bateman despite looking much faster on the field.
At 6-foot-5 and 257 pounds, Oweh ran a remarkable 4.3-second 40-yard dash. He also has a 39.5-inch vertical and an 85.0 PFF grade in 2020 to his name — but no sacks this past year. Much like Kwity Paye, he doesn't take advantage of his speed getting off the ball. Ohio State put a tight end outside him and just beat him up.
When drafting at the end of the first round, you can pick physical freaks and hope to coach them in ways they may have missed during the coronavirus-impacted season. Oweh didn't even play football until his junior year of high school, which may explain his lack of pass-rushing skills.
Dyami Brown blew past Virginia Tech's corners in 2020. Teams played way off him after that, creating some easy throws underneath for his quarterback. Most speed receivers don't block or take hits on slants or balls thrown over the middle, but Brown does both. He is much more physical after the catch than his size would indicate and would be a legitimate tough guy blocking for a run-dominant Ravens offense. Despite his reputation of having a limited route tree, I think he will prove that it had nothing to do with him. Brown is my choice to surprise this year in the same way Justin Jefferson did in 2020.
This falls under the "too good to pass up" category for the end of the first round. Moehrig led all college safeties in pass breakups over the past two years. He is not afraid of man coverage and brings a very aggressive mindset. When he sees something, he fires fast and wants to blow plays up.
Later in the 2020 season, Moehrig started making more and more plays. However, he can squat on routes too much and will be challenged deep at the next level. Moehrig's passion will fit perfectly in Tampa, and he likely won't be left in as many slot man coverages with the Bucs.
---
More of PFF's 2021 NFL Draft tools here: 
2021 NFL Draft Big Board | 2021 NFL Draft Guide | 2021 NFL Draft Stats Export | NFL Mock Drafts | NFL Mock Draft Simulator