After enduring a few years of middling quarterback play, San Francisco 49ers head coach Kyle Shanahan has had enough. He and general manager John Lynch pushed their chips into the middle of the table and are going all-in on a quarterback in the 2021 NFL Draft, trading three first-round picks and a third-rounder to the Miami Dolphins for their No. 3 pick, according to ESPN's Adam Schefter.
According to PFF's Eric Eager, San Francisco wins this trade 72% of the time under the assumption that the No. 3 pick is a quarterback: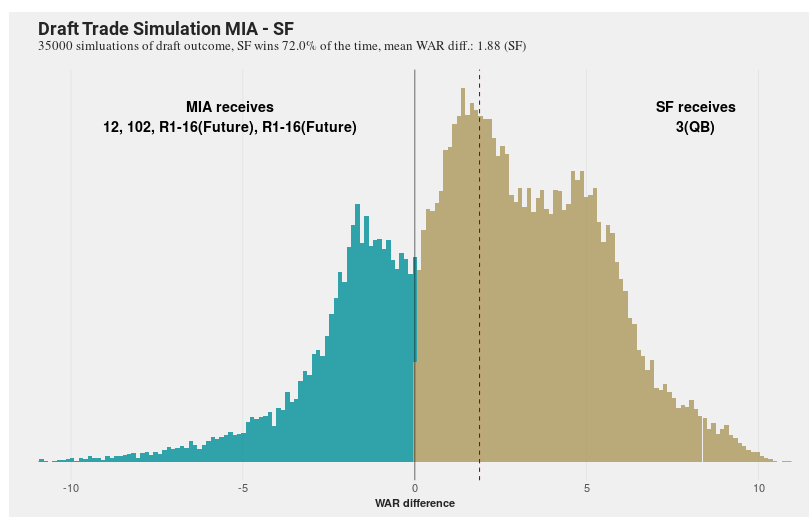 Since Shanahan became San Francisco's head coach in 2017, the Niners' quarterback room has produced a passing grade that ranks 21st among the 32 teams. Yet, the 49ers have still managed a successful pass play rate that ranks 11th in the NFL, which speaks volumes about Shanahan's great offensive mind.
Quarterback Jimmy Garoppolo has struggled to stay healthy, and his limitations are apparent when he's on the field. He still has starter potential, but his ceiling is only so high. And with this quarterback class being the best in recent memory, Shanahan saw an opportunity to raise that ceiling at the most important position in football through this trade. Yes, Schefter may have reported that San Francisco is holding onto Garoppolo, but that's more likely smoke than anything. Regardless, the team is now expected to take a quarterback at No. 3 overall.
The first two picks in the draft are virtually set in stone: Jacksonville is picking Trevor Lawrence and New York is taking Zach Wilson. As Schefter noted, though, San Francisco didn't make this trade with just one quarterback in mind. There are three other top quarterback prospects who they could be eyeing with this selection…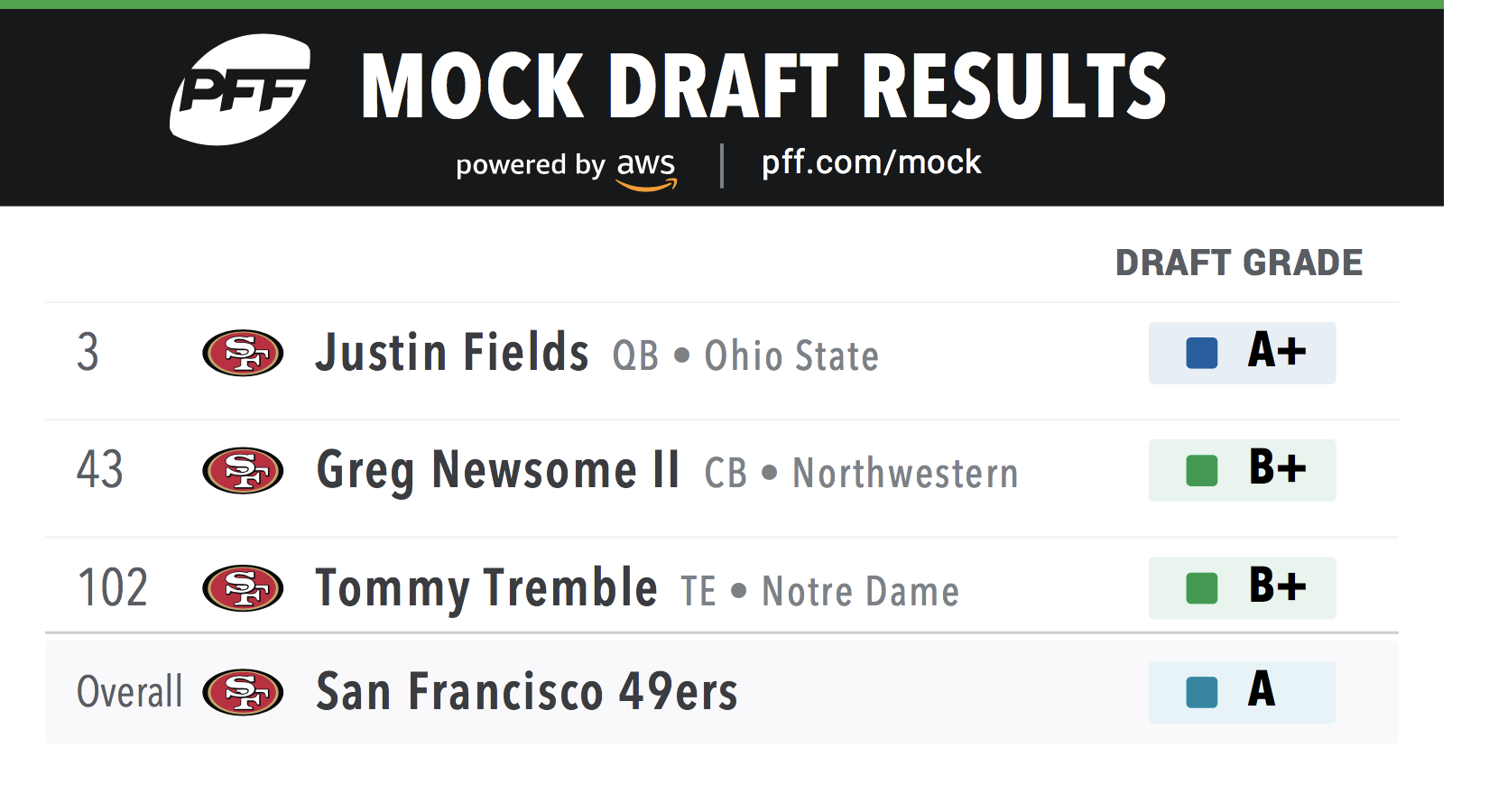 THE THREE QUARTERBACK OPTIONS
Fields is extremely accurate, takes great care of the football and has unparalleled wheels for the position. In his two years starting for the Buckeyes, he earned PFF grades of 91.5 and 93.5, both of which ranked in the top five in the FBS. He'll surely open up the playbook for Shanahan with his downfield passing ability, which is something the head coach really hasn't had since his time in Atlanta with Matt Ryan.
This past season, Fields was the only quarterback in college football to rank in the top 10 in both passing and rushing grade. He showed off his downfield accuracy with the highest accuracy rate on passes thrown 10 or more yards downfield (65%, nearly 10 percentage points higher than second) and racked up 17 runs of 10-plus yards on 63 carries (30 designed, 33 scrambles). Not to mention, he is more than capable of running the 40-yard dash in the low 4.4s.
Fields boasts all the traits Shanahan ought to covet. The Ohio State signal-caller did hold onto the ball a bit too long at times — sometimes by design, sometimes not — and didn't have as many anticipatory throws as Mac Jones, which are key passes in Shanahan's offense. But I don't think these concerns from college will be an issue at the next level. Fields is the whole package.
Lance epitomizes a high-risk, high-reward prospect. His physical tools are off the charts, including a rocket for an arm and mobility that adds plenty of value in the ground game. At the same time, though, Lance's accuracy — or lack thereof — looks like a massive issue.
He played in just one game this year due to COVID-19 causing the FCS to postpone its season. In that showcase game, we saw exactly the same traits from 2019: incredible mobility but glaring inaccuracy. He carried the ball 15 times (13 designed, two scrambles) and put up six runs of 10-plus yards, forcing nine broken tackles along the way. However, just 28.6% of Lance's passes were deemed accurate in the outing.
Going back to the start of his 2019 season — a year in which he posted a 28 to 0 touchdown-to-interception ratio — Lance ranks dead last among the top 10 quarterbacks in the class in percentage of accurate passes thrown beyond the line of scrimmage. He did that while throwing to a tight or closing window at the lowest rate, too. But his ability to sling it to all levels of the field and make things happen with his legs could help Shanahan forget about that glaring issue.
It would be a complete and utter shock, but as NFL Network's Daniel Jeremiah said, it's not out of the question. 
 Jones' accuracy is as good as it gets at the quarterback position. His 65.3% accurate-pass rate on passes thrown beyond the line of scrimmage this past season was the second-best in the country, and his negatively graded throw rate ranks first among every single college quarterback in the PFF College era (2014-present). The latter figure beat out 2020 No. 1 overall pick Joe Burrow from his historic 2019 season at LSU. The decision-making, timing and processing he displayed in Alabama's offense was almost flawless. The only question is, does Kyle Shanahan want some elite physical tools at the position? If so, Jones isn't the guy. He doesn't have a bazooka for an arm like Lance, nor does he have the kind of mobility that Fields has. 
Only time will tell what the Niners do with this pick, but my money is on Fields.