The 2022 NFL Draft is considered weak at quarterback, and it's a similar story for those who are tasked with protecting them in the middle. Only two interior players, Iowa's Tyler Linderbaum and Texas A&M's Kenyon Green, are ranked in the top 32 on PFF's big board.
In total, only about a half dozen interior defenders have a notable chance to be drafted within the first two days of the draft, per PFF's rankings. With this lack of top-end talent, the question becomes not necessarily about identifying the best ones but identifying which specific skills each prospect possesses. They come in all different shapes and sizes, which leaves us with the hairy task of differentiating the prospects using data.
---
Click here for more PFF tools:
Rankings & Projections | WR/CB Matchup Chart | NFL & NCAA Betting Dashboards | NFL Player Props Tool | NFL & NCAA Power Rankings
Best Bets Tool
---
Similar to what we've already done with quarterbacks, wide receivers, defensive linemen, linebackers, defensive backs, running backs and offensive tackles, we can group the offensive tackles together with k-means clustering. This process allows us to learn about their strengths and weaknesses by comparison. For our purposes, we will be looking at the 137 FBS offensive tackles who have been drafted since 2015 and prospects who are likely to be drafted in 2022, then we'll try to answer two questions:
What were the prospects asked to do?

How did the prospects produce?
We will answer these questions by grouping the prospects in two different ways: by their general usage in terms of charted run concepts and broad view of their passing offense, and by their production per PFF grades. Previously in this series, we investigated positional/alignment differences between prospects, but since FBS interior offensive linemen drafted to the NFL normally play only one of three positions, this was omitted. These two groupings should give us a macro-level idea of what the prospects were expected to do while on the field and how they performed when deployed. 
Usage Clusters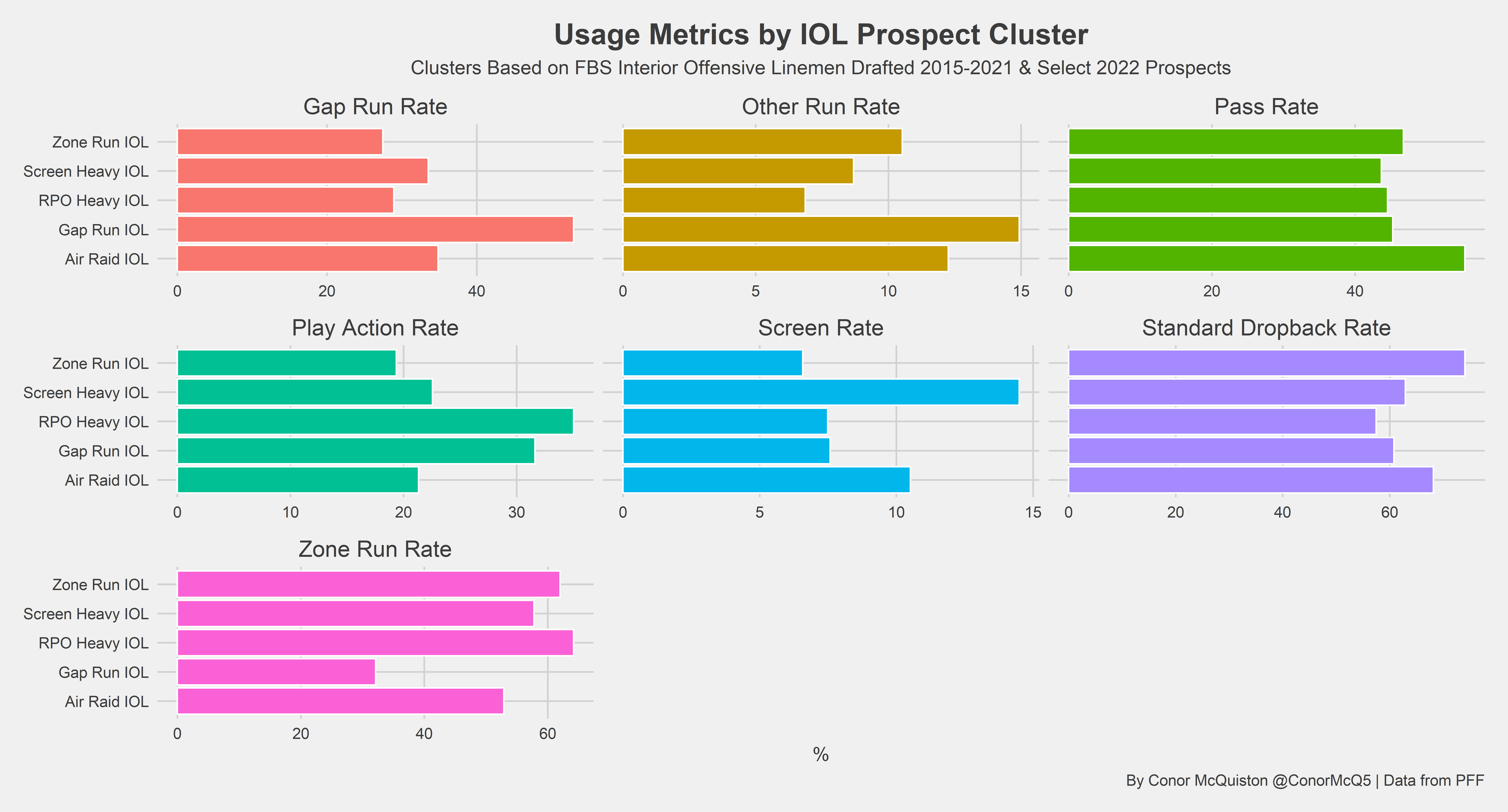 Zone-Run IOL
As the name suggests, these players played in offenses that used zone runs as their base rushing attack. Incidentally, these offenses had most of their passes come from standard dropbacks. The interior offensive linemen in this cluster are expected to have superior movement skills — able to contribute to double teams and move up to the second level while moving laterally on runs. Additionally, the high rate of standard dropbacks implies these linemen have a significant number of reps in standard pass sets under their belts. 
Former Missouri Tiger Connor McGovern was an example of a zone-run interior lineman.
Screen-Heavy IOL
In some ways, screen-heavy interior linemen are functionally more extreme versions of zone-run interior linemen. Their primary feature is the fact that they're expected to move extremely well, not only on zone runs — which they do a majority of the time — but also when climbing upfield on screens. Since movement is such a foundational part of their skill set, we can make the generalization that these linemen are likely leaner on average. The primary drawback of this group is that they blocked on a reduced number of standard dropback passes, which results in fewer game reps of standard pass sets. 
Virginia Tech Hokie Wyatt Teller was an example of a screen-heavy interior offensive lineman.
Free for 7-days. Subscribe to continue reading and unlock
All premium content with the best insights + analysis in the game
NFL Draft Guide, Big Board + Mock Draft Sim
Fantasy Draft Kit and Nathan Jahnke's award winning rankings
Bet smarter with PFF player mismatches and expert betting insights
NFL and CFB player grades and premium stats
Unlock all PFF data trusted by all 32 NFL teams
Already have a subscription? Log In