The 2022 NFL Draft's strength appears to reside along the defensive line. As things stand today, both Oregon's Kayvon Thibodeaux and Michigan's Aidan Hutchinson are set to be selected in the top five, with fellow Michigan man David Ojabo and Purdue's George Karlaftis threatening to go in the top 10.
A half dozen other hog mollies in the trenches look like they might be taken on the draft's first night as well. They all come in different shapes and sizes, so this leaves us with the tall task of differentiating these prospects using data.
---
Click here for more PFF tools:
Rankings & Projections | WR/CB Matchup Chart | NFL & NCAA Betting Dashboards | NFL Player Props Tool | NFL & NCAA Power Rankings
Best Bets Tool
---
Similar to what we've already done with the 2022 QB prospects and 2022 WR prospects, we can group them together with k-means clustering. This process allows us to group together similar players and thus learn about their strengths and weaknesses by comparison. For our purposes, we will be looking at the 385 FBS defensive linemen and edge rushers who were drafted since 2015 and prospects who are likely to be drafted in 2022, and then we'll try to answer two questions:
What were the prospects asked to do?

How did the prospects produce?
Our first question will be broken down into two subquestions: How was the prospect used broadly? And what techniques specifically did this prospect play in their last college season? We'll start with the former by breaking them down by the position group they were charted as playing on every play, and how often they were on the field for early downs and third downs. From this sample, we recover seven major groups of usages: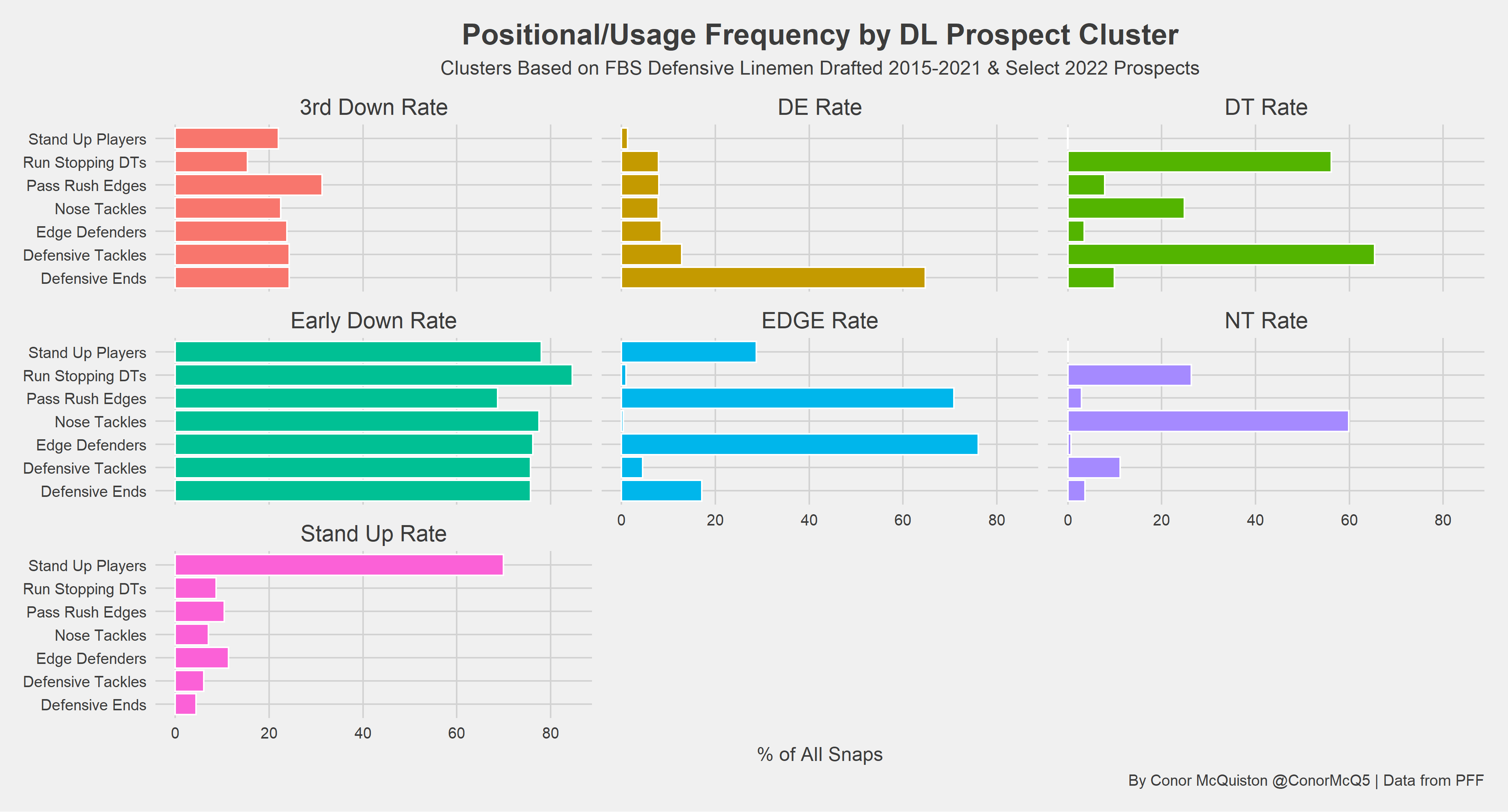 In PFF's efforts to grade every player on every play in every game, the specific position a player plays is charted on every snap. While this can get fairly granular, for the purposes of this article a nose tackle is a player on either shoulder of the center, a defensive tackle is on either shoulder of the guard, a defensive end is on either shoulder of the offensive tackle, an edge player is outside the outside shoulder of the offensive tackle and a stand-up player refers to any player off the line of scrimmage.
With that out of the way, let's break down each group. 
POSITION CLUSTER
Stand-Up Players
Some past prospects handled a significant number of snaps at an off-ball linebacker position and were drafted to transition to an edge defender role in the NFL. Generally speaking, these players are great athletes, typically have leaner builds, can hold up in coverage and tend to rush from two-point stances. We can ascertain that these players are quality pass-rushers, but their coaches believed they were talented enough to fulfill other coverage and run-fitting roles on the defense as well.
A prototypical stand-up player would be Preston Smith.
Nose Tackles/Defensive Tackles/Defensive Ends/Edge Defenders
These groups are fairly self-explanatory. The players take most of their snaps at the given position and are on the field for most snaps, with no discernable swing toward early downs or third downs. As a rule of thumb, the farther from the center on the defensive line a player tends to line up, the leaner that player tends to be and more is expected from them in terms of generating pressure.
A prototypical nose tackle is Andrew Billings. Grady Jarrett is a strong example of a defensive tackle, Randy Gregory was a typical defensive end prospect and Leonard Floyd provides a strong baseline for an edge defender.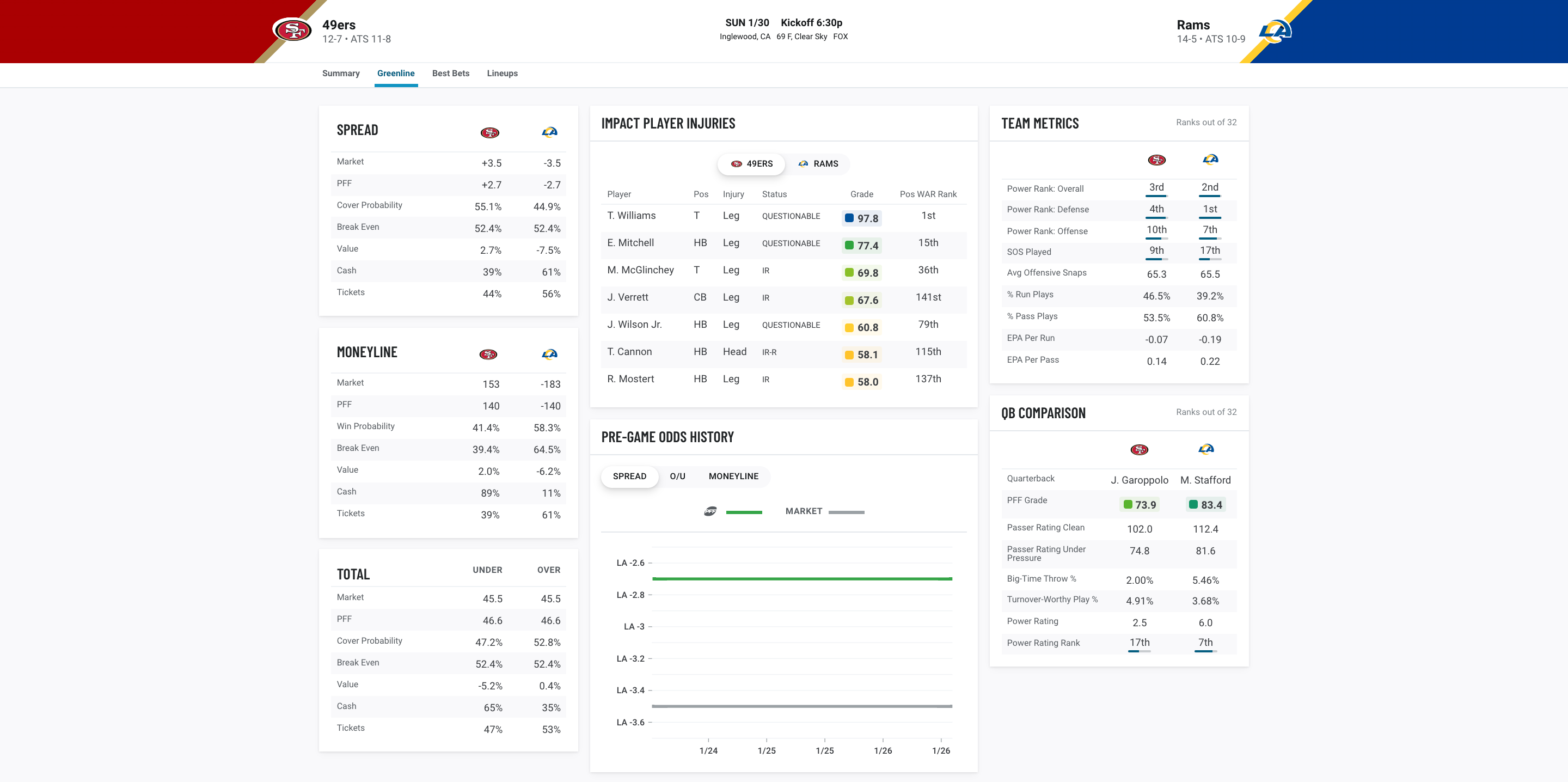 Run-Stopping Defensive Tackles
Free for 7-days. Subscribe to continue reading and unlock
All premium content with the best insights + analysis in the game
NFL Draft Guide, Big Board + Mock Draft Sim
Fantasy Draft Kit and Nathan Jahnke's award winning rankings
Bet smarter with PFF player mismatches and expert betting insights
NFL and CFB player grades and premium stats
Unlock all PFF data trusted by all 32 NFL teams
Already have a subscription? Log In