The 2022 NFL Draft is set up to be a fun one — we're only a day out and still don't know who will be going No. 1 overall.
The NFL has to love the intrigue since at this point last year the draft essentially started at pick No. 3. Everyone knew the Jacksonville Jaguars would take quarterback Trevor Lawrence and the New York Jets would select QB Zach Wilson.
The Jaguars are first on the board again, and it appears they'll be going with an edge defender unless there's a surprise incoming. Which edge defender, however, is still a mystery. 
Here's how I believe the 2022 NFL Draft will shake out, not necessarily how I think it should.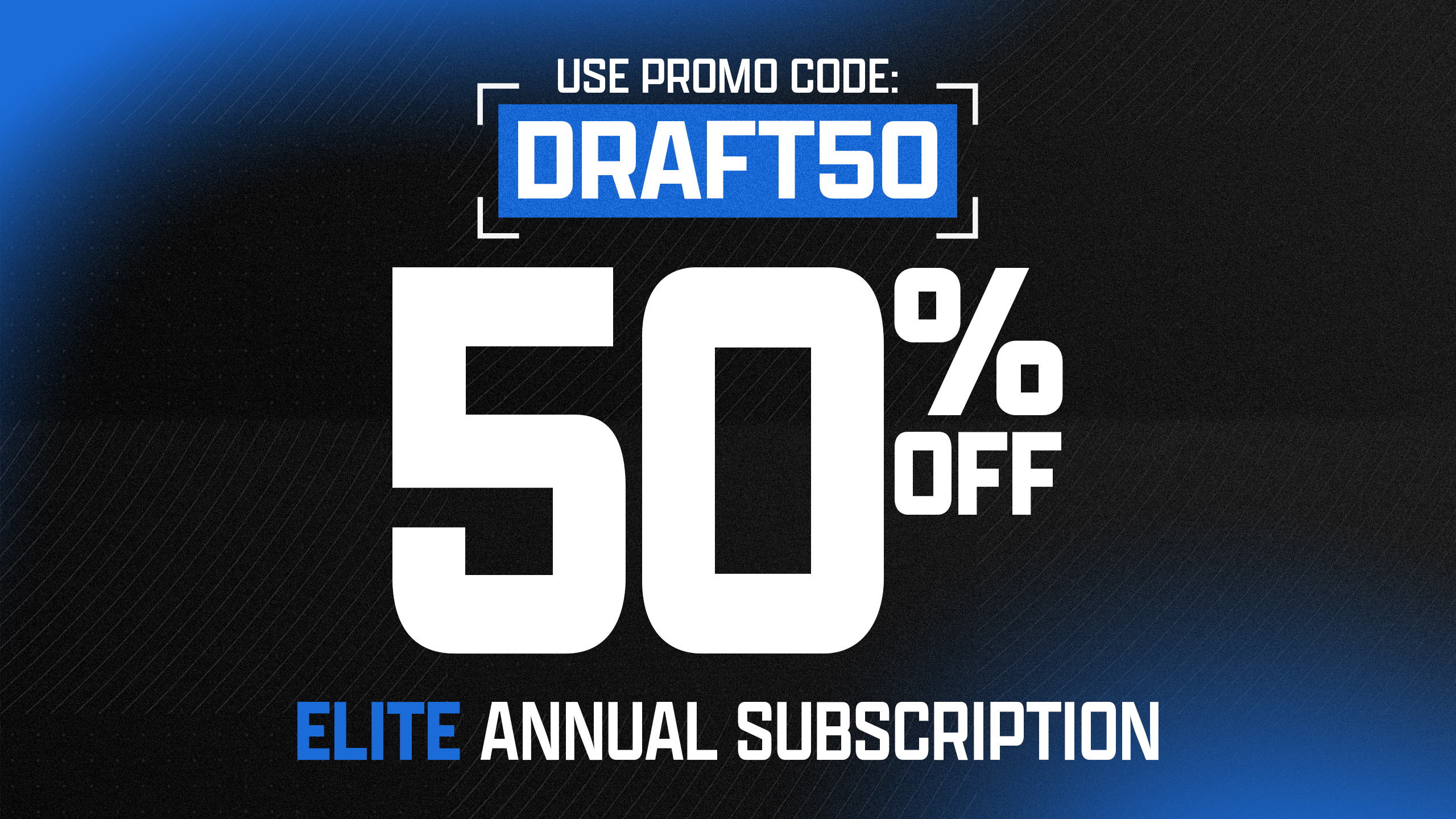 There are essentially three possibilities still in play here at No. 1 overall for the Jaguars: Play it safe and take Michigan edge defender Aidan Hutchinson, take a bet on Walker or go with a complete wild card pick like North Carolina State offensive tackle Ikem Ekwonu. Walker is the current betting favorite, and there is building buzz this is the pick Jaguars general manager Trent Baalke wants to make.
If the Jaguars do take Walker, one of the best pound-for-pound athletes in the 2022 NFL Draft, it certainly makes things much easier for the Detroit Lions at No. 2 overall.
If the Jaguars go safe and take Hutchinson No. 1 overall, then there's a possibility Detroit could take Liberty QB Malik Willis second. But if Walker is the top pick, then Hutchinson is a perfect selection for the Lions that will surely make Detroiters pleased.
Hutchinson was PFF's top-graded draft-eligible FBS edge defender (94.5) last season, while Walker ranked 97th (70.5). Hutchinson is viewed as having a higher floor, while Walker could have a higher ceiling based on his elite testing traits. It's worth mentioning Hutchinson also tested very well.

​​The Texans have major needs throughout their roster, and while they'd probably prefer to trade back from No. 3 overall and pick up even more draft capital, there also aren't many teams clamoring to move up. Top tackles Ekwonu, Evan Neal and Charles Cross all are viewed highly around the NFL. Ekwonu appears to be the most highly sought after, however.
​​​​Neal didn't test before the 2022 NFL Draft but is a massive specimen at 6-foot-8 and 345 pounds. He earned an 85.8 overall PFF grade in 2021 while manning the blindside for the Crimson Tide. He continues the early run on edge defenders and offensive tackles.
The Saints package their two first-round picks to move up and take another SEC offensive tackle in Cross. The Saints used a future first to grab an extra first-round pick from the Philadelphia Eagles earlier this month. We believe they did that with taking an offensive tackle in mind after losing Terron Armstead in free agency.
Related content for you:
2022 NFL Draft: PFF Big Board vs. Media Consensus Board via Mike Renner
We have another trade! The Carolina Panthers need to pick up additional draft capital with zero picks between Nos. 6 and 137 overall. The Jets like Johnson, and while picking him fourth overall might have been a slight reach, they likely would feel more comfortable taking him at six.
The Giants luck out, trade out of No. 5 overall and still land a stud cornerback in "Sauce" Gardner. Gardner didn't allow a single touchdown in his college career. He intercepted nine passes for a 31.8 passer rating allowed.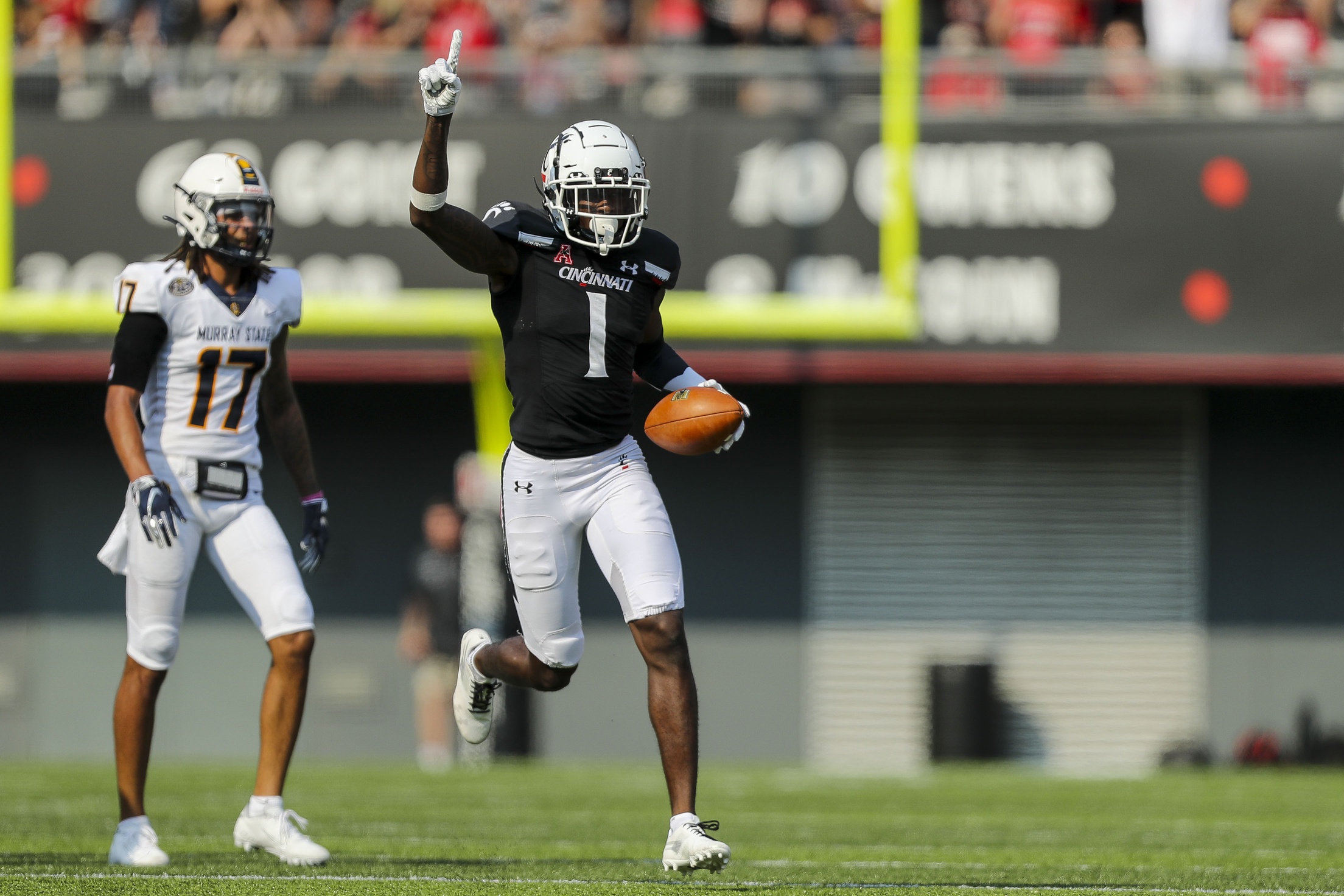 Thibodeaux doesn't slide too far, and the Falcons scoop him up before the Seattle Seahawks can. Atlanta could be eyeing wide receivers or a cornerback here, but they have a need at a premium position on the edge, and Thibodeaux is a good fit for the defense and a high-upside player.
The Seahawks could also be looking to trade up with needs at tackle, edge and cornerback. They're fortunate to have Stingley as a backup option if they can't move up.
The Panthers pick up additional draft capital and still land an athletic offensive tackle in Penning. At 6-foot-7, 333 pounds, Penning ran a blazing fast 4.89-second 40-yard dash with a hand-timed 1.59-second 10-yard split and 7.25-second 3-cone drill.
Penning earned a 97.3 overall PFF grade in 2021. The Panthers can use the additional draft capital from moving down to take or trade for a QB.
The run on wide receivers starts with Williams, who has rare speed and ball-tracking ability at 6-foot-2, 180 pounds. He tore his ACL in the national championship game, so he might not be healthy to start the season, but he's the highest upside receiver in the class.
The Cowboys move up 12 spots to ensure they don't miss out on a quality wideout. The Cowboys traded Amari Cooper, lost Cedrick Wilson in free agency and extended Michael Gallup this offseason. They could still use a starting weapon for Dak Prescott, and that's exactly what Wilson gives them.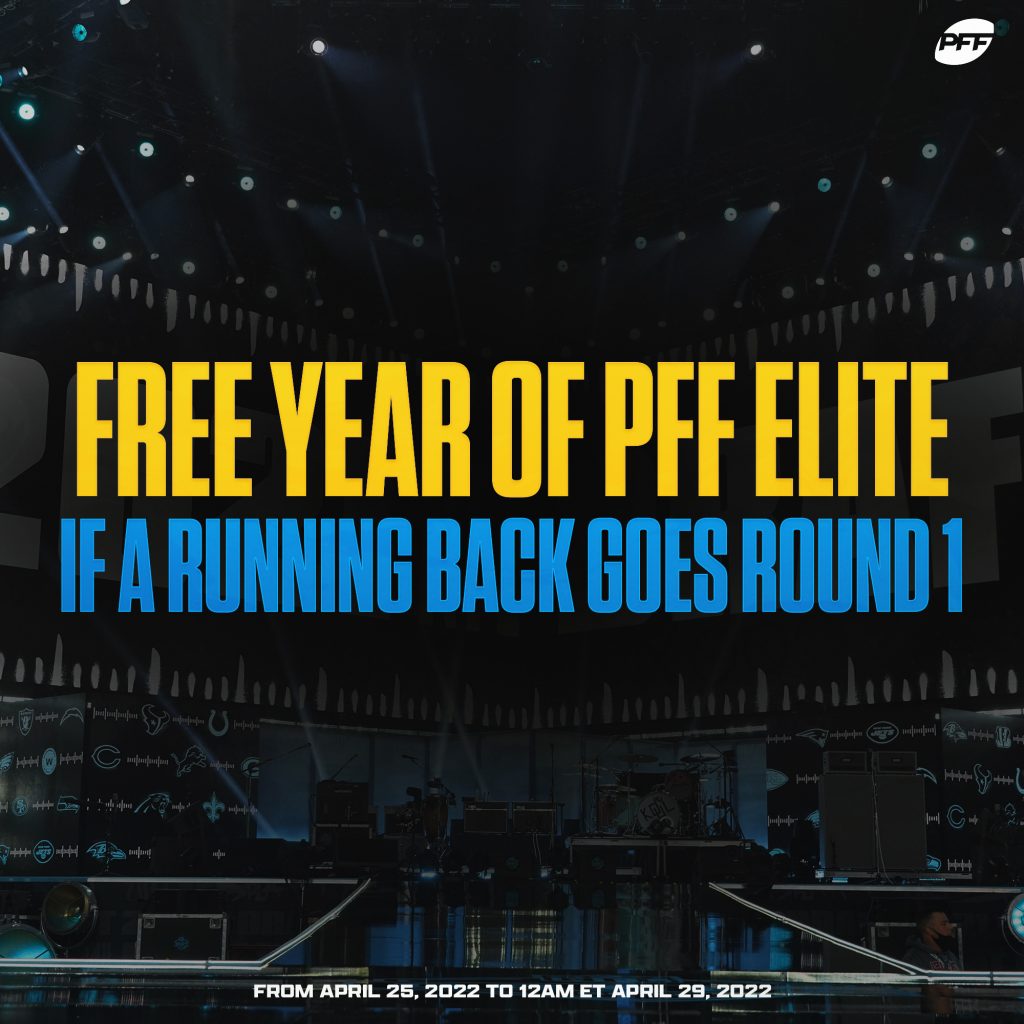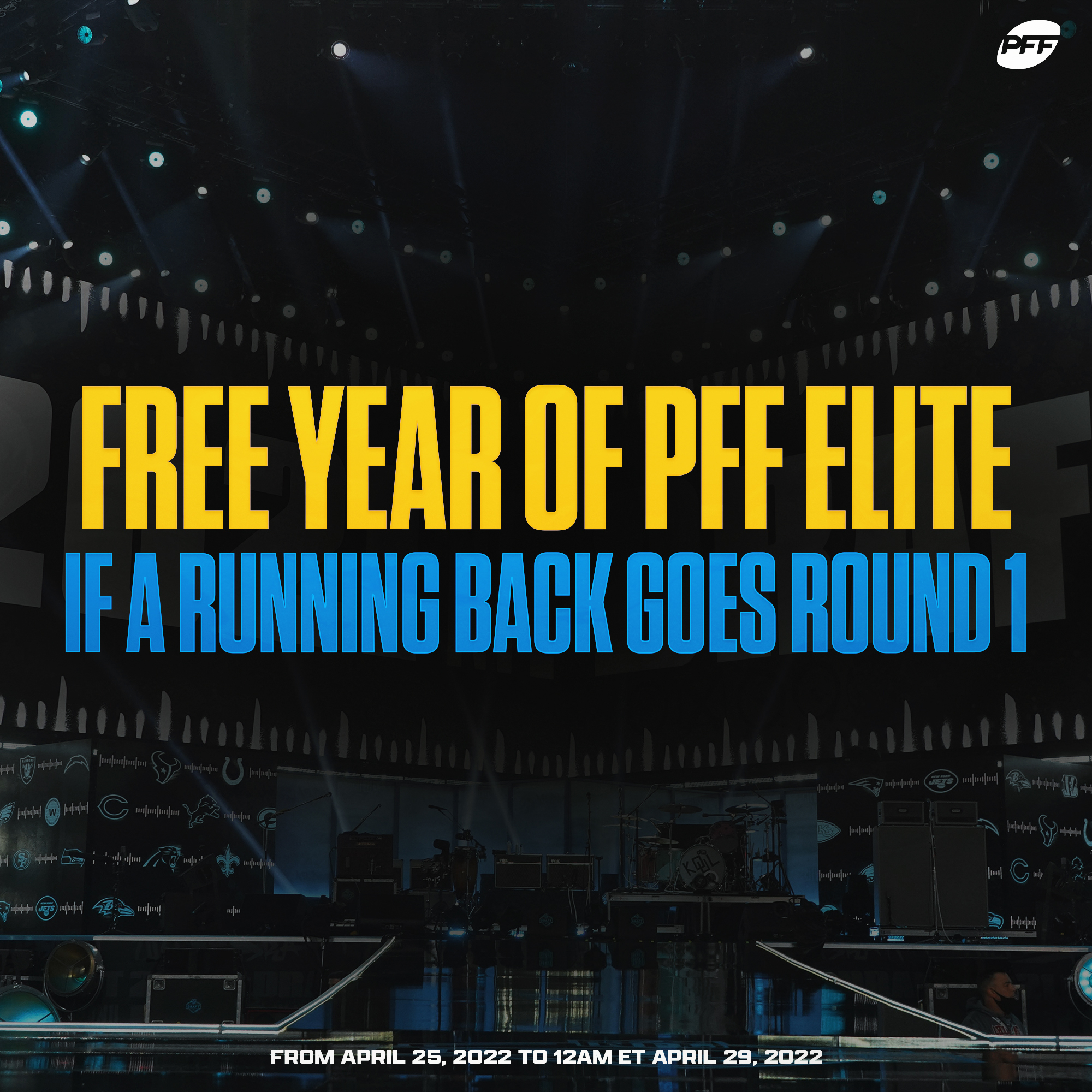 The Texans can simply take the best player available, and that's Hamilton, who slides behind a slew of tackles, edge defenders, cornerbacks and wide receivers. Hamilton didn't test well, but he has the potential to be one of the best players in the draft as a do-everything safety.
Every team could use a player like McDuffie, who might be slightly undersized at 5-foot-11, 193 pounds but is a tremendous athlete and earned an 80.0 or higher overall grade in each of his three college seasons.
With two first-round picks, the Eagles can afford to take a wide receiver in the first round for the third consecutive year. London, who is massive at 6-foot-4, 219 pounds, would pair well with the more diminutive Devonta Smith and give QB Jalen Hurts another quality weapon. The Eagles are another team who could look to trade up, as well.
Related content for you:
2022 NFL Mock Draft: Atlanta Falcons take Malik Willis at No. 8 overall, Jameson Williams lands with the Eagles via Ari Meirov
The Giants picked up two first-round picks by trading down with the Saints. They take the next best offensive lineman off the board in Raimann, a former college tight end who hails from Austria.
Lloyd has ideal size at 6-foot-3, 237 pounds and excelled in all aspects of Utah's defense, defending the run, covering pass-catchers and rushing the quarterback. He scored 31 total pressures in just 165 pass-rushing snaps in 2021. He also picked off four passes and allowed just one touchdown.
Davis was the star of the NFL Scouting Combine, running a 4.78-second 40-yard dash at 6-foot-6, 341 pounds. He only played 25 snaps per game in 2021, however, and some questions persist about how well he'll be able to contribute in the passing game in the pros.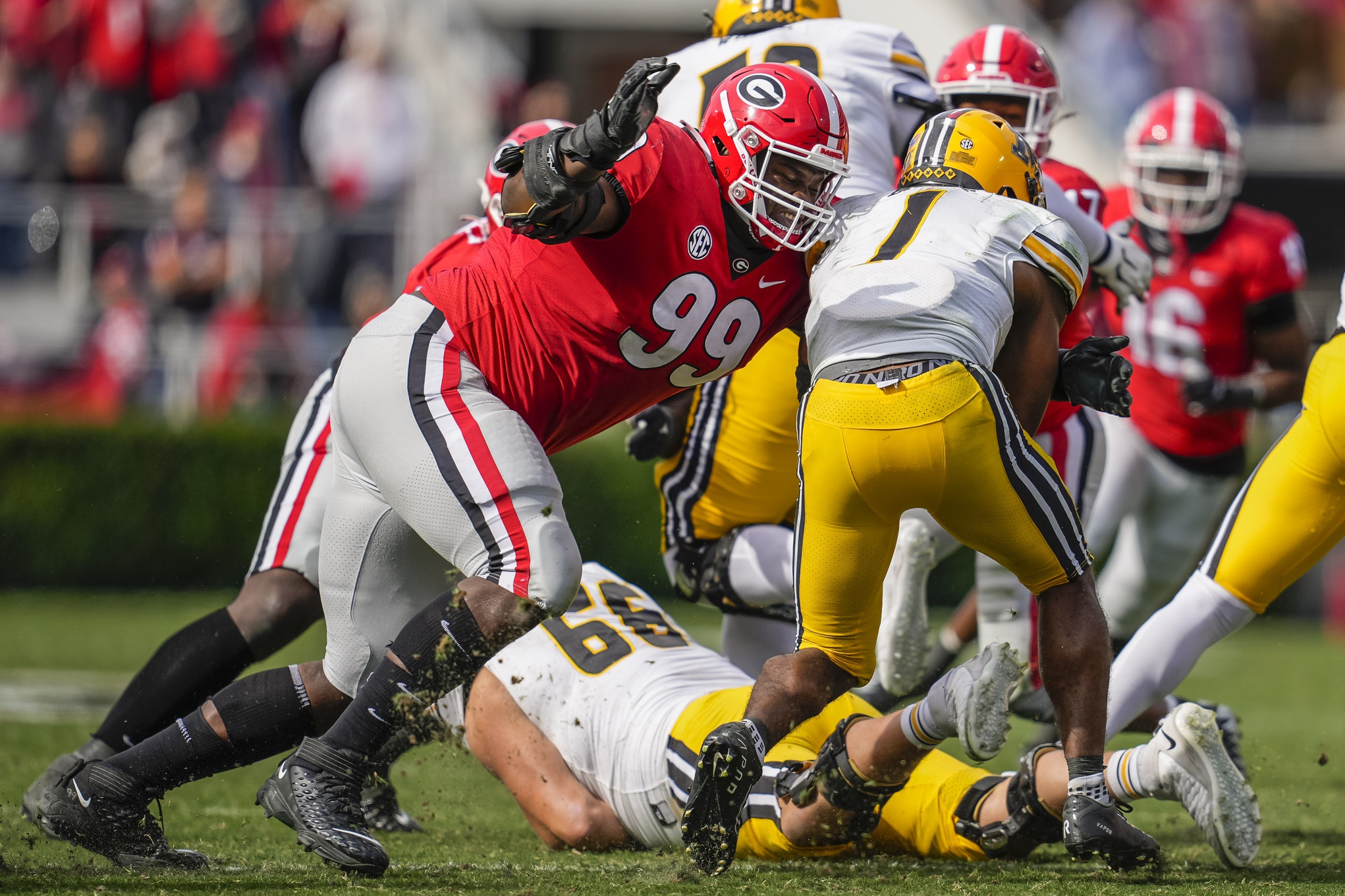 The Giants wind up with a cornerback, offensive tackle and wide receiver in the first round. Not too shabby. Olave is a fantastic route runner. We'll see if Kadarius Toney sticks in New York throughout the draft. One source close to Toney expects him to stay with the Giants, but it's ultimately up to general manager Joe Schoen and head coach Brian Daboll.
Our first quarterback. It's possible the Steelers or another QB-needy team could wind up trading up for Willis, but there is some question around the league about whether he's worth a top-five pick. The Steelers need a QB of the future, and Kevin Colbert gives them one in his final draft as GM.
The Patriots' biggest current need is at guard after they lost Ted Karras in free agency and traded away Shaq Mason in a cap-cutting move. Johnson can slot in as a Day 1 starter next to center David Andrews and across from third-year pro Michael Onwenu. They can fill needs at wide receiver and cornerback later.
The Packers have needs on their offensive line, and Smith, who just turned 21 years old, has loads of potential as a future starter. The Packers still have another first-round pick to grab a wide receiver.
The Cardinals stay put and grab another playmaker for quarterback Kyler Murray. Arizona lost slot receiver Christian Kirk in free agency and now add Burks, who can play outside or in the slot and makes exciting things happen with the ball in his hands.
Vikings head coach Kevin O'Connell expected an open competition at right guard heading into the 2022 season. Green would give them much more certainty at a position of need after a major trade down with the Cowboys.
Another trade, the Seahawks move up to take Pickett in the first round. Pickett is expected to go in the first round, with the Steelers, Panthers and Saints other possible teams who could grab him if the draft shakes out a different way. Pickett could come in and compete for the Seahawks' starting job much the same way Mac Jones did in 2021 with the Patriots.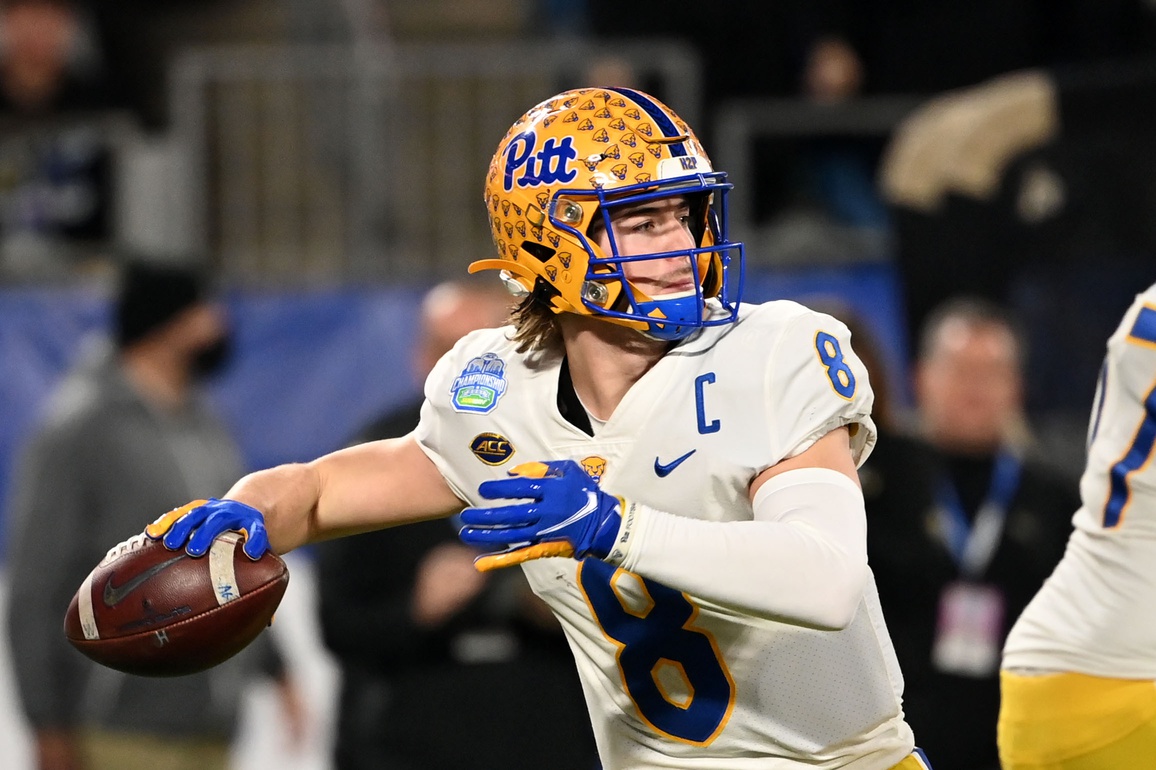 The Titans are a bit of a wildcard here at No. 26 overall. They've missed out on many of the top guards, tackles and wide receivers, and there's probably not a tight end worth taking in the first round. Do they bite the bullet and take a quarterback like Desmond Ridder? Or do they make a safer pick and go with more edge help with a player like Mafe, who had good production at Minnesota and tested well at the NFL Scouting Combine and his pro day? We'll go with Mafe.
Winfrey was included in our list of potential surprise first-round picks, and the Buccaneers were identified as a team who could take him. He has rare length with 35 ¼-inch arms at 6-foot-4, 290 pounds.
The Packers need a young wide receiver after trading away Davante Adams, and they land one in Dotson, who is slightly undersized at 5-foot-11, 181 pounds but has legit speed with a 4.43-second 40-yard dash and special traits that earned him an 87.5 overall PFF grade in 2021.
The Chiefs grab cornerback help with their first of back-to-back picks after losing starters Charvarius Ward and Mike Hughes this offseason.
Watson is unpolished but is one of the best athletes in an already uber-athletic wide receiver class. He can help replace Tyreek Hill, who was traded to the Miami Dolphins.
Hill is an interesting prospect in that he can play cornerback or safety for his future team. The Bengals have an immediate need at cornerback but could use a deep safety if Cincinnati can't reach a long-term deal with free safety Jessie Bates, who was franchise tagged this offseason.
Walker was another player identified as someone who could sneak into the first round. He's somewhat raw but has tons of potential as a 6-foot-4, 241-pound off-ball linebacker who can cover and play on all three downs.