With big boards across the country getting finalized for the 2022 NFL Draft, it's time to see where PFF differs from many in the draft community.
Every year, The Athletic's Arif Hasan does invaluable work combining a number of media boards into one Consensus Draft Board. Let's see how PFF's draft board compares to the prevailing opinion.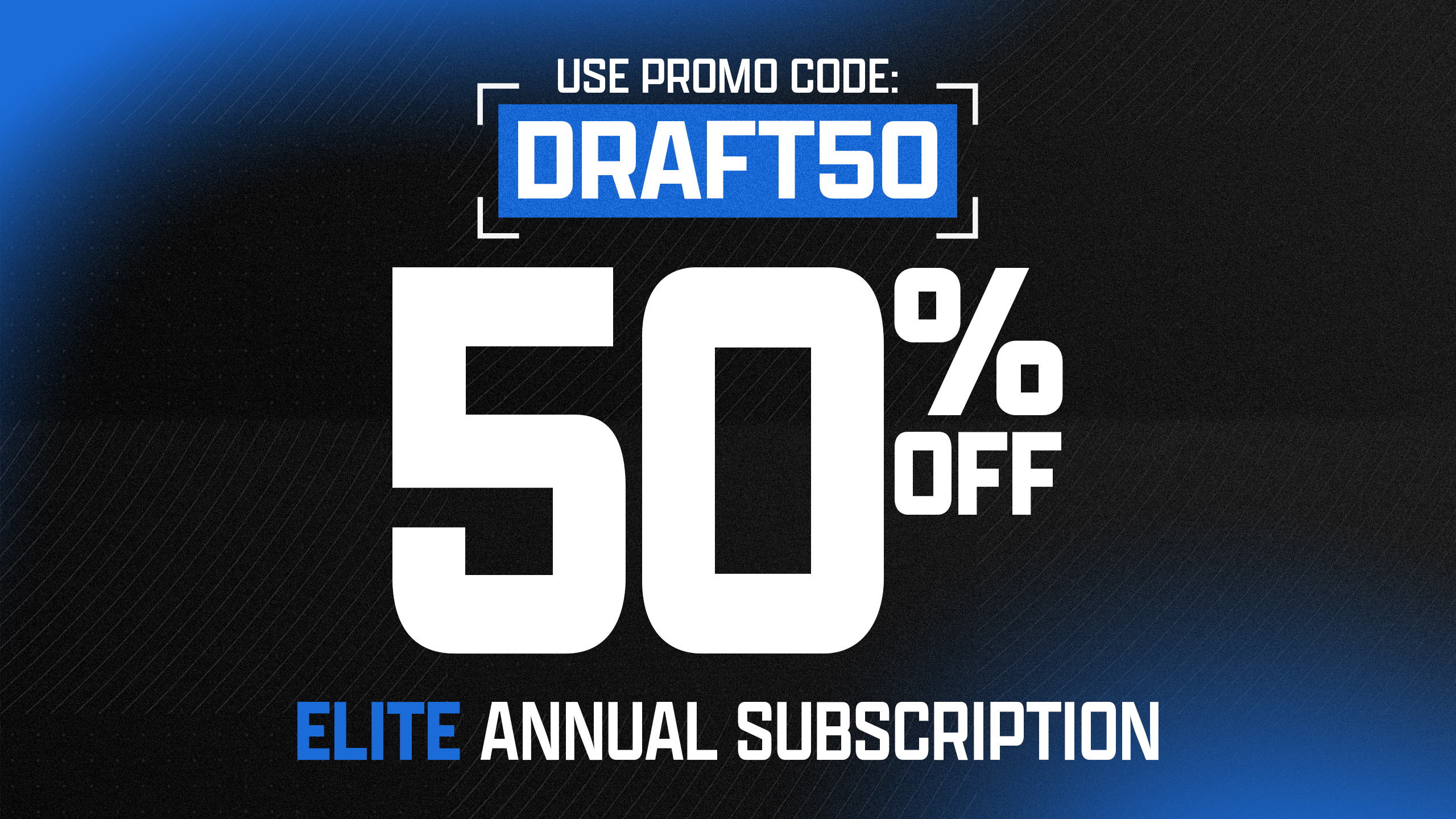 Biggest Prospect Differences: Rounds 1 and 2
The prospects PFF is higher on
PFF Rank: 18
Consensus Rank: 35
Raimann has a unique background when projecting to the NFL, but I'll bet on the production and athletic tools. He was the second-highest-graded tackle in the country last year at 94.6 overall and earned grades of 75.9 and 73.8 against Missouri and LSU, respectively. He only switched from tight end to offensive tackle in 2020 and has put on 60 pounds over that span. While he's 24 years old, he's incredibly advanced for someone who's been playing offensive line for so little time.
PFF Rank: 22
Consensus Rank: 57
The FBS leader in broken tackles at the receiver position last year (26), Moore is dynamic and ascending. His height (a shade under 5-foot-10) and competition level will scare some off, but he's got long arms (31 inches), big hands (10.25 inches) and good size (195 pounds) to make up for it. He's also only started playing receiver when he got to Western Michigan, as he was recruited to play cornerback.
PFF Rank: 25
Consensus Rank: 53
Smith is a special physical specimen for the offensive line position. At 324 pounds with an 83 ⅛-inch wingspan, Smith ran a blazing 5.02-second 40-yard dash with a 1.7-second 10-yard split and had a 4.65-second short shuttle. Those are exceptional times for a powerful tackle. While he's a work in progress in pass protection, Smith already earned a 93.9 run-blocking grade last season with the most big-time blocks in the country. He'll just have to clean up his penalty issues after 16 flags last year.
PFF Rank: 27
Consensus Rank: 42
Jones' combine performance got overshadowed by the Georgia duo, but he's one heck of an athlete for a 325-pounder. He blazed a 4.92-second 40-yard dash and had a 7.33-second three-cone in Indy. He was the only player truly worth watching on the Huskies defensive line last season and put up an 87.6 overall grade. A productive high-end athlete is going to be a good recipe to rank high on the PFF draft board.
PFF Rank: 31
Consensus Rank: 55
Truthfully, there's not much to dislike about Pitre other than the slot-only role he played in Baylor's defense. The good news is that's also becoming a starter for most teams in the NFL, and Pitre may even be more valuable because of it. His ability to play the run from the slot is unlike any prospect we've seen in our eight years of college grading. He earned a 92.7 run-defense grade and had 50 total defensive stops for Baylor last year. That ability gives whatever defense he goes to the ability to live in Nickel coverage because he's just as good if not better than a linebacker at making plays in the run game.
PFF Rank: 44
Consensus Rank: 83
Paschal doesn't necessarily pop off the tape because he was playing out of position the vast majority of his snaps for the Wildcats. At 6-foot-2, 268 pounds, Paschal was the utility man for Kentucky's defensive line. That meant that over half his snaps came inside the tackles last season. That's decidedly not who he's going to be in the NFL, which makes his 90.0 overall grade all the more impressive.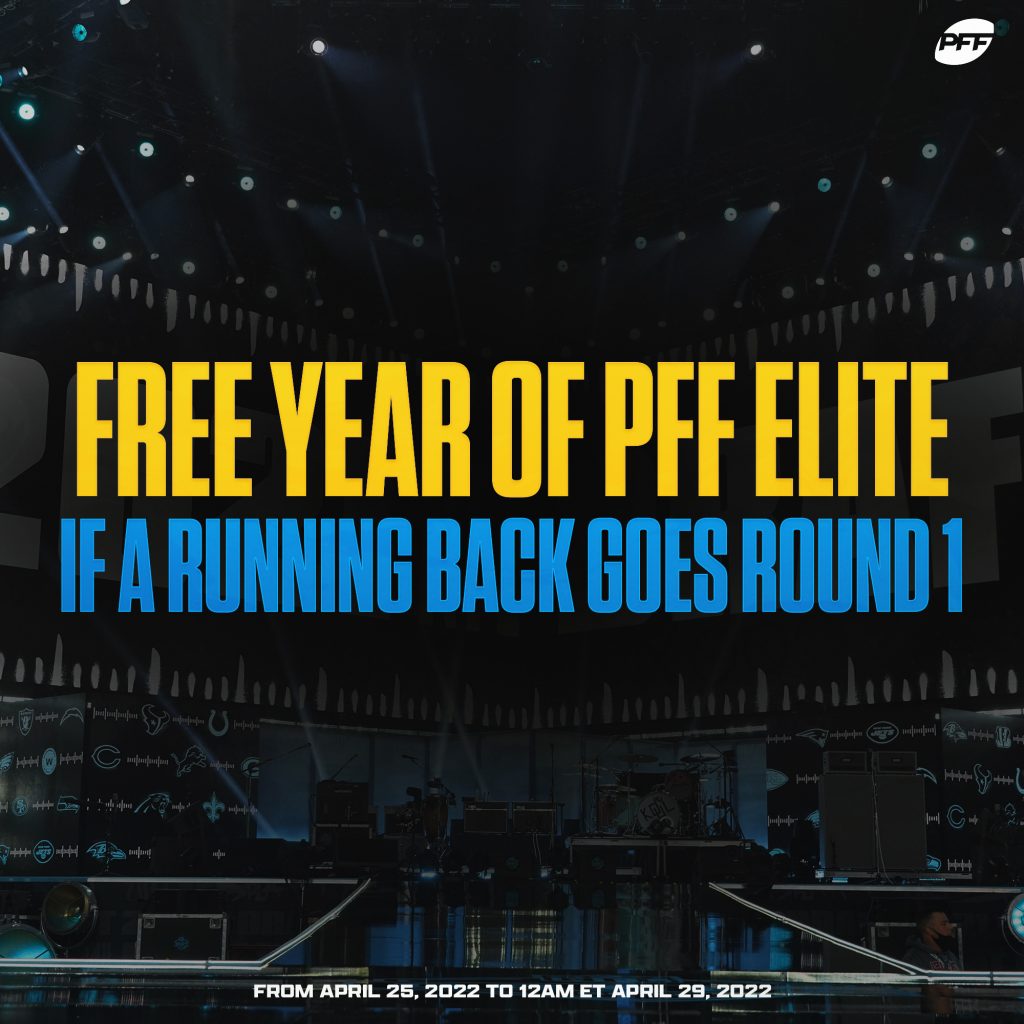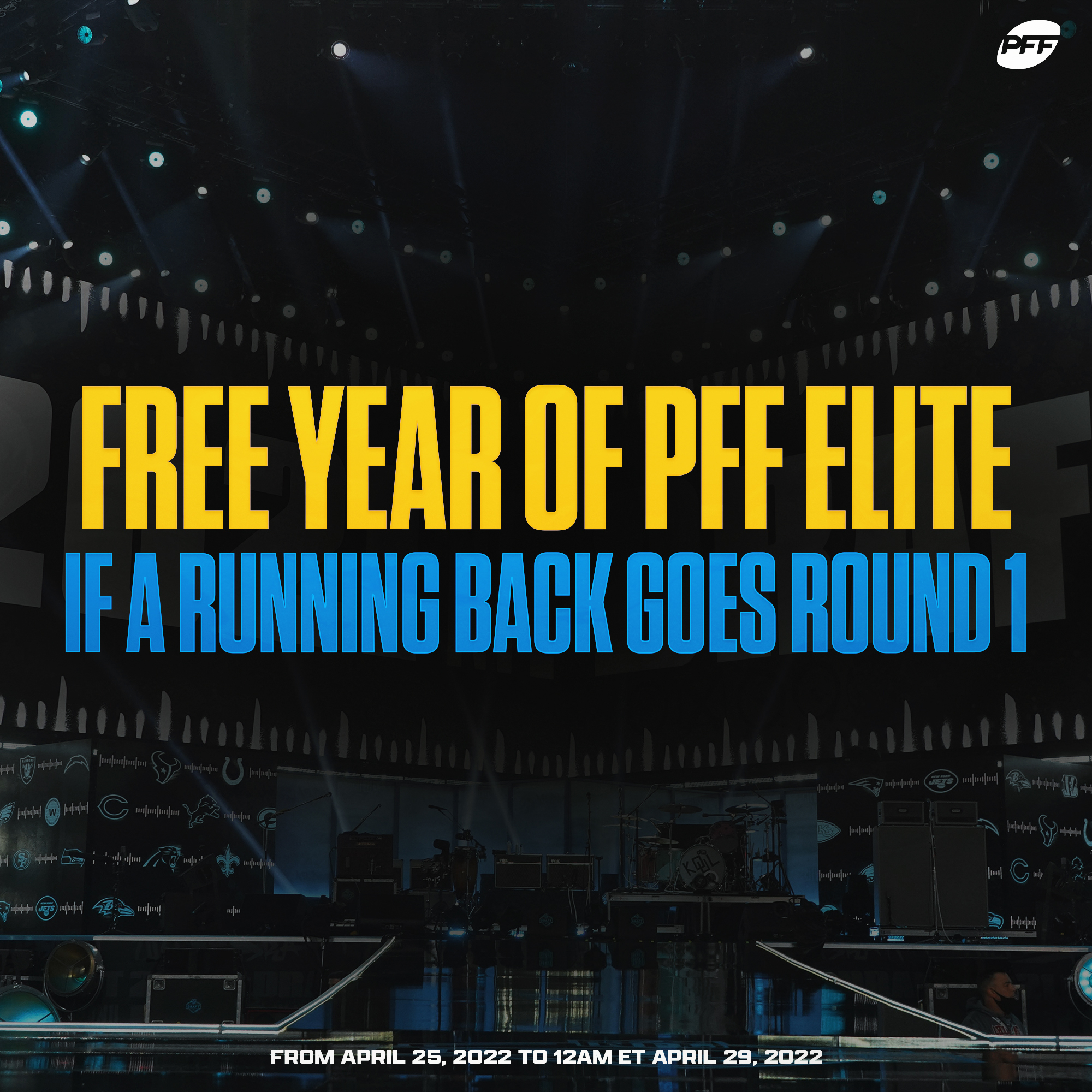 The prospects PFF is lower on
PFF Rank: 32
Consensus Rank: 12
Johnson is one of the more polished edge rushers in this draft class as a fifth-year player coming out. For a player like that, we expect dominance over his competition level as a literal man amongst boys to garner an early Round 1 grade from us. All too often that wasn't the case, however, as Johnson only earned an 82.3 overall grade last year.
PFF Rank: 46
Consensus Rank: 20
Burks simply hasn't run a full route tree over his career at Arkansas. He was a glorified gadget player in his usage for the Razorbacks. That's all the more concerning when you consider his numbers in the change-of-direction drills: He posted a 7.28-second three-cone (11th percentile) and 4.4-second shuttle (21st percentile).
PFF Rank: 56
Consensus Rank: 30
As much as the size conversation got beaten to death last year with DeVonta Smith, it still matters. For a 178-pound receiver like Dotson, it's going to be more difficult for him at the catch point in the NFL when he's giving up 20 pounds to a lot of the corners he's facing. There's a good chance he's relegated to a slot-only in the NFL, which is a difficult role to provide value in for a lot of offenses.
PFF Rank: 72
Consensus Rank: 44
Hall is tremendously talented and could very easily make our low ranking look silly in the coming years. He's just such a tweener at this point at 6-foot-6, 283 pounds. That's more of an edge-rusher from a size perspective in the NFL, but Hall only played 69 snaps outside the tackles his entire collegiate career.
PFF Rank: 75
Consensus Rank: 47
Watson is nothing short of an elite athlete for the position, but he comes with worries about his play strength and ball skills. He's a slightly built 6-foot-4, 208 pounds and did not even physically manhandle corners in the FCS. Watson also dropped 13.3% of his career catchable targets, which won't do him any favors seeing the field early in his career.
Biggest Prospect Differences: Rounds 3 & Later
The prospects PFF is higher on
PFF Rank: 64
Consensus Rank: 163
I fully expect Tom to come off the board in the actual draft closer to the PFF rank than the consensus rank. And that's because athletes like him simply don't last long in the draft. Tom's combine numbers were arguably the best of any tackle in the class, and he ticked the arm length box too.
That would be one thing if Tom were an athletic project, but he's decidedly not. Tom earned the highest pass-blocking grade among all tackles in college football last year at 92.1.
PFF Rank: 77
Consensus Rank: 174
Diesch does not tick every box you want to see at the position by any means. He's an ultra-slim 6-foot-7, 303-pound tackle with only 32 ¼-inch arms and is already 24 years old. That being said, he's an elite athlete who was in the conversation for best pass-protector in college football last season. He allowed only eight pressures in all of 2021 and never allowed more than two in a single game. During the week of practices at the Shrine Bowl, Diesch didn't lose once in the one-on-ones.
PFF Rank: 80
Consensus Rank: 191
I'm not sure why the consensus seems so low on West. He's started ever since he got to campus for the Sun Devils and performed well across multiple positions. In a class full of sixth-years along the offensive line, the 20-year-old West never got to hit his physical maturity as a true junior coming out. On 496 pass-blocking snaps the past two seasons, West allowed all of seven pressures.
PFF Rank: 97
Consensus Rank: 150
Gray oozes physical ability. After starting his career at Blinn Community College, Gray came to SMU as still a very moldable ball of clay. Over the past two years, his game has improved by leaps and bounds to take advantage of his 4.33 speed. He was arguably the most impressive receiver in the Senior Bowl one-on-ones despite the fact he ran only four such routes before leaving with an injury. His stock would have soared much higher had he gotten a full week of practice.
PFF Rank: 104
Consensus Rank: 180
Flott is a true junior who was quite frankly a surprise to declare. He had been the slot player in LSU's defense over the course of his career despite not filling the traditional slot mold at 6-foot-1, 175 pounds. Despite that, Flott still earned an 84.8 coverage grade last season. His skill set is closer to that of an outside corner, and he has the physicality to excel in such a role. He's also one of the youngest prospects in the class and won't turn 21 until August.
PFF Rank: 113
Consensus Rank: 187
As you'll see with a number of the players above: age + production + athleticism is a combination we covet. So, when we see a 21-year-old true junior who had five picks along with eight pass breakups and also runs in the low 4.4s with all-around excellent measurables, the chances are we are going to be high on them. That's Belton's prospect profile in a nutshell. He's filled the slot for Iowa ever since his true freshman season as a rare first-year starter under Kirk Ferentz. He's a touch rough around the edge and needs to improve as a tackler, but we didn't get to see him take the next step like some 23-year-olds in this draft class.
PFF Rank: 158
Consensus Rank: 236
PFF is higher than the consensus on a running back? Well, White isn't your typical running back. He started as a linebacker for Florida State before going the JuCo route and finding his way back to South Carolina. He managed only 105 carries in two seasons with the Gamecocks but broke an impressive 32 tackles. He's got the kind of suddenness and elusiveness that everyone is looking for at the position with none of the polish.
Prospects PFF is lower on
PFF Rank: 96
Consensus Rank: 48
Harris is a speedy and violent linebacker. He just hasn't been all that productive in a very pro-style defense. He's earned overall grades of 61.6 and 62.1 the past two seasons and gets lost too often in coverage for us to covet highly. He's allowed 961 yards over that span.
PFF Rank: 157
Consensus Rank: 61
Faalele has an interesting backstory and prodigious size at 6-foot-8, 390 pounds, which has led many to bill him as a "limitless upside" project. Size isn't always a good thing, though. All that weight serious concerns about whether he can stay healthy and whether he has the foot speed to stick with NFL edge rushers. His 40 (5.6), 10-yard split (2.04), broad jump (7-10), short shuttle (5.06) and three-cone (8.47) were all below the 10th percentile for offensive tackles. There aren't many that unathletic getting by in the league.
PFF Rank: 150
Consensus Rank: 63
Not only does Spiller play a position we'll covet lower on the PFF board than others, but he also did not test or grade out particularly impressively. He only earned an 83.2 overall grade last season, and his 4.27-second short shuttle was his only athletic measurable above the 50th percentile for the running back position. His 4.64 40-yard dash, 33-inch vertical, and 9-foot-6 broad jump are all uninspiring figures for someone that doesn't qualify as a power back at 217 pounds.
PFF Rank: 232
Consensus Rank: 89
Likely was uber-productive on tape, but he was also a glorified receiver on tape in usage and how he looked. He barely stood out size-wise from the Chanticleers receivers, and in his pre-draft testing it became clear why. Even knowing he was undersized, Likely only managed to get to 238 pounds and then he ran a lethargic 4.82-second 40-yard dash at his pro day with rough change-of-direction drills. That's going to be a tough sell finding a role for a player that size.
PFF Rank: 204
Consensus Rank: 125
Kendrick has constantly needed protection on vertical routes over the course of his career. It became evident exactly why that was the case when he ran a 4.79-second 40-yard dash at Georgia's pro day. That's an untenable number that's not even particularly worth the risk at a position like cornerback.
PFF Rank: 240
Consensus Rank: 135
In case you haven't noticed a trend here, we simply aren't going to stick our necks out for a lot of well below-average athletes. Especially ones at non-valuable positions like tight end. Wydermyer not only offers very little as a blocker but also doesn't profile as an impact receiver after running a 5.02-second 40-yard dash, vertical jumping 26 inches and broad jumping only 9-foot-1.