Oh man, this is where it all gets serious.
With the Shrine Bowl, Senior Bowl and NFL scouting combine in the rearview mirror, it's time to shift our mock draft focus from "what I would do" to "what we think will happen" as to best predict how we see things shaking out on draft weekend.
---
Click here for more PFF tools:
Draft Guide & Big Board | Mock Draft Simulator
Dynasty Rankings & Projections | Free Agent Rankings | 2022 QB Annual
Player Grades
---
Given that it is free agency week, which will change what team needs might be at the end of April, I'm trying something new with this mock and making it its own living entity. As teams decide to sign or not sign certain players, I'll come back here to update this mock draft with new selections that might be more in play with the changing roster.
I'll update it after major moves we know will affect the first round, or each morning of free agency week, whichever comes first. Make sure you bookmark this and revisit it throughout the week.
Now in the full swing of free agency, here's how I predict the draft going with new team needs accounted for.
Last update: 7:15 a.m. ET Friday, March 18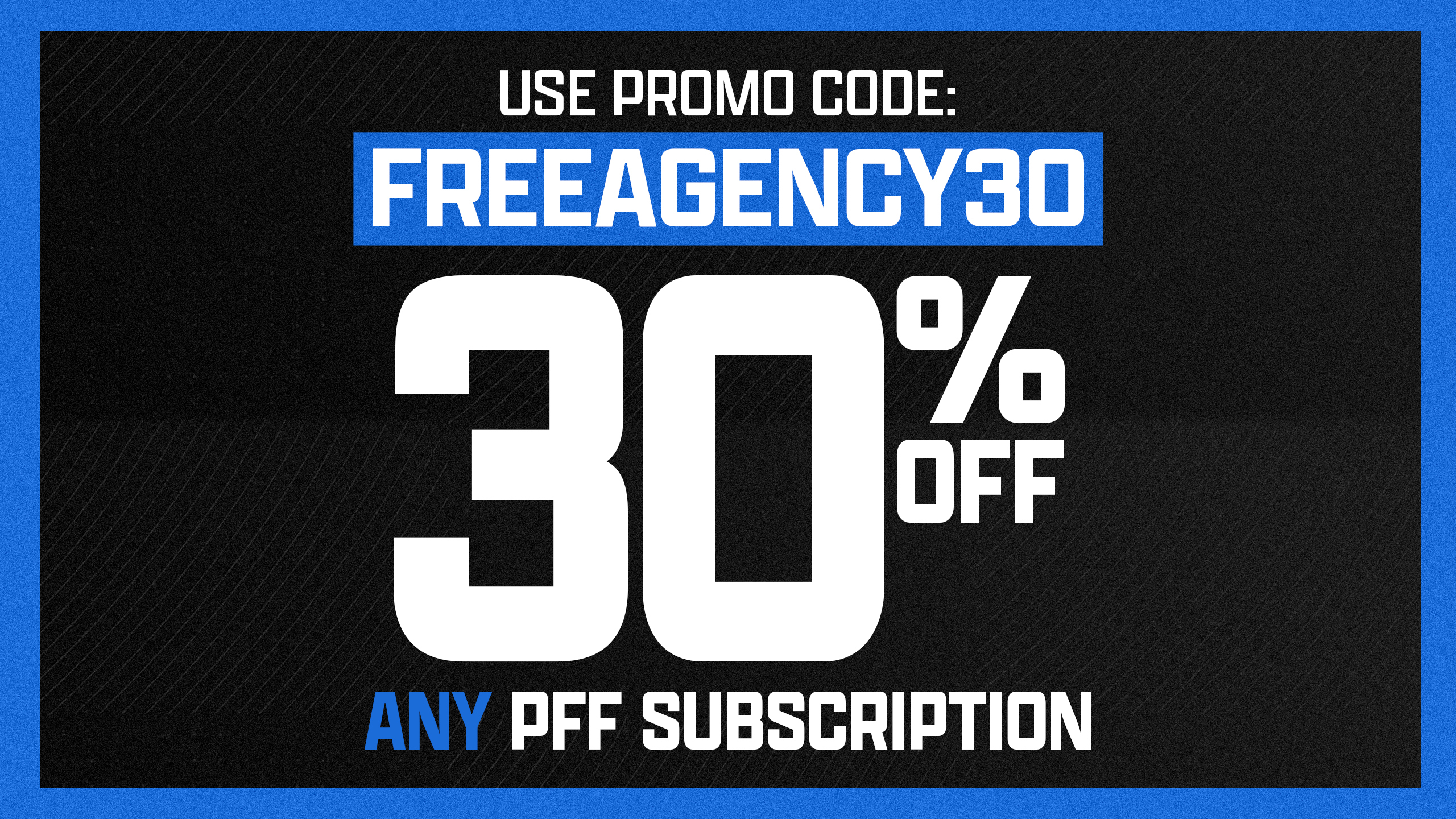 This top pick still feels like a three-man race between Hutchinson, Evan Neal and Ikem Ekwonu. With the Jaguars giving Cam Robinson the franchise tag, signing guard Brandon Scherff, and with general manager Trent Baalke saying they "feel very comfortable" with Jawaan Taylor at right tackle, it feels like Hutchinson is back in the driver's seat for the top pick.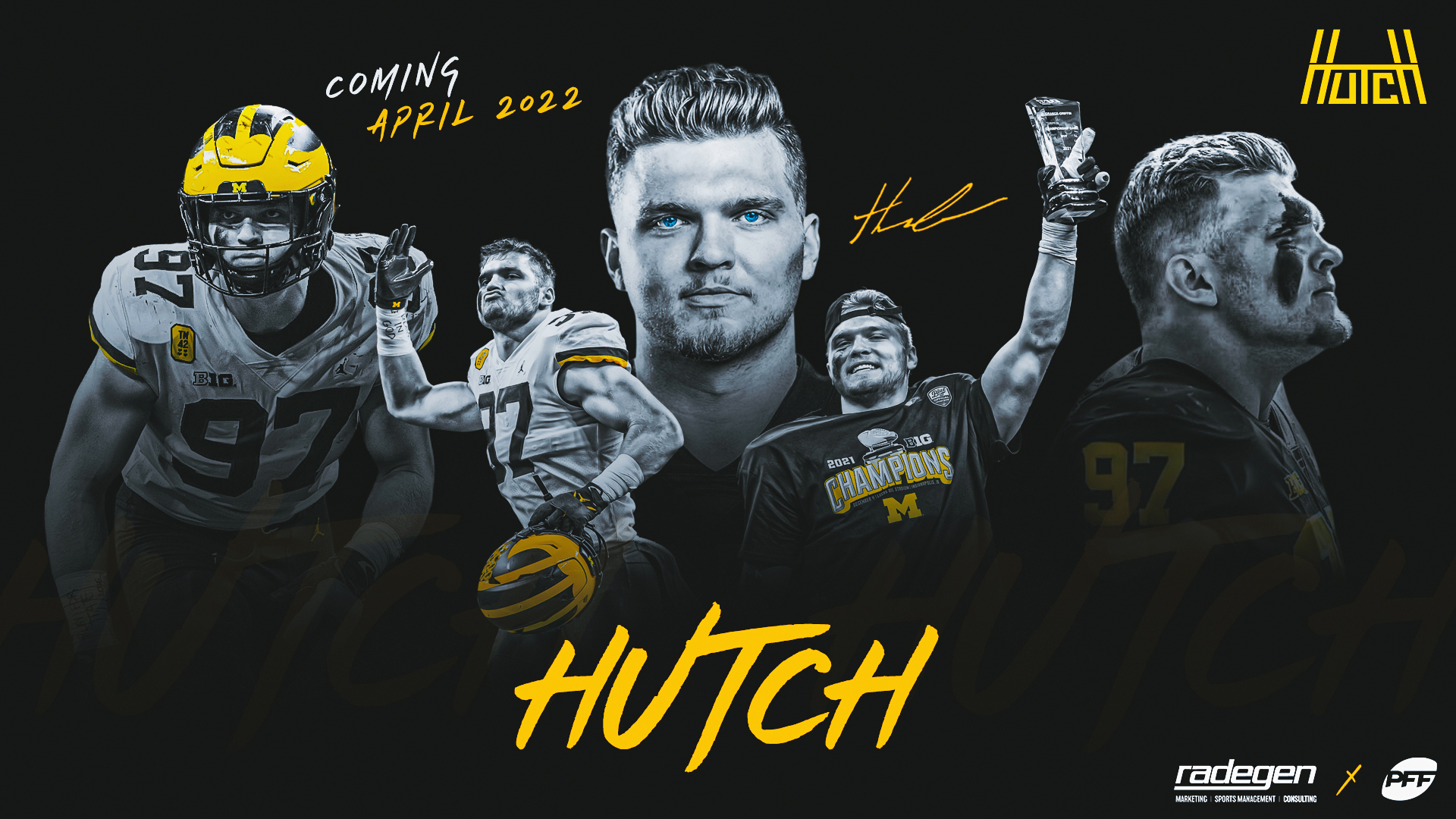 ---
With Hutchinson off the board, there is no obvious pick for the Lions. Months ago, it would have been Kayvon Thibodeaux, but I just don't think the league is as high on him as the media. Hamilton's combine performance wasn't "out of this world," but it certainly shouldn't hurt one of the most versatile players in the class, who has received unanimous praise from league sources.
---
With Laremy Tunsil re-negotiating his contract, it looks like the trade rumors for him have been put to bed. Though the Texans could, in theory, use another offensive tackle, they'll certainly have plenty of options with this third pick. As of now, I think it's more likely they'd dip into the edge class here with either Walker, Jermaine Johnson or Kayvon Thibodeaux.
Walker made Combine history with his 4.51-second 40-yard dash at 272 pounds. And that's on top of his 6-foot-5 height and has 35.5-inch arms. It truly feels like he was built in a lab. Though he doesn't have the pass-rush production that usually warrants a pick this high, we know the league loves him.
---
The Jets made an O-Line splash early in free agency, bringing in Laken Tomlinson to fill one of their guard spots. They also re-signed tackle Conor McDermott. This could pave the way for a pass-rusher here, but I have heard multiple times that they love Ekwonu — and that was with their free-agency plan in mind.
Ekwonu had a really impressive combine week — both at the podium and on the field during drills. He's in contention for the No. 1 overall pick and shouldn't get past the Jets at No. 4.
---
The Giants re-signed offensive tackle Matt Gono and guard Mark Glowinski. They also signed guard Jon Feliciano. But I don't think they're done prioritizing the offensive line.
Given how free agency has gone with the team selection before New York at No. 5, there seems to be a growing possibility the Giants will have one of Ikem Ekwonu or Evan Neal on the board for them. If that's the case, I think they jump at one of those two.
---
This pick is a wild card. The Panthers need a quarterback more than anything, but no signal-caller in this class is saving them in the first year. After losing out on Deshaun Watson, their options are limited. They could potentially go after Baker Mayfield in a trade scenario, but that is strictly hypothetical right now. No matter who their next quarterback is, they need a much better offensive line in front of them.
---
The Giants could very well be eying pass-rusher here, but I believe we're trending in the direction of James Bradberry either being traded or just released to create some cap space. That will leave a big hole as one of their top cornerback spots.
After a stellar combine, Sauce seems destined for the top 10 in April's draft.
---
It sounds like there's a chance the Falcons aren't even making this pick, given the reports of them gunning for Deshaun Watson from the Texans. If they end up winning that trade race, this pick will certainly be headed to Houston. But, as of now, they have it, and no matter who is playing quarterback the Falcons need offensive weapons.
With Calvin Ridley suspended for the upcoming season and Russell Gage signing with the Buccaneers, Kyle Pitts is the only viable receiver they have. That will need to change.
---
Though I was impressed with Thibodeaux's presence at the combine, the league remains mixed on where to draft him. With Seattle gaining a first-round pick from the Russell Wilson deal, he could be the kind of player who lures them away from the QB class.
---
 With the Jets signing cornerback D.J. Reed Jr. and safety Jordan Whitehead, it feels like wide receiver or pass-rusher will be the target here at No. 10. While I could see the Jets choosing to go with a wideout over some edge rushers, Johnson is not one of them. If he's on the board at 10, that feels like the pick.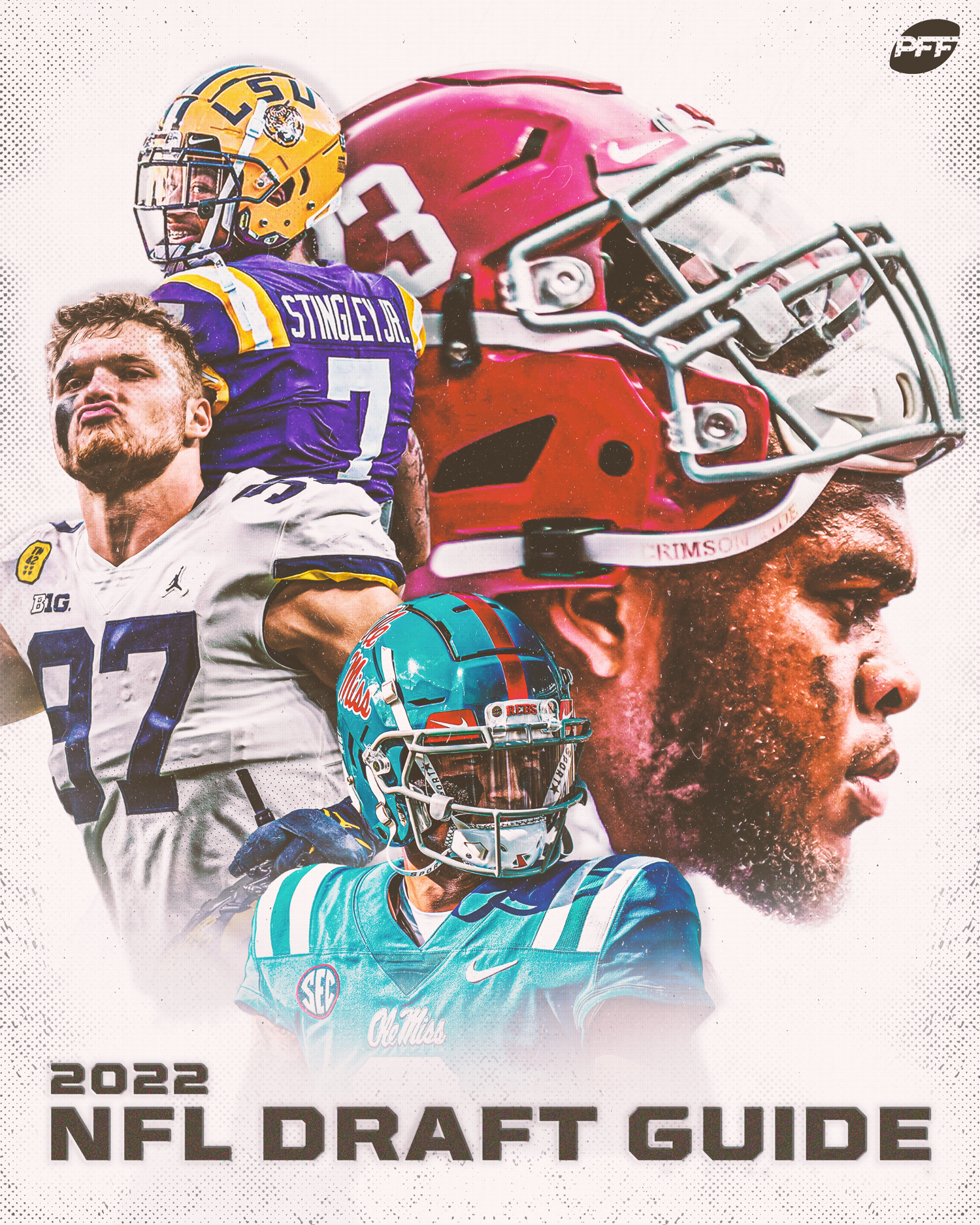 ---
Washington got the quarterback they hope can lead them to a playoff spot in Carson Wentz (I know, I know…), but the only way they can do that is if they get him more passing weapons. Grabbing the 6-foot-4, contested-catch monster London to help Wentz and upgrade the rest of that receiver room would be.
---
A fully healthy Stingley is a top-five draft pick in this class. The reason he's picked here at 12 is because of the unknown coming off surgery to repair a Lisfranc injury – an injury that has been known to derail careers. If a team picking between 10-15 can get the thumbs up that everything will eventually be fine, they should run the card in. Minnesota's need at cornerback is glaring.
With Deshaun Watson being traded to Cleveland, Houston will now have two first-round picks in each of the next three years. I don't really see them trading Watson just to draft another quarterback, as they liked what they saw from Davis Mills last season, and even if he isn't the franchise guy, they're not desperate.
The Texans have a glaring need at cornerback. McDuffie may be a tad undersized, but it's so easy to love his game. His inside-out versatility and his style of play has been compared to Ronde Barber. Lovie Smith knows that kind of player very well.
The Ravens added some nice free agency pieces with safety Marcus Williams, offensive tackle Morgan Moses and defensive tackle Michael Pierce, which should allow them to go "best player available" at No. 14.
Davis fits that bill as a potential BPA. The 6-foot-6, 340 pounder runs a 4.78-second 40-yard dash and was one of the best run defenders in the country last season. He'd be an excellent pick for the Ravens.
With the news that the Eagles were releasing longtime defensive tackle Fletcher Cox, defensive tackle went on the radar as a high priority for them. Early reports are that they want Cox back but just on a cheaper deal. However, if Wyatt makes it to them, I think they'll heavily consider it.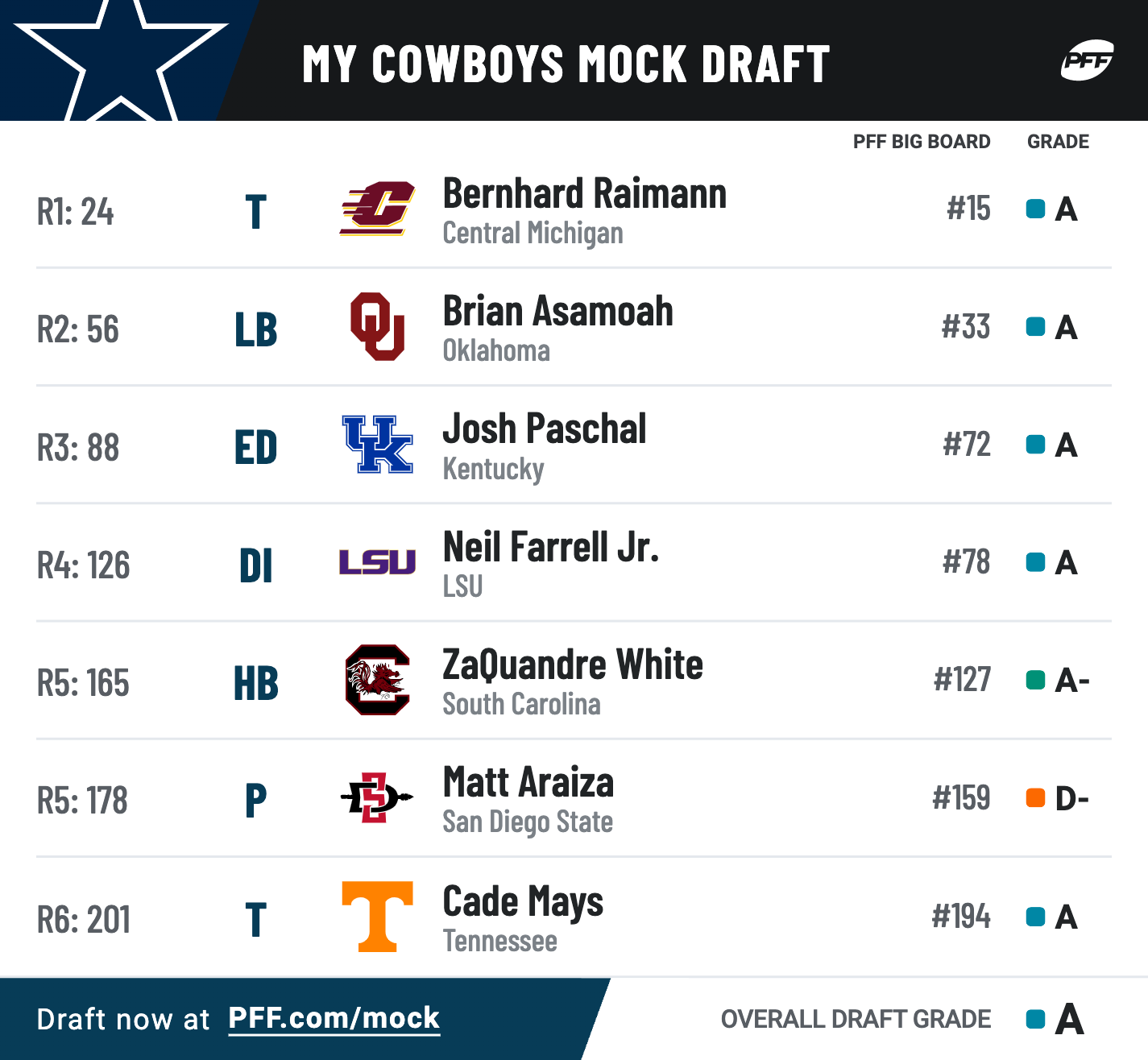 Back-to-back picks make for a lot of fun with Eagles mocks. Though Burks didn't have the insane combine performance some proclaimed before the big event, he's still one of the most gifted receivers in this class. His unique blend of size and speed would be a big-time boost to Philadelphia's offense.
---
The Chargers have made some big-time splashes over the last week. Trading for Khalil Mack, re-signing Mike Williams, signing J.C. Jackson and Sebastian Joseph-Day. It's all put them in true "best player available" mode for the draft.
If the Chargers do have a big need left, it is likely at offensive tackle, as they just released veteran Bryan Bulaga. Penning could have the chance to come in at right tackle and compete to start right away.
---
No Watson means New Orleans will likely turn its attention to other offensive positions. If the Saints can't retain offensive tackle Terron Armstead, offensive tackle might on the board here. However, receivers will also be high on their list, especially an explosive playmaker such as Williams.
---
After letting linebacker Alex Singleton test the free agency market, the Eagles' second-level need becomes even more prevalent. Perhaps the well-rounded Lloyd will be enough to lure them into finally picking a linebacker with a premium selection.
---
I believe Willis will be the top quarterback picked in this draft, but I just don't know where. The Steelers interest in Willis is real, and though they signed Mitchell Trubisky to a two-year deal, I think that only gives them more confidence to attack a Malik Willis pick — whether it's here at No. 20 or potentially in a big trade-up.
Having Trubisky — whose base salary is that of a backup — in their back pocket simply means other teams can't use QB desperation as leverage.

---
2022 NFL Draft position rankings:
Top 10 players at every position
QB | RB | WR | TE | iOL | OT | DI | EDGE | LB | CB | S
---
With the loss of J.C. Jackson, the Patriots will certainly have cornerback in their first-round priority list. They simply have to have more bodies at corner on the depth chart.
Elam really surprised people when he ran an official 4.39 40-yard dash at the Combine. For a 6-foot-1 corner with long arms who loves to play press-man coverage, speed was really the only major concern with him. 
---
After trading Davante Adams, the Packers' path to rebuilding that receiver room starts here with the very talented Olave, who can be an immediate deep threat for Aaron Rodgers.
With Chandler Jones officially off to the Raiders, the Cardinals have a major need at edge. Karlaftis is a player who has a ton of versatility along the defensive line, but look for them to look at interior offensive line as well, especially a guy like Zion Johnson.
---
The Cowboys officially released La'el Collins, so they'll need a big-time upgrade — likely more than one — on the right side of their offensive line. In comes Green, a player with experience at both guard and tackle.
---
After the Bills signed Tim Settle, DaQuan Jones, and Von Miller, cornerback now becomes their clear-cut first-round priority, especially with Levi Wallace gone, too. Booth is a long athletic corner who is still developing but presents a high ceiling as a man and zone coverage player.
---
With the release of Julio Jones, the Titans will look long and hard at receiver for this spot. But I don't see them forcing it if there are solid offensive line options on the board, as well.
Smith is an offensive lineman who is still raw in how he unleashes his gifted strength and athleticism. Nonetheless, he's mean and loves to bury his opponents. The Titans have always gravitated toward those kinds of players in their trenches.
---
When Tom Brady announced his return, Ryan Jensen soon announced that he would be rejoining the team as well. The Carlton Davis domino fell not long after, but Tampa Bay will still be without the retired Ali Marpet and guard Alex Cappa, who signed with the Bengals.
On Day 2 of the tampering period, Tampa signed wide receiver Russell Gage and somehow fleeced the Patriots into giving them offensive guard Shaq Mason for a fifth-round pick. Plus, wide receiver Chris Godwin agreed to a three-year deal.
If the Bucs can somehow land Johnson here at the back end of the first round, their offensive line will once again be one of the best in the league on paper.
---
The Packers were busy during the first day of the legal tampering period, releasing Za'Darius Smith and Billy Turner while re-signing Preston Smith and De'Vondre Campbell to major deals. The Campbell signing leads me to believe linebacker is off the table in Round 1.
Though they have edge players on the roster, the Packers love explosive players like Mafe, who jumped 41.5 inches in the vert at 257 pounds during his pro day workout. I think they can go for interior defenders with their two second-round picks.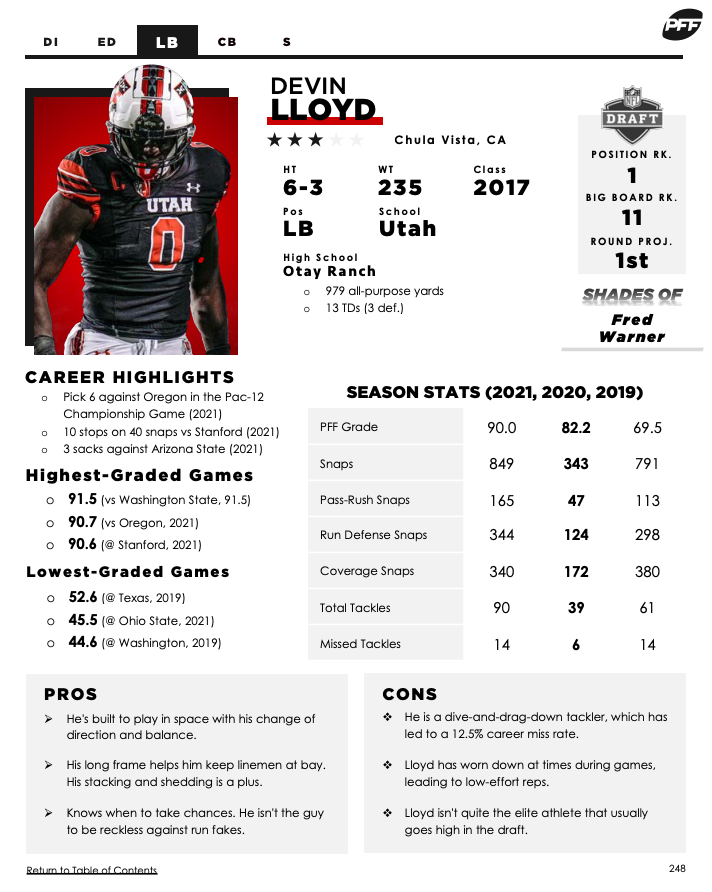 ---
In my first publication of this mock draft, I had the Dolphins going with Breece Hall, the running back from Iowa State. But, with Miami grabbing Chase Edmonds on Day 1 of the tampering period and then signing Raheem Mostert when free agency opened, I don't think they'll reach for a running back high in this draft.
Linderbaum going this low in the draft feels like a crime, but it could happen. The Dolphins simply need good offensive linemen. They won't be picky if they see one.
---
A fully healthy Ojabo probably would have gone higher than this, but unfortunately, Ojabo was hurt at his pro day. If the injury was severe enough for him to miss time into the summer and regular season, he could drop a bit more. However, there comes a point when teams still have to pick the best talent, and the Chiefs certainly need to get younger and more explosive off the edge.
---
By signing interior offensive linemen Alex Cappa and Ted Karras early in the tampering period, Cincinnati freed themselves to look for more BPA at the back end of Round 1. To me, that could also mean defense, but with a couple of what I believe to be their top defensive targets at linebacker and corner off the board, they might still look to the offensive line once again.
Chances are you read Raimann was a bit disappointing athletically at the scouting combine. One would have assumed he would run a sub-5.0 40-yard dash, given his history as a tight end. But a 5.05 official time is right near that mark, and what was more important was his 1.73 10-yard split, which showed his explosiveness out of his stance. Raimann also impressed with his strength on the bench press with 30 reps.
---
The Lions re-signed Alex Anzalone and Shaun Dion-Hamilton, but linebacker should still be something they'll consider, especially if a player like Dean is still on the board. As the centerpiece of that historic Georgia defense, Dean feels like the kind of player this Lions staff will love.