The 2022 NFL Draft is fast approaching, and with it comes the last major chance for teams to materially transform their fortunes for the 2022 NFL season. 
I have already ranked the quarterbacks and wide receivers in this draft class, and now it's time for edge defenders.
The PFF big board provides a ranking of the receivers compiled by Mike Renner. There is a lot of additional information available for each prospect there and in the PFF draft guide, but these are my rankings of the available crop.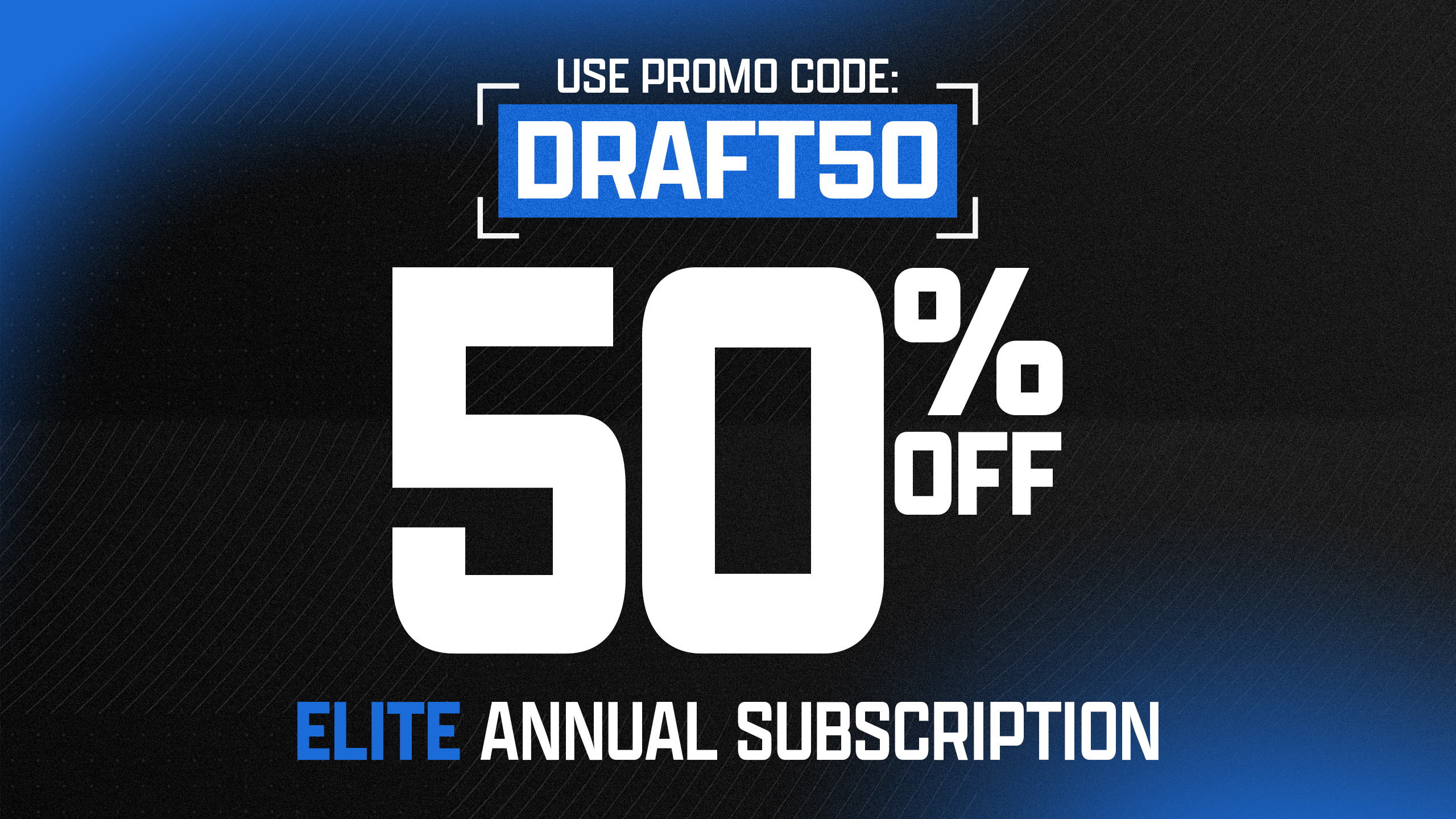 PFF began grading college prospects in 2014, and since then, there have been some elite edge rushing prospects enter the NFL. Hutchinson isn't quite on the Bosa brothers or Myles Garrett's level, but he's close, as he basically has no boxes left unticked. He recorded a 94.5 overall PFF grade this past season while generating 74 pressures. In addition, he posted some elite workout numbers and measurables. The only question mark came with his curiously short arms for somebody who's 6-foot-7: His arm length ranks in just the 17th percentile even though he sits in the 98th percentile for height. However, his college production shows that's unlikely to suddenly become a problem at the next level, as elite PFF pass-rushing grades have a very strong correlation to NFL success.
---
You don't have to go back very far to find the time when Thibodeaux was the presumptive No. 1 overall pick, but he seems to have been the subject of a negativity campaign since that point, dropping him below multiple other prospects on many draft boards. He's still the most naturally twitched-up pass-rusher among the top prospects and has elite college production. Thibodeaux recorded a 91.5 PFF pass-rushing grade this past season, a figure that got even better against true pass sets. He's also performed consistently better against the run than he is being given credit for. While the attitude complaints swirl, I'll stick to the on-field dominance and happily take him within the top-five picks.
---
With all of the hype and criticism surrounding other edge rushers in this class, Karlaftis seems to be the forgotten man who is just floating around under the radar. His tape is right there with the best players in the class, and he has a playing style very reminiscent of the Philadelphia Eagles' Brandon Graham. Karlaftis generates a lot of pressure in a variety of ways. He posted 54 pressures last season and a massive 23.6% pass-rush win rate, which was even better than Thibodeaux. Some team is going to take advantage of the lack of buzz around him and grab a bargain.
---
The University of Georgia's defense was so loaded this past season that Johnson had to transfer to Florida State just to get the opportunity to show he was a first-round talent on the edge. He did that with authority and backed it up at the Senior Bowl, where he played every snap like it was the final drive of a playoff game. Johnson sets a mean edge in the run game and accumulated 46 pressures — 14 of which were sacks. He may not be the youngest player in the draft, but he should still have room to develop given how little he played in college.
---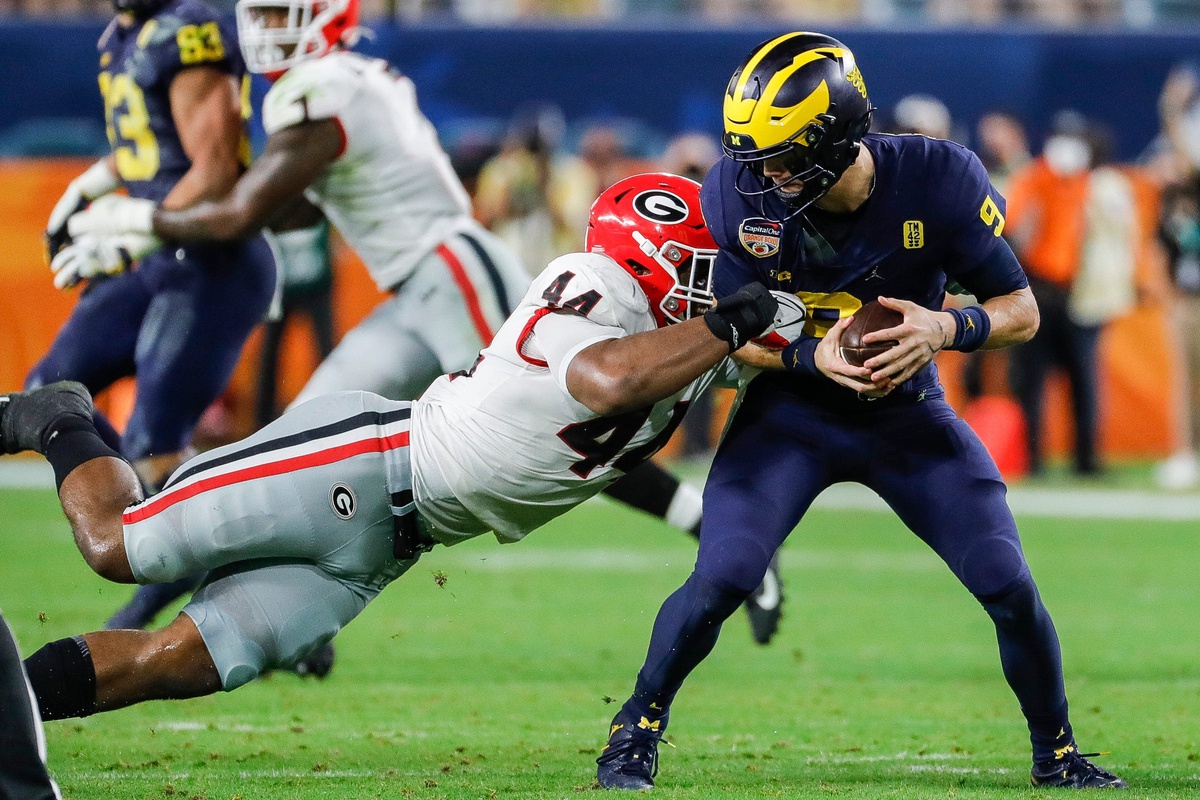 Walker is one of the best athletes to enter the NFL at the position in a long time, and unlike other special athletes, he has the complete athletic and measurable profile. He is exactly what teams would draw up in a lab to be a productive edge rusher, but the problem is he hasn't been a productive edge rusher. Georgia's defensive scheme certainly explains some of that, but it doesn't get you all the way there, and anybody drafting him is doing so with a lot of projection to the next level. Walker's pass-rush win rate last season was just 10.1% — less than half of other elite prospects. There have been too many athletic prospects fail in the NFL to just assume Walker will become elite because of those physical tools.
---
Nobody in this draft class has the kind of first-step get-off Mafe brings to the table. In a pass-first league, that's never been more important. He posted the highest PFF pass-rushing grade of any edge rusher at the Senior Bowl and when he can pin his ears back and attack the quarterback, his performance shoots through the roof. He had an 83.8 PFF pass-rushing grade last season, but that jumped above 90 against true pass sets. If a team needs a high-end pass-rushing threat, Mafe is a guy to aim at once the top couple of players are off the board.
---
Bonitto is a problem for offenses to block. He is undersized and may never be an effective player overall against the run, but his speed, quickness and ability to get skinny and work through gaps along the offensive line means he lives in the backfield. In a pass-first league, that's valuable, and probably far more so than it's being thought of by most. Bonitto was the most productive pass-rusher in the entire draft class over the last two seasons combined, beating even the likes of Hutchinson and Thibodeaux for that crown.
---
Everybody scouting edge rushers want to see that one pure play of bending and turning the corner against a tackle to get to the quarterback with speed and flexibility, and Jackson has more of those plays on tape than any other edge rusher in this class. It's not always as clean, but when he wins, it tends to be devastatingly effective. There's a lot of projection involved in his play against the run and whether he can win in a variety of ways, but that one trick is a vital one at the next level, and elite rushers have made a career out of it (Robert Quinn, etc.). I'm all for taking a chance on a guy who has the special trait everybody covets and working on the rest later on.
---
Ojabo would be higher on this list if he hadn't, unfortunately, blown out his Achilles during his pro-day workout for NFL teams. The timing is obviously unfortunate, but the injury itself is the biggest concern, as an Achilles is one of the worst injuries that an edge rusher can suffer. Ojabo has elite athletic traits, but an Achilles is vital for explosion, and it is typically not a quick recovery. Ojabo likely falls at least a round in the draft after that injury, but that could mean a patient team gets an absolute steal.
---
Few players have been as consistently productive as a pass-rusher as Ebiketie, and he has done it at two different schools after transferring to Penn State from Temple. He accumulated 52 pressures this past season and a 22.9% pass-rush win rate. He isn't the biggest edge defender in the world, but he does get himself into situations where he causes problems for blockers on a regular basis.
---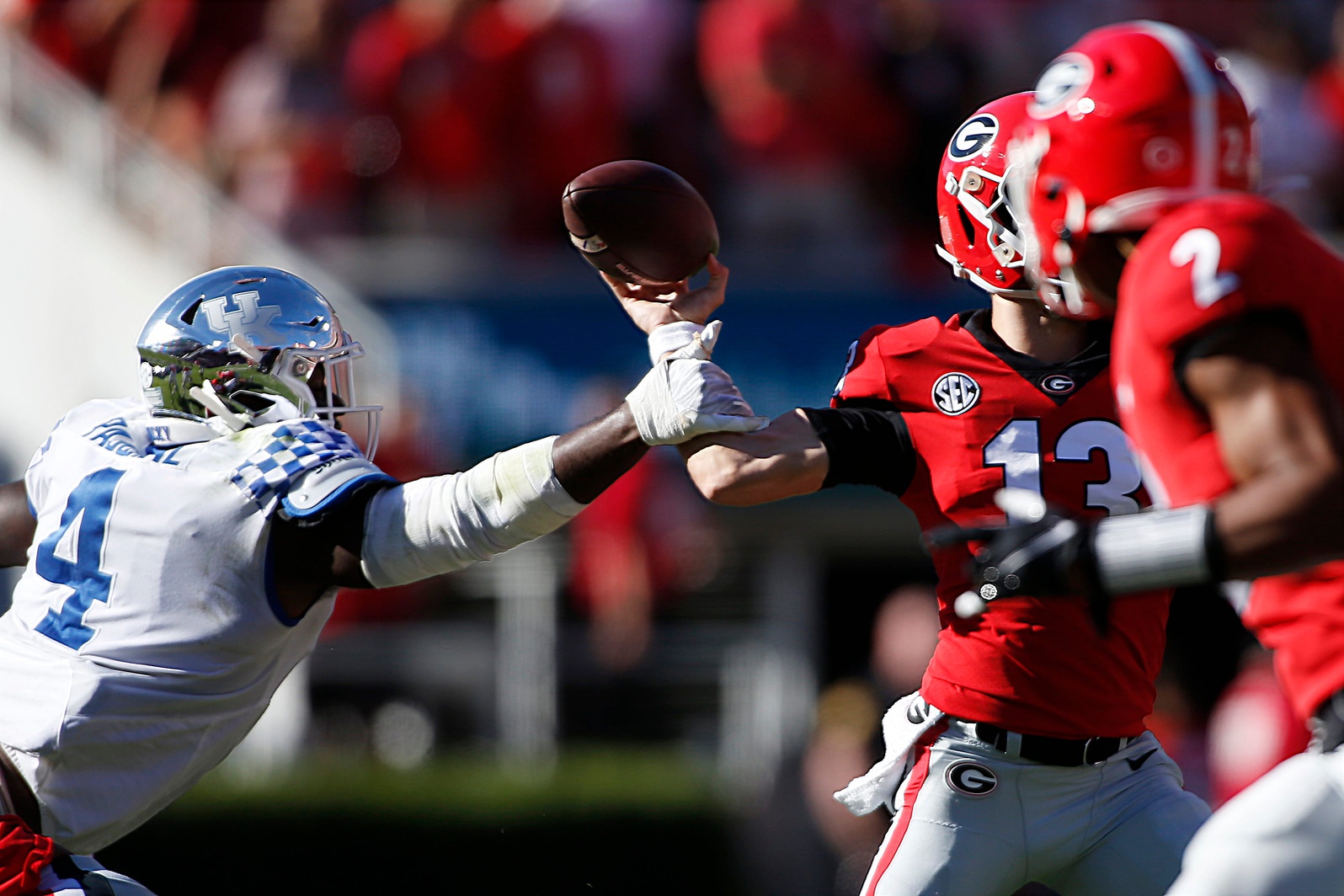 Paschal is elite at staying low to the ground and getting under blockers who are trying to contain him, and he regularly causes those players all kinds of problems. He earned a 90 overall PFF grade this past season and was an elite run defender. He may not ever become an elite pass-rusher at the next level, but he has the game to be a consistent contributor to a defensive line and make a real impact in the run game.
---
A raw prospect who is still developing, Wright has already been a devastatingly effective player on the edge for UAB. He recorded a 90.4 PFF grade this past season and that number went even higher as a pass-rusher against true pass sets. He posted a 23.8% pass-rush win rate, which ranks amongst the very best rushers in the class. He has all the tools to become a very good player at the next level but will take some work to get there.