The 2022 NFL Draft is approaching, and with it comes the last major chance for teams to materially transform their fortunes for the upcoming season. No position presents that opportunity better than quarterback, and so evaluating the upcoming class of rookies is the single most important thing for more than one fanbase.
Oftentimes, PFF is seen as a monolith of thought that applies just one data point to come up with a concrete evaluation or ranking with no nuance to it. That isn't ever how PFF's grades have been applied, and each analyst has their own way of taking the full breadth of data available and adding their interpretations.
Click here for more PFF tools:
Draft Guide & Big Board | Mock Draft Simulator
Dynasty Rankings & Projections | Free Agent Rankings | 2022 QB Annual
Player Grades
---
The PFF big board provides a ranking of the quarterbacks compiled by Mike Renner. There is a lot of additional information available for each prospect there and in the PFF Draft Guide, but these are my rankings of the available crop.
To set the stage: I do not love any of these quarterback prospects. If we could transport them back a year and place them in the 2021 class, none of them would be higher than QB6 in the class, behind each of the five first-rounders who went in the first 15 picks of the draft.
If you're looking at an underwhelming group and not in love with any of them, chase upside. Willis brings the most upside to the table. He has a spectacular arm, is capable of making any throw and boasts extremely high-end athleticism as a rusher. He isn't Lamar Jackson, but he might have more rushing upside than Jalen Hurts, and the Eagles' starter rushed for over 800 yards last season with 10 touchdowns.
Willis carries a higher floor than many give him credit for because of that rushing ability — which propelled the Eagles' offense to a top-10 figure in EPA per play last season despite Hurts finishing with the 20th-best PFF passing grade.
Where Willis needs to succeed to have immediate success is with the deep ball. He posted an 11.0% big-time throw rate last season, the highest in the nation. He subsequently recorded one of the highest PFF grades in the country on deep passes. The combination of rushing threat to keep drives alive and the capacity to drop a game-changing bomb at any time makes him a dangerous player to defend, even for NFL teams. He is the player who seems to have special upside, and that seems like it's never been more important in the NFL.
After Willis, the group really bunches up, and it's tough to fall in love with any of the prospects. Willis is the only passer I would give a first-round grade to. Of course, quarterback is so important in today's NFL that we will likely see more than one drafted in the first round. And I wouldn't even necessarily criticize that decision, but it merely highlights the degree of risk involved with those picks and how much of a reach for need they may be.
Ridder is an overlooked player in this class. Kenny Pickett gets talked about as the one quarterback who really enhanced his stock with an outstanding final year in college, but that applies to Ridder, as well.
Ridder took his overall PFF grade, which had been static in the 70.0s for three seasons, to a 90.7 and Cincinnati into the college football playoffs. His performance against Alabama wasn't good statistically (4.5 yards per attempt), but I actually came away impressed with how he executed given how his offense was overmatched.
It's also difficult to avoid being impressed with his pre-draft workout numbers, which proved he's a legitimate threat athletically. His 4.52-second 40-yard dash time placed him in the 95th percentile among quarterback prospects. Ridder's accuracy isn't always where you would like it to be — he just misses too many throws — but it's an impressive level of play when it comes together.
I can see a world where Pickett becomes a solid NFL starter, but I think his negatives are being overlooked a little too much thus far. And I'm not talking about his small hands — I'm talking about a questionable pocket presence and a tendency to hold onto the ball far too long.
He often works himself into pressure even when none should be there. His reaction to that pressure is to drop his eyes and make something happen with his legs. That is exponentially harder at the next level, and NFL benches are littered with quarterbacks who were good enough athletes in college to consistently make that move but who get chased down and buried by NFL defensive linemen.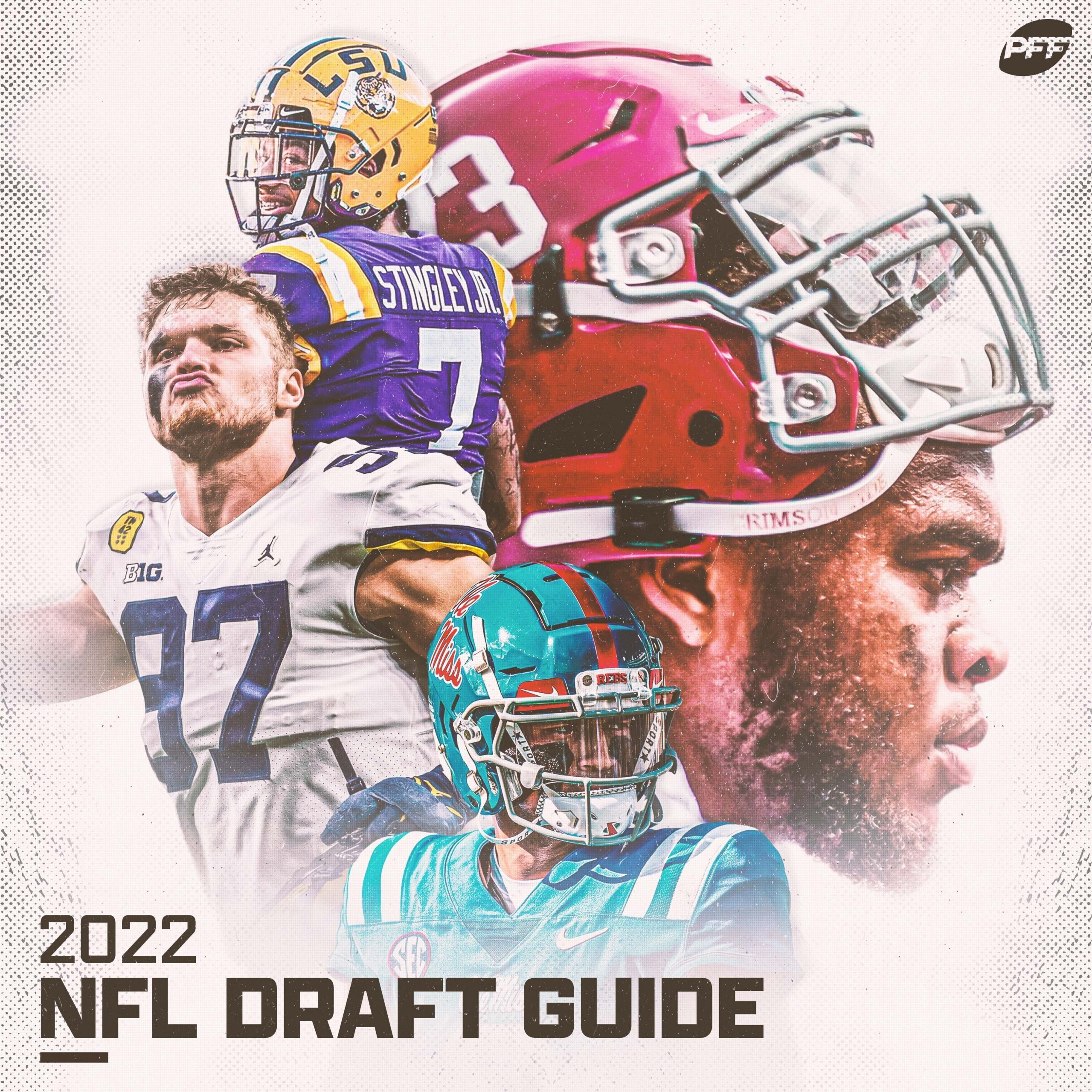 Pickett can certainly fix a lot of those issues, and it's hard to deny his production in 2021 despite those problems, but young quarterbacks struggle with the speed of the NFL game, forcing them to hold onto the ball too long. Pickett already skews in that direction, and that's got the recipe for some ugly early play at the next level.
Strong comes with a pretty significant caveat — a knee injury may have him off the board completely for some teams — but from a purely on-field standpoint, I think he is severely overlooked in this class and well worth being ranked alongside the five players typically seen as the top of the group.
The Nevada product boasts elite arm talent, with not just the strength to hit any throw but also the touch to put the ball where it needs to go and to deliver it from a variety of angles and platforms. He was asked to shoulder the burden in the Wolf Pack's offense — attempting 527 passes this past season — and some of his best games were his highest-volume performances. 
In a league that has trended toward mobile, athletic passers, Strong is a throwback to the immobile pocket passer. If he's going to succeed, it's by maneuvering within the pocket rather than making plays outside of it or on the run. He was careful with the football throughout his college career and has the arm to make plenty of big plays, and we have seen enough evidence that there is still room for success in today's NFL for quarterbacks who can't add value with their athleticism. 

Howell and Matt Corral are in similar positions to me. The biggest concern isn't what they can't do, it's the breadth of the unknown when it comes to their play because of their college offenses. Each played in a system that employed RPOs on around 40% of their offensive plays last season. The NFL average is around 10%, and some teams rarely employ them at all.
RPOs simplify reads and limit what they ask of a quarterback in terms of processing and understanding progressions. Does that mean either player is incapable of adjusting from an RPO-heavy offense to a pro-style one? No. But it adds a much higher degree of uncertainty to their projections.
Howell has a great arm and was a freakishly effective runner in 2021 in a new style of offense. He broke 65 tackles with the ball in his hands and was routinely pinballing off defenders in a manner that seemed to make no sense for a player of his dimensions. His accuracy is a concern — even within an RPO-heavy system, he was in the lower half of passers in terms of ball-location accuracy data — and that gulf between the offenses he has run and the ones he will have to run at the next level is massive. Howell does bring intriguing upside, though, which in this year more than most may be extra valuable.
---
Related content for you:
Treash: Top five prospects at every position in the 2022 NFL Draft
via Anthony Treash
---
Much of the analysis for Sam Howell also applies to Corral. He was excellent at what he was asked to do within Ole Miss' offense, but that bears little resemblance to what he'll need to execute at the next level, and bridging that divide is difficult to evaluate without having him walk through plays and Xs and Os the way NFL teams can do with him.
Corral possesses good tools and solid accuracy. He has a quick release and is a good athlete. A slight frame isn't a good reason to be concerned about a quarterback, generally, but when it's paired with an injury history, it gets a little more worrying. Corral has been repeatedly referred to as having some "maturity issues" in various scouting reports. As much as that can be anything or nothing, it would be remiss to ignore it completely when already projecting so much.
Zappe just looks like a classic career backup quarterback. He's a player with marginal NFL tools but was undeniably productive at the college level and may have enough mental traits to stick around as a backup. He posted an 87.8 PFF grade this past season for Western Kentucky, also having graded well in his previous two seasons for Houston Baptist University in the FCS every time PFF charted them. Zappe's 48 big-time throws led the nation last year, eight more than any other player.
When you get into the low rounds, you're looking for potential, and Kelley has plenty of it. Formerly of Arkansas, Kelley finally got a chance to be a starter in Southeastern Louisiana's spring season following the pandemic, and in his last two seasons he posted PFF grades above 90.0 overall. Kelley is a huge player with a cannon for an arm and monster production as both a runner and passer at a lower level.
He has a lot to improve upon, with a tendency to stare down targets and trust his arm a little too much, and the step up in competition will be huge, but there is some serious clay to be worked with and molded into something greater at the next level.