The first day of practices at the 2022 East-West Shrine Bowl has wrapped and that means NFL draft prospects' stock are officially on the move. 
---
Click here for more PFF tools:
Rankings & Projections | WR/CB Matchup Chart | NFL & NCAA Betting Dashboards | NFL Player Props Tool | NFL & NCAA Power Rankings
Best Bets Tool
---
Here were the most notable performers from not only the first day of practice but also the weigh-in.
PFF 2022 All-Star Tour, Shrine Bowl Day 2 https://t.co/YeIvhRfg3D

— PFF (@PFF) January 29, 2022
Quarterbacks
2021 Overall Grade: 81.2
2021 Snaps: 231
When healthy, King has been one of the best college quarterbacks over the last few years. He has recorded multiple elite-graded seasons over the last few seasons thanks to his clean decision-making, dynamic rushing ability and Russell Wilson-esque deep ball.
King, however, was underwhelming during Shrine Bowl measurements. He stands at 5-foot-8 with 28 5/8-inch arms. For reference, Arizona Cardinals quarterback Kyler Murray stands at 5-foot-10. With King's size and subpar arm strength relative to NFL standards, a position change could be in order.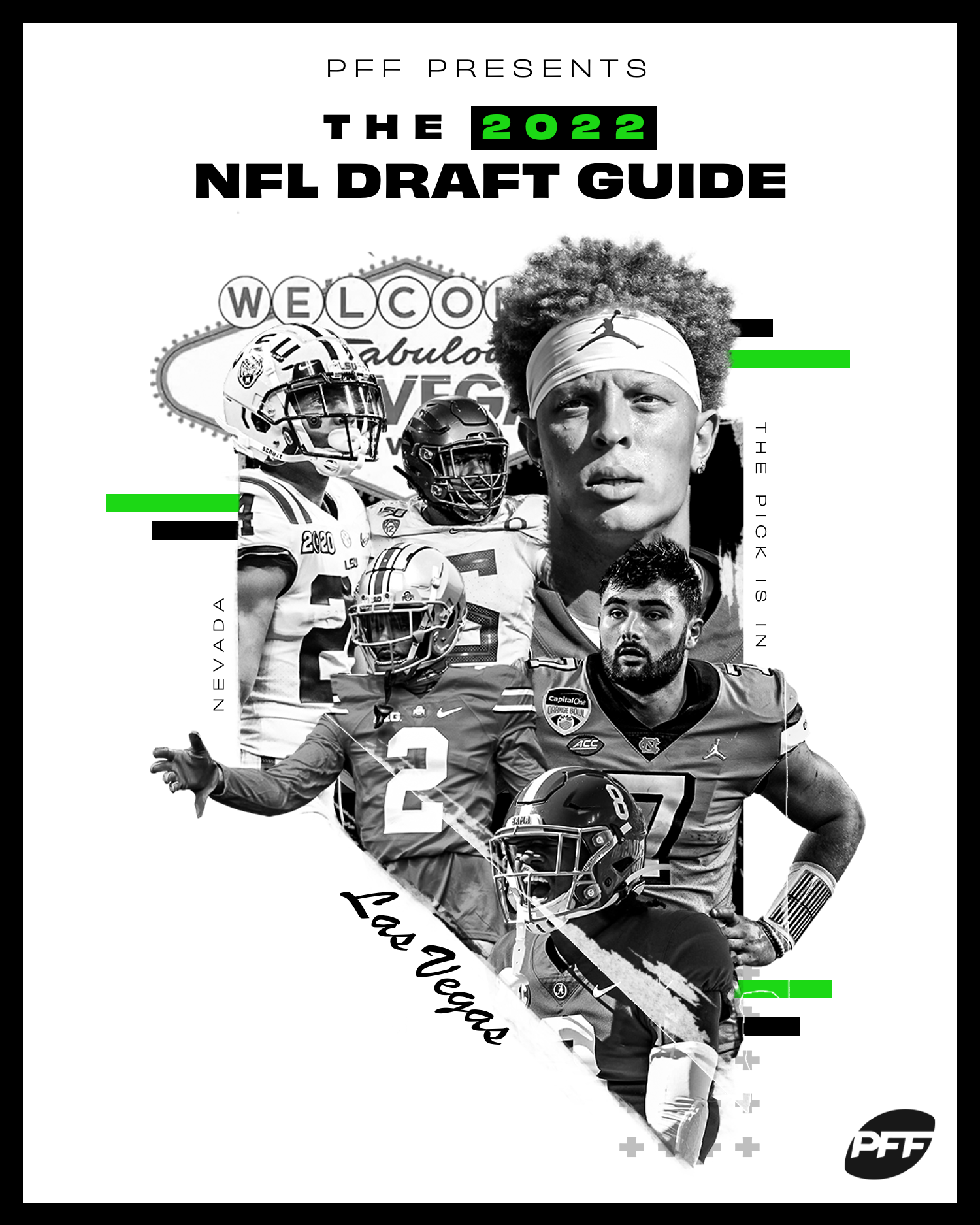 Running Backs/Tight Ends
2021 Overall Grade: 85.5
2021 Snaps: 616
Strong spent time with the first team on the East side during the first day of practice, which was a natural spot for him after three 1,000-yard seasons at SDSU.
Strong is well-built at 5-foot-11, 200 pounds. He's consistently improved as an all-around back throughout his college career, but his vision is his top trait. Though it's hard to stand out as a running back during all-star bowl practices (since there's no full tackling), Strong displayed a good understanding of the blocking concepts in front of him, the intended rush lanes against each front, and the timing of each blocking concept.
Wide Receivers
2021 Overall Grade: 75.6
2021 Snaps: 897
In terms of sheer "wow" reps, Johnson may have led the day. His suddenness at the line of scrimmage is akin to an NBA-caliber point guard crossing a defender up at the top of the key. The looseness in his lower half is a sight to behold, and it's a big reason why he broke out for 85 catches and 1,113 yards as a senior in 2021.
Still, teams will have to get past some serious size concerns, as the track record for 5-foot-10, 176-pound wide receivers isn't particularly strong in the NFL. And when his ball skills are included, it's even weaker, as he dropped an unbelievable 28 of his 196 catchable passes in his career.
2021 Overall Grade: 77.6
2021 Snaps: 616
Phillips was an early winner thanks to some seriously savvy route running. The redshirt junior's put on a footwork clinic, as he consistently created separation against cornerbacks of all shapes and sizes.
.@UCLAFootball WR Kyle Phillips was one of the biggest standouts from the West practice today at @ShrineBowl. Very quick feet, consistent separation in 1-on-1s and during scrimmages.

Stoles some ankles on this rep pic.twitter.com/dIBKqpvFTU

— Trevor Sikkema (@TampaBayTre) January 29, 2022
Philips was the Bruins' highest-graded wide receiver (77.4) this past season. He measured in at 5-foot-10 and 186 pounds, which puts him in the quick-hit slot receiver mold.
2021 Overall Grade: 77.4
2021 Snaps: 763
---
2022 NFL Draft position rankings:
Top 10 players at every position
QB | RB | WR | TE | iOL | OT | DI | EDGE | LB | CB | S
---
Tight Ends
2021 Overall Grade: 86.1
2021 Snaps: 675
Deese started the strong week off strong, checking in with long 33 5/8-inch arms and massive 10 1/4-inch hands. While he's 6-foot-3, pure height is not nearly as important at the tight end position as his absurd 6-foot-10 wingspan. Those measurements are ideal for inline run blocking in the NFL even if he is only 236 pounds. While he showed off some speed in the one-on-ones, his routes were also telegraphed to the point where he didn't end up hauling in a single pass.
Offensive Line
2021 Overall Grade: 87.2
2021 Snaps: 823
Diesch came in as the top player on PFF's draft board and did nothing on the field to change that Saturday. He comfortably won all his reps in pass protection during one-on-ones and showed why he only allowed eight pressures in all of 2021.
Still, Diesch decidedly lost the weigh-in. Standing 6-foot-7, he checked in at 299 pounds with only 32 1/2-inch arms — both of which are below thresholds that many NFL teams have for a tackle. He has a unique frame with skinny shoulders for an offensive lineman. It will be interesting to see how his game translates the rest of the week and into the NFL.
2021 Overall Grade: 77.5
2021 Snaps: 723
Tenuta came into the Shrine Bowl with some intrigue. The 6-foot-7, 318-pound tackle allowed a mere seven pressures in 12 games at the Power Five level in 2021. He may not have the requisite arm length (32 5/8 inches), but he has strong collegiate production and fared well during the first day of practice.
2021 Overall Grade: 77.0
2021 Snaps: 852
Olaseni was one of the top JUCO recruits in the 2019 cycle. After a couple of years on the bench, the 6-foot-7, 348-pound tackle entered the starting lineup in 2021 and showed immense growth as the season progressed. Over the course of his last seven games (from Week 9 on), Olaseni was one of the top 10 graded tackles in the FBS. He is a mammoth tackle with 36.5-inch arms, and he handled his own in one-on-ones during the first day of Shrine Bowl practices.
2021 Overall Grade: 73.4
2021 Snaps: 787
Lindstrom has some of the strongest pass-protection data of any center in college football over the last couple of years. He produced a top-three pass-blocking grade among Power Five centers in each of the last two seasons. On Day 1 of Shrine Bowl practices, though, Lindstrom struggled during one-on-ones.
2021 Overall Grade: 72.7
2021 Snaps: 790
Wattenberg was a five-year starter at Washington, going from tackle to guard to center. He posted a 70.0-plus grade as both a pass- and run-blocker in 2021 en route to a career-high overall mark. He has some long limbs (34 3/8 inches) for his 6-foot-4, 294-pound frame, and the Washington product stood out on the practice field. Wattenberg is a high-quality athlete who plays with decent leverage. Saturday, he showed the play strength scouts wanted to see.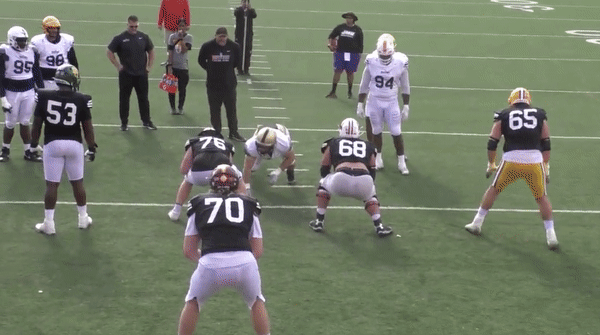 Defensive Line
2021 Overall Grade: 76.7
2021 Snaps: 726
Butler was quite clearly the most advanced pass-rushing defensive tackle on the field Saturday. His combination of twitch, hand usage and bend enabled him to win all of his one-on-one reps in easy fashion. With a 6-foot-10 wingspan, Butler can get on opposing offensive linemen in a hurry, and he did so for 31 pressures last season.
#Tennessee DT Matthew Butler (6034, 299) flashed throughout the first day of practice at the East-West @ShrineBowl.

Quick first step, active hands, and firm at the point of attack. From drill-to-drill, he continued to put together stand out moments. pic.twitter.com/qP1EI3bENL

— Jordan Reid (@Jordan_Reid) January 29, 2022
2021 Overall Grade: 65.2
2021 Snaps: 237
The very first "who is that guy" of the day came when McCall stood up Lindstrom in the run-blocking drills, which almost started a fight. His upper-body violence was evident all day. And through the rest of practice, McCall impressed, as he recorded one of the best reps of the day:
Kentucky NT Marquan McCall turned some heads today at the @ShrineBowl pic.twitter.com/2DLJCNv2EB

— Anthony Treash (@PFF_Anthony) January 30, 2022
To no surprise, his nickname in college was "Bully." He's an intriguing prospect because he could barely see the field for the Wildcats due to weight issues. The Kentucky product has dropped approximately 40 pounds year over year. He didn't make much of an impact at Kentucky given his size. McCall played 229, 271 and 237 snaps in each of the last three seasons, recording 20 pressures and 29 defensive stops over that entire span. The inconsistent production, lack of value generated from a non-every-down player and a suspension at one point in his collegiate career hurt his stock, but he can elevate it by sustaining this level of play through the rest of the week.
2021 Overall Grade: 85.0
2021 Snaps: 705
Fayad has been one of PFF's Group of Five darlings throughout his collegiate career. The Western Michigan product has earned an elite pass-rush grade (above 90.0) in each of the last two seasons. Fayad consistently put tackles into a blender with his spin move during his college career, which continued at the Shrine Bowl practice on Monday. That said, he is undersized at 6-foot-2 and 248-pounds with 32-inch arms.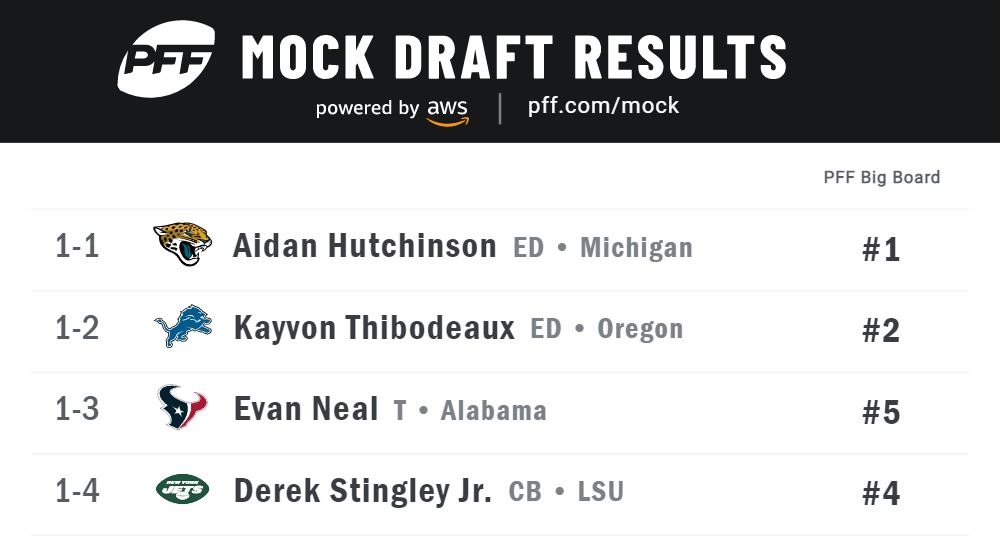 Linebackers/Secondary
2021 Overall Grade: 60.7
2021 Snaps: 531
Waller first emerged in 2019 while playing cornerback opposite 2021 first-round pick Caleb Farley at Virginia Tech. Waller earned an 84.5 coverage grade in 2019 while allowing a 39% catch rate and 260 yards in addition to racking up 11 combined pass breakups and interceptions from 436 coverage snaps.
Injuries hampered him over the last two years with the Hokies, and when he was on the field in that span, it was boom-or-bust. His first day of practice at the Shrine Bowl was similarly volatile, as he provided tight coverage on some snaps while allowing big plays on others. The 6-foot, 175-pound corner is likely to be an early-Day 3 selection. He needs to show some consistency during one-on-ones the rest of the way.
2021 Overall Grade: 83.0
2021 Snaps: 800
Hawkins had a good day when asked to match up with tight ends, but it's easy to see why some are wary of his projection as a true safety, as he was easily outrun on a go-ball by 230-pound Idaho State wide receiver Tanner Conner. That's not great when Hawkins is giving up 20 pounds. Hawkins' future may have to be more in the box, so he may need to add more bulk.