The 2021 NFL Draft will begin on April 29 with a level of certainty. It would be a shock if Trevor Lawrence, currently -10000 to be selected with the first overall pick, did not end up a Jacksonville Jaguar. Zach Wilson brings a shade less certainty at -5000 to go second overall, but those odds still indicate that he is the heavy favorite to become a New York Jet in a few weeks.
The draft truly begins with the San Francisco 49ers and the third overall pick. Surely, that selection will also be a quarterback given what San Francisco had to give up to jump nine spots in the draft order. The subsequent debate between Justin Fields, Mac Jones and Trey Lance has dominated pre-draft coverage to this point.
I don't want to want to continue to belabor that decision. Instead, I want to take a deeper look at several high-leverage selections beyond San Francisco's pick that could shape the remainder of the draft. That's what I'll be doing over the next week — evaluating the options on the table for several teams with top-12 picks in the 2021 NFL Draft.
The Denver Broncos are in an interesting position as one of the few quarterback-needy teams not in a prime spot to select a top quarterback in the draft. Their quarterback decision has dominated the pre-draft conversation surrounding the team. Do the Broncos trade up? Which quarterback, if any, drops to No. 9 overall? And which direction does Denver go if the quarterback position isn't addressed? 
Let's explore. 
View PFF's 2021 NFL Draft position rankings:
QB | RB | WR | TE | T | iOL | DI | EDGE | LB | CB | S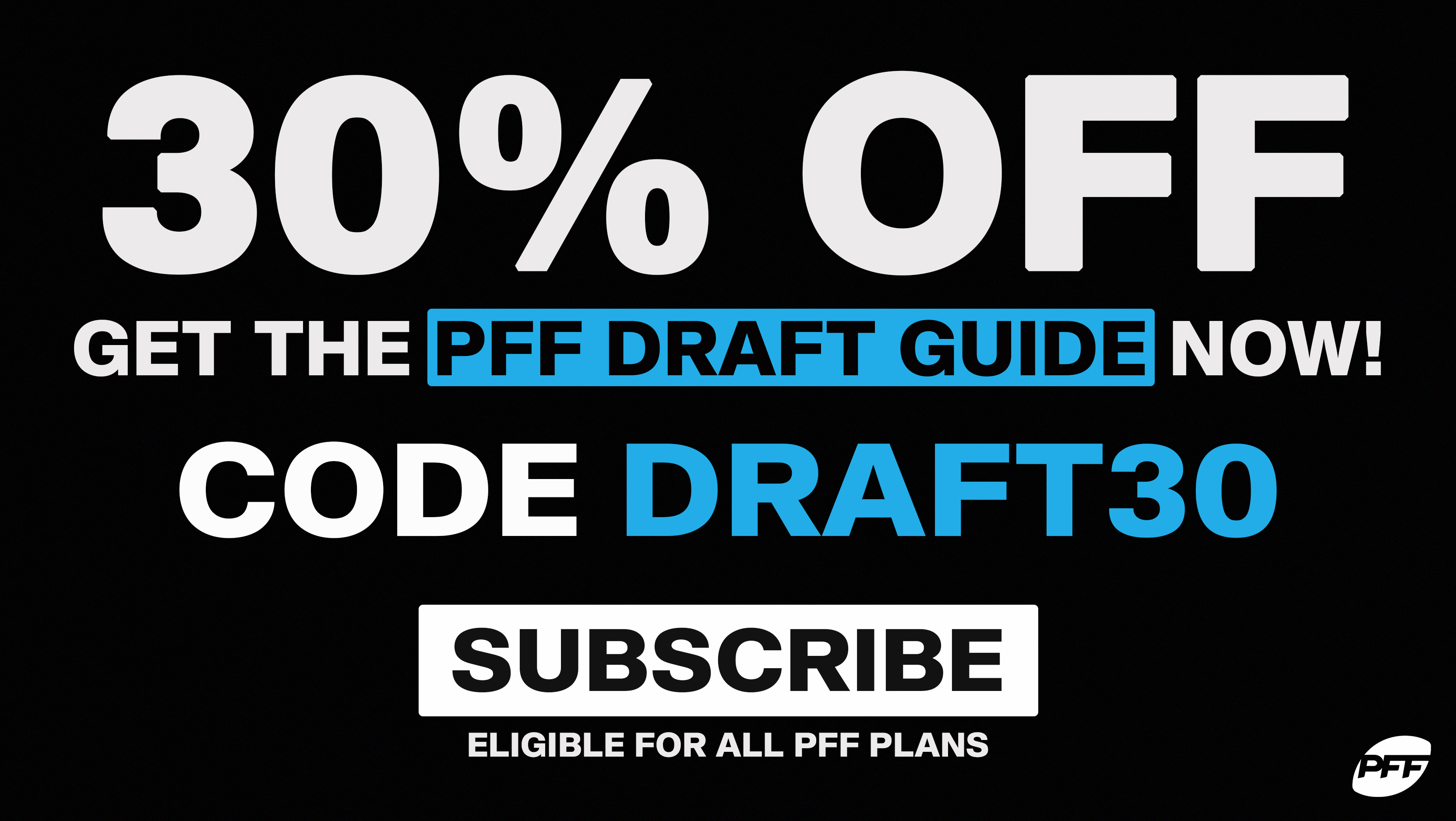 Option No. 1: Trade up for a quarterback
The Broncos has the same three options as every team in the first round, save for Jacksonville with the first overall pick. They can trade up, select a player at their original draft position (ninth overall) or trade down. 
Denver is one of the more likely teams to move up in Round 1. They don't appear to be ready to close the door on 2019 second-round pick Drew Lock potentially developing into the franchise's long-term answer at quarterback, but it would be negligence to not add legitimate competition for the second straight offseason given what Lock has shown early in his NFL career. 
Highest % of uncatchable passes since 2019 among 32 qualifying quarterbacks
Lock has struggled to put the ball accurately on his receivers over the past two seasons. A high average depth of target plays a role in his league-high 23.8% uncatchable pass rate, but his underneath accuracy is still concerning. Lock is the owner of a bottom-three accurate pass rate on throws nine or fewer yards downfield. A 4.5% turnover-worthy play rate (third-worst in the NFL since 2019) has only made matters worse.
The Broncos should be aggressively looking for alternatives at the quarterback position. That includes trading up to make sure they get one of the top quarterbacks on their board rather than hoping that player falls to them. The Carolina Panthers are still a threat to draft a quarterback at No. 8 overall after trading for Sam Darnold. Meanwhile, the New England Patriots, Washington Football Team and Chicago Bears are all candidates to make a big leap into the top 10 for a signal-caller. The Broncos can't be complacent. 
Of course, a lot comes down to who San Francisco targets third overall and who the Atlanta Falcons have in mind with the fourth overall pick. The 49ers are almost certainly going quarterback, and Atlanta could be in the market for one, as well. The Falcons being uninterested in moving back, instead taking the fourth consecutive quarterback to open the draft, would change Denver's decision. Who is the last of the "big five" quarterbacks remaining, and is he worth moving up for?
The Falcons (fourth overall), Miami Dolphins (sixth overall) and Detroit Lions (seventh overall) all stand out as potential trade partners for Denver. 
Free for 7-days. Subscribe to continue reading and unlock
All premium content with the best insights + analysis in the game
NFL Draft Guide, Big Board + Mock Draft Sim
Fantasy Draft Kit and Nathan Jahnke's award winning rankings
Bet smarter with PFF player mismatches and expert betting insights
NFL and CFB player grades and premium stats
Unlock all PFF data trusted by all 32 NFL teams
Already have a subscription? Log In